We've been huddled around the air conditioner for, oh, about 2 months now. That's why, this week, I'm making a completely "cool" dinner, made possible by Bulgaria. Thank goodness for chilled soup, dips, drinks, and pastries. Mmm.
P.S. This meal just so happens to be vegetarian (with one vegan dish).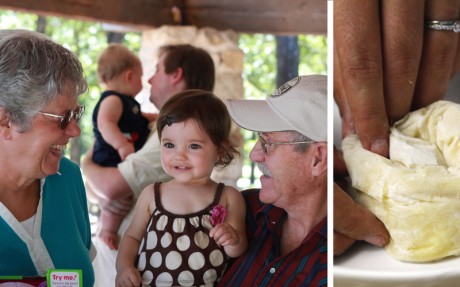 Chilled Cucumber Soup (Tarator) [Recipe]
Refreshing blend of Bulgarian yogurt and cucumber, with a hint of garlic. Garnish with dill and/or crushed walnuts.
Savory Cheese Pastry (Banitsa) [Recipe]
Phyllo dough filled with salty cheese, egg, and baking soda. Quick, easy, and impressive. Serve room temperature or chilled.
Roasted Eggplant & Bell pepper dip (Kyopolou) [Recipe]
Smoky roasted eggplant, bell pepper, and tomatoes pureed with fresh garlic, parsley, vinegar, and olive oil. A great dip for parties, kyopolou is best served the day after preparation. Vegan.
Chopped Salad (Shopska Salata) [Recipe]
We made Shopska Salata for Bosnia and Herzegovina. This refreshing tomato, pepper, red onion, and feta cheese salad is also popular in Bulgaria, with the common addition of sliced cucumbers.
Iced Fruit Drink (Kompot) [Recipe]
Plums, currants, dried apricots, and sugar stewed in water. Once chilled, this cold drink is served with pieces of fruit at the bottom of the glass.