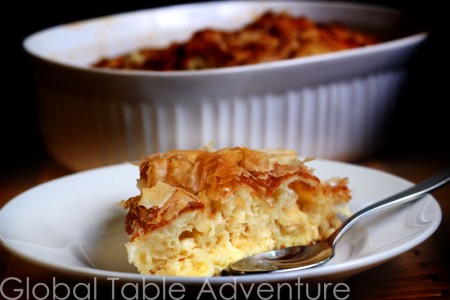 Serves 6
My husband is officially in love with Bulgaria. To be fair, he didn't stand a chance. Second only to pure sugar, Keith loves anything that includes butter, pastry, or cheese. This recipe boasts all three, and in eye-popping quantities.
Not to say it was love at first sight. It wasn't.
After all, my pastry skills are minimal. But, hey, we can all use a little forgiveness in the kitchen, from time to time. Especially when it comes to pastries. Thankfully, phyllo dough spreads, puffs and crackles haphazardly, hiding flaws brilliantly.
Bulgarians serve this vegetarian cheese pastry room temperature or cold with plain yogurt on the side. Add spinach for a healthy variation.
Note: Bulgarian yogurt, a little runny and decidedly tangy, is available for purchase at health food stores.
Ingredients:
6 eggs
1/2 tsp baking soda
3/4 lb sirene cheese (or feta)
1/2-1 stick butter
1/2 package of thawed phyllo dough (about 21 individual sheets)
Method:
1. Preheat oven to 350F. Melt some butter.
NOTE: You'll need half a ton of butter, or roughly triple the amount pictured. Banitsa just soaks it up. Trust me. I mistakenly thought that 1/3 stick was enough, but had to do three sprints to the fridge to get more.
None of this bothered me, however, because I got to use the world's cutest, smallest copper-bottomed pan. This cherished hand-me-down from my mom has been in use for about thirty years.  She (yes, it's a she) holds about 1 cup of liquid (usually butter for popcorn). Mmm. Yes, please.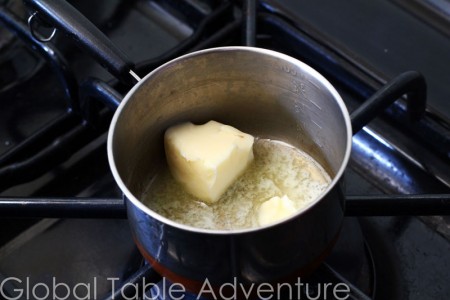 Back to the Banitsa… focus, Sasha, focus!
2. Meanwhile, whisk eggs together with baking soda and cheese.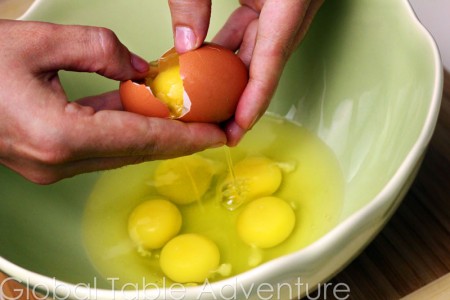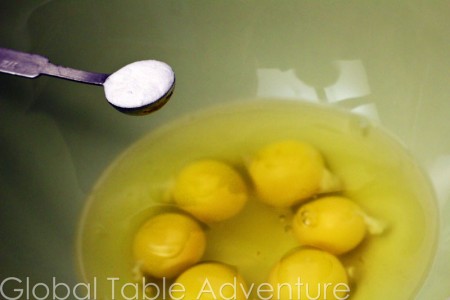 Mmm cheese. Lots of salty feta (unless you can get Bulgarian Sirene). I've been told the more cheese, the better. You can't tell in this picture, but I'm drooling.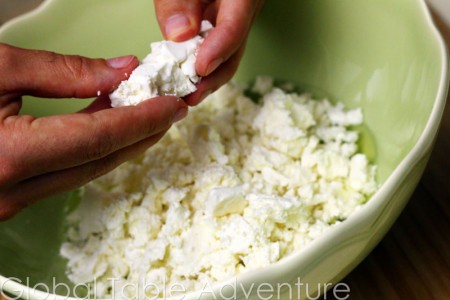 3. On a clean worksurface, lay out one sheet of phyllo. Brush with melted butter. Add a second sheet of phyllo. Brush with melted butter again. Repeat a third time.
Be gentle. Phyllo is like fragile, like my ego.
I'm kidding. Sort of.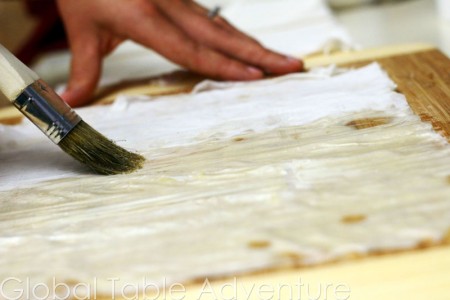 Phyllo literally looks like paper until blasted by the hot oven. Then it puffs up, tall and proud. Pure magic.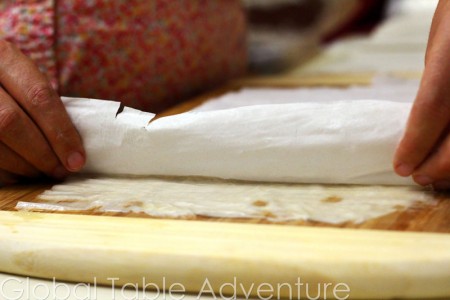 Sprinkle cheese mixture over phyllo and roll into a tube. The egg mixture will want to soak through. Stay calm. Work quickly and smoothly. All will be well.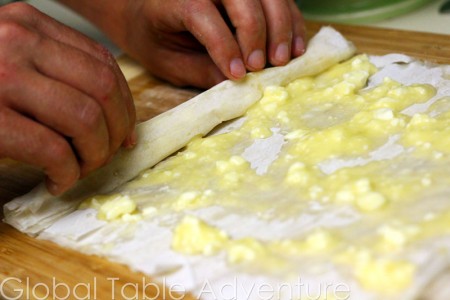 See? Beautiful.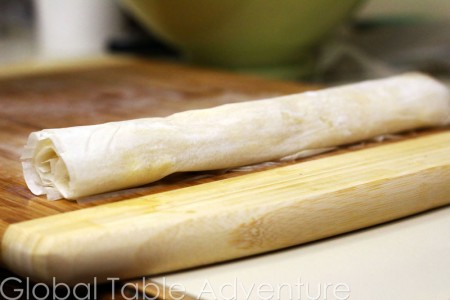 4. Shape phyllo log into a circle in a large round baking dish. I used oval because it is what I had handy.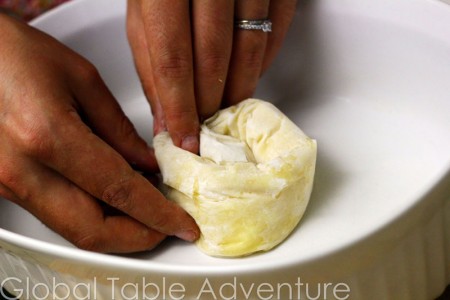 5. Repeat step 3 until all the phyllo dough is used up. Wrap each tube around previous tubes, making a snail shell pattern. You'll end up with 6-7 tubes.
When I was done my Banitsa snail coil looked a little rough. There were leaks. They made me fret.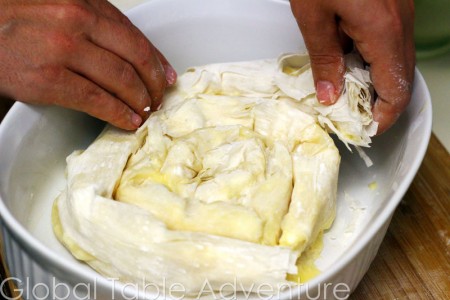 Brush with butter. Try to ignore the leaks.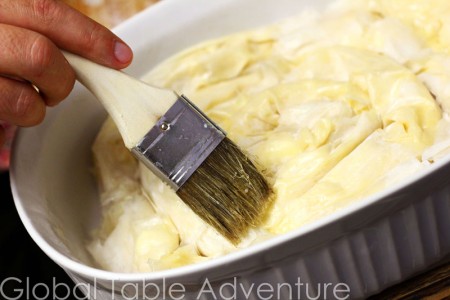 6. Bake 40-50 minutes, until golden brown.
The finished pastry looks like a mess thanks to those pesky leaks.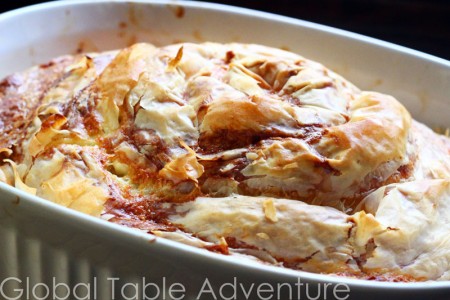 But, upon closer inspection, every slice is beautiful, golden, crispy.
Just be sure to let cool at least 15 minutes before slicing, so that the layers don't fall apart!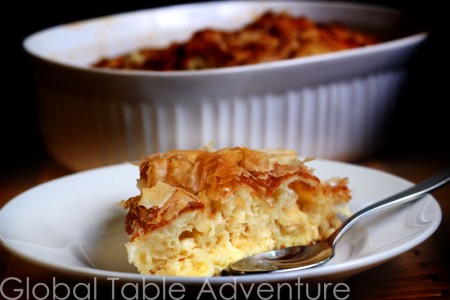 I mean, seriously. Come closer.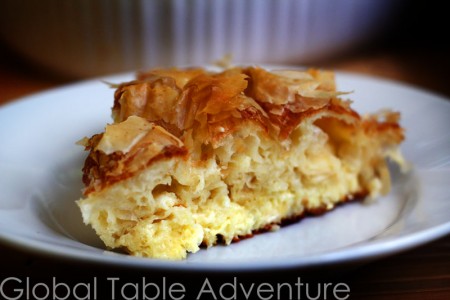 Divine.
Turns out a few leaks here and there are no big deal.
Thank goodness for forgiving phyllo dough, my new best friend.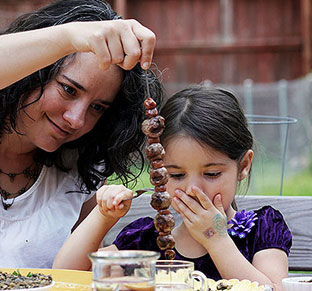 Hungry for more?
Be notified when National Geographic releases my memoir.
Simply fill in your details below.