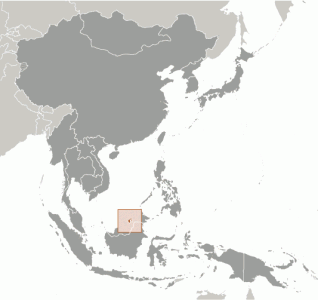 Something is fishy in  Brunei, and I like it! With miles of coastline, fish and seafood (such as shrimp and squid) make regular appearances at the dinner table. Even if you're not eating fish, your meal may include belachan, or shrimp paste.
The tiny country of Brunei (about the size of Delaware) boasts rain forests, low-lying plains, and oceanfront vistas. Sweet tropical fruits (such as mango, membangan,  papaya, watermelon, durian, kembayau, Brunei cherry, and rambutan – like lychee) are beloved throughout Brunei.
The food blends local flavors with Malaysian, Chinese, and Indian cuisines. Typical of the region, most meals are served with either rice or noodles and seasoning is usually hot. In fact, curries are the norm. For example, Sayur Lodeh (recipe), vegetable curry, is a lovely blend of cabbage, long beans, and other vegetables, simmered in creamy coconut milk and spicy rempah (a popular seasoning blend – recipe). Shrimp, fish, or tofu can be added for protein. Yes, please!
For chicken lovers, satay is a popular skewered preparation available with dipping sauces. You may have had chicken satay before with peanut dipping sauce at a Thai restaurant.
This is the week you get to dust off your spice rack – the cuisine of Brunei uses all sorts of lovely seasonings. Recipes often feature hot chilies and chili powder, cinnamon, fennel, cumin, coriander, turmeric, lemongrass, garlic, ginger, pandan leaf, and onion.
If you're thinking about washing down the hot curry with some booze, think again. Alcohol is prohibited by law in Brunei and, although some exceptions can be made for foreigners, no liquor is sold in the country.
Rice can simply be steamed in water or coconut milk, or even wrapped and cooked in banana leaves and cut into coins (this is called lontong – see our video and recipe).  Any of these preparations makes a perfect bed for the stews, soups, and curries found throughout Brunei.
Desserts can include rice as well, including Kueh, steamed sticky rice with coconut milk, eggs, and vivid green pandan leaves. Sweetened cassava is another popular dessert (getuk lindri) – recipe.
P.S. Happy belated birthday to the Sultan of Brunei, who celebrated his 64th birthday on July 15. 🙂