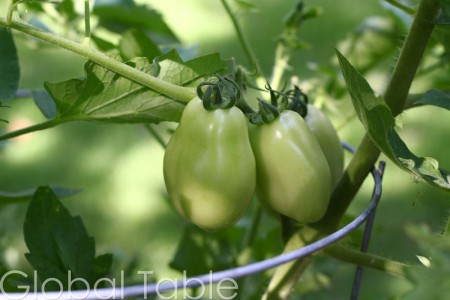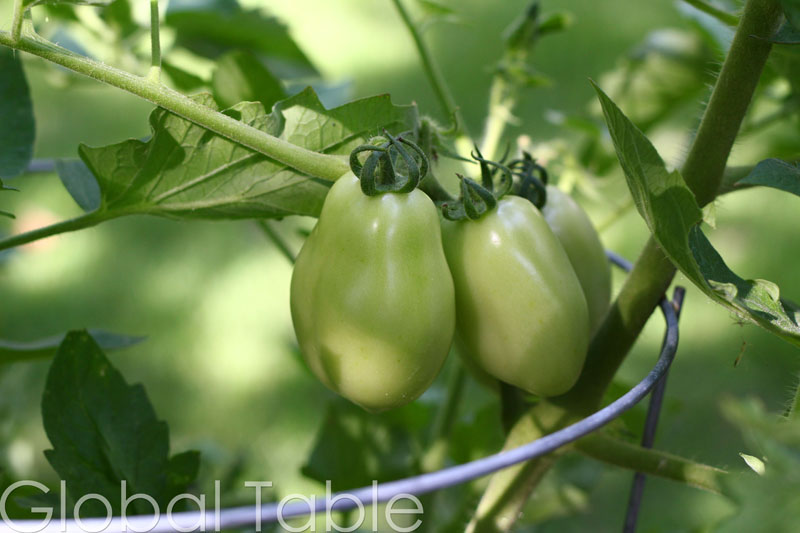 This is meal #22 as I cook and eat food from all around the world.
This weekend's Global Table Adventure brought us to our knees. The incredible flavors of Bosnia and Herzegovina will suit those who enjoy the bright, bold flavors of Mediterranean and Eastern European foods. While nothing is incredibly complicated, the entire meal flows together like a happy love song.
Chopped Salad (Sopska Salata) [Recipe]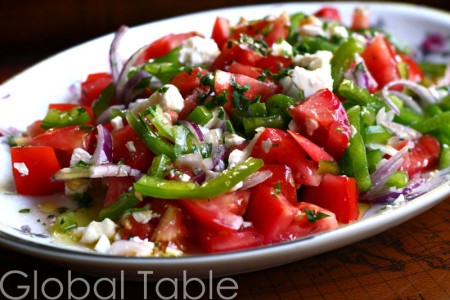 What I liked most about this dish:
A refreshing accompaniment to grilled meat, Sopska Salata is a delightful summertime salad. There's no denying it. Tomato, pepper, red onion, and feta were made to go together.  I could eat this salad for breakfast, lunch, and dinner. In fact, I did just that with the leftovers! Please tell me I'm not alone – surely someone else eats leftover salad for breakast? Someone? Anyone?!
Anyway, you can add lettuce if you want to stretch this recipe to feed more people.
What I liked least about this dish:
I only have one regret – I could not use my own produce in this salad. The peppers and tomatoes in my garden aren't ready. Every day I run to the window to see if they've magically ripened. They are so close. Take a peek…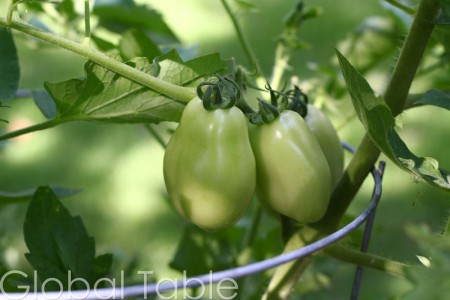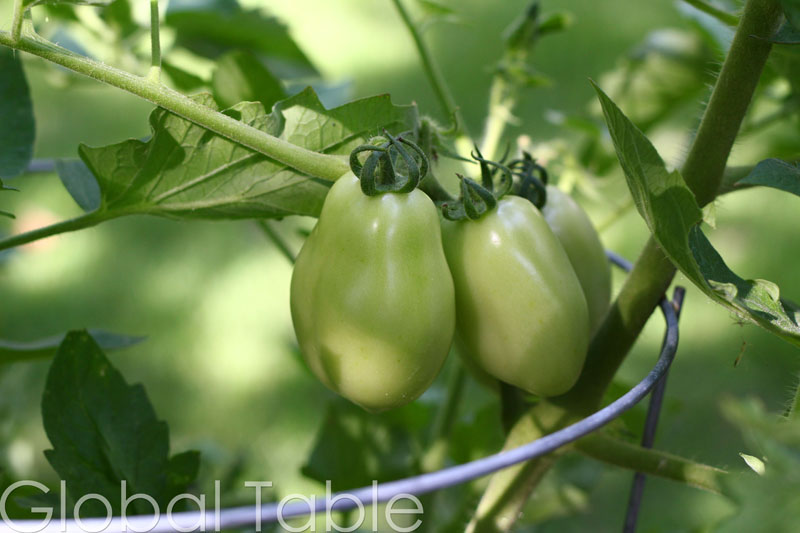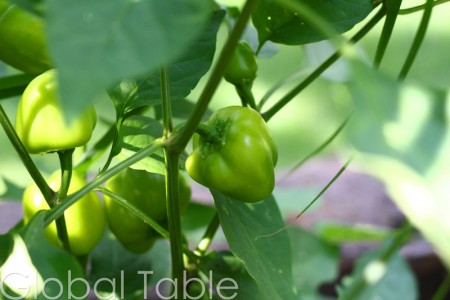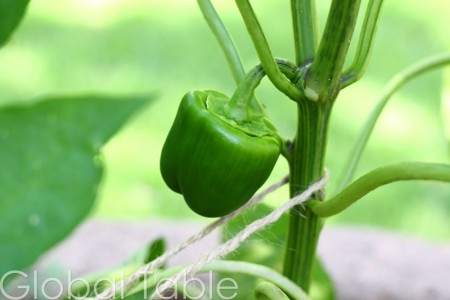 Finger Sausages (Cevapi) [Recipe]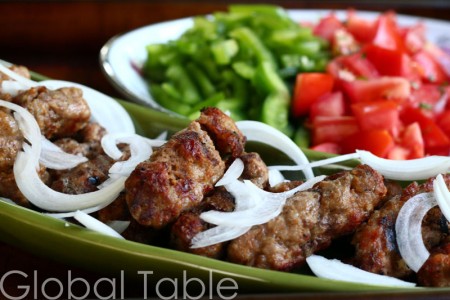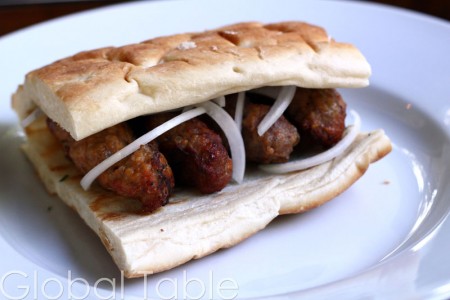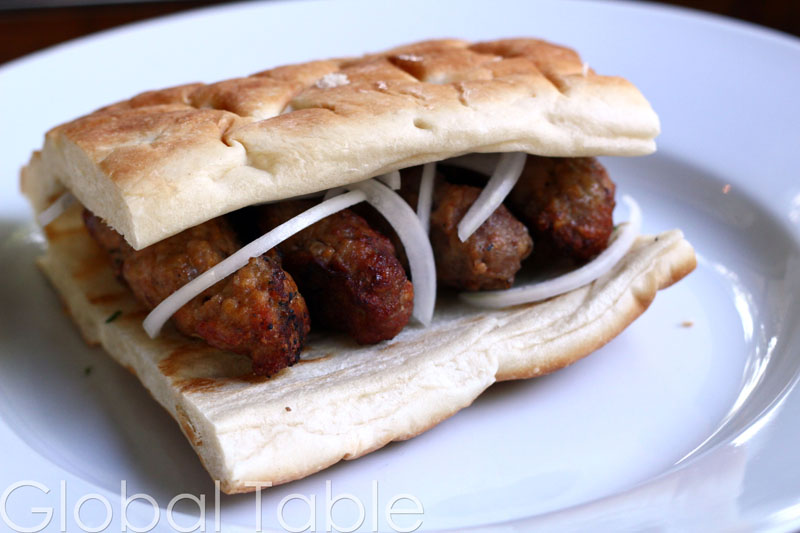 What I liked most about this dish:
These sausages are rich like breakfast sausages, yet are substantial enough for lunch or dinner. Pile several onto doughy bread and you are in business. The saying "pop one and you can't stop" is definitely true for Cevapi. The small size makes them ever so addicting. After all, what's one more? I figure, you have to balance out the salad somehow!
What I liked least about this dish:
I don't know what it is about me and forgetting to oil my grill. Well, perhaps it's not so much forgetting as being … lazy. Summertime heat brings out the sloth in me. However, just like a mamma bear, I'm here to tell you "do as I say, not as I do."
To keep the Cevapi from sticking: Simply grab a ball of paper towel with your tongs, dip in some vegetable oil and brush over your grill.
Balkan Baked Beans (Prebranac) [Recipe]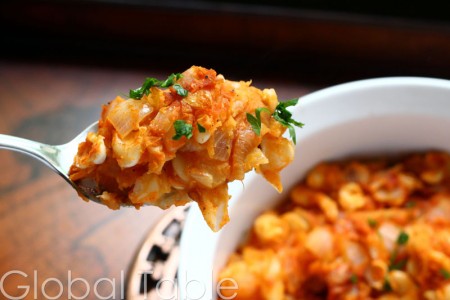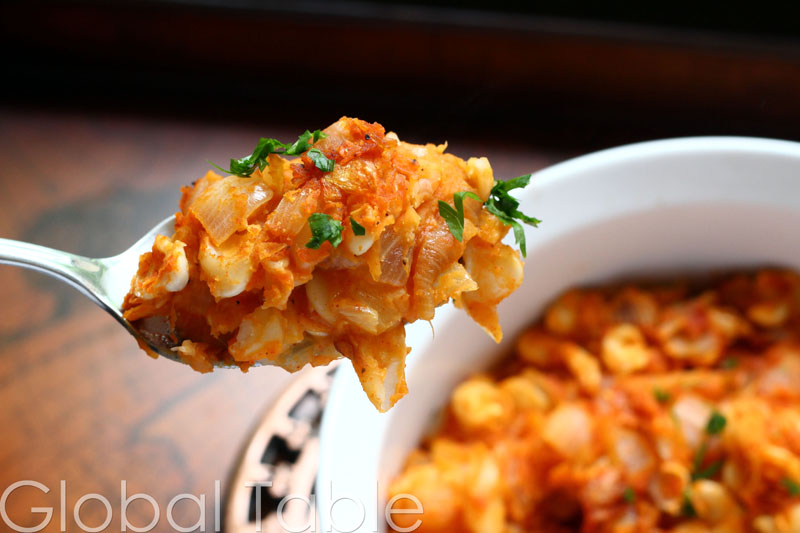 What I liked most about this dish:
I love, love, love Prebranac. I have a bowl of dried beans soaking right now so I can make them again for dinner! Seriously good. Clark Gable good. The sweet flavor of caramelized onion with earthy paprika compliments kidney beans like no other. Just make sure you let your onions cook long enough to get soft and golden – this is critical to developing wonderous depth of flavor.
Plus, what could be easier? Fry some onions, sprinkle your seasonings, and add beans. Bake 15 minutes. This is the Holy Grail of incredible side dishes.
What I liked least about this dish:
Although I am in love, I want you to be prepared. The texture of Prebranac is not soupy and wet like baked beans in the USA. Instead, the beans cook together into a soft, dry mush. Some would call the texture pasty. Then the heat of the oven creates a slight crust on top.
Bosnian Coffee (Bosanska Kafa) [Recipe]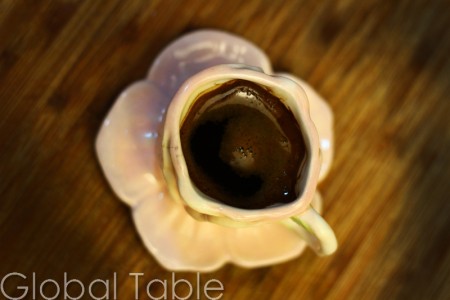 What I liked most about this dish:
This is a fun way to drink coffee. Although people in the Middle East and parts of Europe drink Bosnain/Turkish coffee daily, the method is new to me. I enjoyed trying it out and loved the intense caffeine kick.  If you're a coffee drinker, I'd definitely recommend you try out this technique. With the right coffee on hand, you can make yourself a little cup in well under five minutes.
What I liked least about this dish:
The bummer about Bosanska Kafa is hunting down the right kind of coffee. If you live in a metro area, you should be able to scrounge some up. I always call ahead and ask so that I don't waste my time driving in circles, from store to store. Amazing that it took me 30 years to start calling ahead. Just think of the time I could have saved over the years. And gas.
I would also add that the "sludge" at the bottom of the coffee cup is somewhat disconcerting. However, I've been told that the sludge can be used to tell your fortune so there's consolation in that! Just don't drink it…
Ava's Corner
This girl makes my heart smile. I mean just look at her beautiful face. How am I ever going to cut that hair. Thank goodness she's a girl. Happy Birthday sweet baby! I can't believe it's been a year already.
First she tries the Prebranac. Then the Cevapi. She makes the funniest faces, then goes back for more 🙂