I just did a big kitchen clean-up to get rid of the cluster of stuff I thought I had to have. One big item I got rid of was my bread machine. Although I use it all the time to mix and keep my dough warm, I have never once baked in it. Seems silly, really.  I have a beautiful standing mixer that can mix bread dough just fine (even better, actually), so I'm taking my precious counter space back and tossing the bread machine! (giving it to a friend, actually)
I'm generally a fan of the simple life. This Belizean saying underscores what happens when you try to "keep up with the Joneses" and the latest fashions:
"Falla-fashin monkey cahn buy good soup guh dung a gully go eat dutty soup"
Translation: "Follow-fashion monkey cannot buy good soup, so he goes down to the gully to eat dirty soup."
I'd much rather have good soup than dirty soup, so I guess I'll never be a fashion monkey!
Speaking of which, we had some mighty good stew this week!
Stew Chicken [Recipe]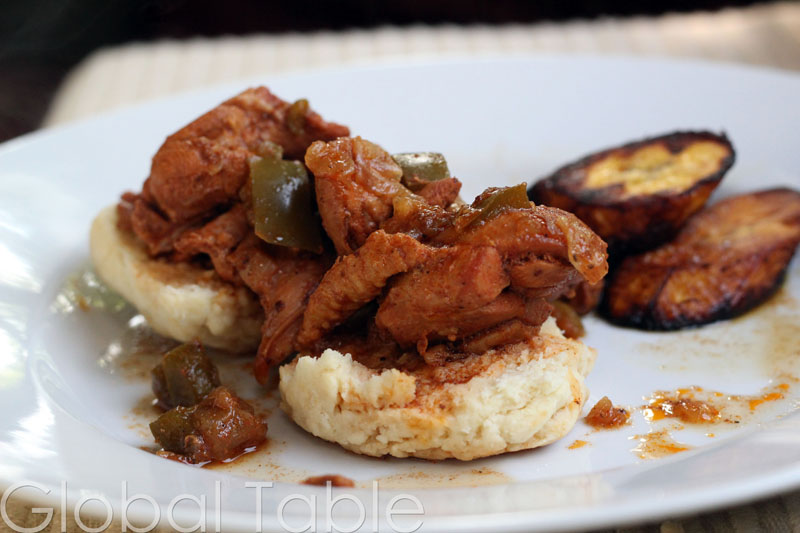 What I liked most about this dish
Wowzers. Stew Chicken is a winner. From the moment the chicken hits the pot, the entire house smells like "good." The chicken pieces simmer for an hour and half in a red recado infused broth, slowly transforming into an incredibly tender delicacy (teeth are definitely optional).  I cannot believe how much flavor fits into each bite –  with very little effort on my part! I used boneless, skinless chicken thighs to keep things simple, but you can use whatever you like. Bone-in meat is traditional.  I enjoyed that this hearty Belizean stew is not blazing hot (you can add minced habenero or hot sauce to heat things up), however the red recado makes for an incredible, complex flavor reminiscent of both Mexican and Caribbean food.
Speaking of the red recado – the recipe I provided on Technique Thursday will make 2-3 batches of stew chicken.
What I liked least about this dish
I should have made more! I had no idea I would like Stew Chicken so much. After some quick math, I erroneously thought 2 pounds of chicken would be enough for dinner and the next day's lunch. Although we (Keith, Ava, and I) all ate our fill there were no leftovers! Boo. I guess we're a bunch of piggies. Next time I'm going to make a double batch. I also want to try this with coconut rice (rice cooked in coconut milk), or even rice and beans, since the stew swims in a lip-smacking broth that would be awesome soaked up in rice.
Johnny Cakes [Recipe]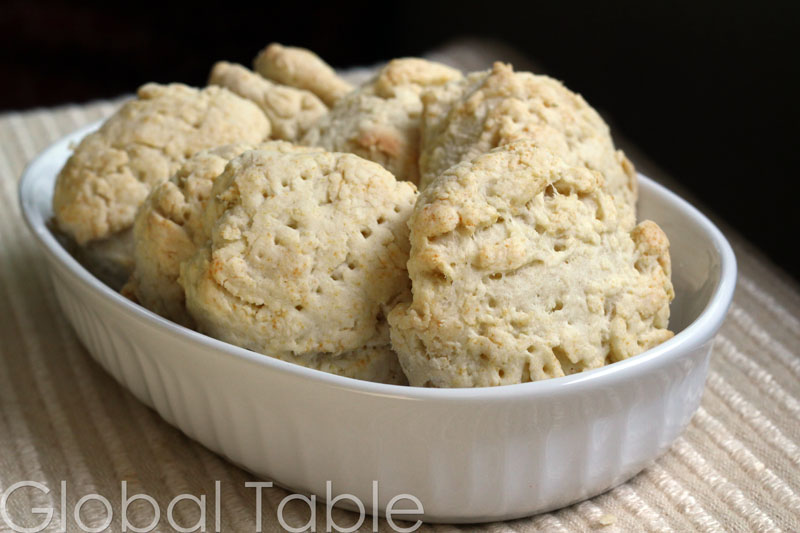 What I liked most about this dish
For starters, Johnny cakes are quick and easy to make – basically an ingredient "dump & stir."  They taste a lot like biscuits, with a just a hint of coconut flavor. I think that Johnny Cakes come across as pretty "normal" (even for picky eaters), making them perfect for a Belizean/Caribbean themed brunch or kids party.
What I liked least about this dish
Johnny Cakes are heavy, thanks to the coconut milk. The day after our meal I had 3 for breakfast (What?!?! They were small!). Big. Mistake. I had "lead" stomach for hours… Also, the crumb is dense – definitely not as flakey as a biscuit, due to mixing the butter in melted form. Overall Johnny Cakes are good, but I don't think they'll be replacing my normal biscuit recipe.
Fried Plantains [Recipe]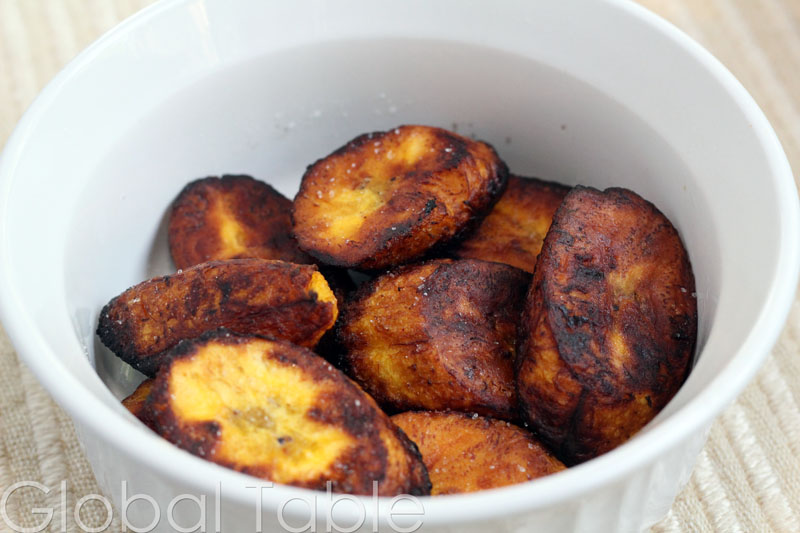 What I liked most about this dish
Sweet, pan-fried plantains are the bees knees. The contrasts – soft and crispy, sweet and salty – are entertaining and addictive. Nothing could be easier, either – just slice, fry, salt (or sugar), and eat! You can have these table in five minutes, if you are good with a knife. They go well with any food, particularly spicy food because the sweet flavor helps cut the burn.
What I liked least about this dish
Plantains are astringent and generally terrible when not ripe. I would suggest waiting at least until the plantain is yellowish with bits of black before using. Green plantains do not work for this recipe at all. In fact, I had one that was underripe and was very disappointed to have cut into it and not be able to use it.
Sweet Potato Pone [Recipe]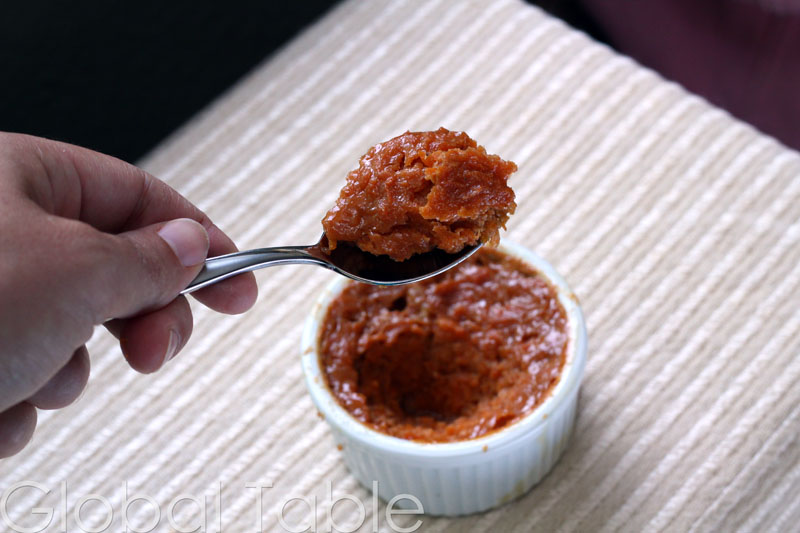 What I liked most about this dish
Sweet Potato Pone tastes a lot like pumpkin pie. Eating the dessert chilled was refreshing, especially since we've had weather in the high 90's lately.
What I liked least about this dish
Even though I love the concept of this dish, I'm not sure that this dessert was successful. For my tastes it was too sweet. Another problem I had was that it pulls away from the sides of the dishes and looks rather unsightly. A quick beauty trick is to cover the top of the ramekins with whipped cream (plus I think the creamy fat would break up some of the sweetness).
Ava's Corner
Ava LOVED, LOVED, LOVED the chicken. We really should have taken a video. She was cute – bouncing up and down, grinning, eating as fast as we would let her… I think the flavor was exciting and the chicken was so tender, so she had an easy time eating it! I think she ate 2 chicken thighs! That's a LOT! 🙂 On the flip side, she wasn't interested in the Johnny Cakes at all – again, she does not like the texture of crumbly bread.