In the traditional recipes I've oggled, Bahraini fuse Middle Eastern cuisine with spices from India. Sounds great to me! I'm always dragging my husband to both sorts of restaurants. How great that I'll be able to eat both in one bite. I'm particularly looking forward to trying the variation on rice pilaf.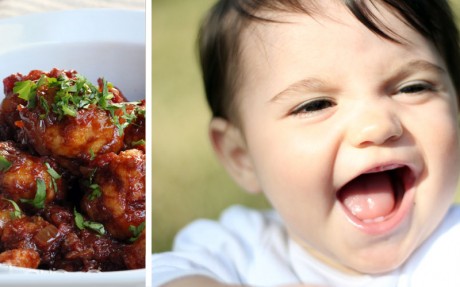 Roasted Eggplant Dip (Uukkous Al-Badinjan) [Recipe]
A tantalizing blend of roasted eggplant, garlic, olive oil, chili pepper, paprika, lemon juice, and parsley.
This reminds me of a spicy baba ganoush, without the tahini.
Bahraini Shrimp Balls (Chebeh Rubyan) [Recipe]
Shrimp pureed with rice flour, turmeric, and cilantro.
The shrimp paste is then formed into balls, stuffed with a seasoned onion mixture and
simmered slowly in a chili tamarind sauce.
Rosewater Rice Pilaf (Mulhammar) [Recipe]
Basmati rice steamed rosewater, cardamom, saffron, ghee, and sugar.
Although slightly sweet, this dish is not a dessert, but is served with main courses.
Apricot Fruit Leather (Quamar-el-Deen) [Recipe]
This "fruit roll-up" is eaten during Ramadan throughout the Middle East.
For a variation, the leather can then be dissolved in sugar-water for a thick, fruity drink.