Serves 4
Shrimp balls blend the flavors of the Middle East with India. Though these are traditionally stuffed with minced onion, I prefer the simplicity of unfilled balls. If you like spicy food, add a sprinkle of cayenne. The way the recipe stands, however, this dish is mild, but wonderfully flavorful.
TIP: Use the cheapest shrimp because you are just going to puree it anyway.
Ingredients:
1 lb cleaned shrimp
1 Tbsp cilantro
1/4 tsp ground turmeric
1/2 – 1 tsp salt
1/2 cup brown rice flour
1/3 cup ghee or butter
1 onion, minced
baharat powder:
1 tsp paprika
1/4 tsp nutmeg
1/4 tsp black pepper
1/4 tsp coriander
1/4 tsp cumin
1/4 tsp cinnamon
1/8 tsp cloves
1/8 tsp cardamom
the rind of 1/2 a lemon, grated
1 tsp tamarind paste
1 cups warm water
1 15 oz can diced tomatoes
1/2 tsp chili powder
2 Tbsp sugar
Method:
For the shrimp balls:
1. In a food processor blend into a paste shrimp, cilantro, turmeric, salt, and rice flour. Chill until needed.
For the sauce:
2. In a skillet with high sides, saute minced onion in ghee or butter until soft and golden. Add baharat spices, lemon rind, tamarind paste, water, tomatoes, chili, powder, and sugar. Cover and simmer while preparing shrimp balls, about 30 minutes.
NOTE: This sauce is much better the longer you cook it.
Assembling the shrimp balls:
1. For each shrimp ball, take 1-2 Tbsp shrimp mixture and form into a ball.
TIP: Keep your hands wet to prevent shrimp mixture from sticking to your hands.
2. Add shrimp to simmering sauce and cook for about 20 minutes covered. Serve with rice.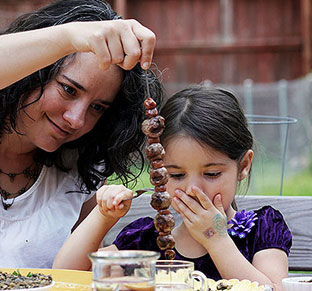 Hungry for more?
Be notified when National Geographic releases my memoir.
Simply fill in your details below.