Serves 4
Make this dish a day ahead to allow time for the flavors to mingle. Uukkous Al-Badinjan blows baba ganoush out of the water!
Ingredients:
3 eggplants
4 cloves garlic, crushed
2 Tbsp olive oil
1/4 tsp cayenne
1 1/2 tsp sweet paprika
2 Tbsp lemon juice
1/4 cup fresh parsley, minced
1/2 – 1 tsp salt
Method:
1. Using a fork, poke eggplants all over. Roast eggplants at 350F for about 1 hour or until soft.
NOTE: Today it's pretty hot in Oklahoma, so I decided to keep the house cool and grill the eggplants. Grill at 350F for about an hour or until soft.
2. Remove from oven and let cool until you can handle the eggplants. With a knife, split eggplants open and scoop out all the flesh into a food processor or blender. Or if you're like me, into a bowl and use your immersion blender.
3. Add remaining ingredients and puree. Taste and adjust seasonings if necessary. Chill and serve with flatbread or as an accompaniment to main meal.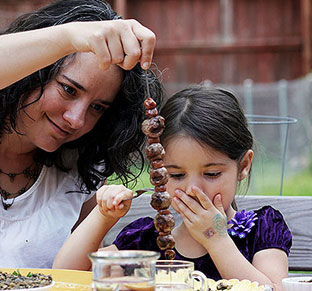 Hungry for more?
Be notified when National Geographic releases my memoir.
Simply fill in your details below.