Serves 4
Mulhammar is a slightly sweet rice pilaf is wonderful with spicy food. You'll love the taunting aroma of rosewater, saffron, and cardamom. Everything is very subtle and mild.
Ingredients:
1/2 tsp saffron threads
3 cardamom pods, cracked
2 Tbsp rosewater
6 cups water
1 Tbsp salt
2 cups basmati rice
1/4 cup sugar
1/4 cup ghee or melted butter
Method:
1. Combine saffron, cardamom and rosewater in a small bowl.
I then used a spoon to mash the saffron mixture into the sugar.
2.  In a medium pot, bring water and salt to a boil. Meanwhile, rinse rice under cool water until water runs clear.
3. Add rice to boiling water and cook 8 minutes uncovered. Stir every few minutes. Drain.
4. Put rice back in pot and add saffron mixture over the top along with the melted ghee or butter. With the handle of a wooden spoon, poke a few holes in rice. Cover with lid and let steam over very low heat for about 20 minutes, or until tender. Serve hot.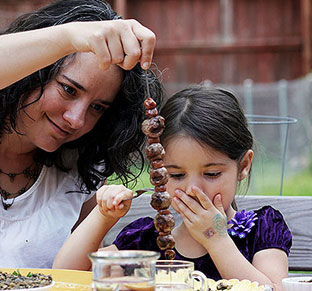 Hungry for more?
Be notified when National Geographic releases my memoir.
Simply fill in your details below.