This is meal #6 in my personal challenge to eat one meal from every country in the world.
Sea, salt, sand, balmy, breezy, beautiful.
Nope.
I woke up to 40F and overcast (with the closest beach a full day's drive away). Not exactly the best weather or locale for Caribbean picnic food. And, just think, we had had 70 degree weather a few days earlier. Darn.
Refusing to be brought down by ol' man winter, I got dressed up to my smile and chanted the old mantra "mind over matter, mind over matter."
By meal time I was still dragging a little (I kept glancing out at the clouds, looking for some piece of blue sky – only to be dissapointed).
I'll tell you what – one bite into my sandwich and the dreary weather was far from my mind. The delicious flavors of the Caribbean uplifted me! (Perhaps I should be chanting "food over mood, food over mood" from now on).
The meal just oozed spring sunshine (coconut rum, anyone???).  So much so that, after eating, I invited our guests to bring their daughter Abigail out back to play.
Their response?
"Uhhh, but it's cold out."
"Oh yeah. I forgot."
If you're looking to melt away the winter drearys, this is the meal to do it.
Sparkling Grapefruit Breeze [Recipe]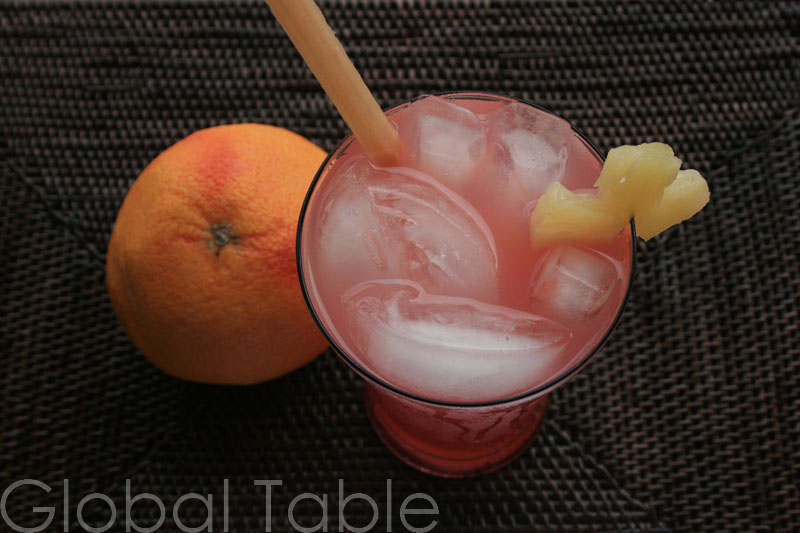 What did I like most about this drink?
The sweet fruit juices are just so great with coconut rum. I also like that you can mix it ahead and just add the Ting when guests arrive.
What did I like least about this drink?
I really liked it, but I will say that you've got to like sweet drinks to enjoy this Grapefruit breeze. (Thanks to the various juices and Ting, the drink does not have the characteristic bitter flavor of grapefruit).
Tropical Curried Chicken on Baguette  [Recipe]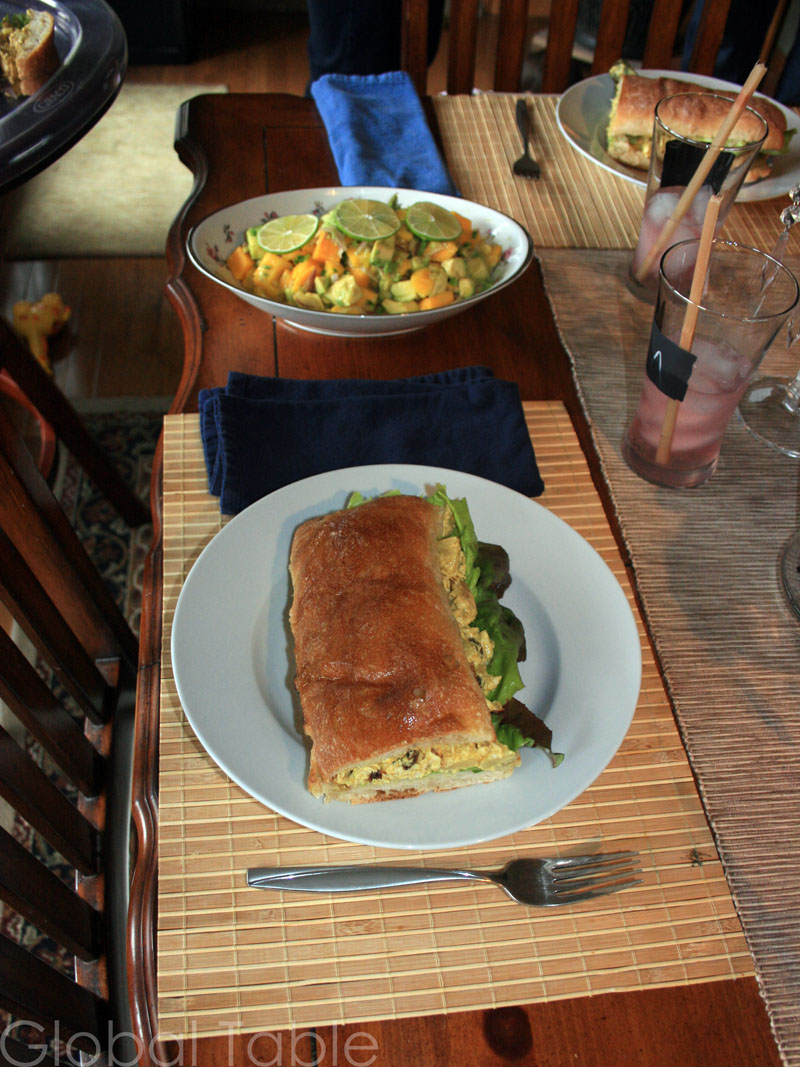 What did I like most about this dish?
I served this sandwich to 4 adults. We each had a HUGE 10″x4″ portion (I used 1 1/2 baguettes. We all cleaned our plates – and none of us are usually "big eaters," if that tells you anything about how good this was!
Honestly, I loved everything about this sandwich. I am a sucker for curried chicken. The sweet bursts of pineapple were awesome. I also really enjoyed the grilled baguette – the slight warmth and crispness added nice texture, not to mention the great toasted flavor.
As with any sandwich, picking a great bread makes all the difference.
What did I like least about this dish?
Nothing. The chicken salad was so easy to make. Use leftover rotisserie if you don't feel like grillin'.
Spicy Mango and Avocado Salad  [Recipe]
What did I like most about this dish?
Mango and avocado are two of my favorite ingredients. Although I never had them together, I loved this combination. The lime juice really pulled the flavors together.
What did I like least about this dish?
I made this too spicy, using 2 Tbsp of jalepenos. If you like a mild heat, just use 1 Tbsp, or leave the jalepenos out. Otherwise the salad was wonderful.
Baked Brown Sugar Bananas over Vanilla Ice Cream  [Recipe]
What did I like most about this dish?
Sweet, goey, rich… mmmmm. I'm sorry, what was the question?
What did I like least about this dish?
Just the fact that I didn't have the right rum to light it on fire. That would have been super cool. Might have to remake this dish just so I can try that out.
Oh darn, does that mean I have to eat it again?? Poor me!!
Ava's Corner
This week Ava got to try mango and avocado together. She'd already eaten both on their own, so this was just a new combination to try. We served the food slightly mashed with a little whole milk yogurt.
The avocado and mango were both ripe enough to leave little pieces for her to "gum." More and more she enjoys "chewing" her food, even though she does not have teeth.
She loved her dinner and will definitely be getting this combination again.