Serves: 4
This chicken salad is incredible. The intense curry melds with the grilled chicken, while sweet bursts of pineapple and raisin leave you begging for more. For the best flavor, serve on a rustic baguette brushed with olive oil and toasted on the grill. YUM!
Ingredients:
3 cups of grilled boneless chicken breasts, shredded (about 4 chicken breasts. Grilling the chicken just adds more flavor.)
1/2 cup raisins
16 oz pineapple tidbits
1/2 cup mayonnaise
3 Tbsp mango chutney
1 Tbsp curry powder
2 lemons, juiced
salt
pepper
1 head red boston lettuce
1-2 rustic baguette – depending on your appetite!
(a rustic baguette is wider than a traditional baguette – holds more filling)
Method:
1. In a large bowl, combine chicken with raisins and pineapple.
2. In a small bowl, stir together mayonnaise, chutney, curry, and lemon juice.
3. Pour over chicken and stir to combine. Let flavors meld for an hour in the refrigerator.
4. Slice baguette(s) in half long-ways and brush the inside with olive oil. Spread open and grill the inside over medium heat until just toasted.
5. Lay lettuce leaves on the bottom of the baguette. Spoon the chicken salad on top of it. Shut the lid, slice into individual sandwiches, and serve!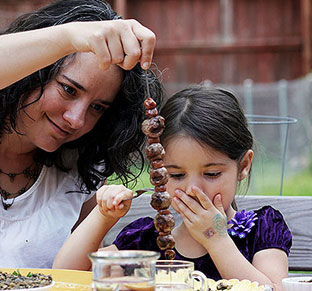 Hungry for more?
Be notified when National Geographic releases my memoir.
Simply fill in your details below.