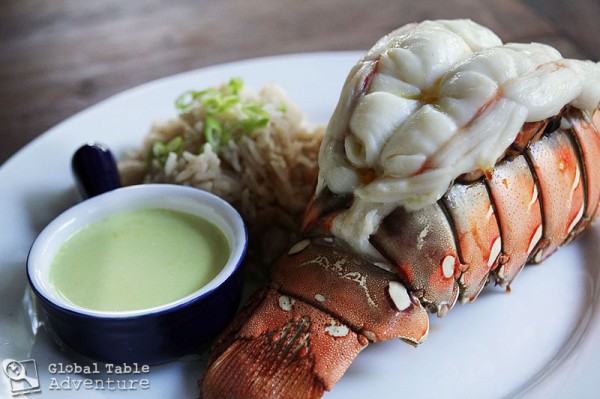 We're all friends here, right?
I need to tell you something important. I'm learning to step out of my comfort zone. Not just once in a while. Once a day. It's scary but also rewarding. Sometimes, though, you can take too big a step. I'm learning that baby steps are better.
Let me put this into context for you.
Deciding whether or not to make this recipe caused quite the dilemma. You see, the last time I made lobster was traumatic.
Have you ever made live lobster? It's stressful. It makes me sad just thinking about it.
Here's the reality: I put on a brave face and went for it, but stepped too far out of my comfort zone. The result? I secretly vowed to never make lobster again.
Then Kiribati skips into my life and, like a breath of fresh air, Kiribati tells me lobster is normal. That lobster is a way of life.
And Kiribati tempts me with a 1 step coconut curry for dipping.
<deep breath>
Time to step out of my comfort zone again.
Not wishing to relive any part of my past trauma, I changed up my game plan. I used baby steps.
Have you heard of frozen lobster tails?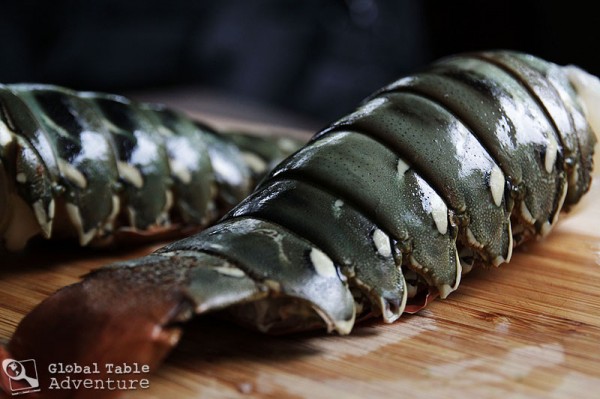 They're the friendly way to make lobster. Turns out I can deal with frozen lobster tails.
For this recipe I chose northern Australian lobster tails because they are similar to the lobsters available in Kiribati. Some of them are 1 lb each. If you're not aware, this is Very Large when it comes to lobster tail goodness.
Take the time to thaw them overnight. Cook 'em up in the oven and serve with coconut curry on a bed of rice.
You'll be glad you did.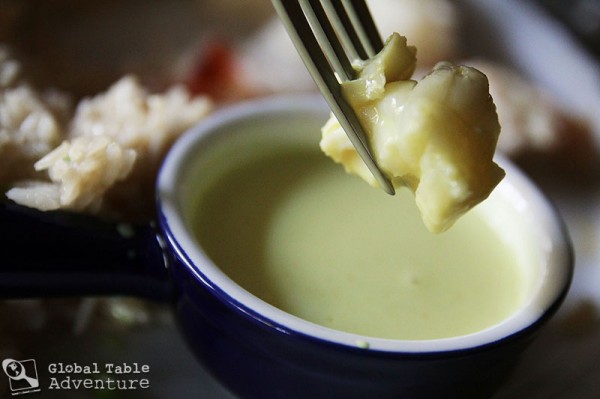 Serves 4
Ingredients: 
4 Australian lobster tails
vegetable oil
1 14 oz can coconut milk
1 1/2 tsp homemade curry powder
salt
Method:
How to make a fancy lobster tail at home:
Thaw tails overnight in the refrigerator.
Preheat the oven to 375F.
(1) Then, using kitchen shears, cut each one down the back, stopping at the last segment before the tail piece. (2) Take hands and bend back the tail until you hear a loud crack. Run fingers between the meat and the bottom membrane, freeing tail meat from the shell. (3) Pull meat up and over the shell, pressing the shell shut beneath it. (4) The tail meat can thus piggyback on top of the shell.
Phew. This video helps. It's easier than it looks.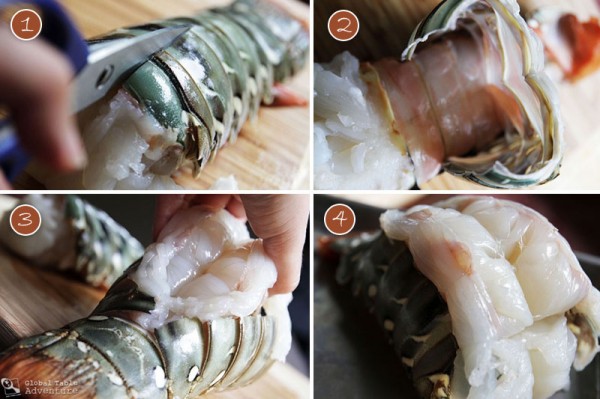 Give it the lobster meat a generous coating of oil. Bake for 1 1/2 minutes per ounce of weight.
To finish off this meal, serve the curry mixture on the side, instead of butter.
I had mixed results.
Hope you have a lovely day!