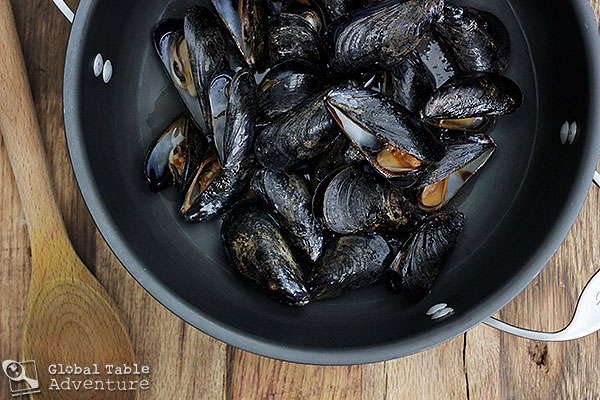 Someone help me, but up until a few days ago, I was not a lover of mussels. I blame those times when, as a little girl, we dug them out of the sand in Cape Cod and drove them in the summer heat all the way back to Boston.  The drive took over an hour and half.  I don't think I need to tell you the rest. It's a shame, really, because good mussels are sweet, mild, and tender… a bit of romance for your mouth.
But we're here to change perceptions, and I knew I had to give them another try. (we can't move forward if we don't keep trying and learning). So I grabbed a bag a the store, zipped home as fast as possible, and got to work.
Funny thing? There really wasn't a lot of work to do thanks to this Palauan trick of tossing them on the grill and brushing them with a dab of barbecue sauce.
You need two simple things.
1. Barbecue Sauce
I went with our Homemade Ginger Peach  Barbecue Sauce, in a nod both to the richly flavored sauces of Asia and the fine fruit we have right here in Oklahoma.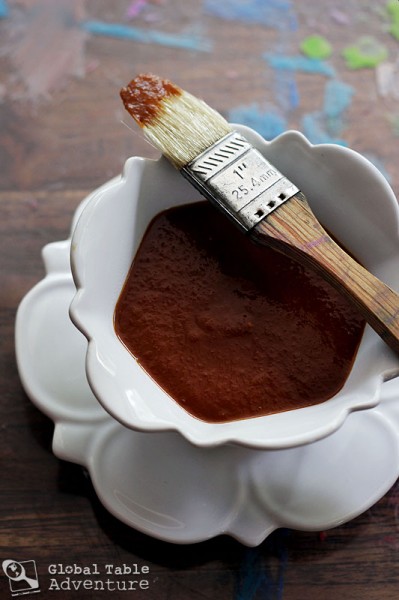 2. Mussels
Buy the mussels as fresh as possible and keep them in the refrigerator until needed.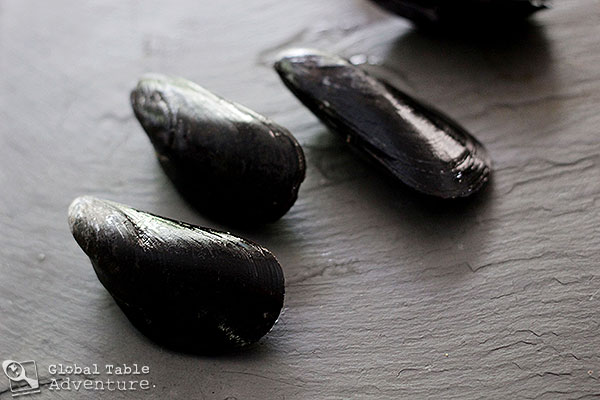 Wash them off right before dinner and pull off that pesky beard.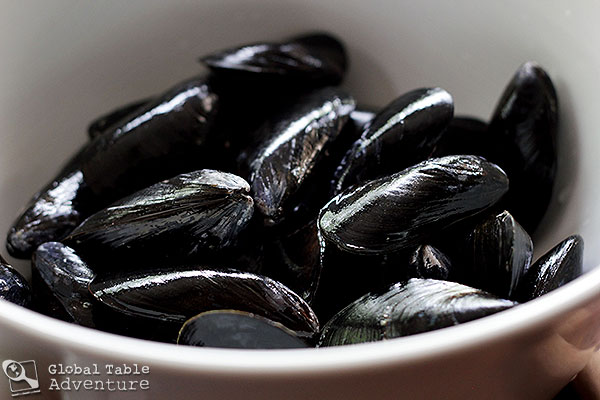 Then things get tricky. Cuz you'll also need to grill 'em.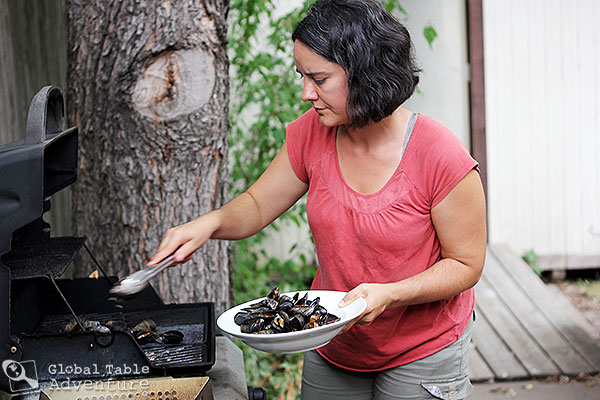 Get rid of any mussels that don't close up tightly when tapped on the counter.
For more details, check out this video I found really helpful:
Then, in a manner much like Mark Bittman's, bravely toss the mussels on a medium-hot grill…cook 1-2 minutes, or until they open up. Some will cook fast, some will cook slower than slow.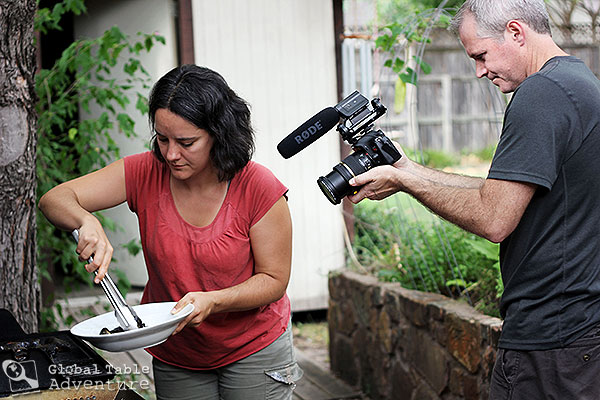 You'll know they are ready when the mussel pull away from the shell (discard any that don't open) . As they open, brush with barbecue sauce… and scoop them when completely cooked (being careful to not spill the juices out)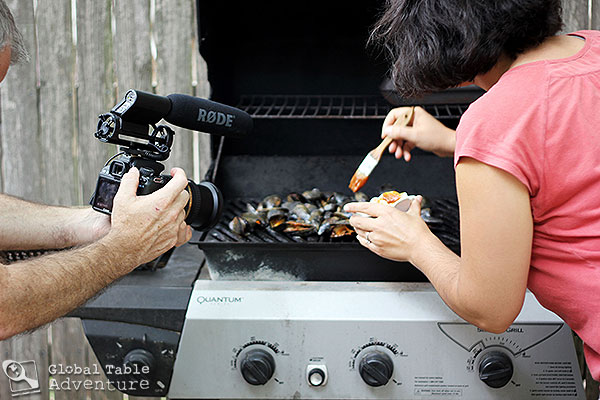 Then comes the real trick – finding someone willing to eat them.
It shouldn't be hard.
They're smoky, sweet, and tender.
Just like a good love story.
Not that kids care much about love stories…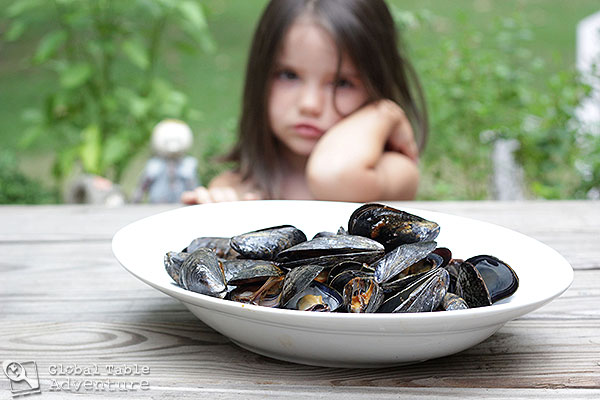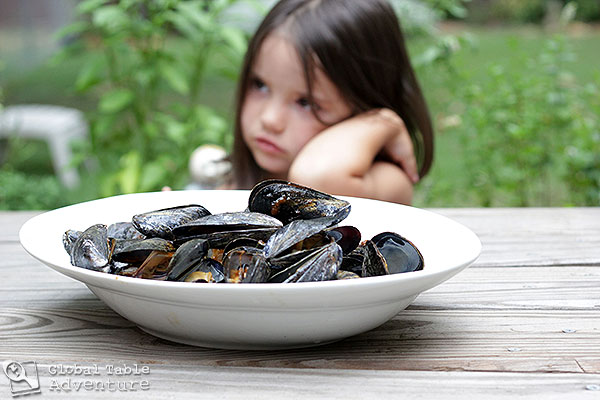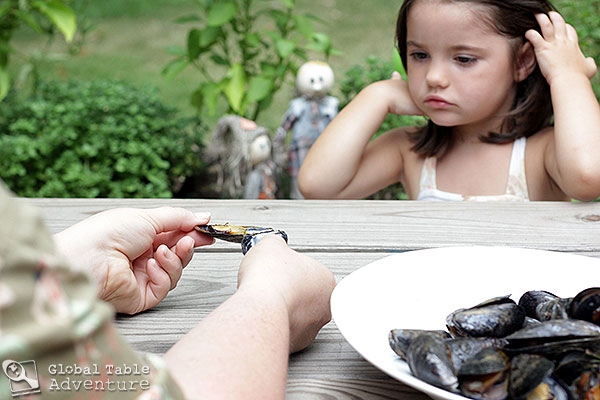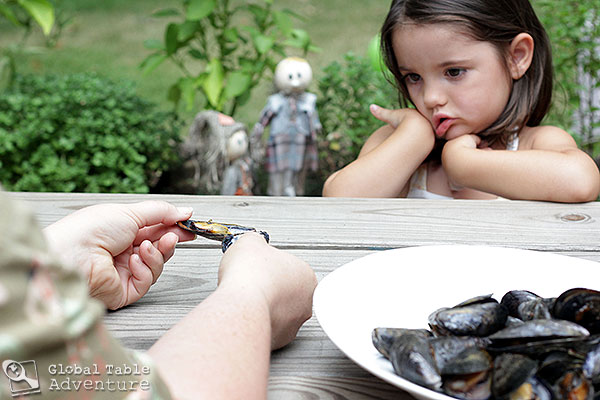 There's hope?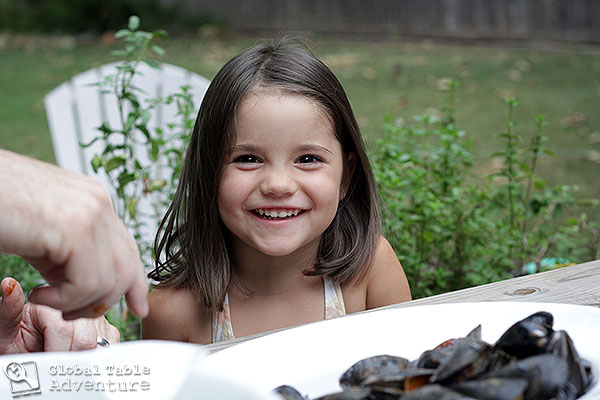 Not a chance.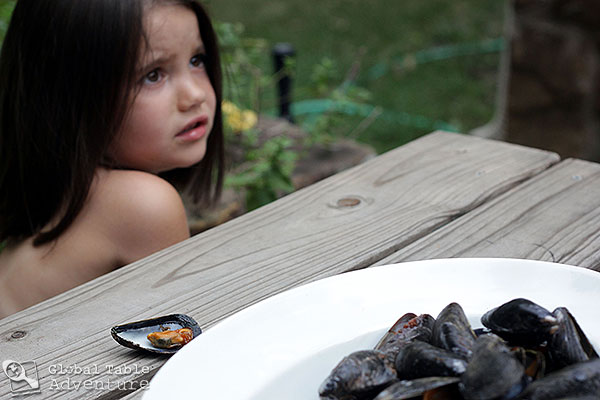 So, what about you?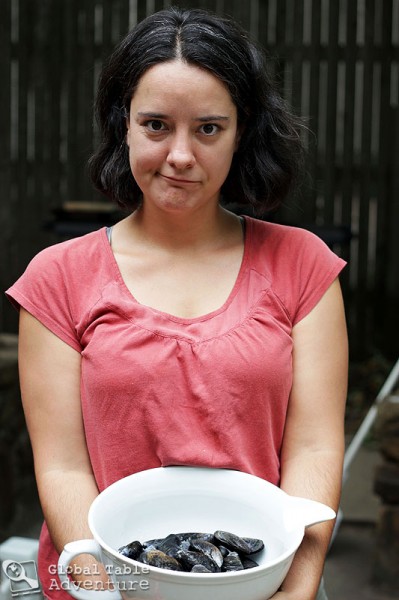 Come on … !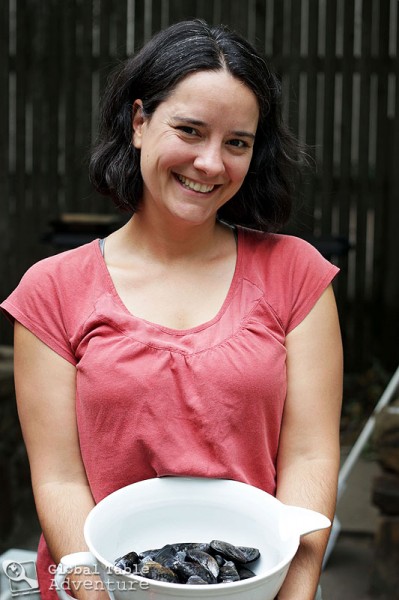 If I can eat them, anyone can.
P.S. They were delicious. Much to my surprise.
P.P.S. Thanks to Tina for getting the "action shots" this week, it's fun to see what we look like from a third point of view.
P.P.P.S. How on earth do you get your kids to eat mussels?
A recipe inspired by Palau.
Servings

Prep Time

2-4

people

10

minutes
Servings

Prep Time

2-4

people

10

minutes
1

lb

mussels

1/3

cup

barbecue sauce
Buy the mussels as fresh as possible and keep them in the refrigerator until needed. Wash them off right before dinner and pull off that pesky beard. Get rid of any mussels that don't close up tightly when tapped on the counter.

Toss the mussels on a medium-hot grill…cook 1-2 minutes, or until they open up. Some will cook fast, some will cook slower than slow.

You'll know they are ready when the mussel pull away from the shell (discard any that don't open) . As they open, brush with barbecue sauce… and scoop them when completely cooked (being careful to not spill the juices out)