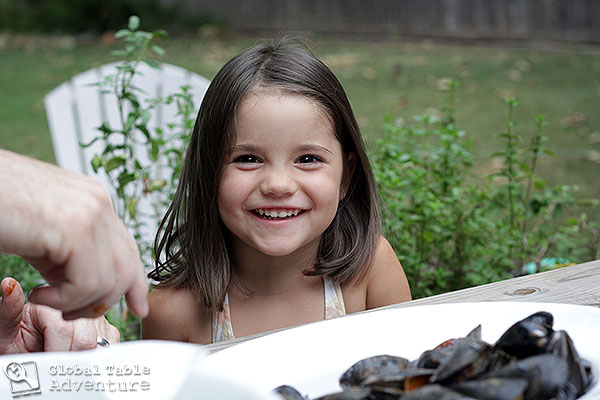 My door handle stopped working the other day. The one in my car that lets me get out. It just snapped off. Around the same time I inhaled a pill into my lungs. Yesterday the doctor told me I have aspiration pneumonia. All this has happened in the week that Keith's been away on business. It's a bit much.
I'm hoping that's it for now. Luckily I cooked all this food before the drama rolled in, so I have plenty of good eats for you… but Panama? Well, I might be in bed for most of that meal. And rather light on recipes. I hope you'll forgive me.
To make it up to you, this giveaway is extra epic (see after our yummy Palauan menu)
All recipes and meal review will be posted throughout the week
Grilled Mussels Dabbed with Barbecue Sauce [Recipe]
One of the most elegant dishes to serve but so, so simple.  I had no idea. Fire up the grill, friends. We're eatin' island style.
 Ginger Peach Barbecue Sauce [Recipe]
A little bit of Oklahoma and a little bit of Palau, all rolled up into one with a nice hit of chili powder. This homemade barbecue sauce is plain, simple, and good enough to wrap up with a bow.
Tandoori Marinade for Fish or Chicken [Recipe]
A nod to the Indian food enjoyed in Palau – yogurt and lemon juice marinade seasoned with garam masala, cumin, coriander, and so much more.
THE GIVEAWAY: 
This week, because I love you and I want to help you create an amazing Global Table spread for you and your family, I've partnered with the delicious Saffron Road to give away $150 to Whole Foods (or any grocery retailer that sells Saffron Road Products).
Epic.
Just imagine all the countries you could cook with that much money.
All the spices…. the rices… the cheese… what a dream.
TO ENTER
Follow these 3 easy instructions for creating your dream Global Table Pinboard… that 's it!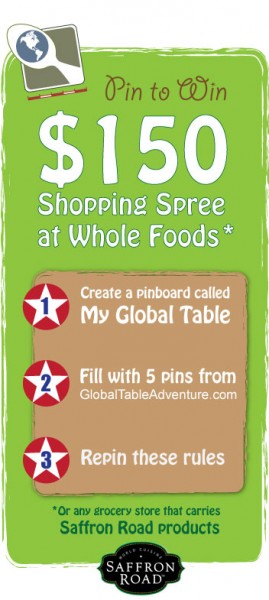 Note: You must be a member of Pinterest.com to enter, and you must be following Global Table Adventure's Pinterest pages . If you do not have a Pinterest account, you can sign up for one here .
You must create the Pinboard to be entered, but for bonus entries, comment here how you'd spend the $150, share the contest on Twitter and on Facebook.
Easy peasy!
This contest launches August 22, 2012 and ends November 18, 2012 at Midnight.
A special word…
I'm proud to have Saffron Road as a partner, supporting our Adventure to eat the world. I love that we share similar values… just read what they have to say about the food they make:
We know that great food begins at the farm, so we source our ingredients from only the finest producers available. It's no coincidence that we buy from small sustainably run family farms. All of our livestock are humanely raised with 100% vegetarian feed and are never given antibiotics. Our halal tradition demands their proper care and welfare.
Glorious.
If you want to be a gem, you'll check out their pinterest pages, too.