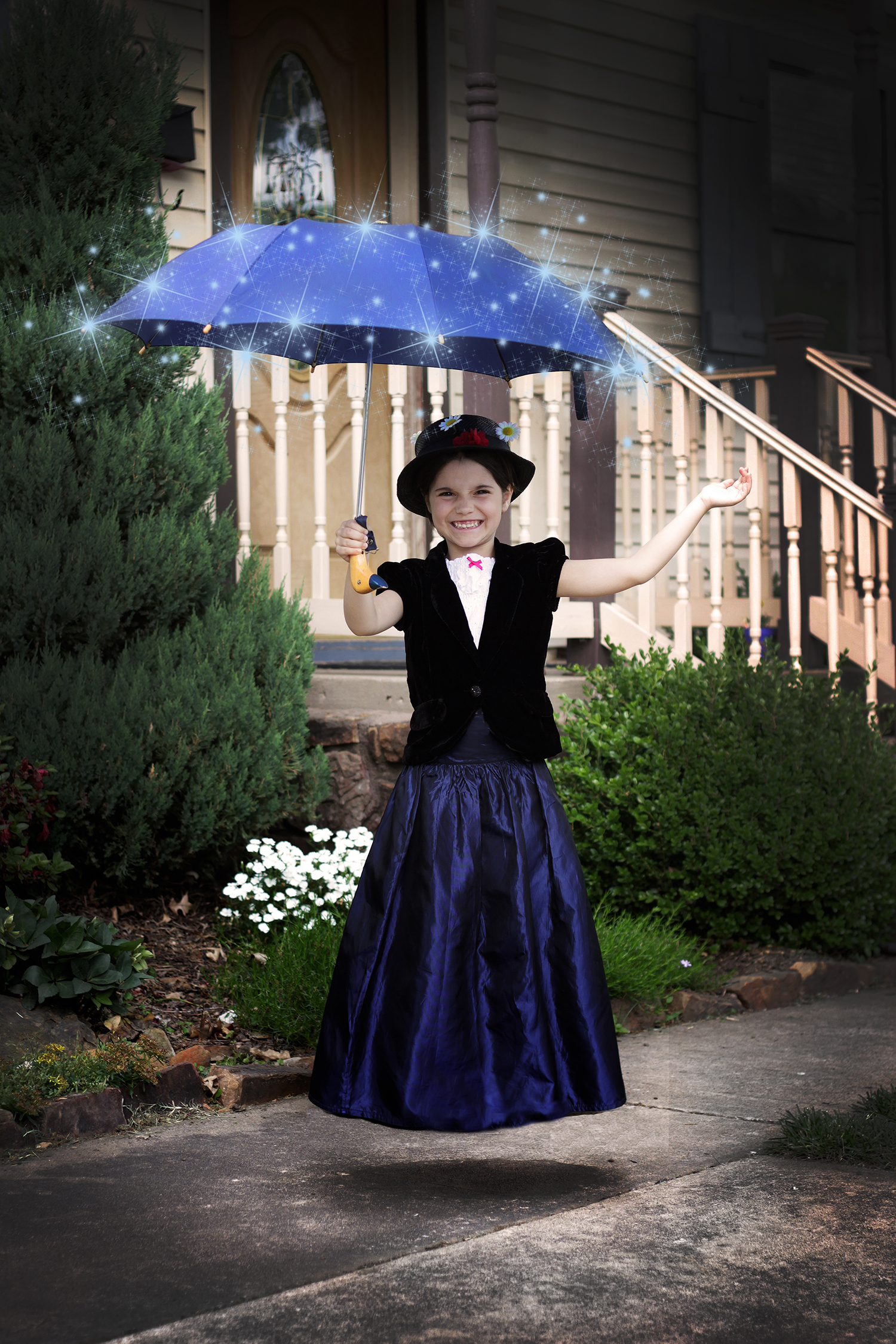 Why stay home for your child's birthday party when you can "journey" to 17 Cherry Tree Lane with a very magical Mary Poppins Tea Party? I began reading Mary Poppins to my daughter earlier this year and we soon found ourselves delighted by the adventures. It wasn't long before Ava asked me if she could have a Mary Poppins themed birthday party.
The more we read of the 1024 page story, the more ideas we got. Here are the highlights of my daughter's Mary Poppins Birthday party.
Set the Tone with Floating Invitations
Mary Poppins is associated with unexpected, magical adventures. To set the tone, I made "floating" invitations a few weeks before the party.
To make it look like your child is floating, simply rub oil on the cement with an old face cloth, feathering the edges to make it look like a shadow. Have your child stand about a foot behind the oil stain. Take a photo – they'll look like they're floating. This works best on a very cloudy day because there will be no competing shadows to ruin the effect.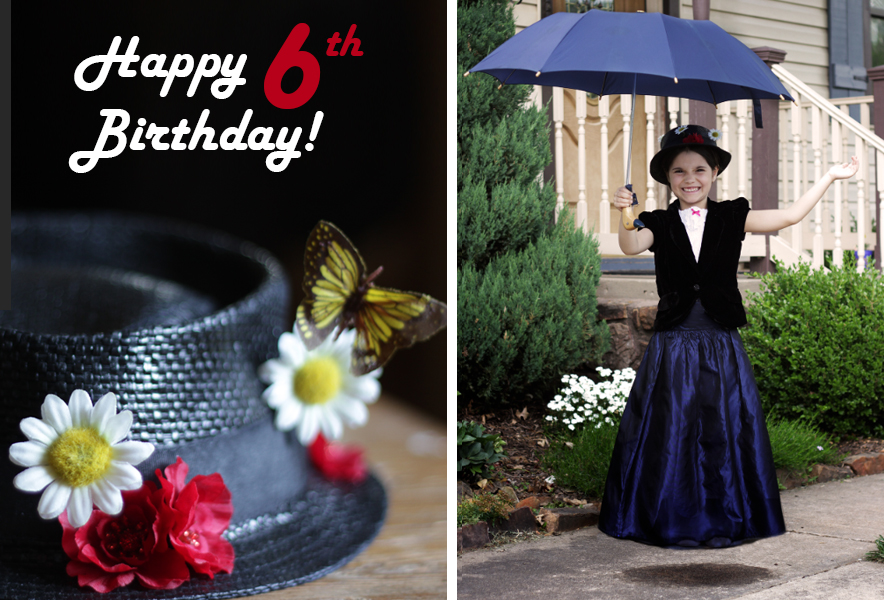 Make it a Costume Party
Everyone loves an excuse to dress up! We invited Ava's friends to wear a costume inspired by the movie, book, or tea parties in general. They did not disappoint!
There were several Chimney Sweeps…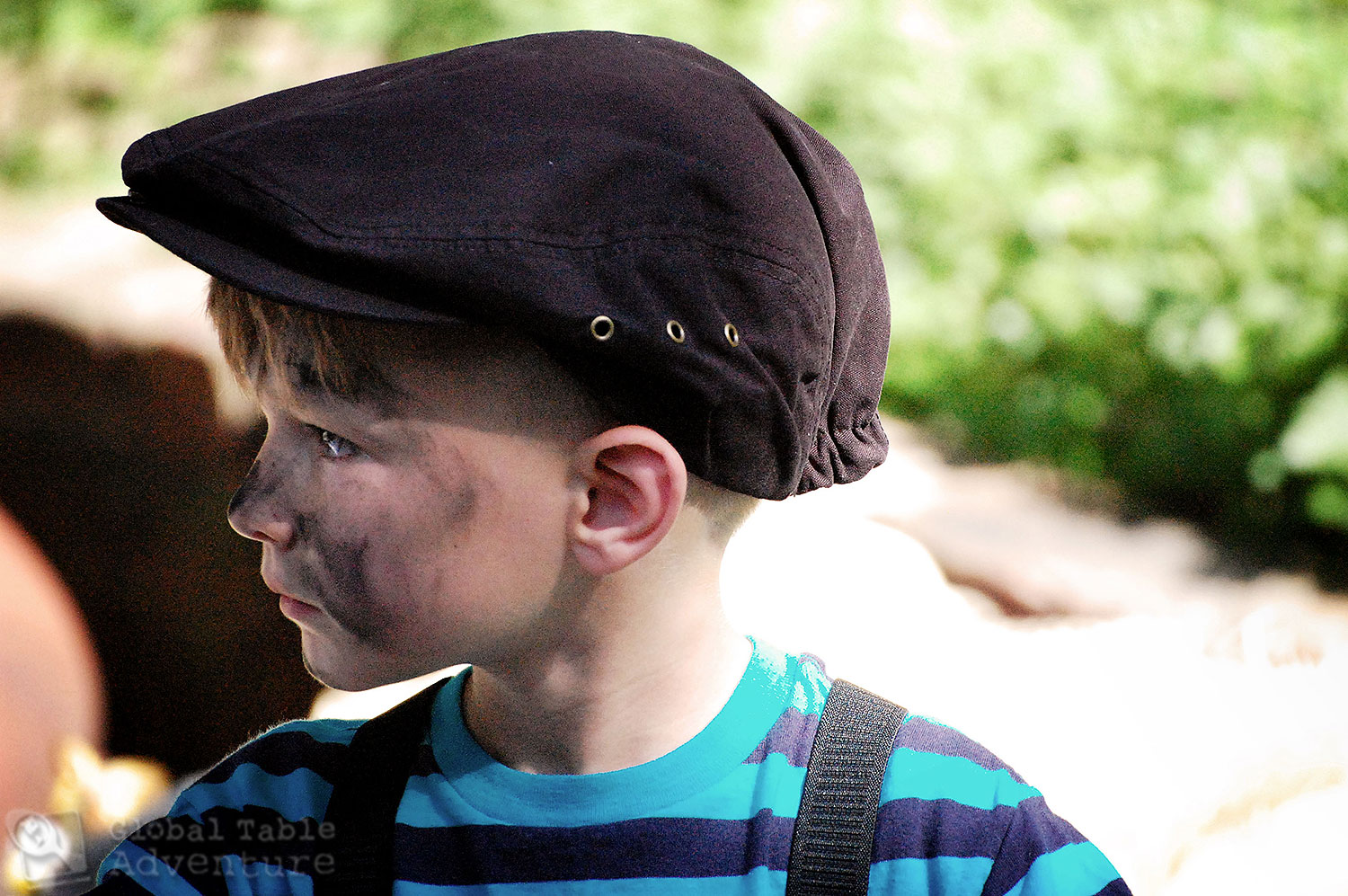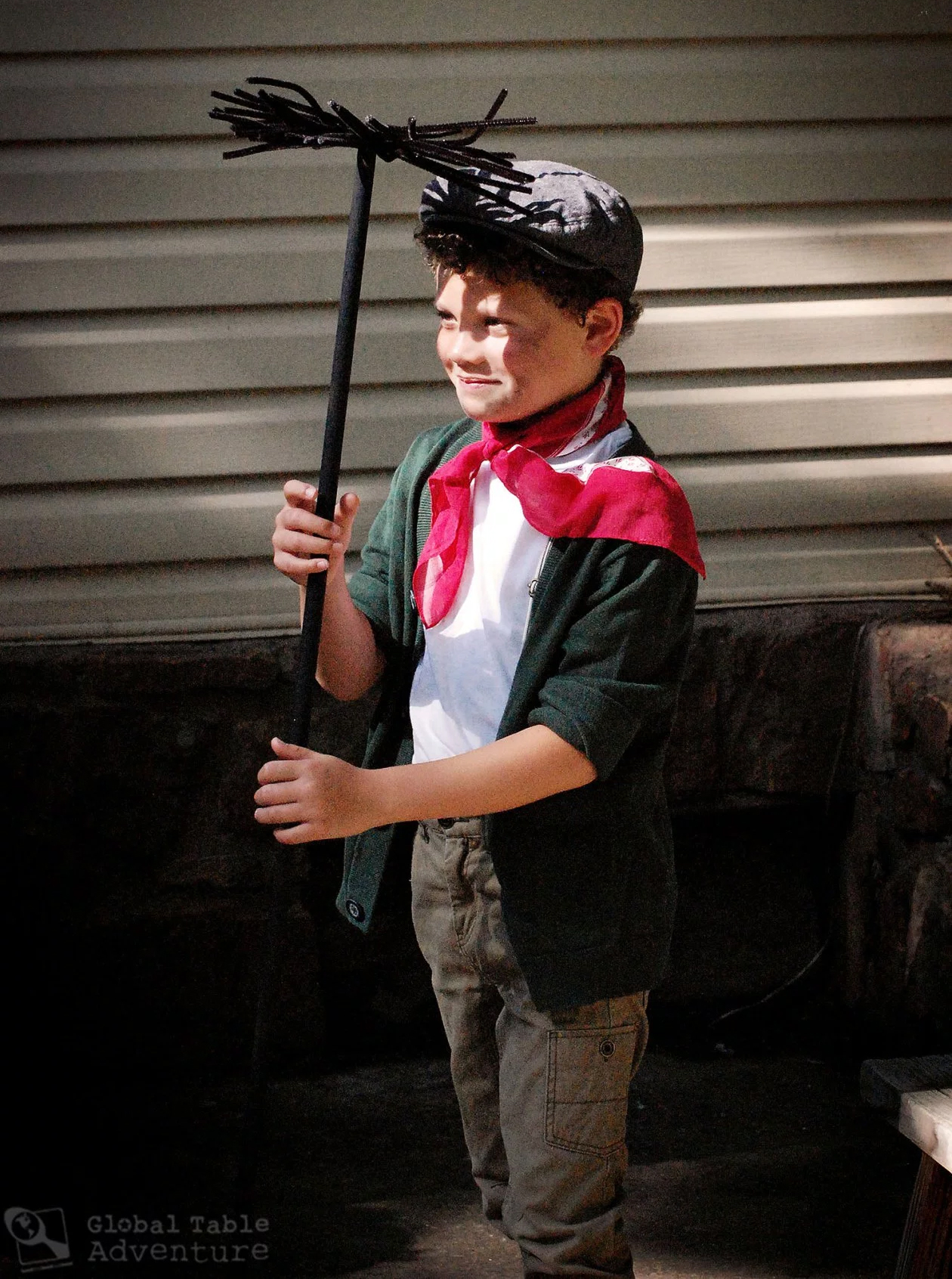 An adorable Bert in red stripes…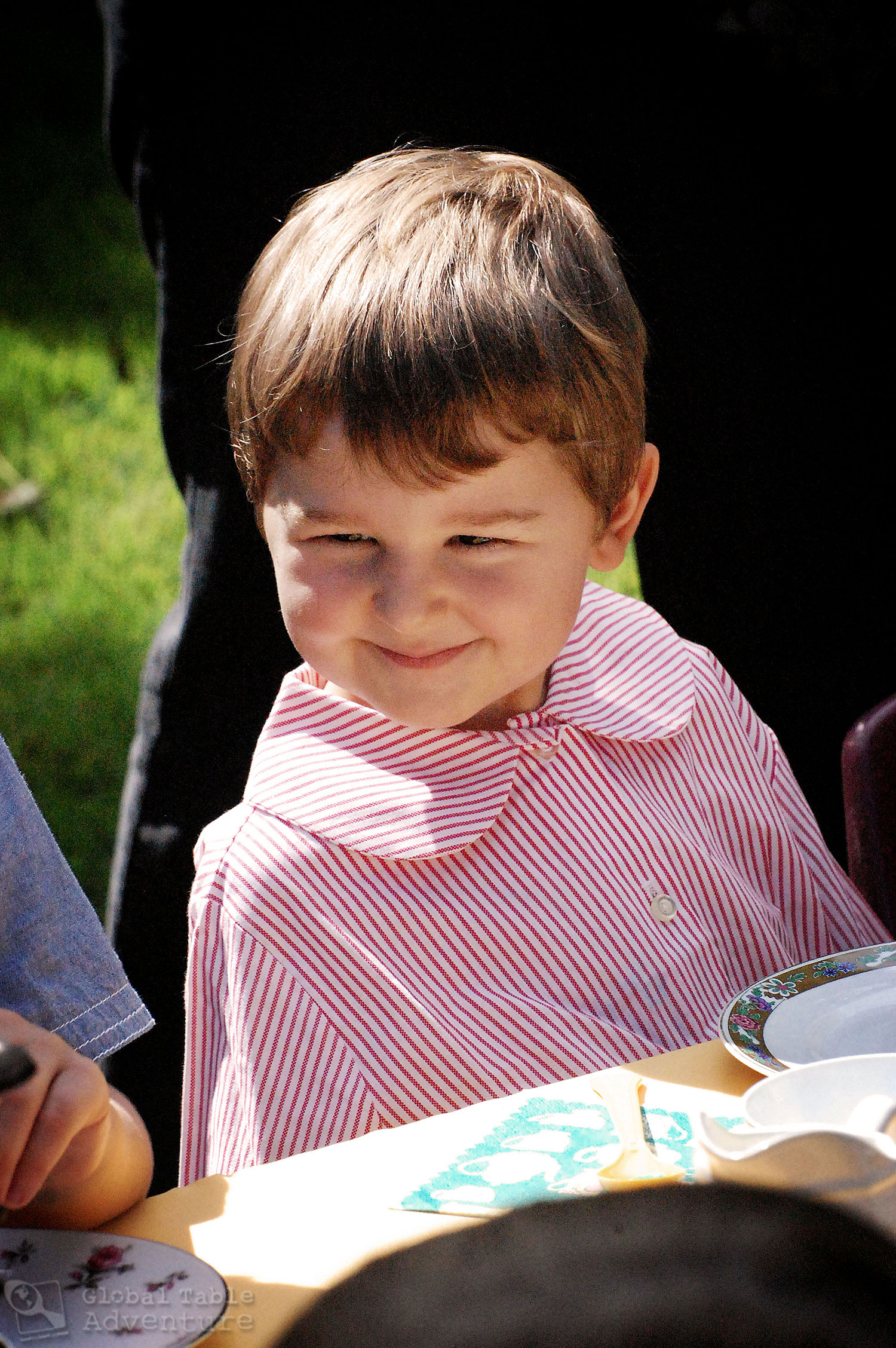 And, as is to be expected, several Mary Poppins!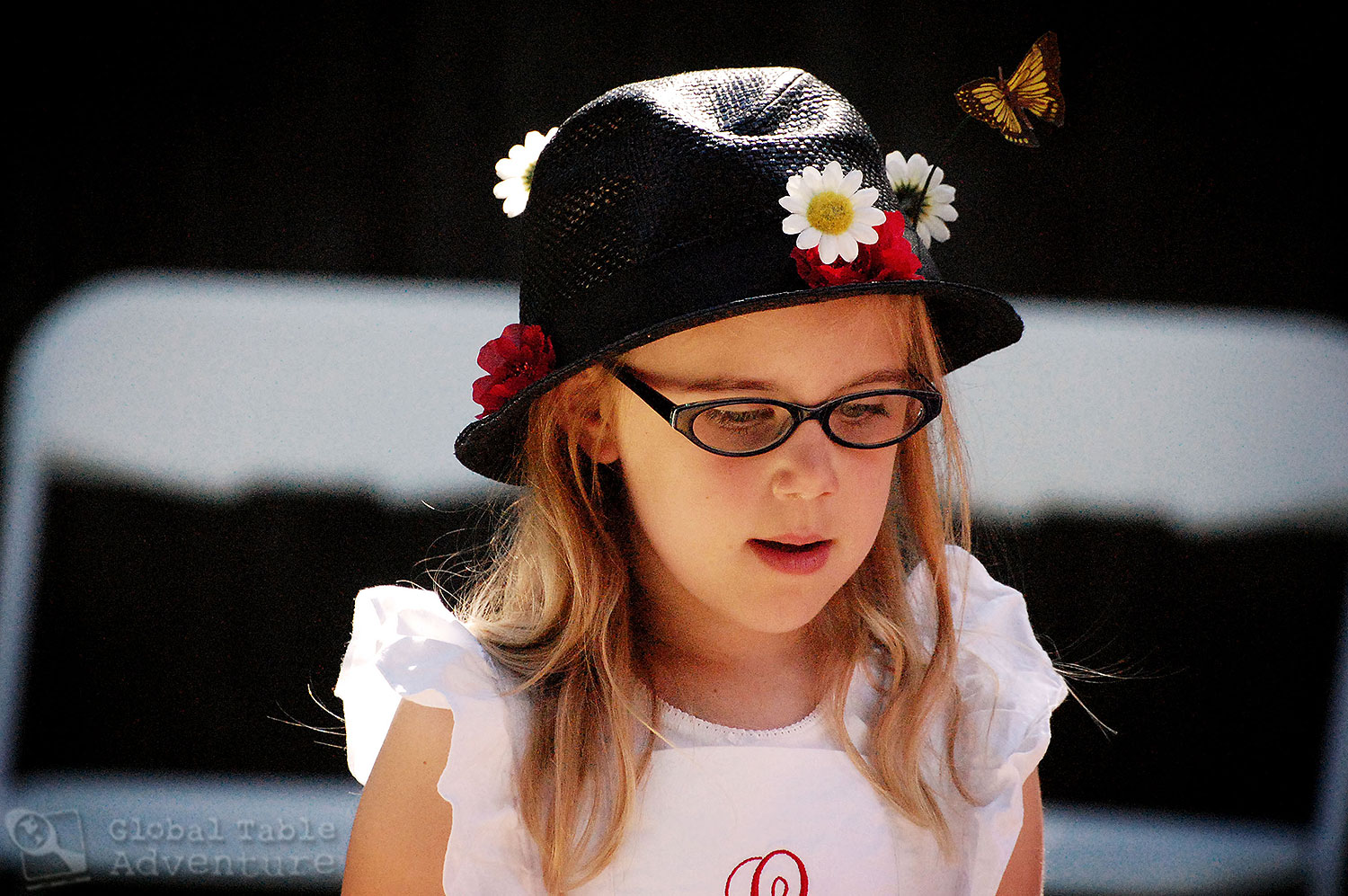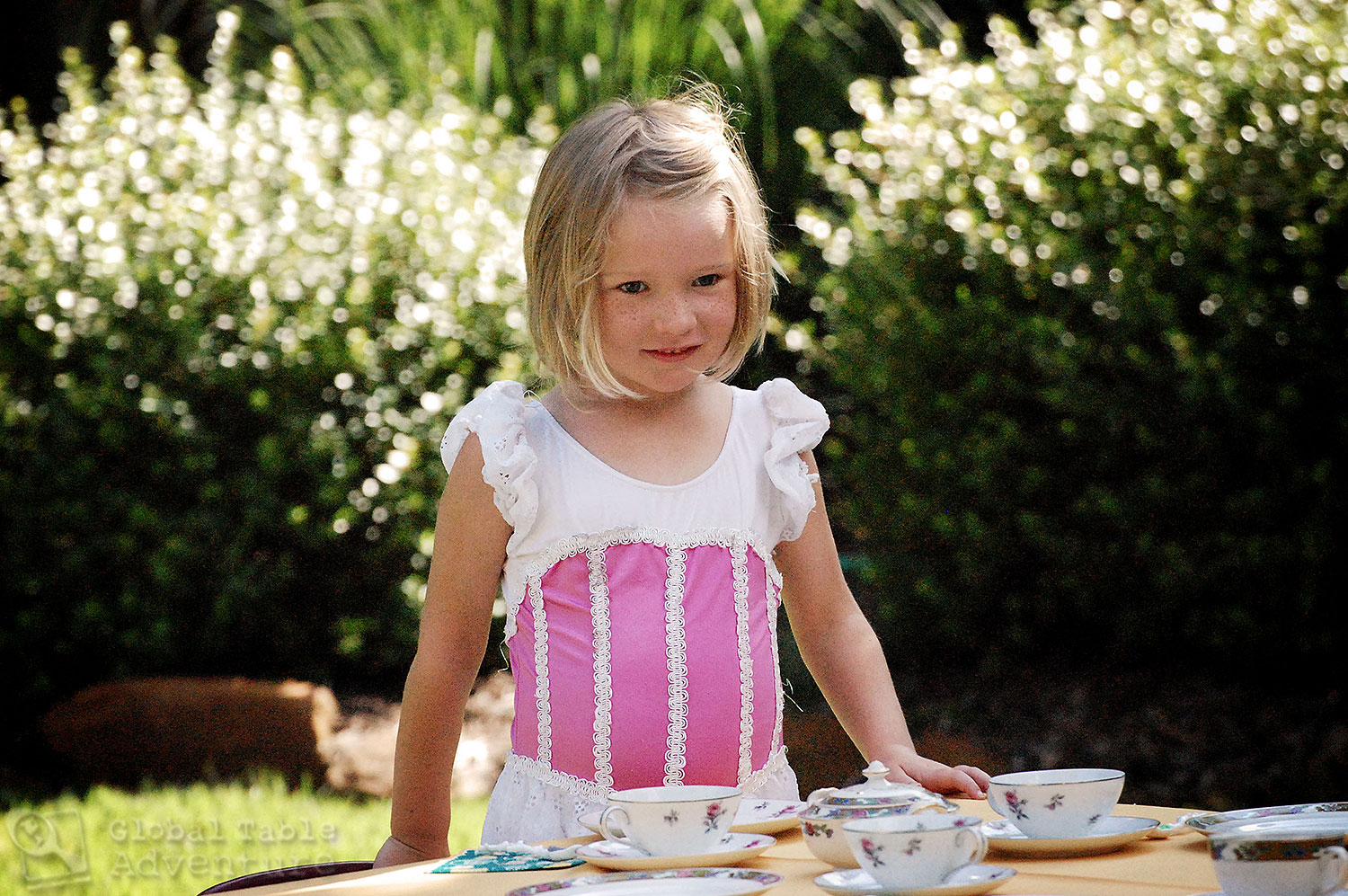 We assembled Ava's costumes from items found at second hand shops, yard sales, and the craft store.
Look – Ava lost her front tooth between the time we took the invitation photo and party day!
So sweet!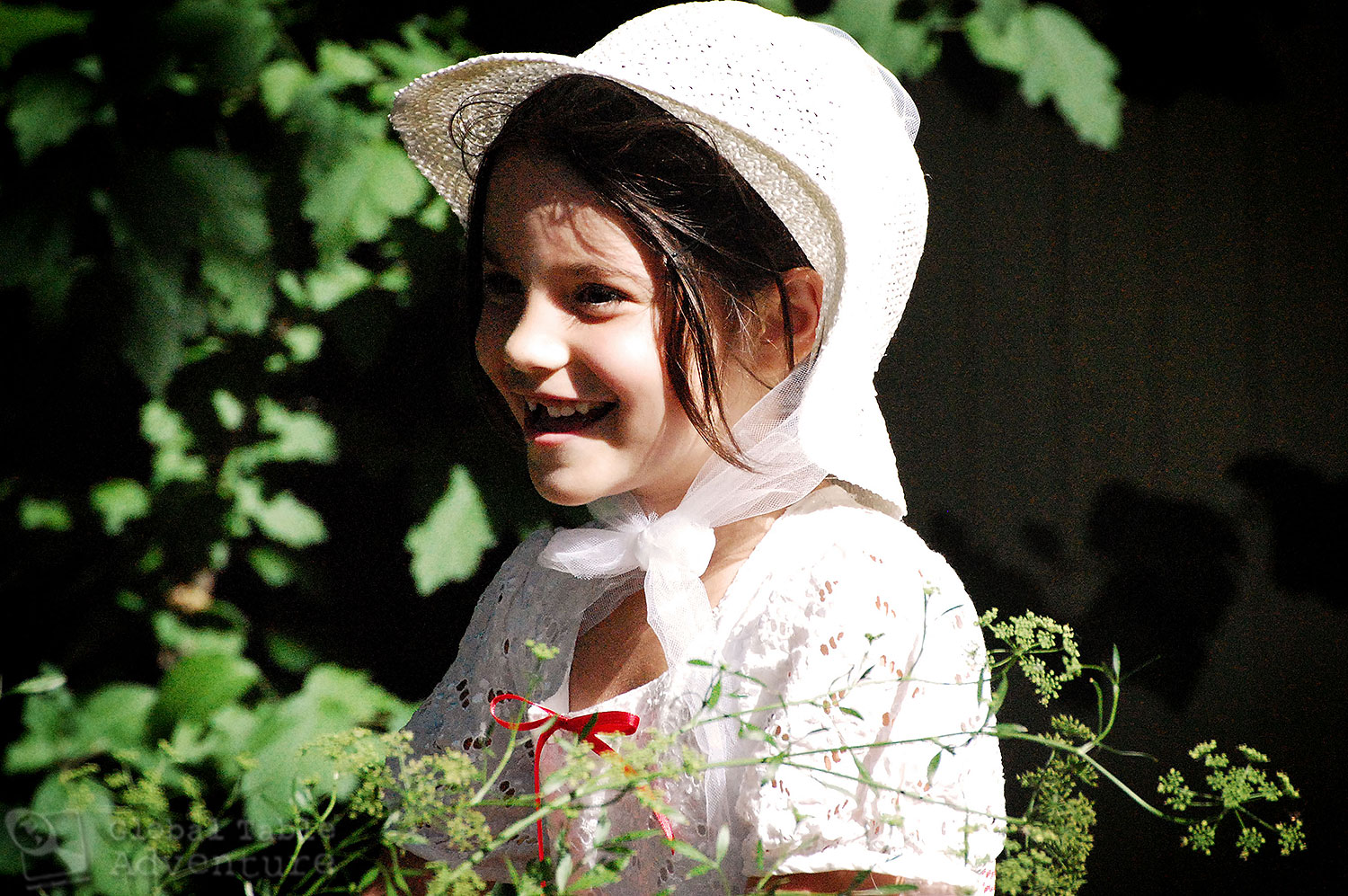 A few red ribbons made her dress unmistakably Mary.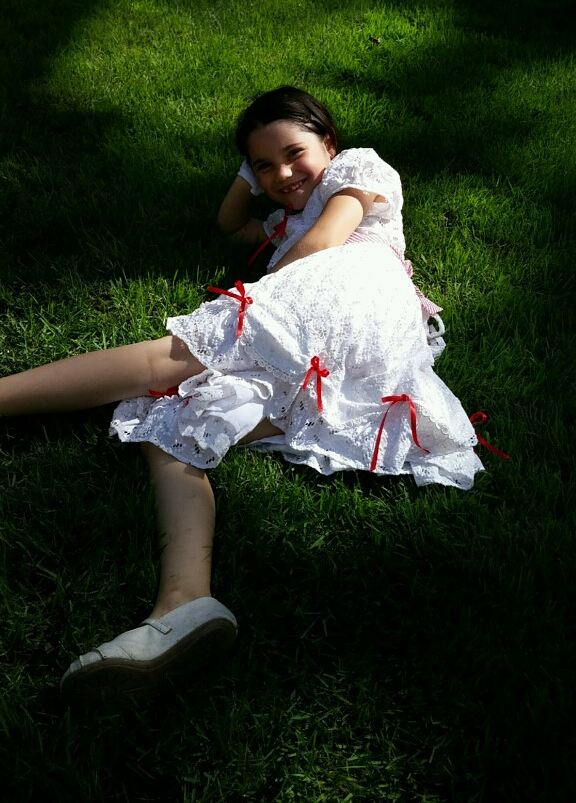 Fancy outfits and umbrellas were everywhere…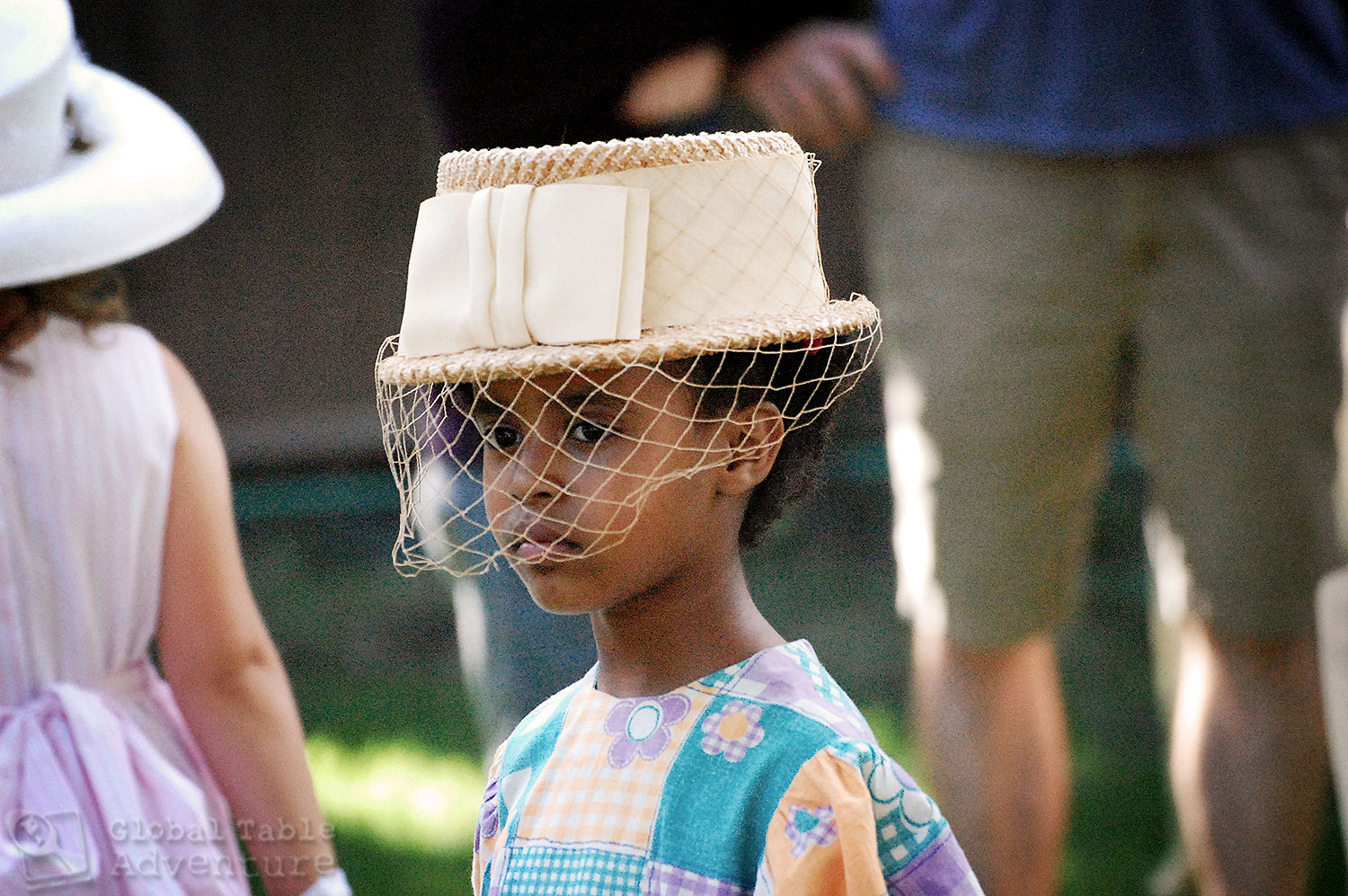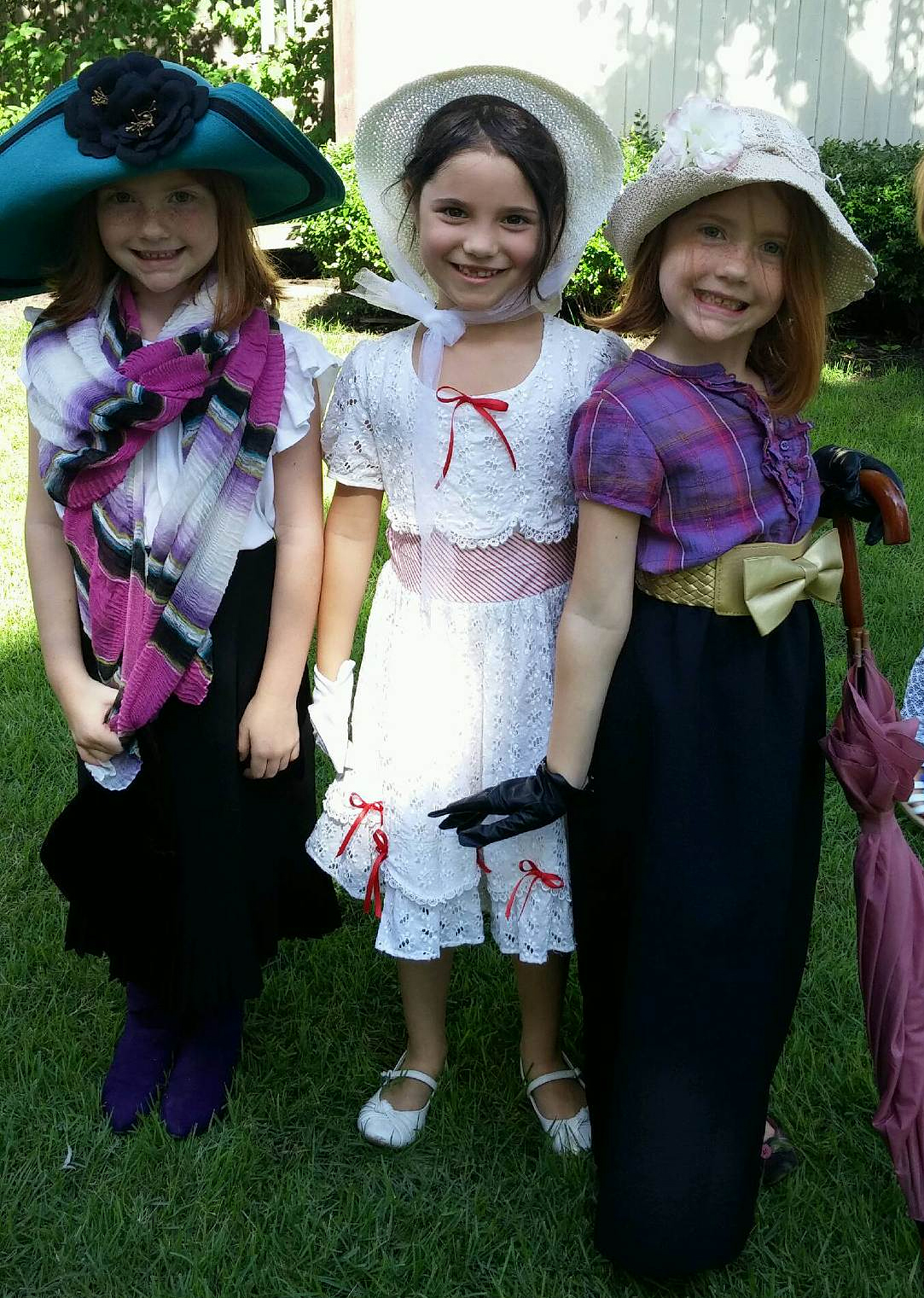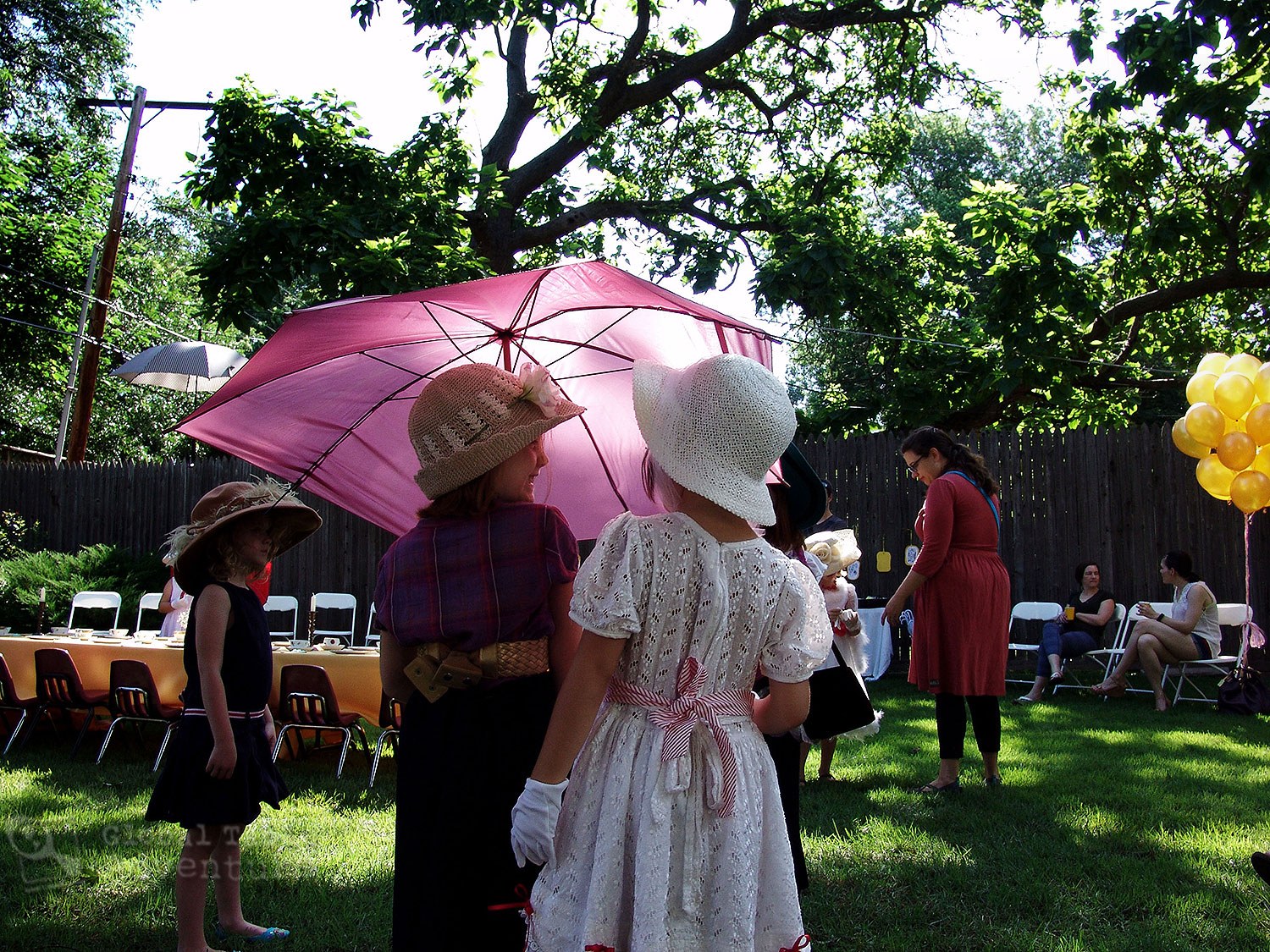 Pro Tip for Children's Costume Parties: Make sure everyone is included
We provided several dress up hats and gloves for kiddos to use during the party, which worked out great for those children who either forgot their costume or wanted to try on other fancy items.  We simply laid them out on a bench – the kids took it from there!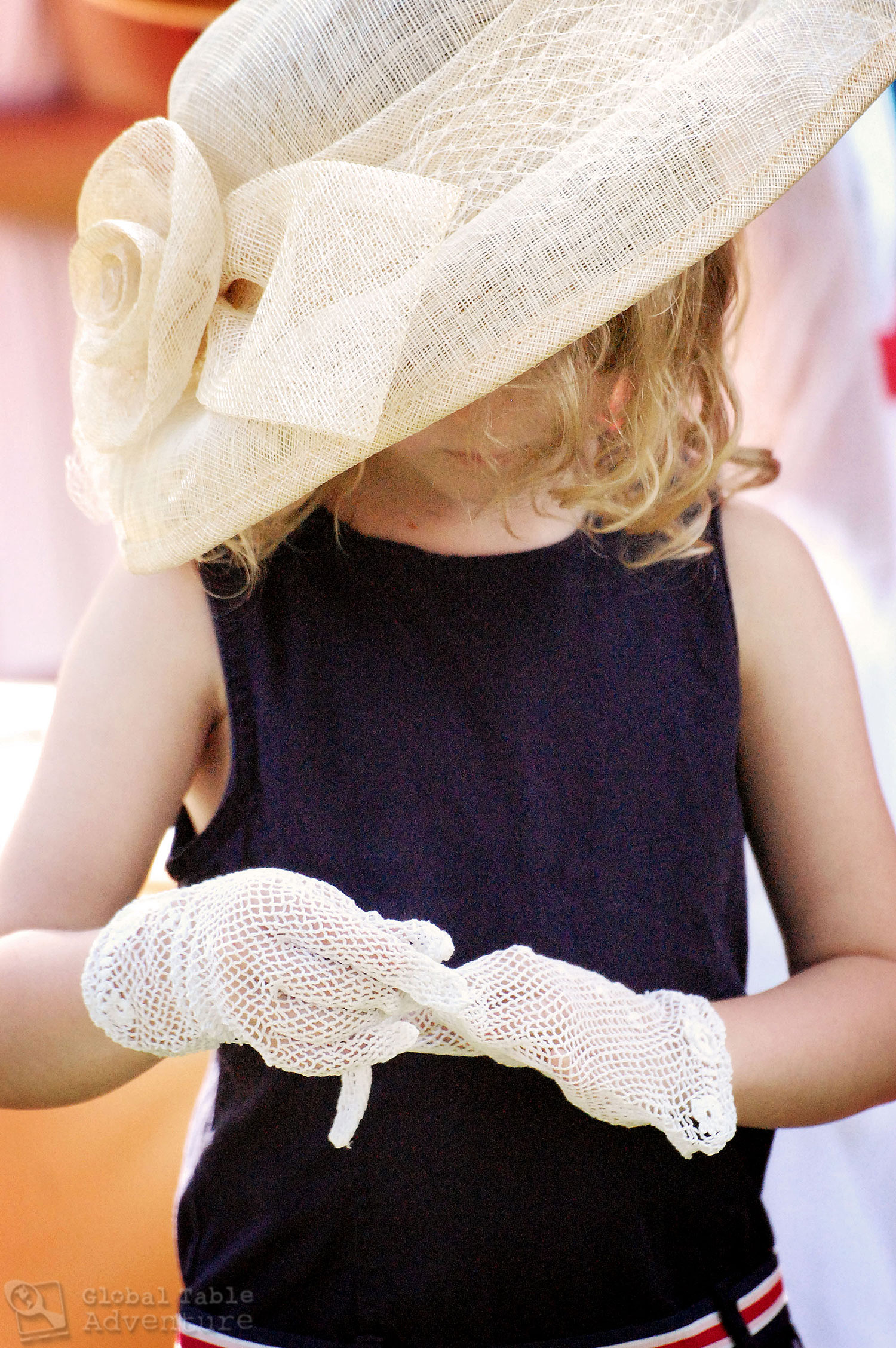 A musical needs… music!
Create atmosphere with a Mary Poppins playlist borrowed from the movie and Broadway show. Tunes add upbeat energy and get all the kids excited! If you don't want to buy songs, try creating a Mary Poppins playlist on the free version of Pandora. You'll have other songs mixed in and the occasional ad, but it also folds in unexpected favorites, like the Original London Cast Recordings!
Much better than radio silence. 
Start the Party with Art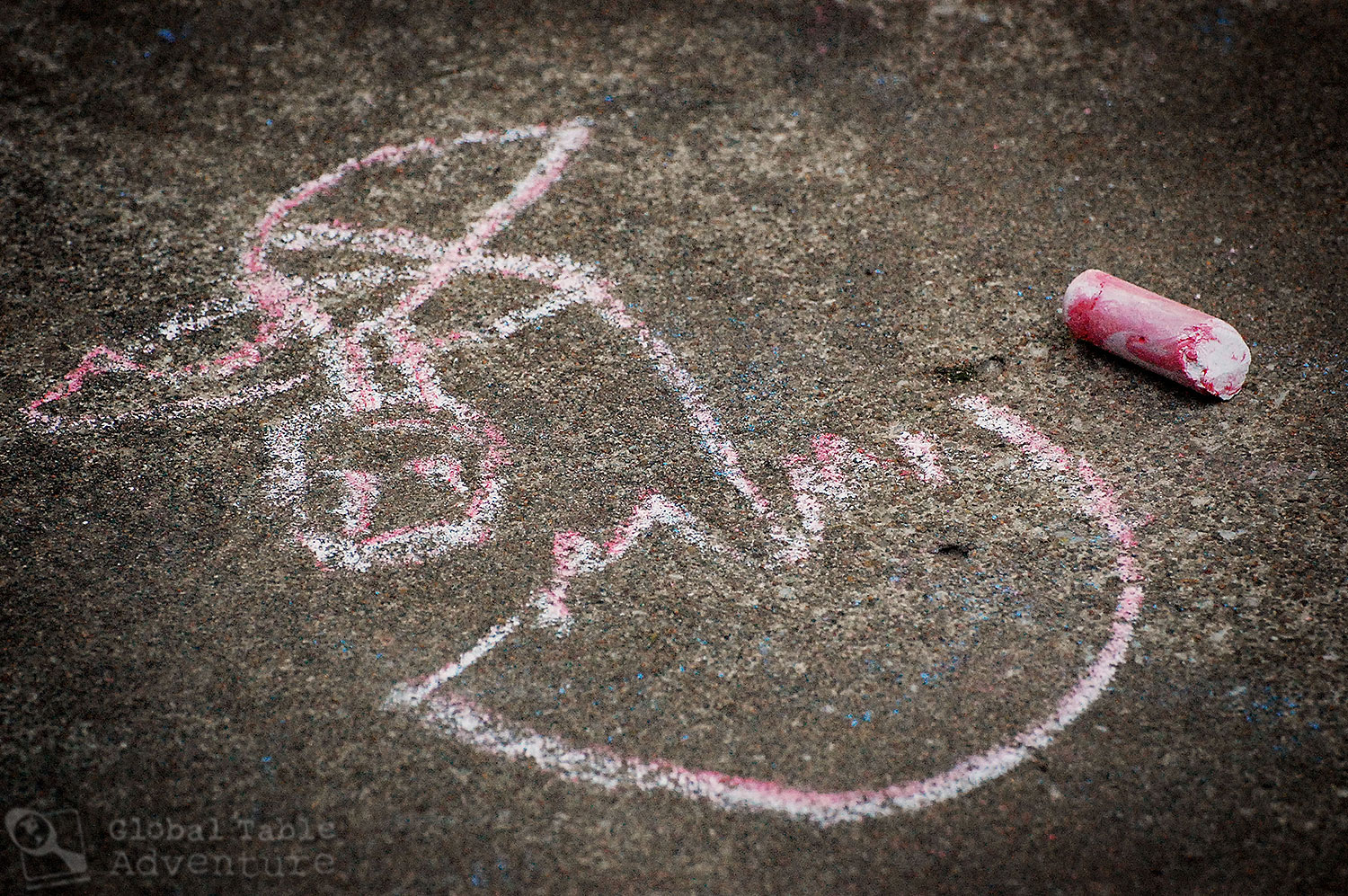 Art is a great way to keep the children entertained while everyone arrives.  We invited each child create their own sidewalk chalk art on our back patio – just like Bert does in the book and movie. This simple activity filled about 30 minutes and ensured no children were left out of the games and tea party to come.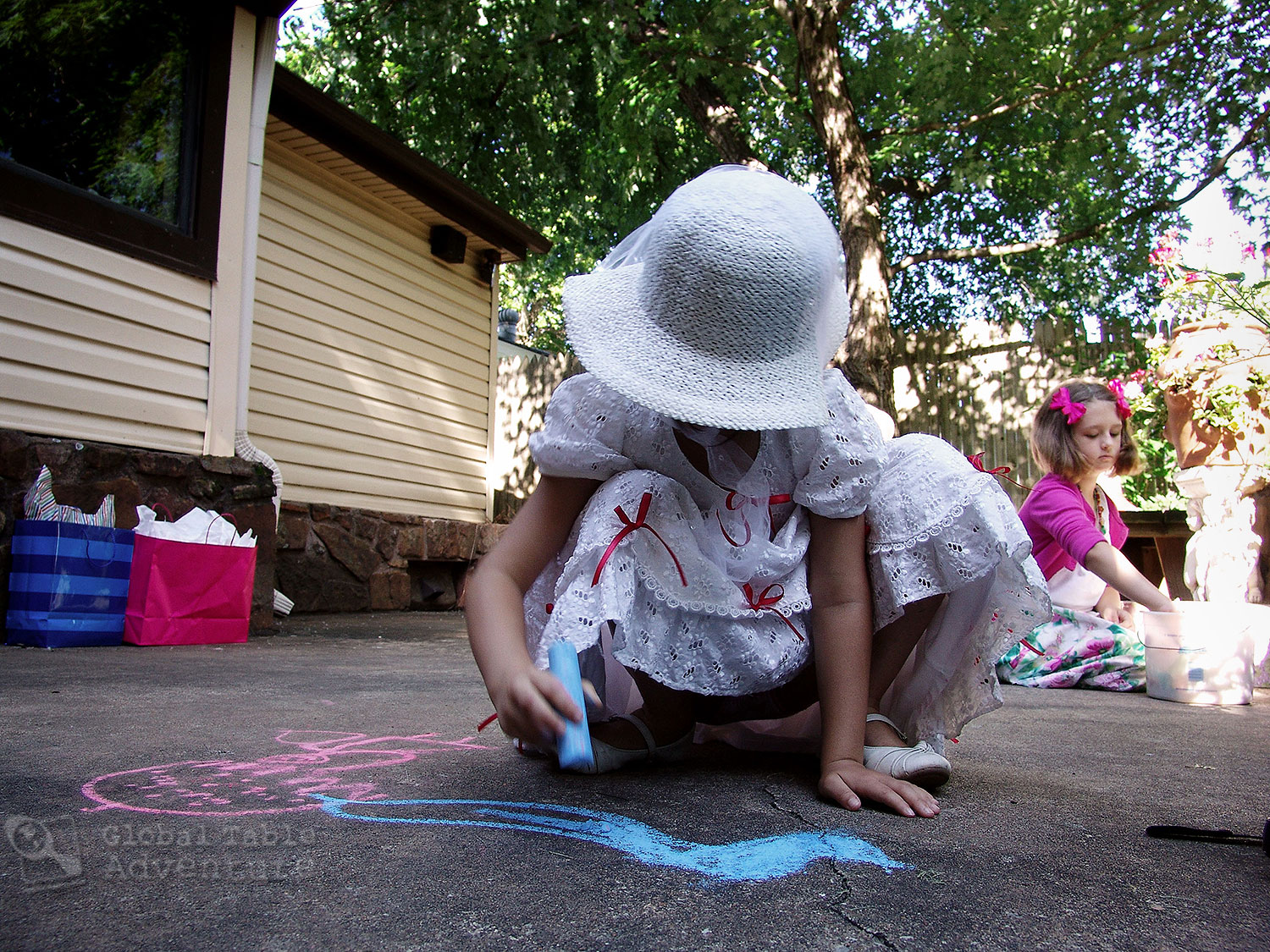 Create Floating Keepsake Photos
Another idea to occupy the children as they arrive is to create keepsake photos. We weren't able to fit this in as it was quite sunny the day of Ava's party… but if you have a covered driveway you might be able to do this regardless of weather. If it doesn't work out, you can always give your guests a copy of your child's floating photo as part of their thank you/goodie bag – kids love having photos of their friends.
As the children arrive have a photographer snap their photos. By rubbing oil onto a spot in the sidewalk and having children stand about a foot away with an umbrella, the false shadow makes the kids look like they are floating – just like Mary Poppins. A treasure for sure!
Play a Sweet Party Game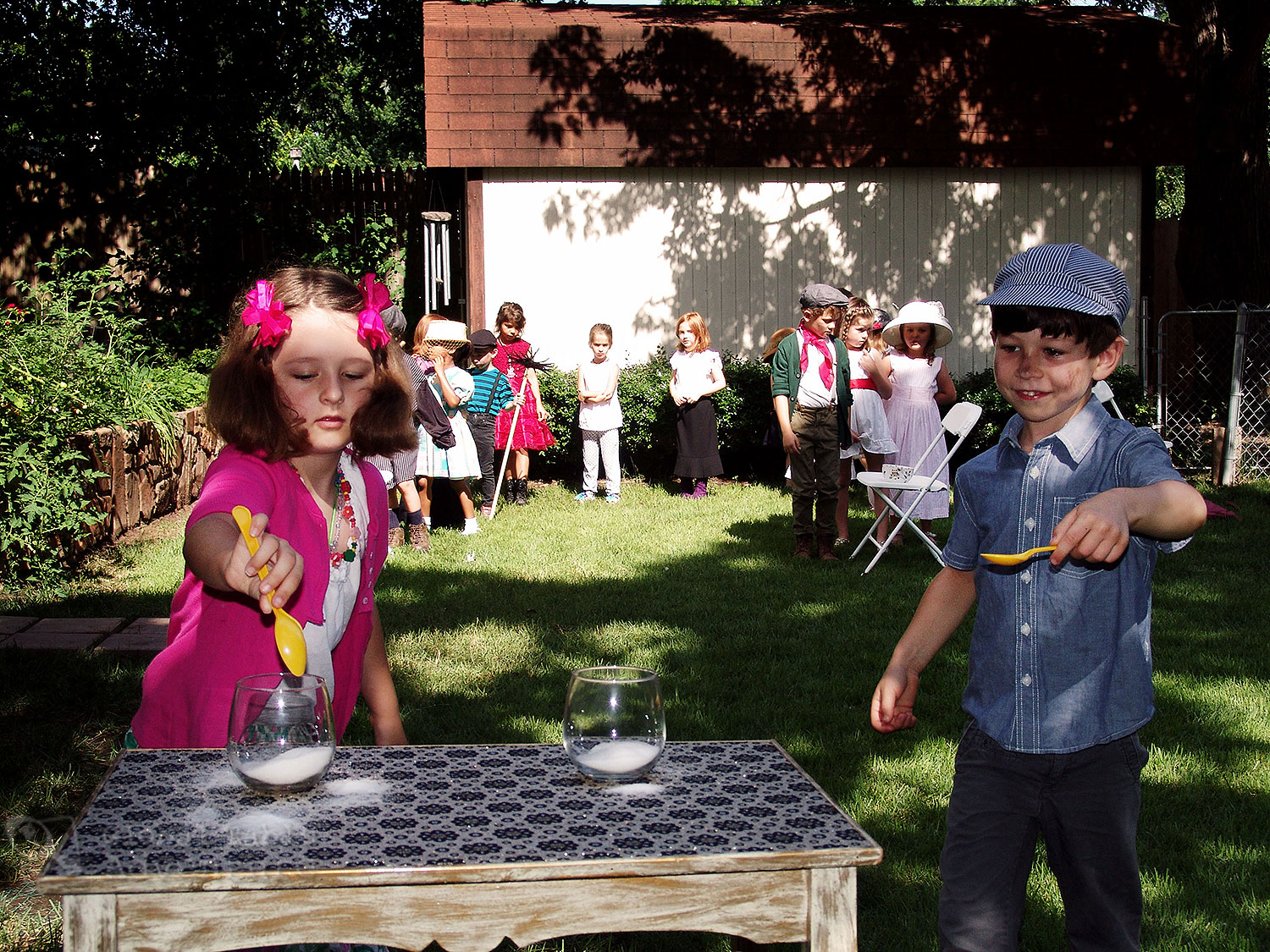 Once all the children have arrived and the artwork is done, we brought together the children for a competitive game of "A Spoonful of Sugar." Pro tip: my husband (a.k.a. Bert) led this game while I got the food ready for the tea party!
To Play: You'll need 3 small tables or 1 table and 2 chairs. Have the children form 2 lines. Put a bowl full of sugar in front of each line. Across the lawn from them put a table with 2 small empty bowls or cups. Have the children use spoons to fill their bowls. Whoever fills theirs first wins!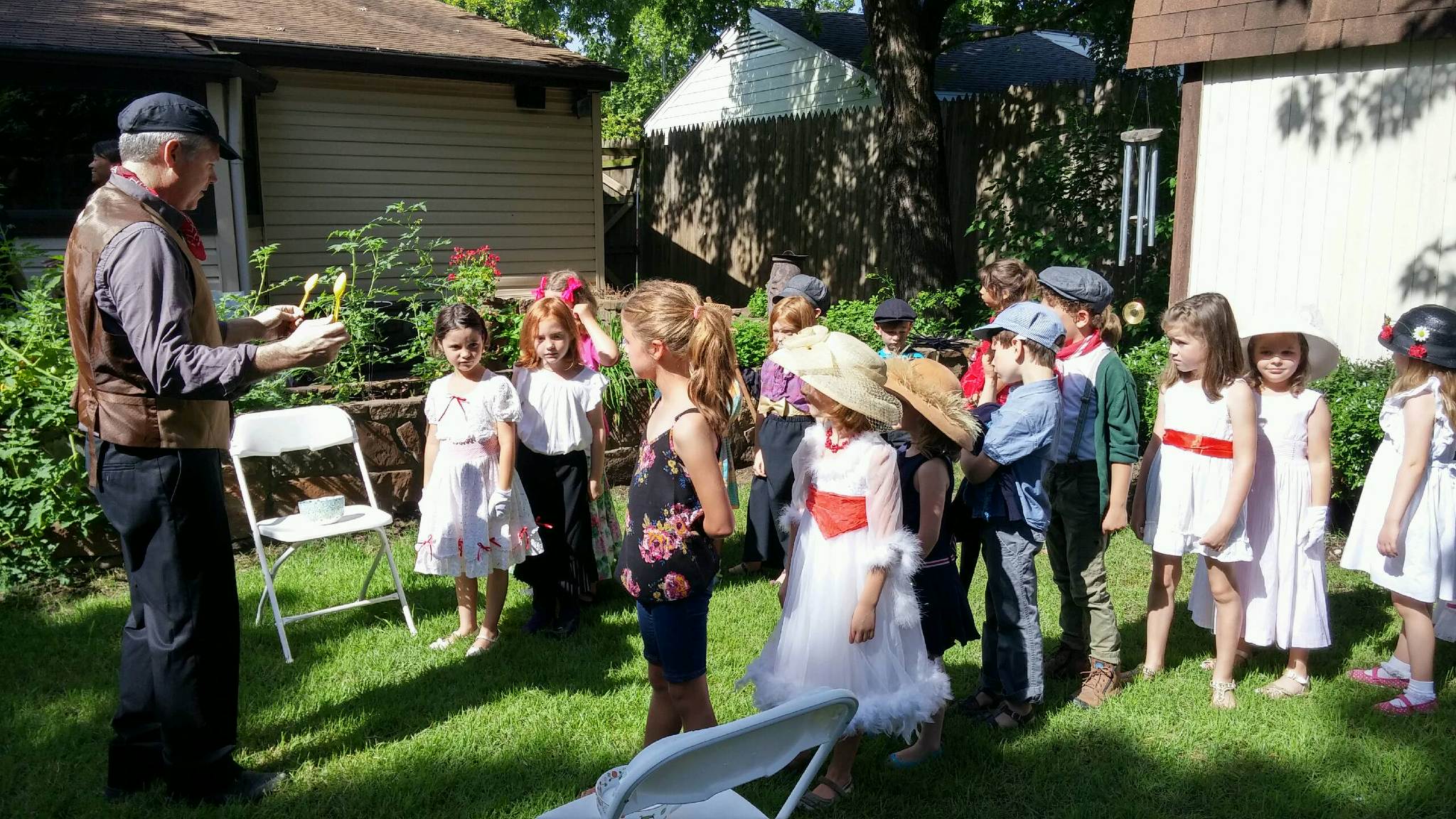 Tea party on the lawn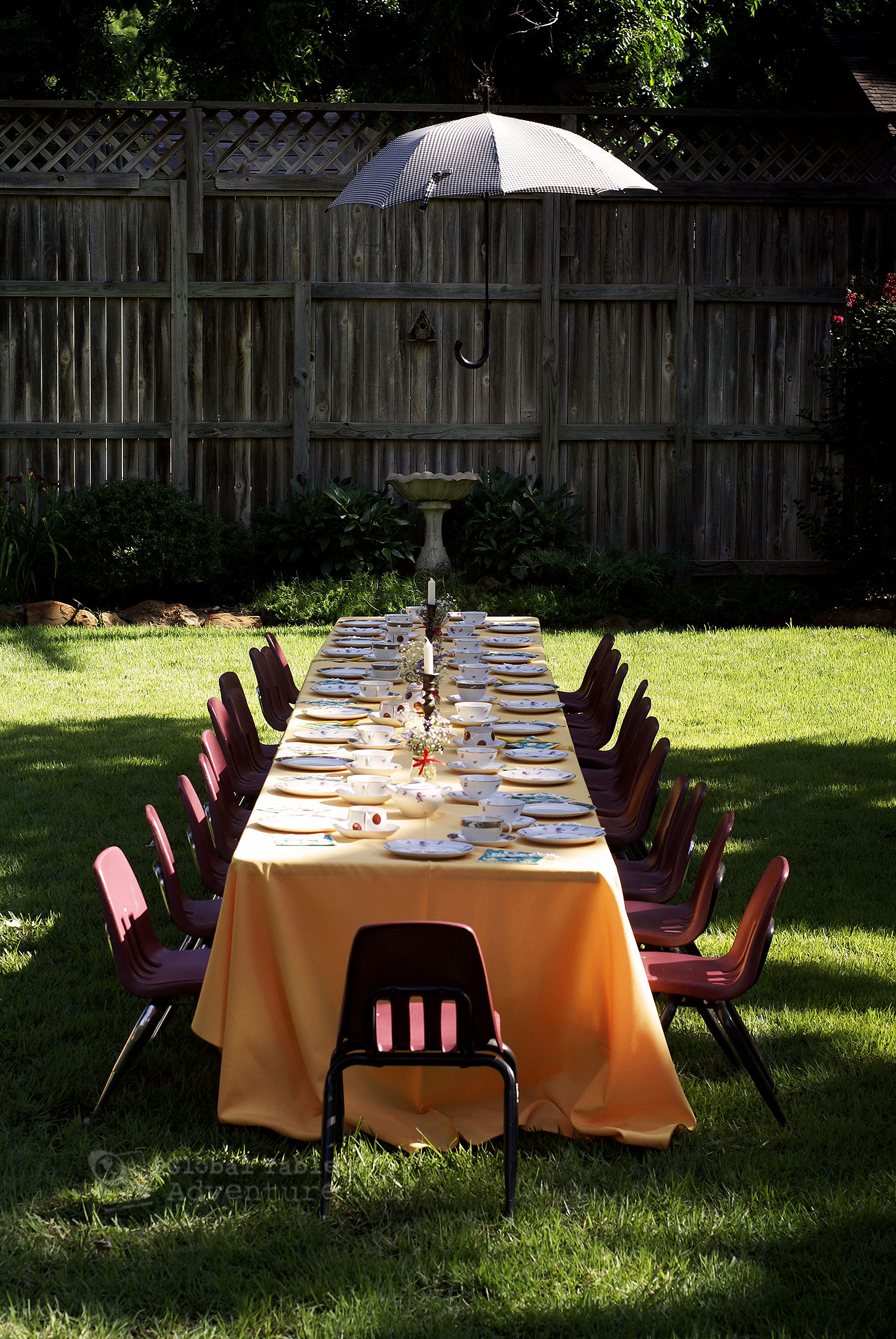 Now that all the kids got their giggles out with art and games, it was finally time for the tea party!
I was planning on a picnic-style tea party but when 24 children RSVP'd yes, I knew I had to rethink my strategy. To optimize room in my back yard, a good friend suggested I rent kids tables and chairs (for parents and children). This kept everyone comfortable (and with delivery the rentals still cost 1/2 as much as renting a location).
Thank goodness for the experience of friends!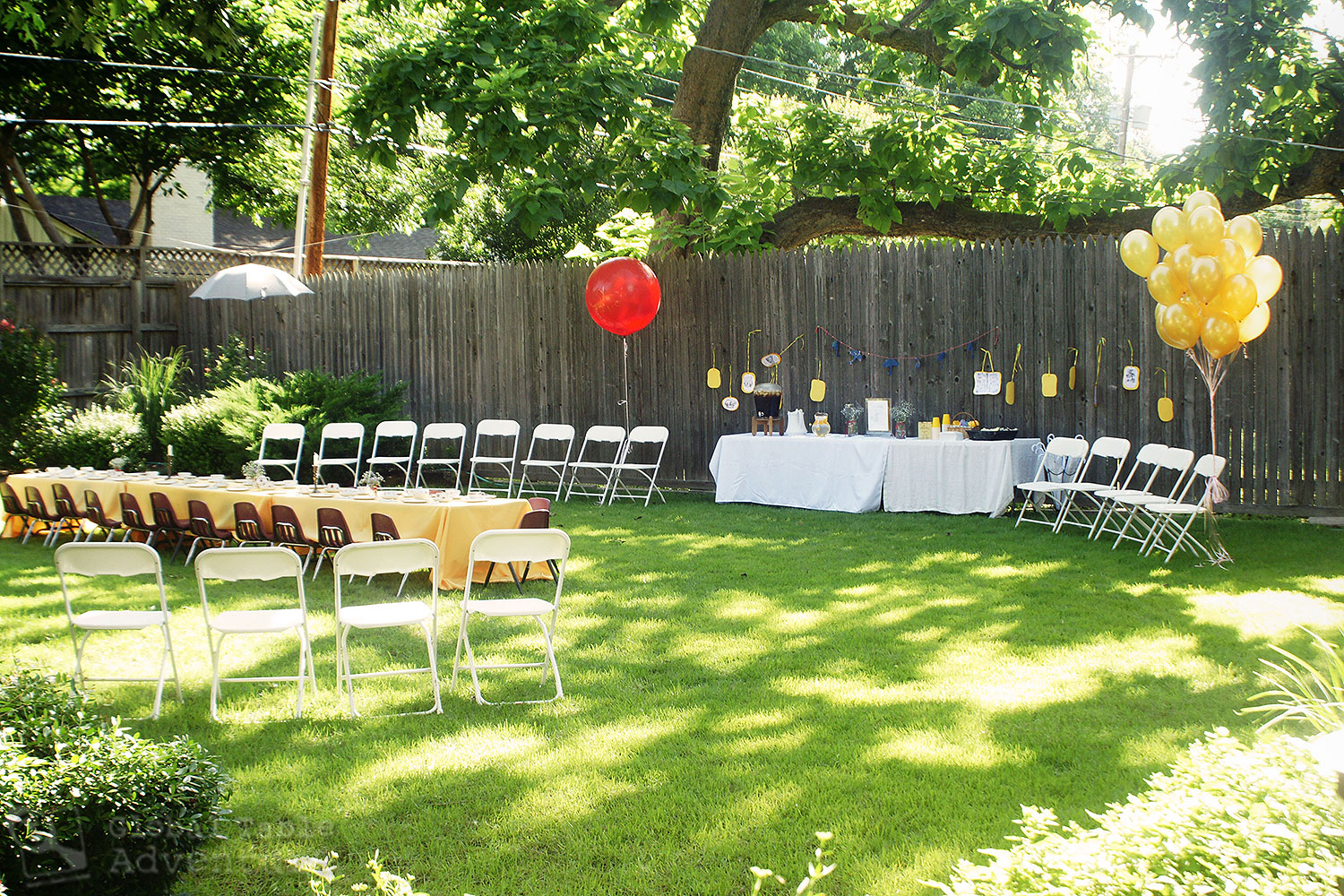 The decor was pretty simple: To start, Keith hung an umbrella over the center of the table using fishing line. It bobbed and weaved in the breeze, looking like Mary Poppins might descend at any moment! This detail was the talk of the party.
There were also a cluster of gold balloons and one large red one. I wrote "Mary Poppins" on the red one with gold paint pen. This detail referenced the chapter when the whole neighborhood goes floating around the park with balloons… and, naturally, Mary Poppins's is red and the largest of all.
Ava chose gold tablecloths to mimic the gold tablecloth in the floating tea party scene of the movie. I found turquoise napkins with tea pots on them to complement the look.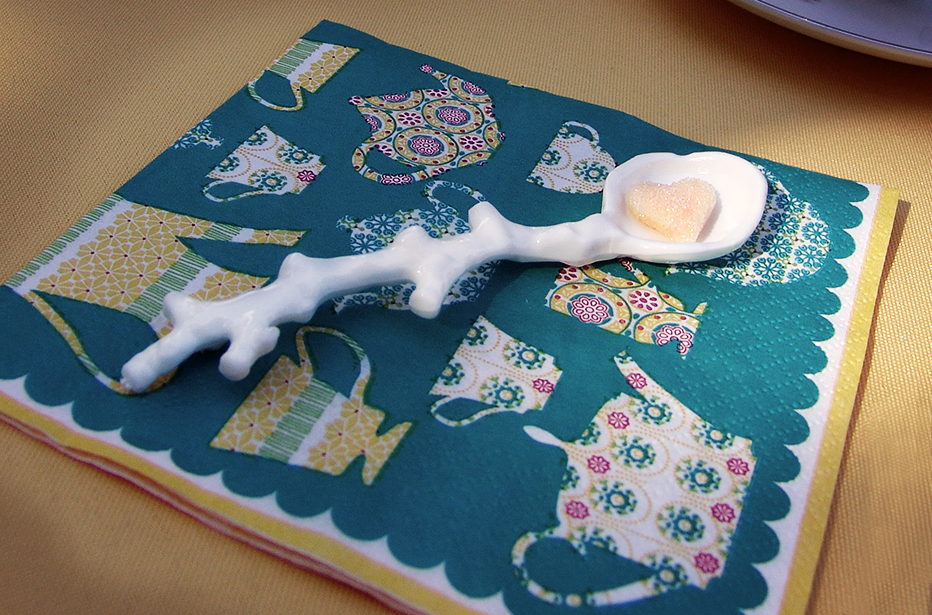 On each napkin we placed party spoons – and of course each spoon held a homemade sugar cube (extra sugar cubes were kept in sugar bowls nearby).
To make sugar cubes, simply stir a couple of teaspoons of water into a cup or so of granulated sugar. Add food coloring if desired. Stir until the mixture resembles damp sand. Press into small chocolate molds, carefully tip out, and let dry.
A few jars of purple and white flowers and candlesticks completed the fancy look.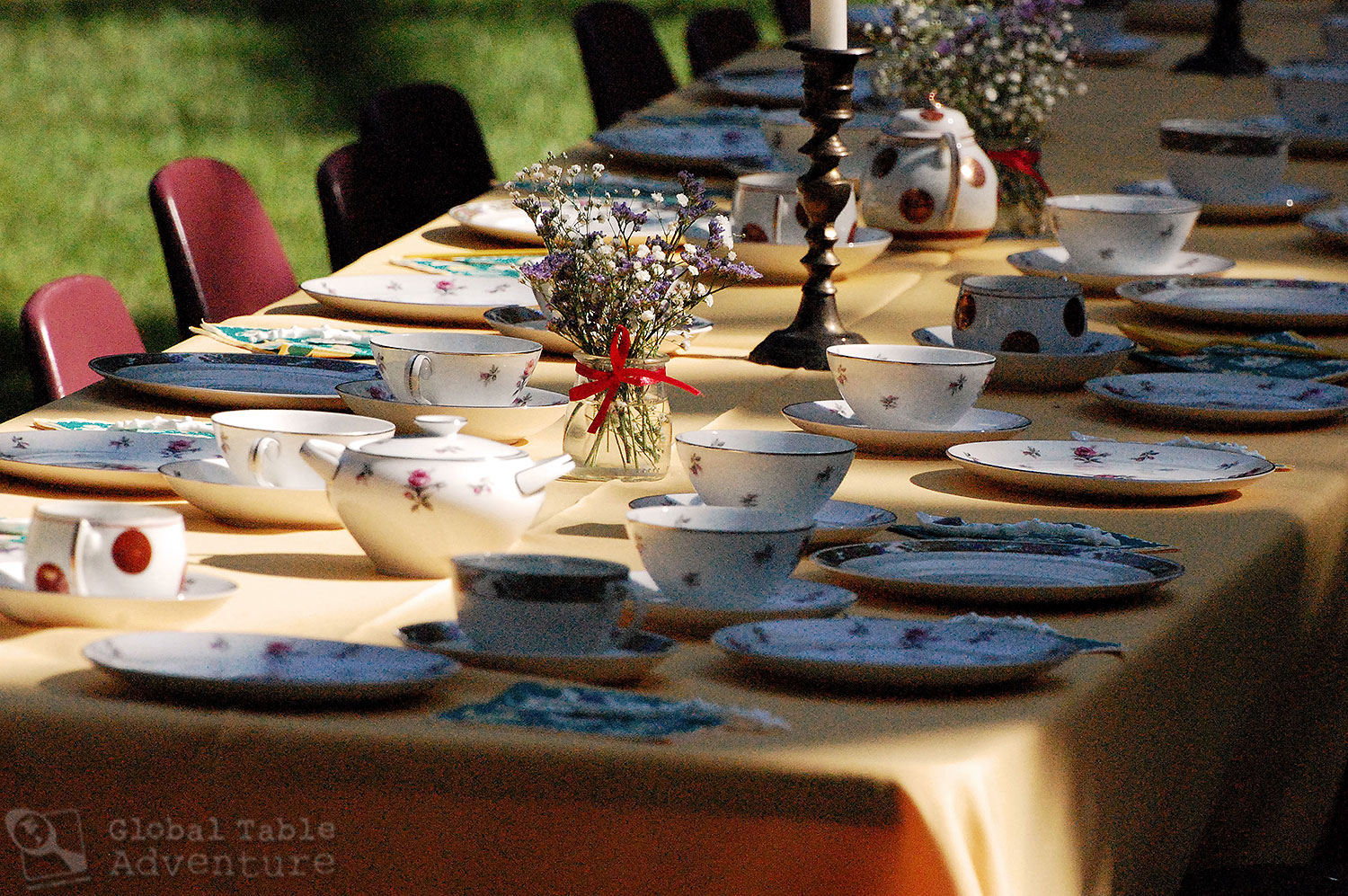 For serving, I used lots of china from my Great Aunt and my husband's grandmother, as well as a few pieces from the second hand shops.
The buffet table was outfitted with homemade felt and glitter umbrellas and illustrations from the books on yellow card stock for decor – modge podge sealed the images in!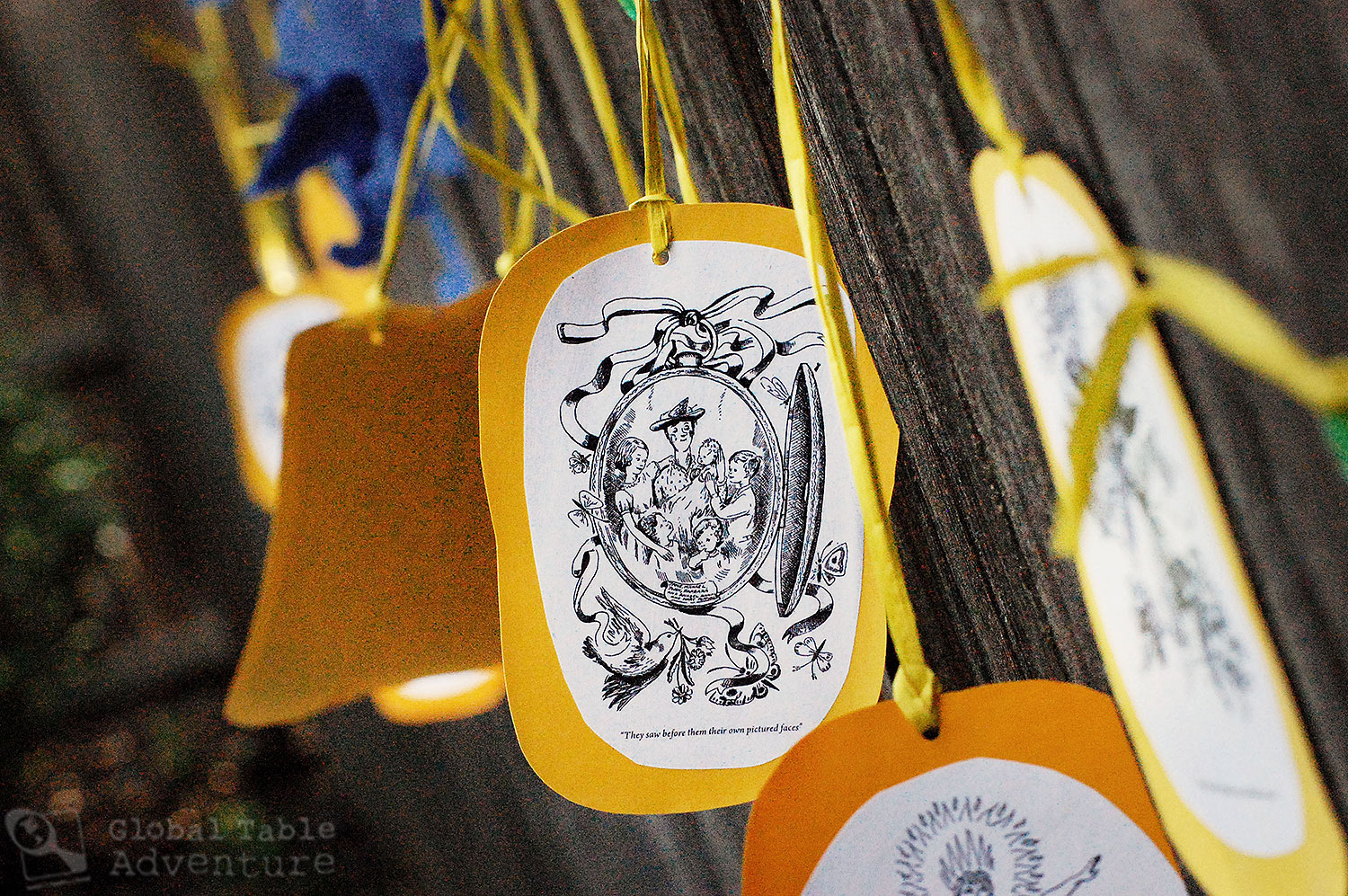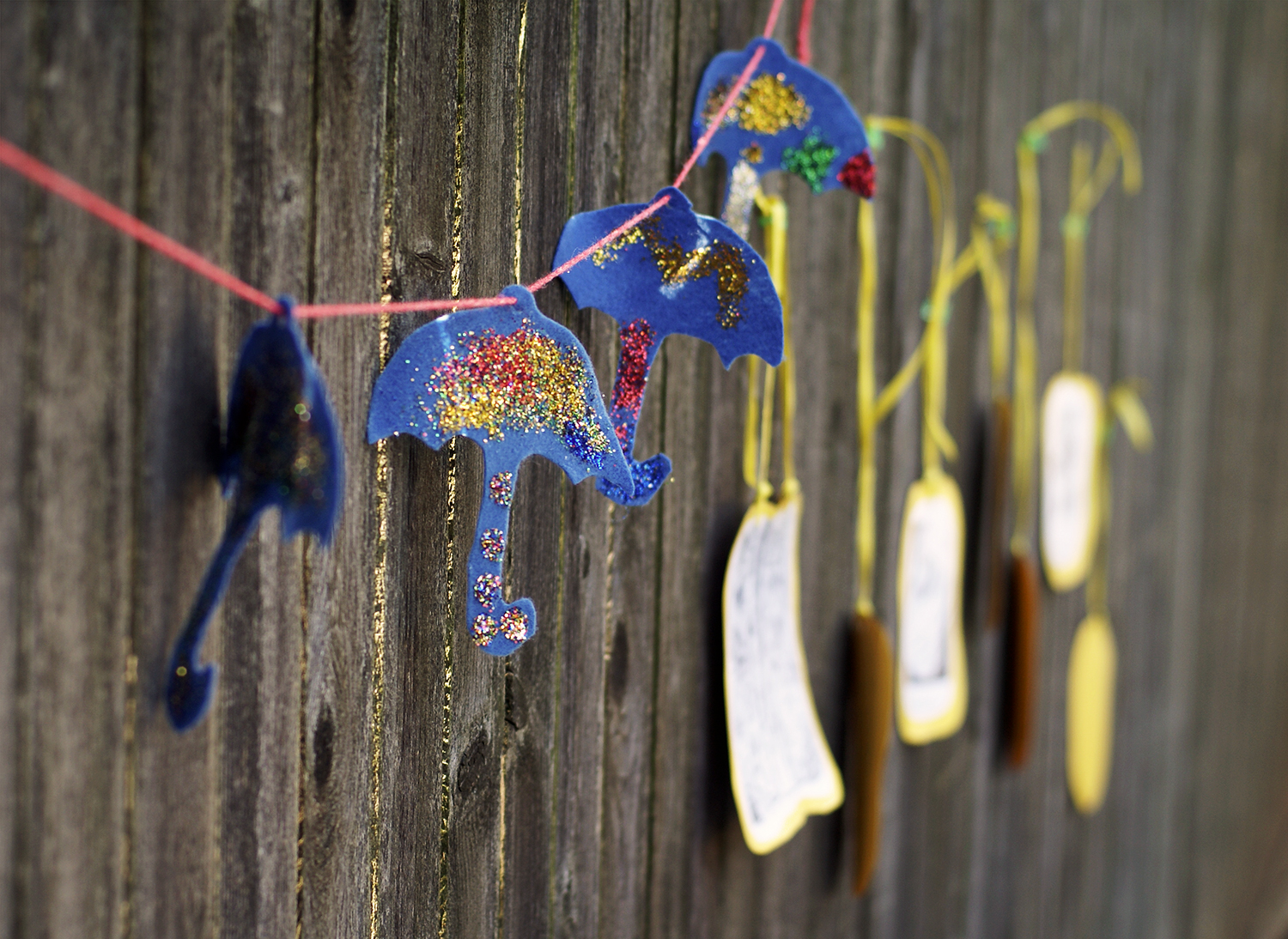 A Very British Tea Party Menu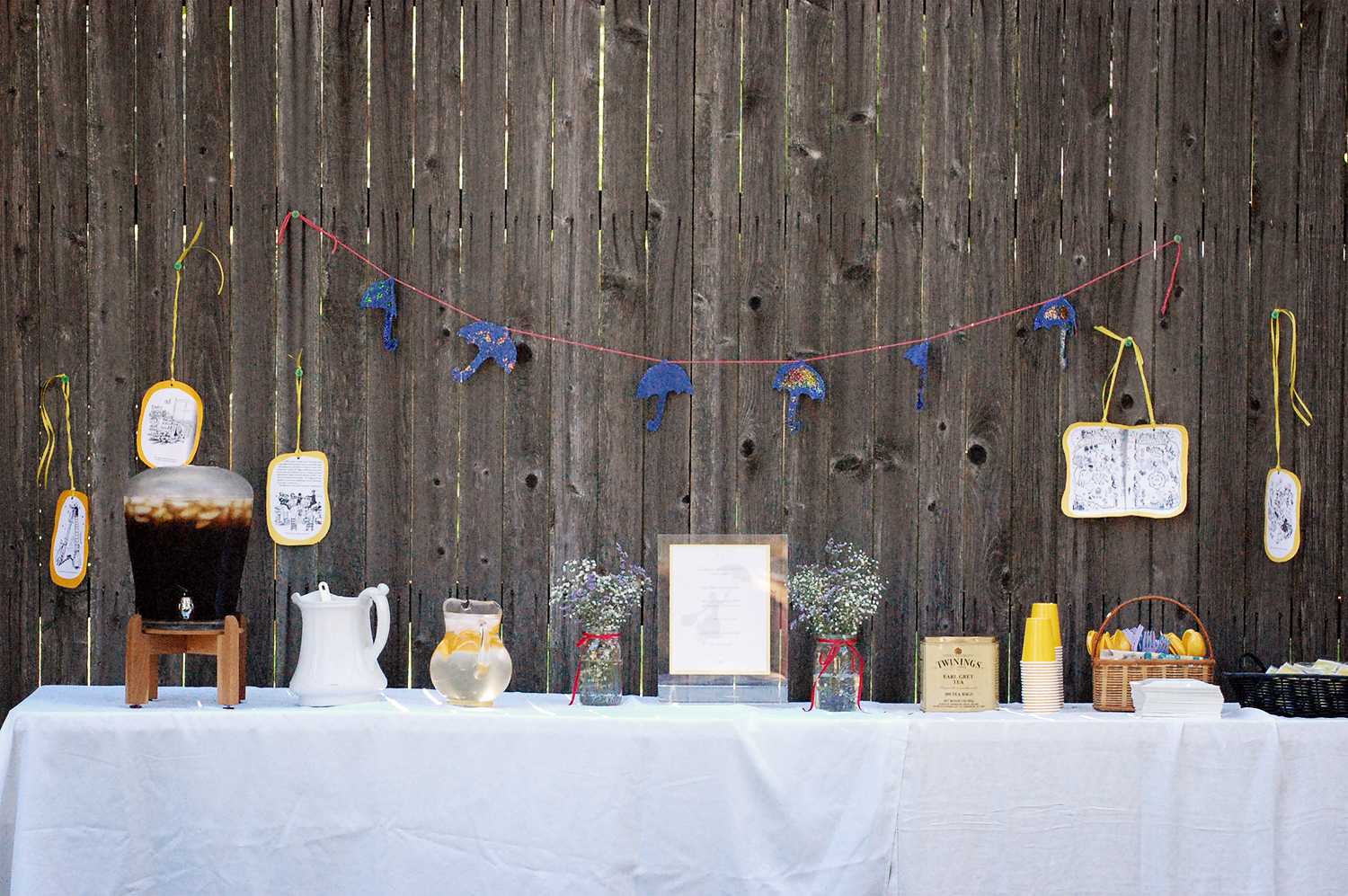 We served the kiddos a proper British Tea menu – including curried coronation tea sandwiches (using eggs instead of chicken for my vegetarian daughter), some gingerbread stars (more on that later), Victoria Sponge Cake with fresh berries, Uncle Albert's Lemon Cakes (petit fours purchased from Whole Foods… because even I can't make everything), Iced Tea with spoonfuls of sugar, and Lime Juice Cordial (a.k.a. Limeade).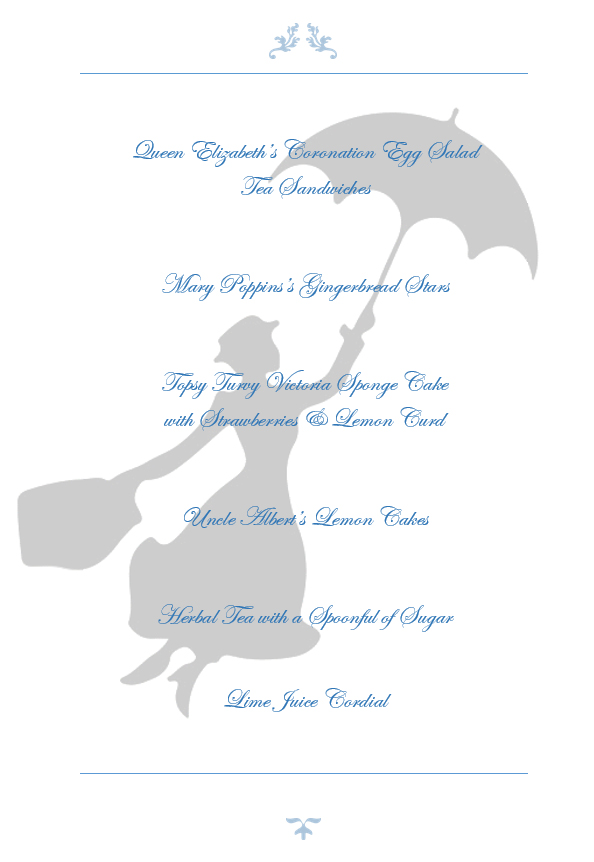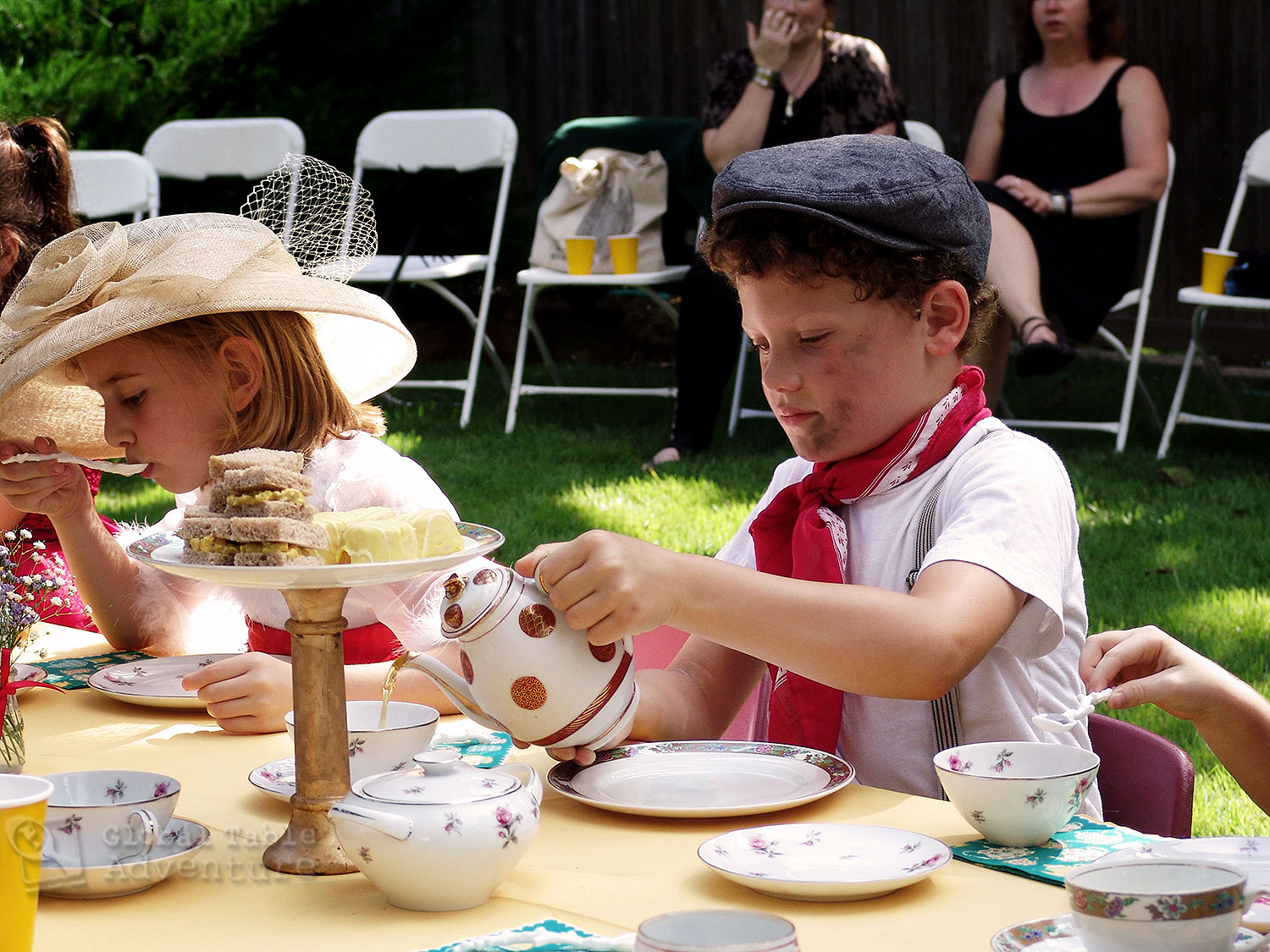 The kids were intensely focused on pouring and enjoying their tea. It was real china after all!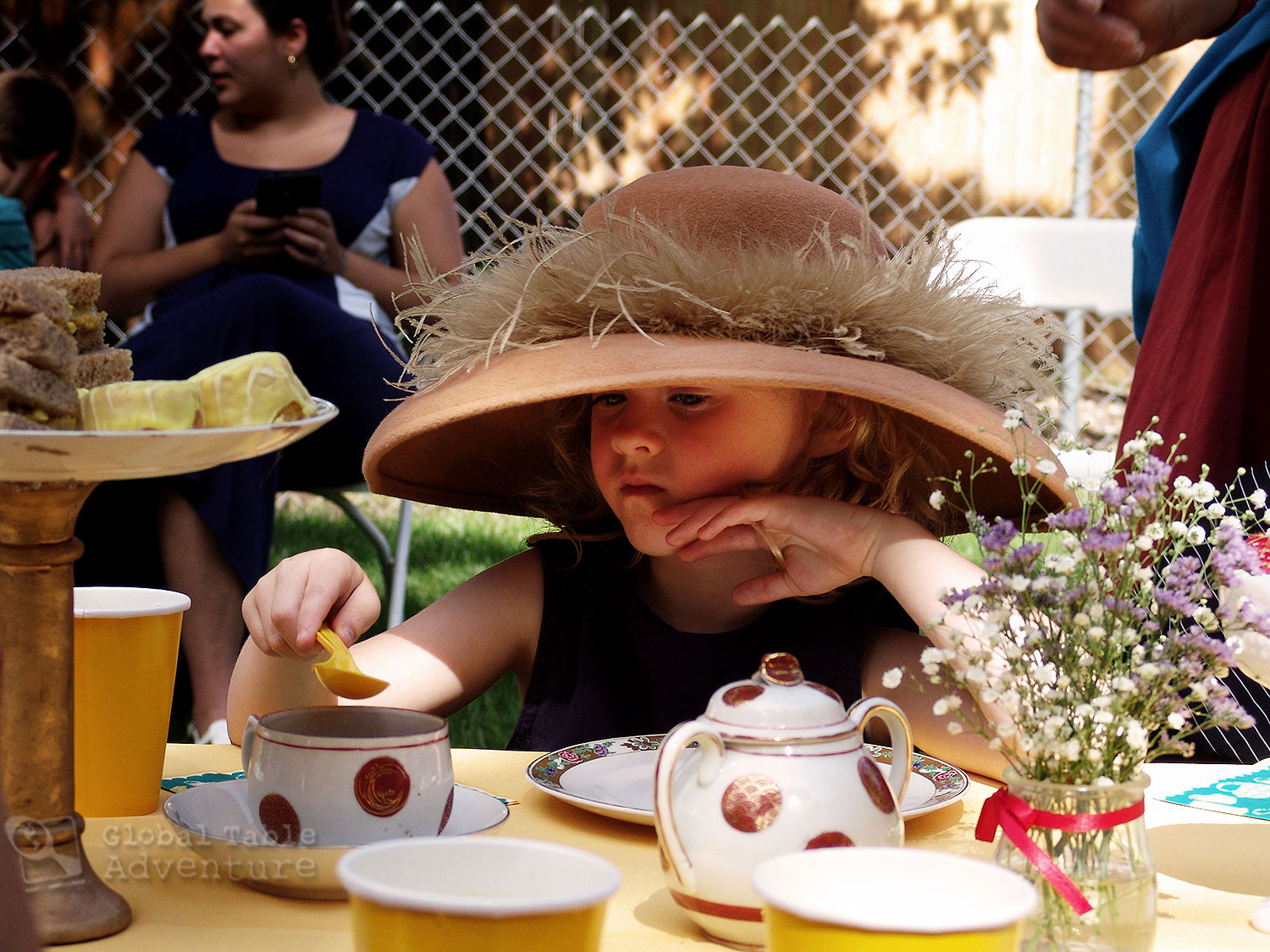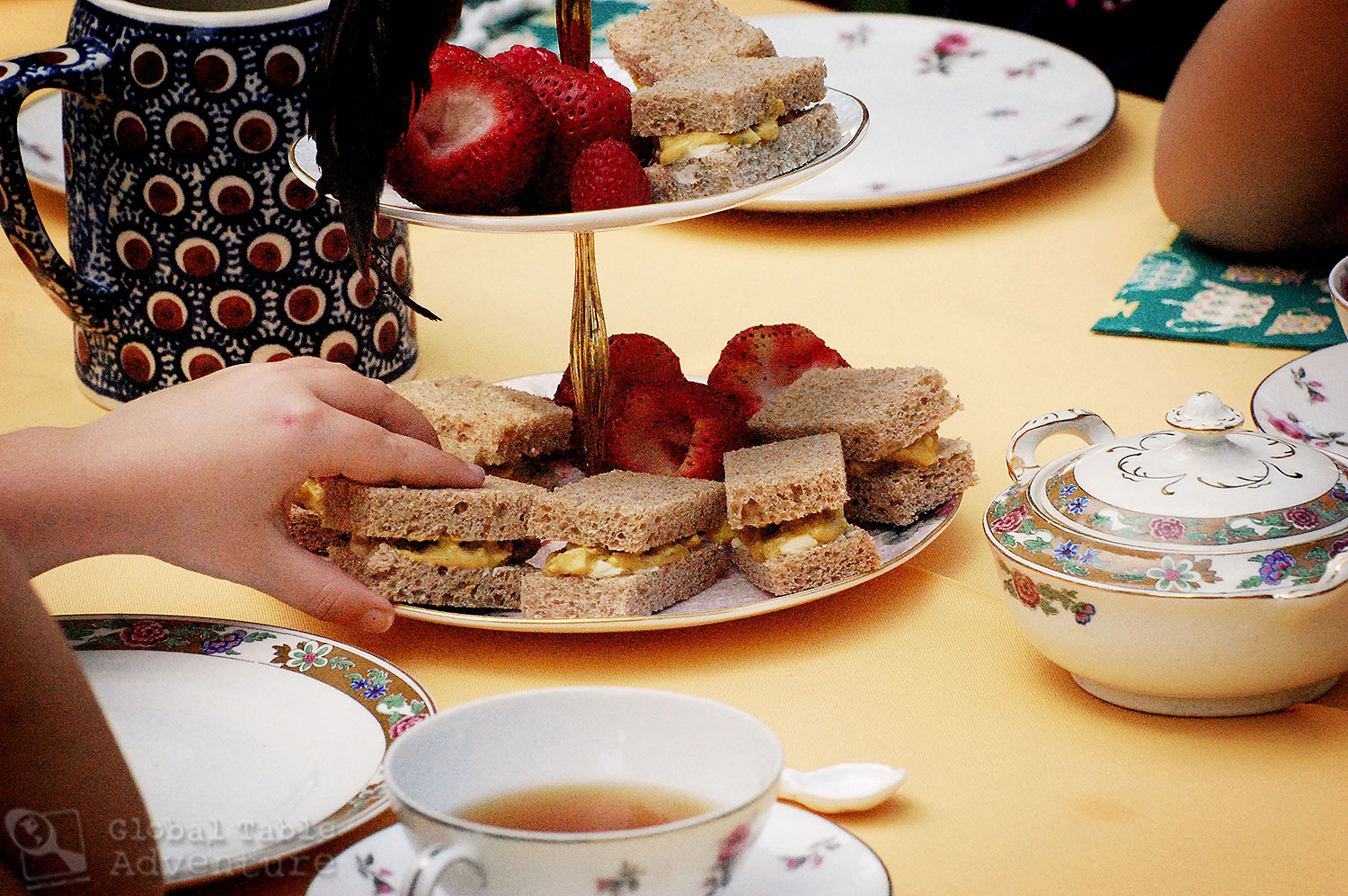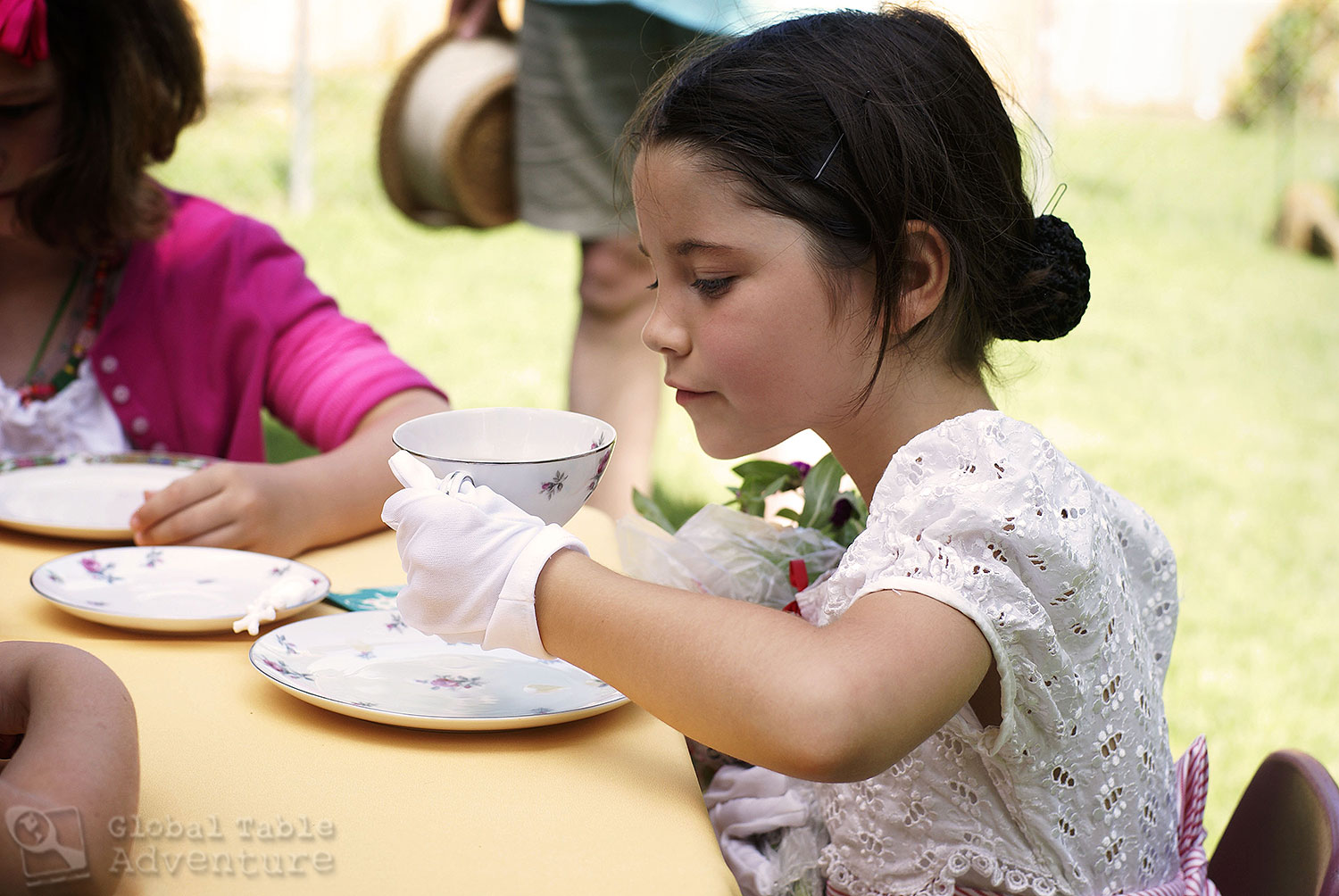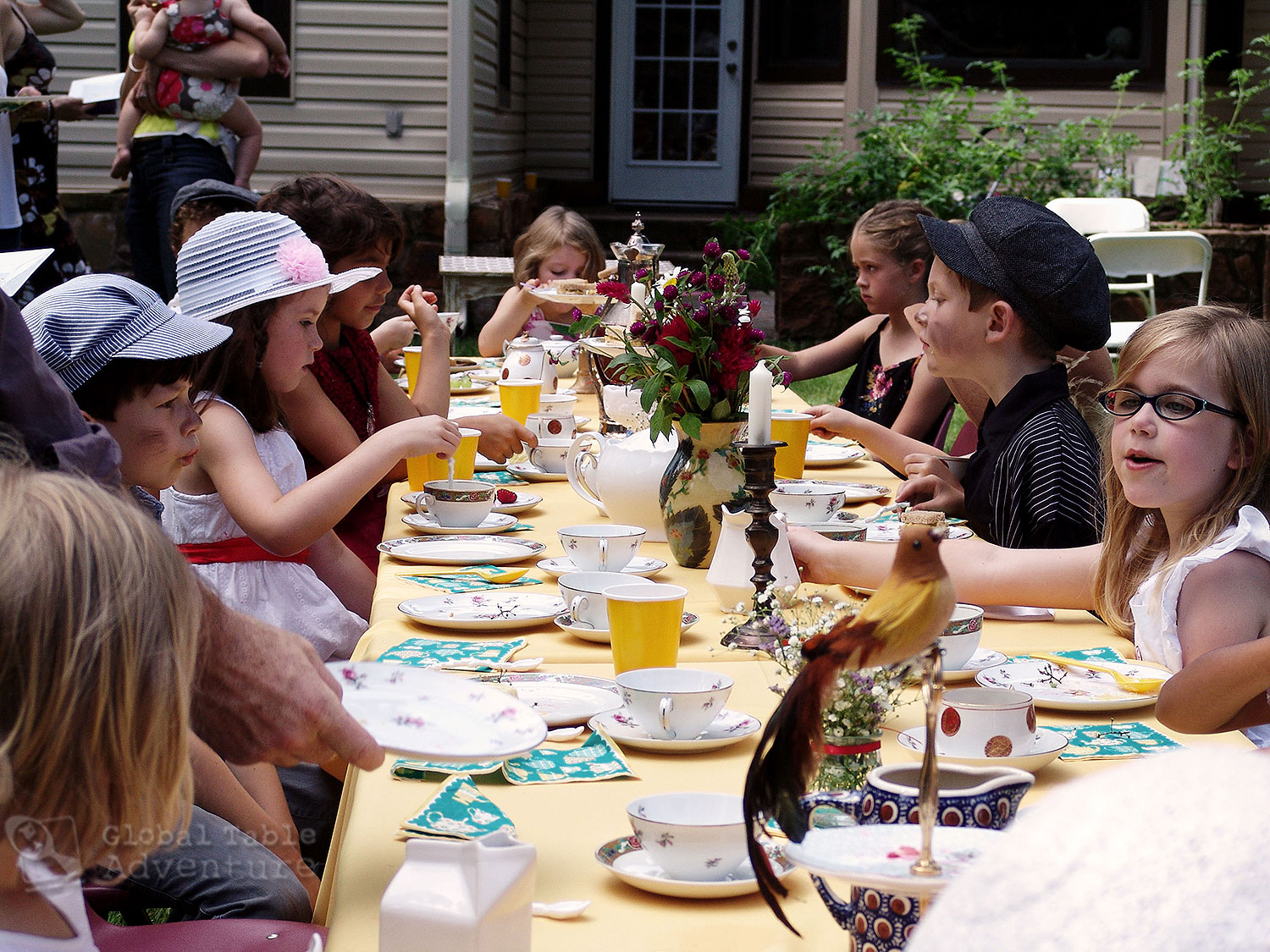 The Cake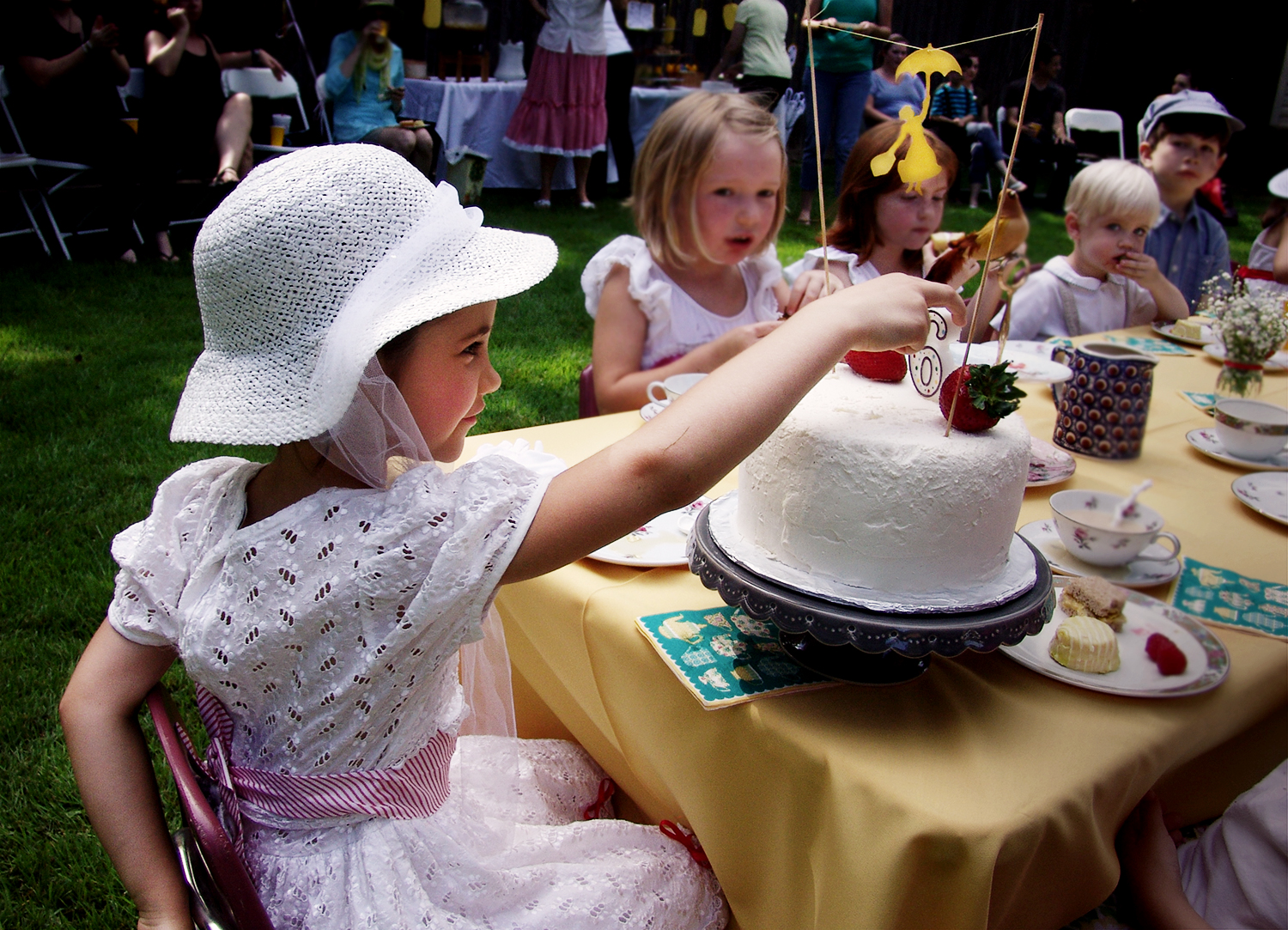 I served a Victoria Sponge Cake because that is Mary Poppins's favorite cake (she turns a plum cake into a sponge at Mr. Turvy's house in Mary Poppins Comes Back).
Instead of the traditional unadorned sides, I completely covered the cake layers with sweetened whipped cream thickened with a couple teaspoons of gelatin. This stabilized whipped cream tastes exactly like whipped cream but slices better (and doesn't weep in the heat). I used strawberry preserves on one half and lemon curd on the other. I also froze the decorated cake overnight so that my slices would be razor sharp.
They thawed in minutes. It was 85F, after all.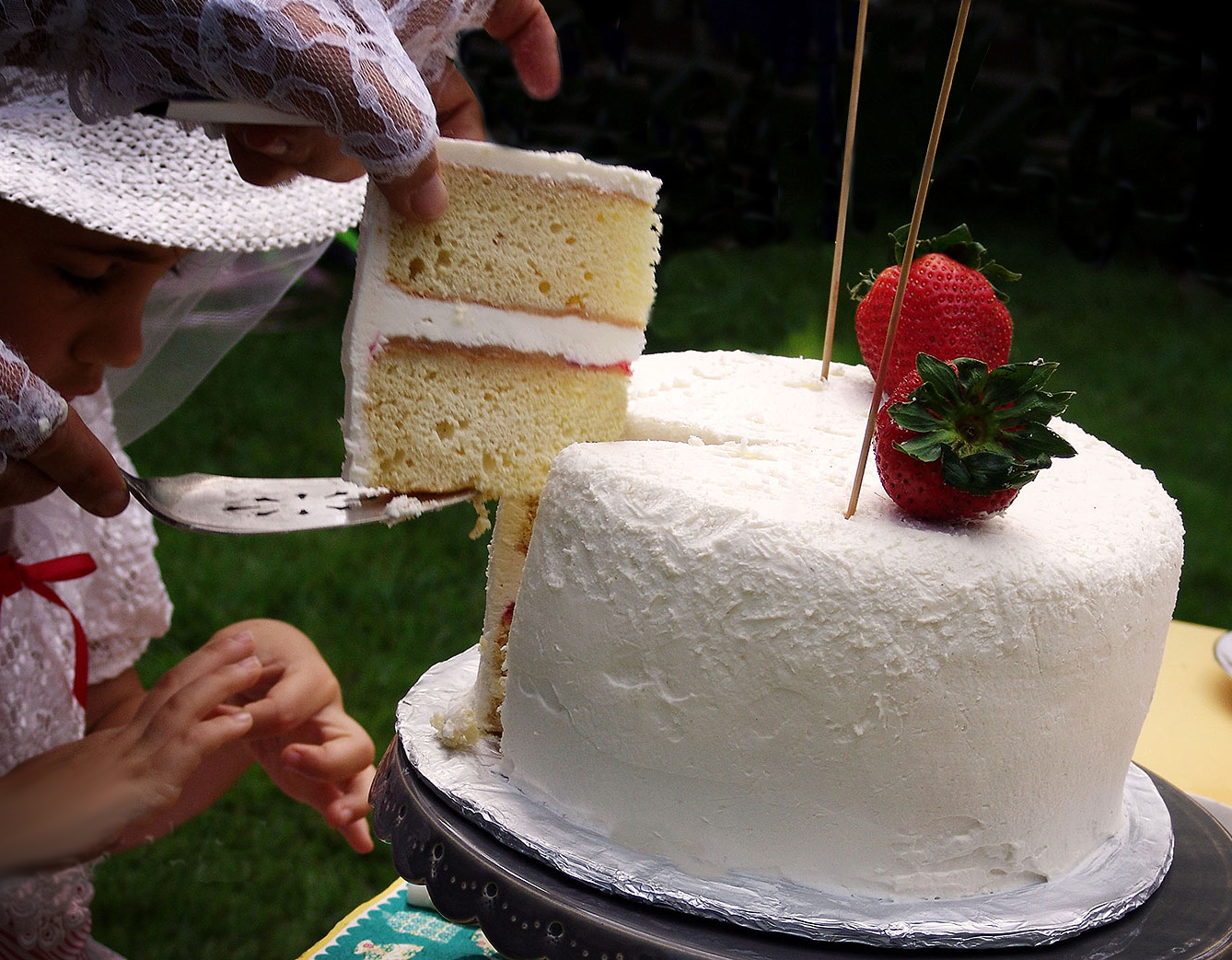 For the adults, I make an extra layer, split it in two, then filled it in the traditional way. After freezing it sliced up perfectly!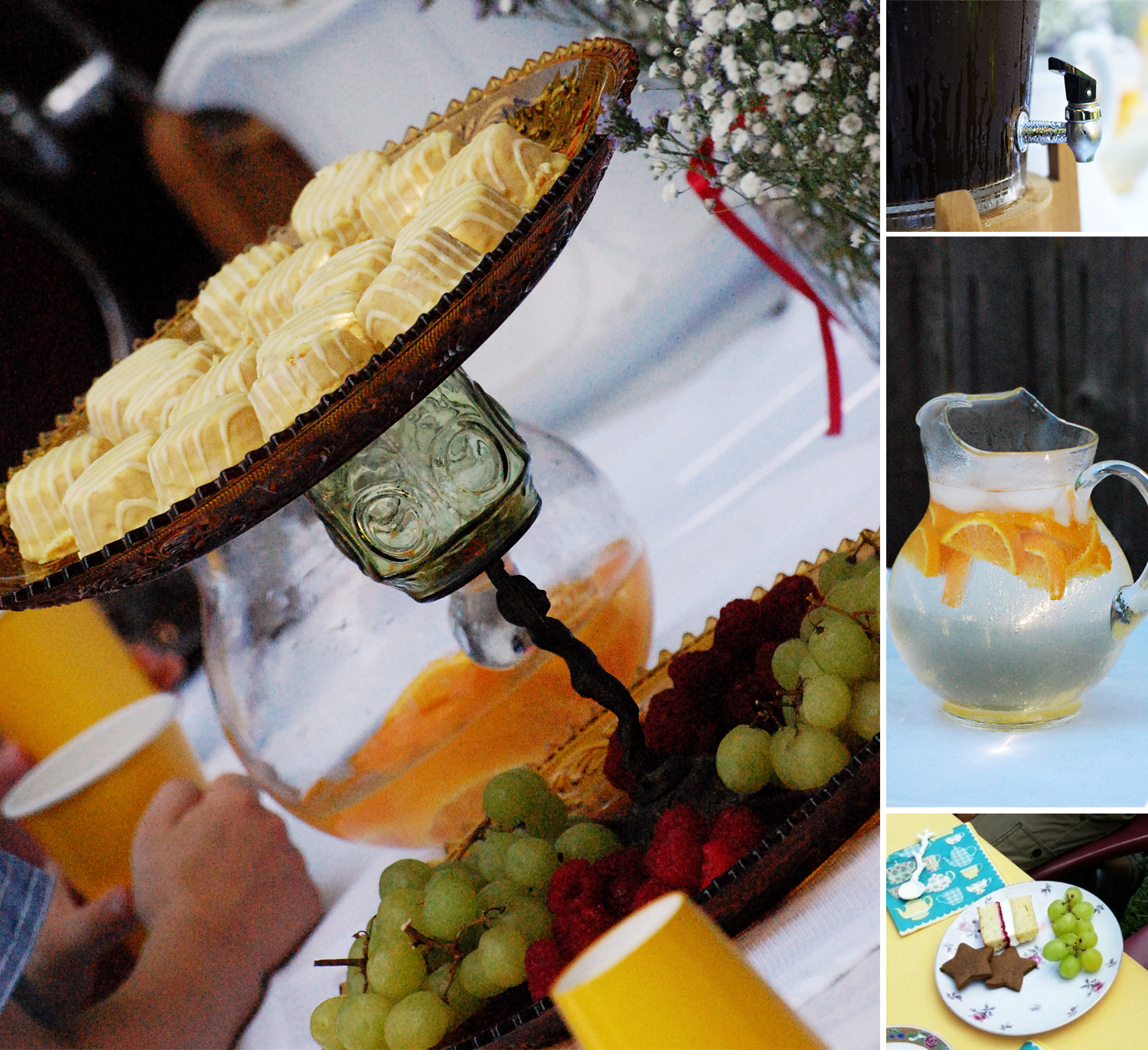 For a cake topper, I traced an outline of Mary Poppins onto a piece of yellow cardstock and cut it out. I used a needle and thread to string it up on some thin dowels.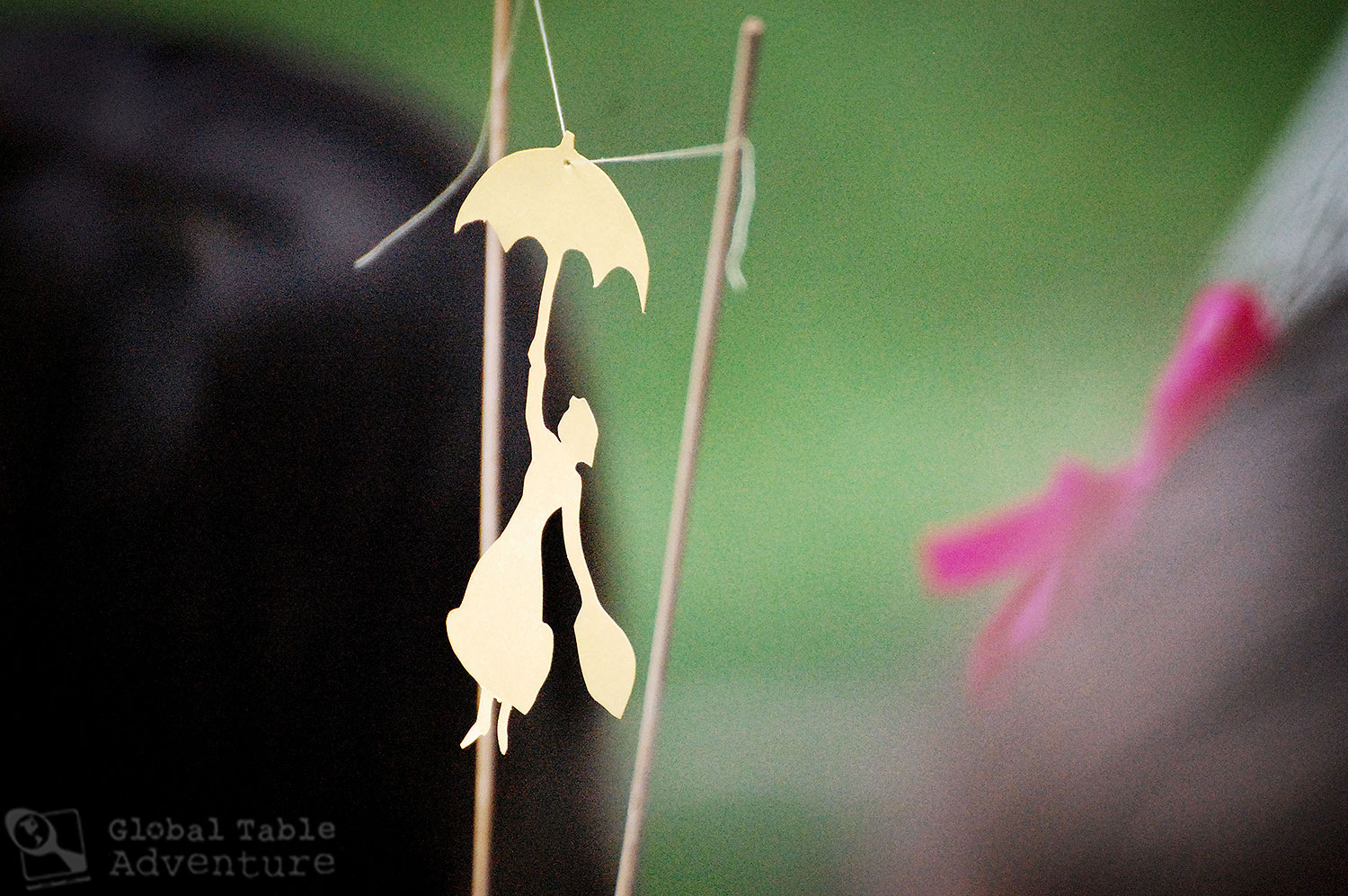 A touch of magic: Floating Tables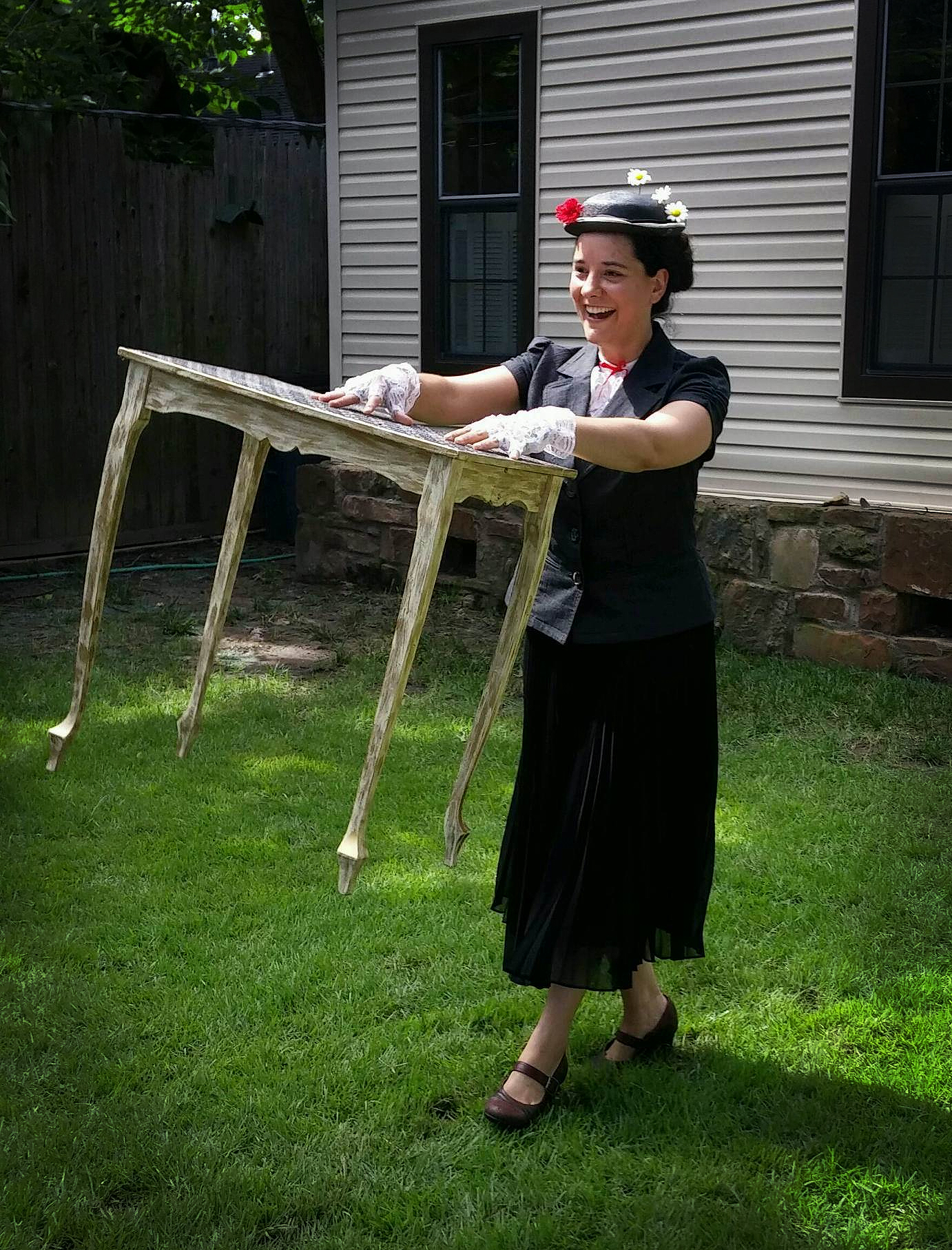 It's not a Mary Poppins party without a touch of magic. I remembered seeing a floating table at a magic show last year and immediately thought of the tea party scene in Mary Poppins, where Jane, Michael, Uncle Albert, and Mary Poppins all float to the ceiling because they're laughing too much.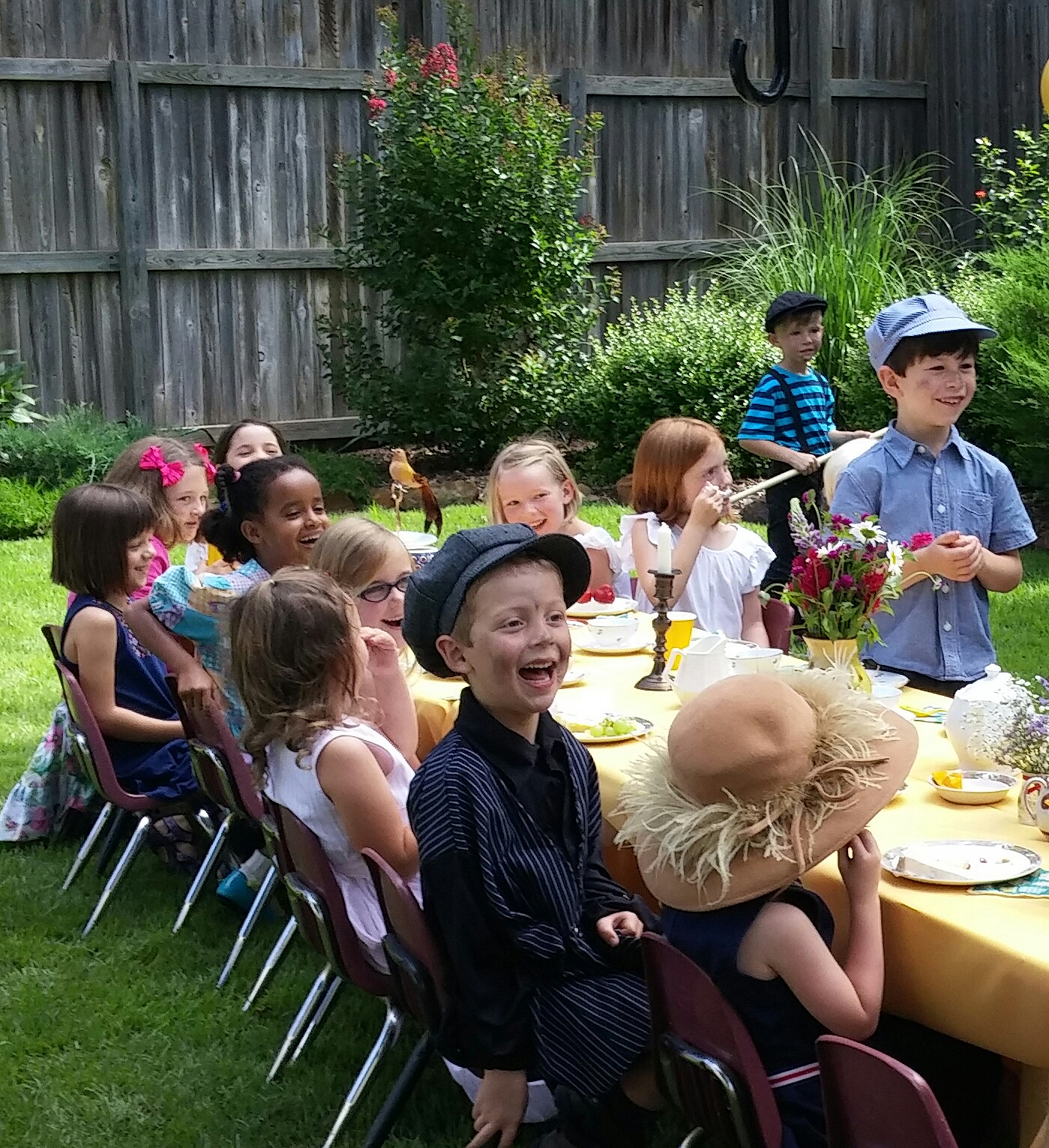 I soon learned floating tables are quite expensive, so I made a deal with a local magician's store. He rented me one of his tables for $50 (which included training me how to do the trick).
While the kids enjoyed their tea, I asked the children if they thought Mary Poppins knew about our party. They said yes… and I said, let's test the theory. I then invited the children to begin laughing – just to see if they could get the table to float. If we can, I told them, that means Mary Poppins sees our party and is smiling wherever she is.
This trick instantly brought a sense of wonder and awe to the tea party.
One parent caught Ava's reaction!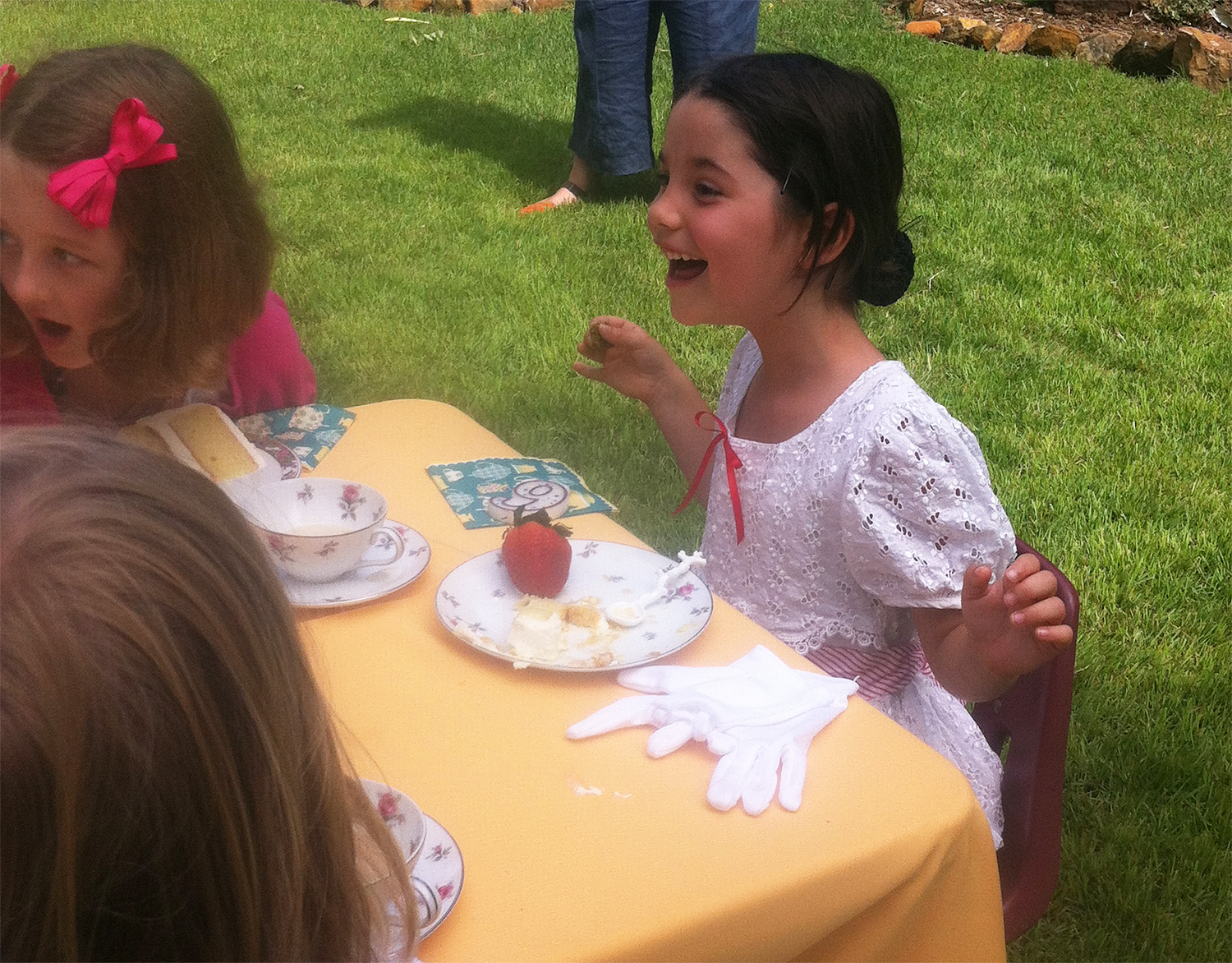 And of course the children had to come over and help me "make it work."
Gingerbread Stars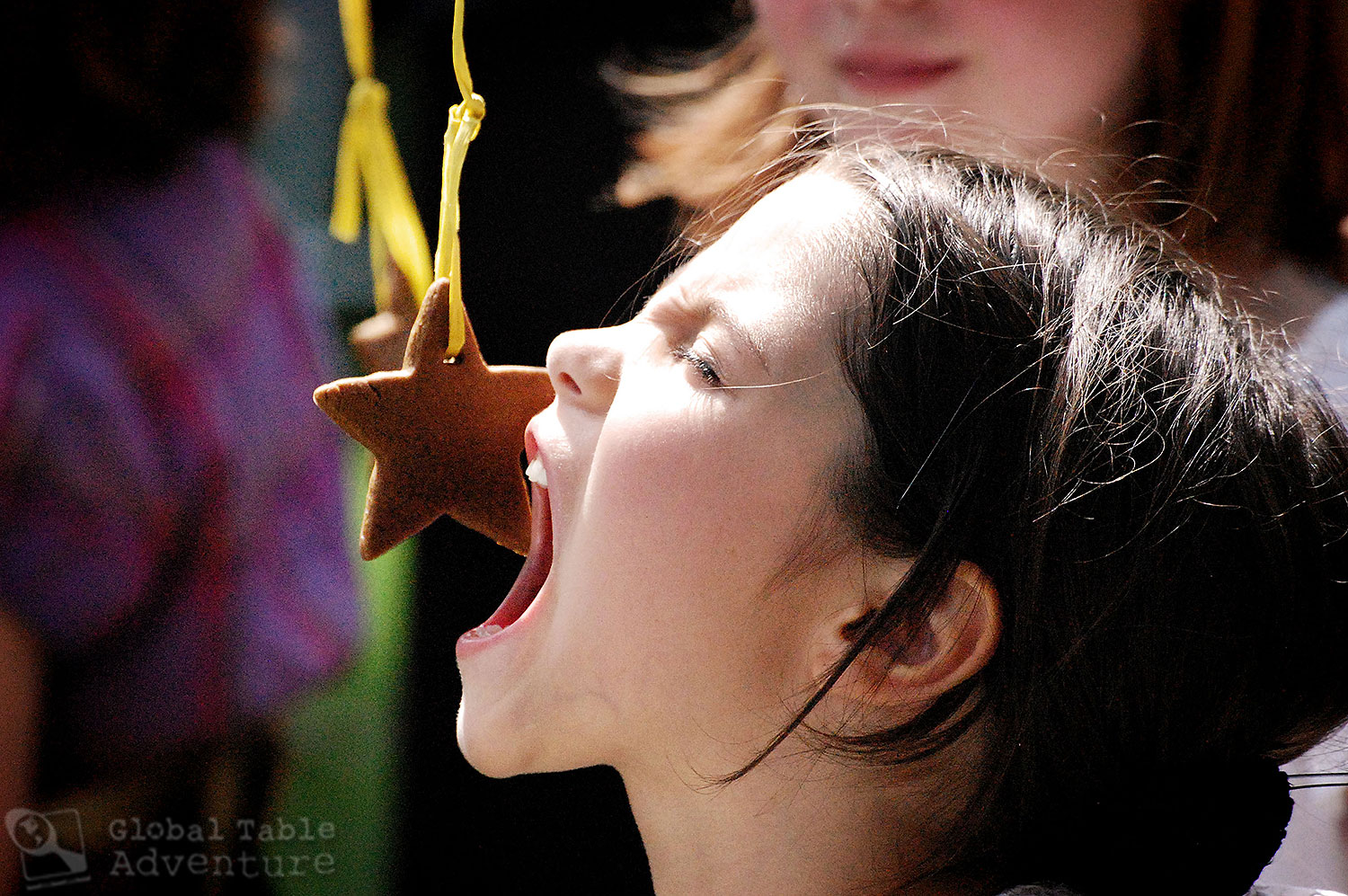 Stars are a huge theme in the Mary Poppins book series. The children paint the sky, go to a circus in the sky (the constellation "creatures" are the performers), and Mary Poppins takes the children to purchase gingerbread stars. Ava had the brilliant idea to hang gingerbread stars from a rope, just like we did back when we cooked the Netherlands! The kids got to try to eat them without hands.
This was the "wrap up" activity for the party.
Instructions: Cut Gingerbread dough into a star. Use a straw to make a hole at the top of each star before cooking. Bake, then let cool completely. Tie lengths of string to the cookies. Store this way, ready to go for the party so you don't have as much to do on the day of the party! When ready to play, hang the stars and let the children try to eat them – no hands!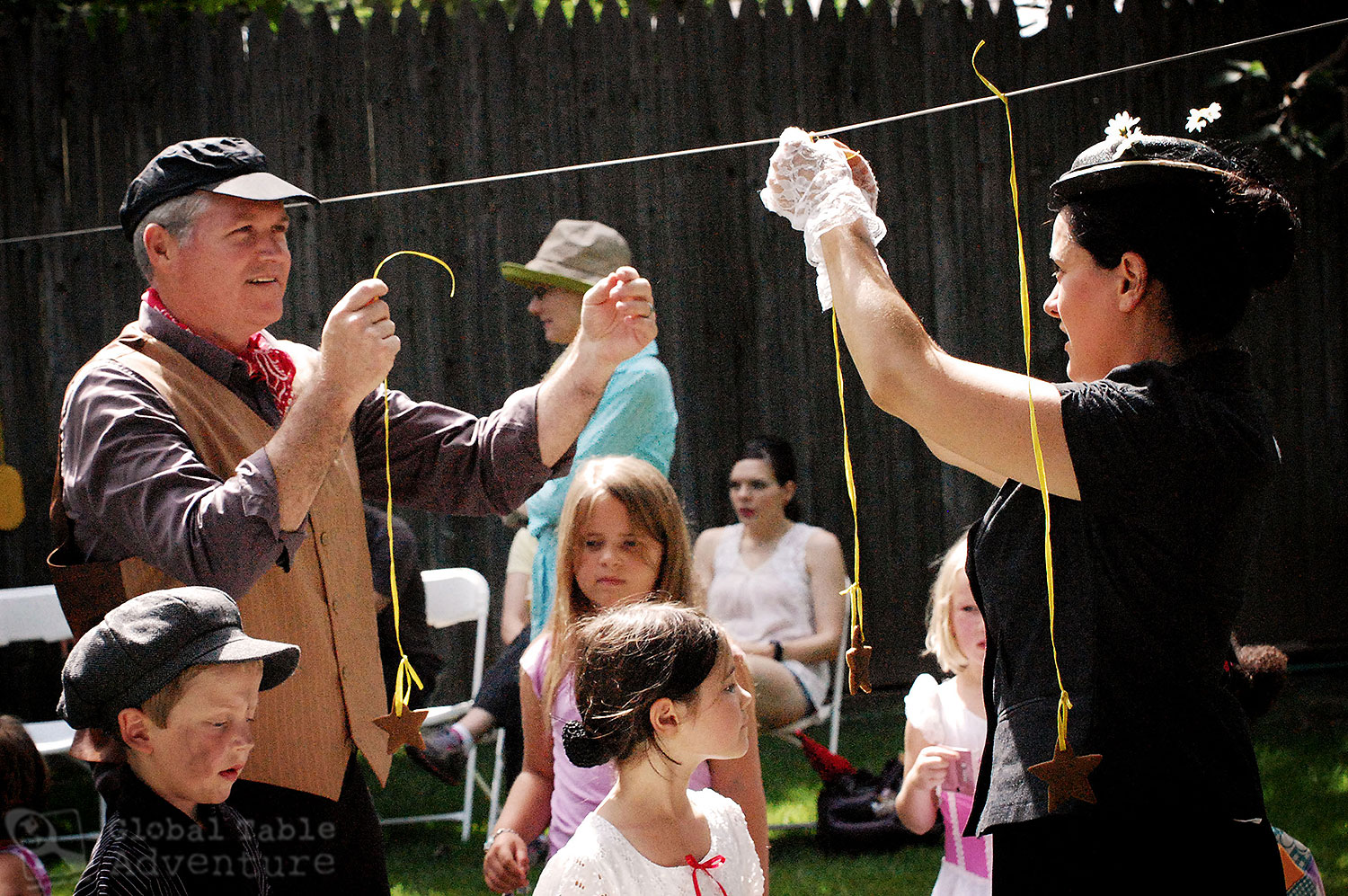 This. Was. Hysterical.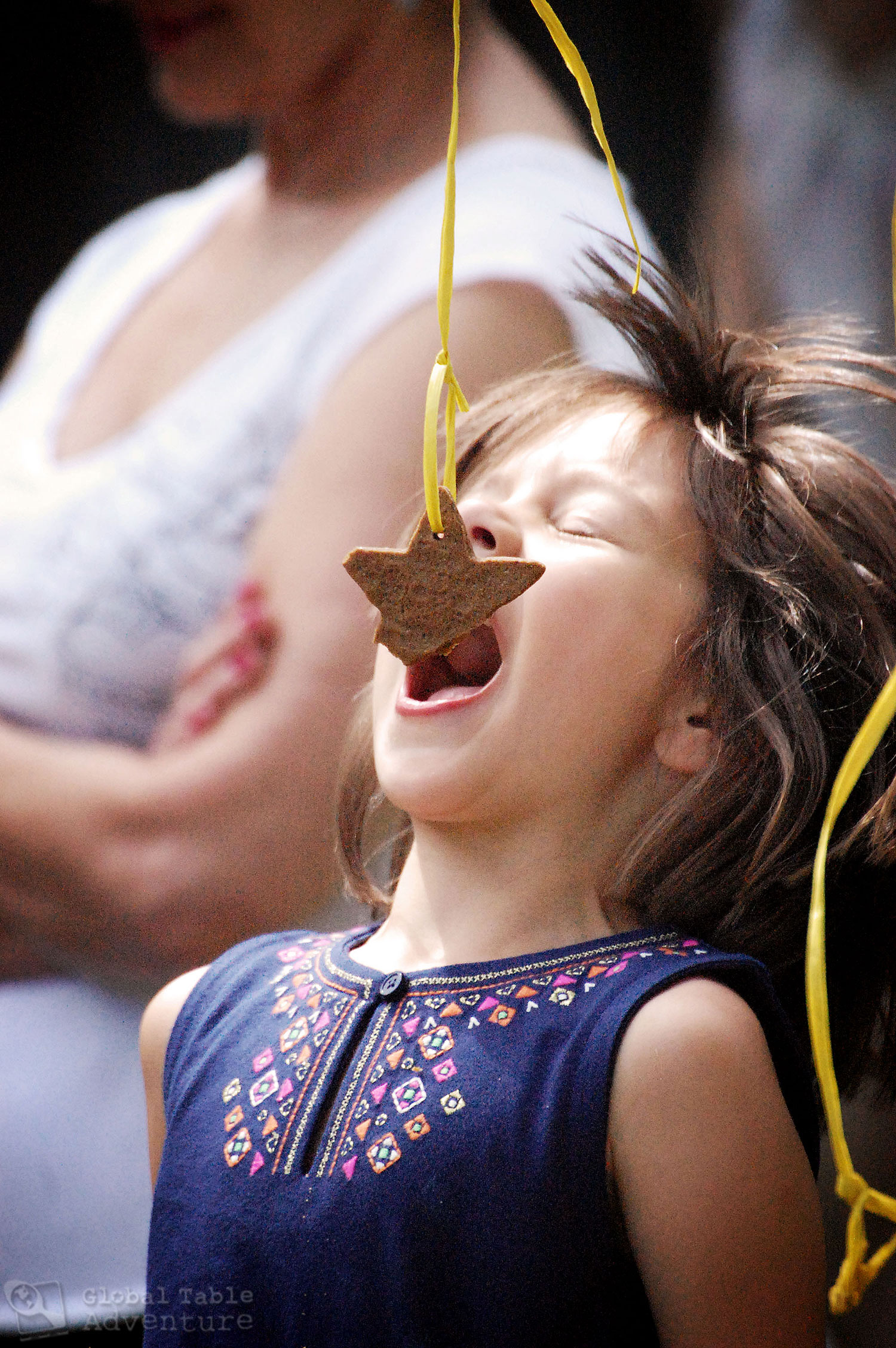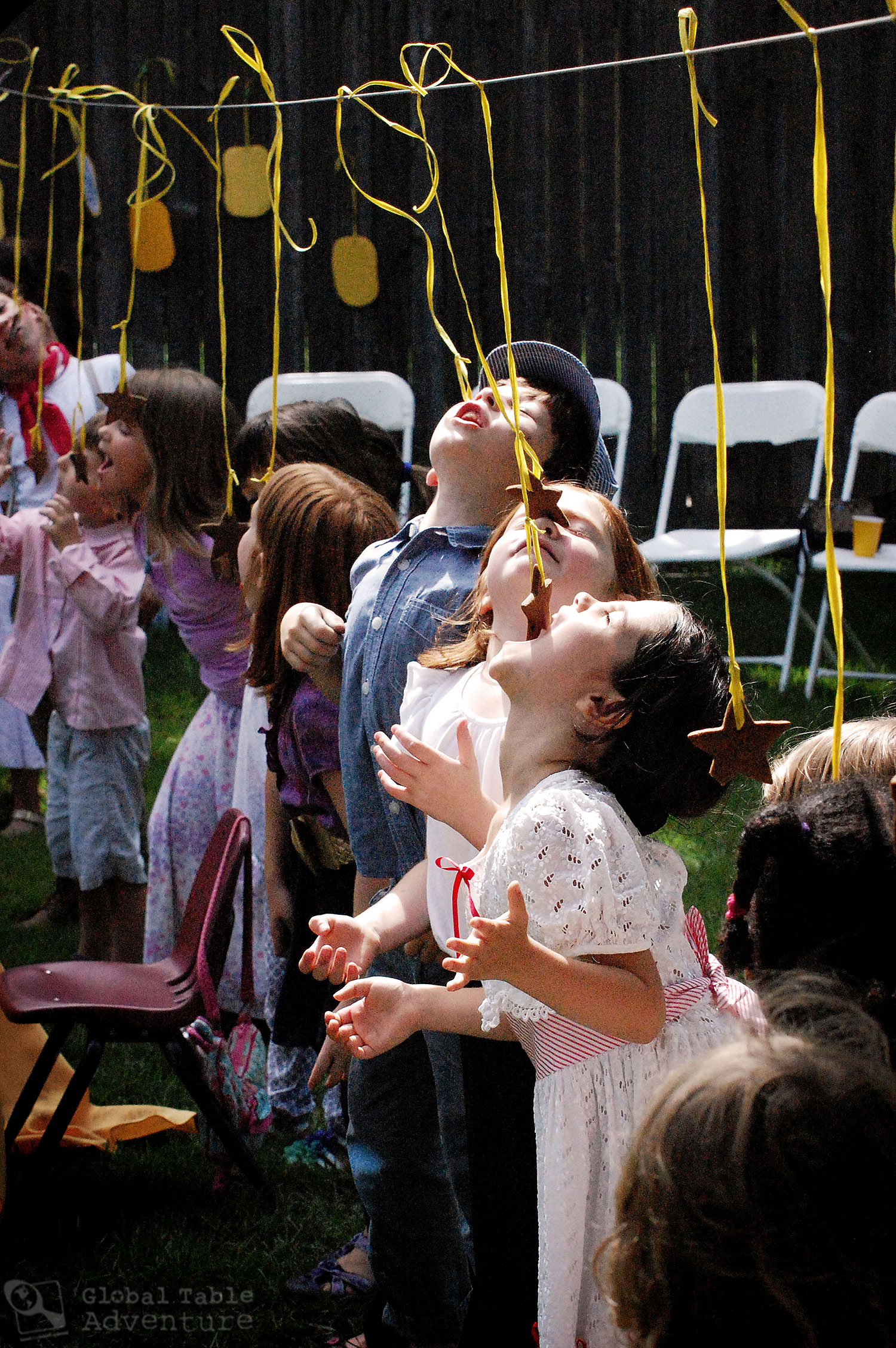 Eventually, they all got their cookie.
Chomp…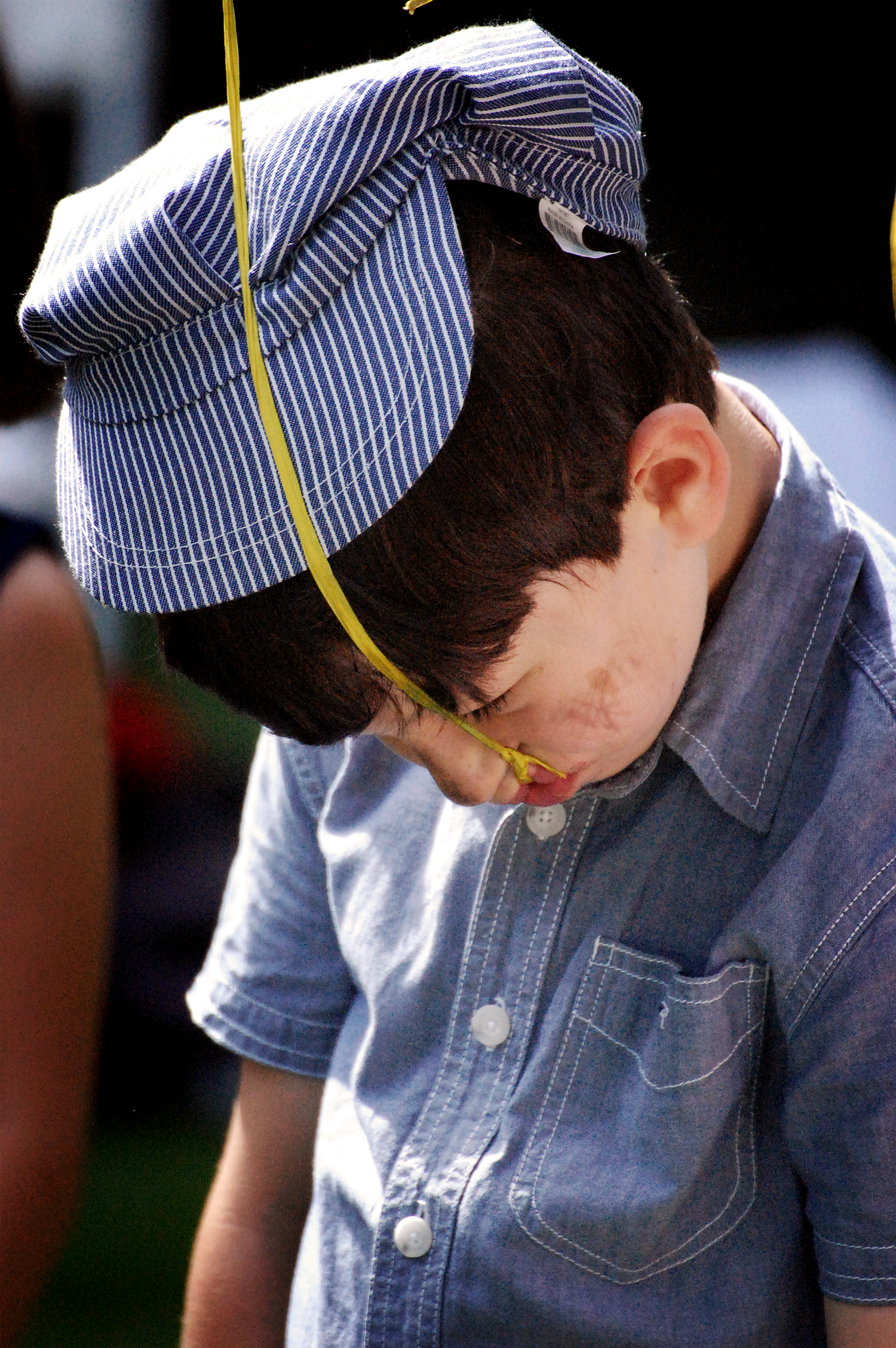 Chomp…
Chomp..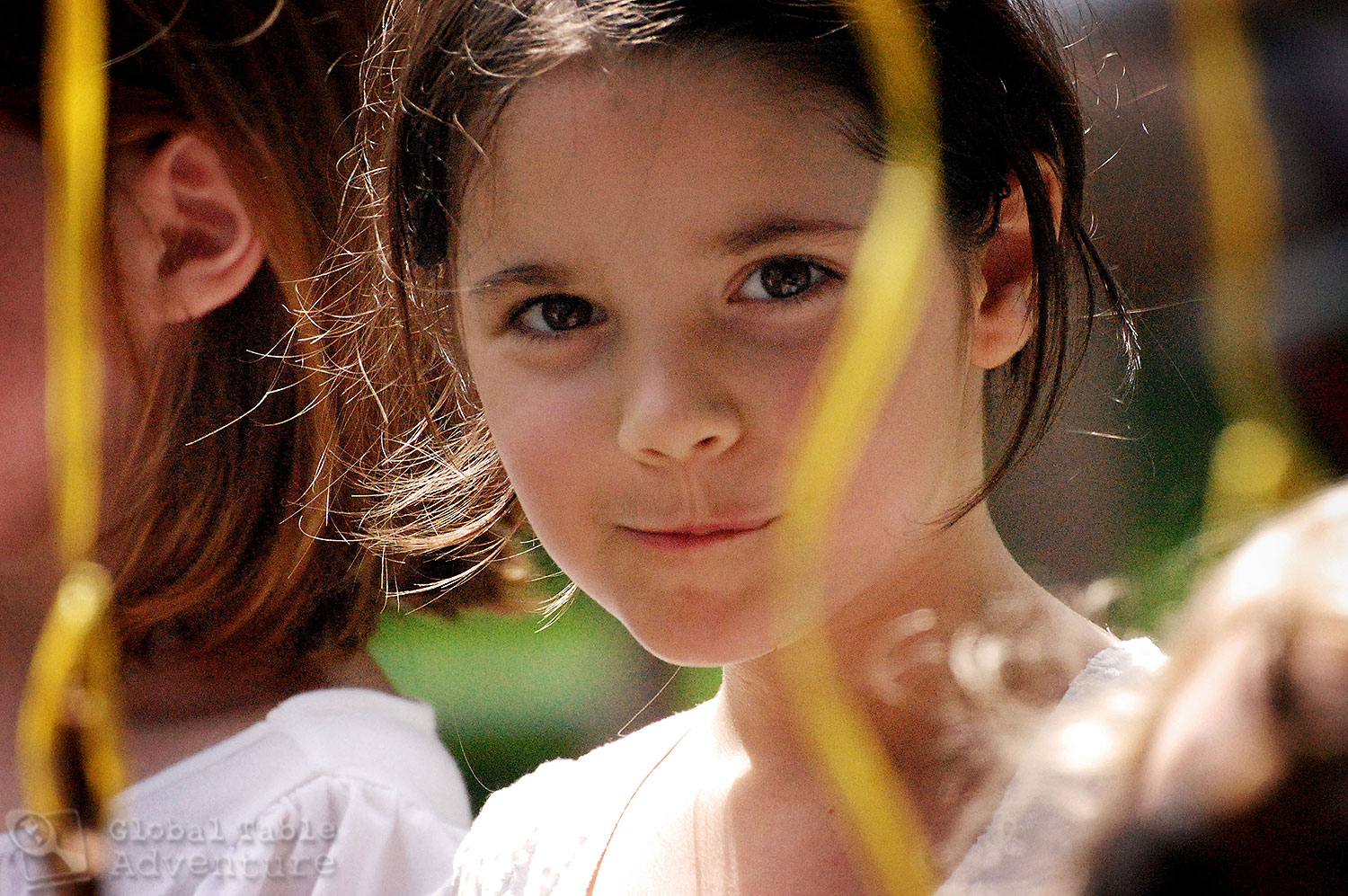 The Party Favors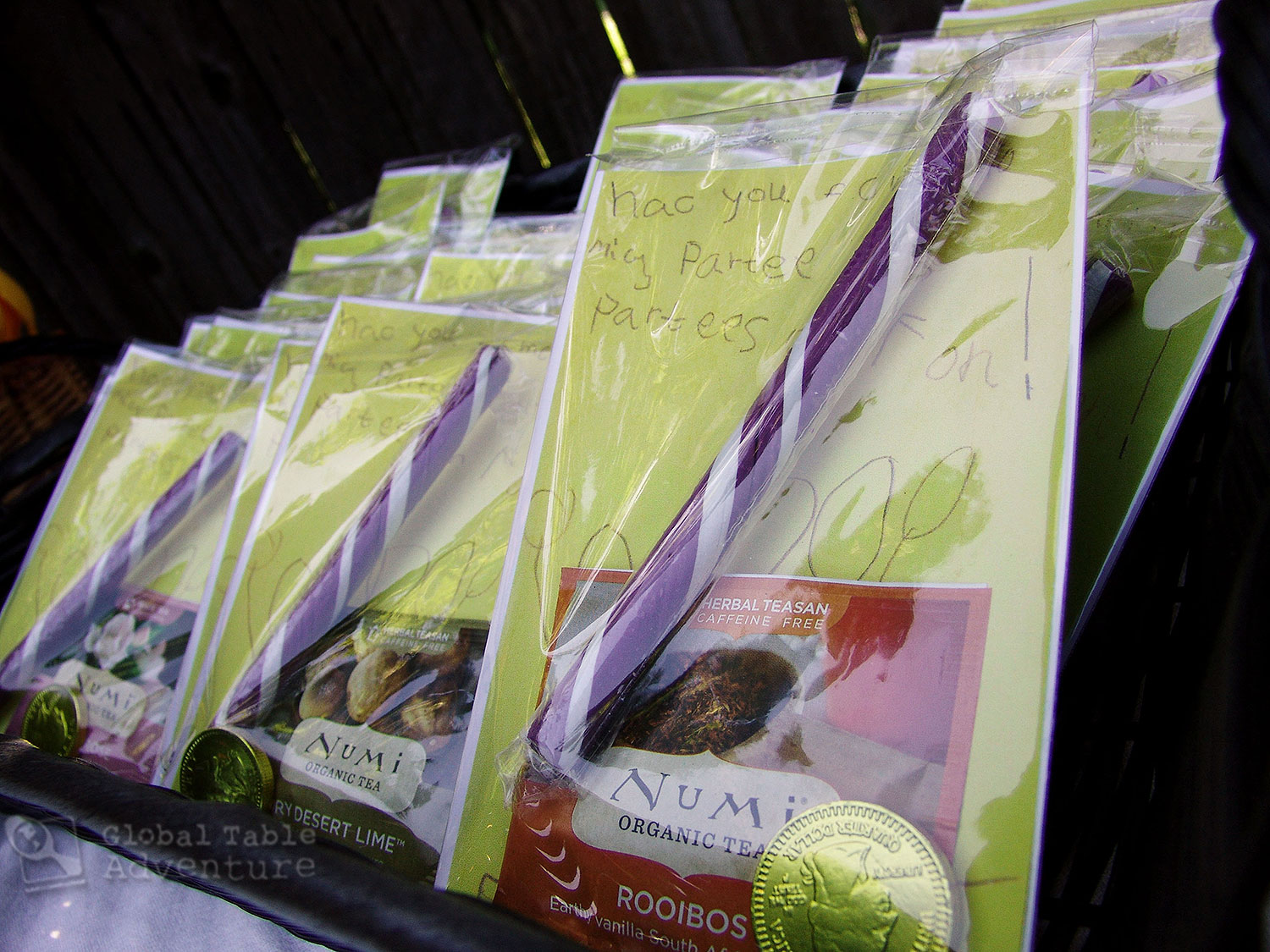 I kept the favor bags simple. The children got a tea bag for their own tea party, chocolate "tuppence," and a candy cane (because in the books they ride candy canes like horses). The goodie bag also included a thank you note from Ava ("Thank you for coming to my party because parties are fun!") and the sparkly photo of her and her flying umbrella featured at the top of this post.
Every child also got a DIY White Umbrella that they could take home and paint. These worked out to be less than $3 per child. Best of all, they are designed to be decorated with fabric markers or paint… so each child can personalize their own.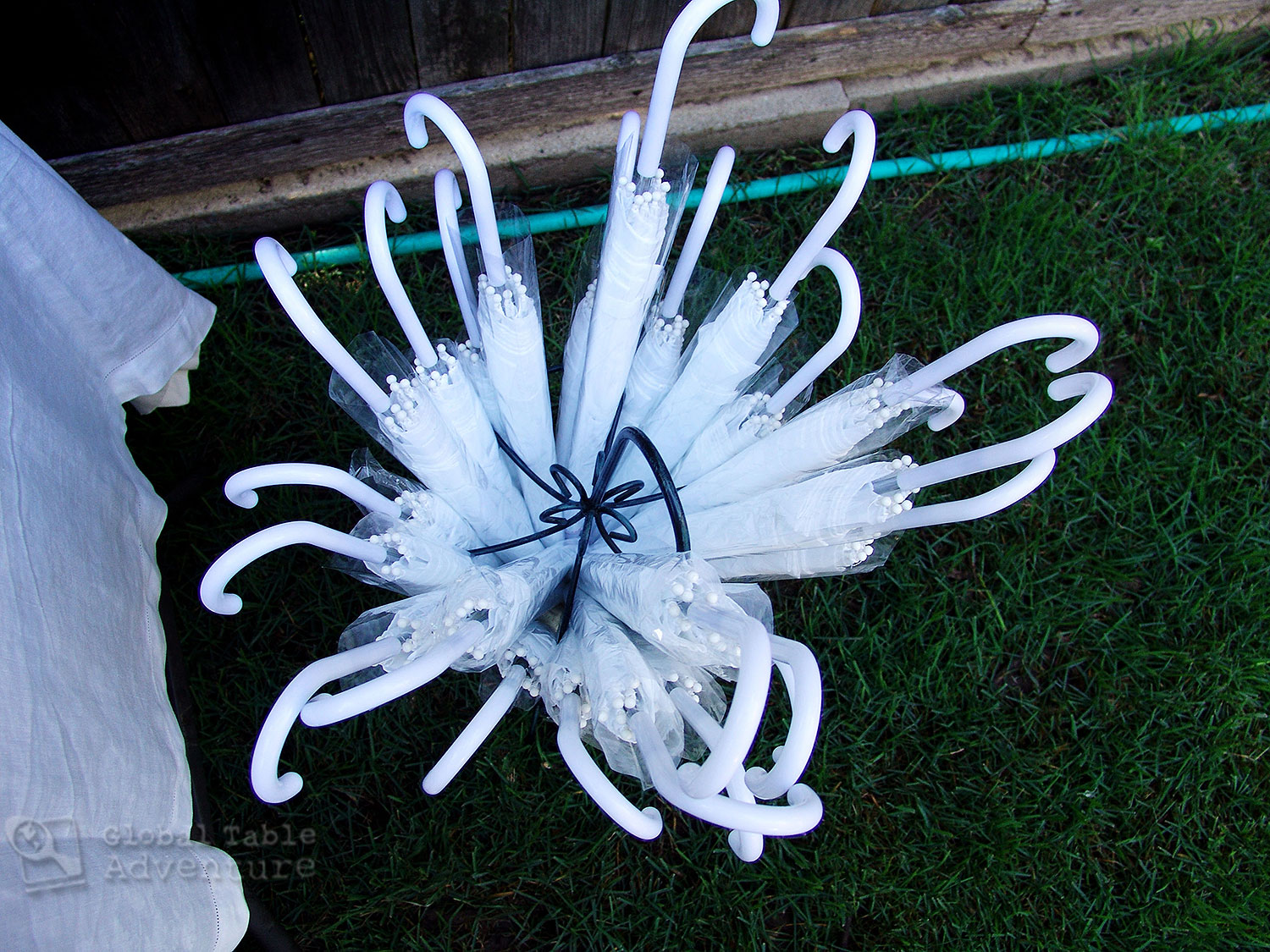 Here's how one of the boys decorated his – with sharpie tie dye…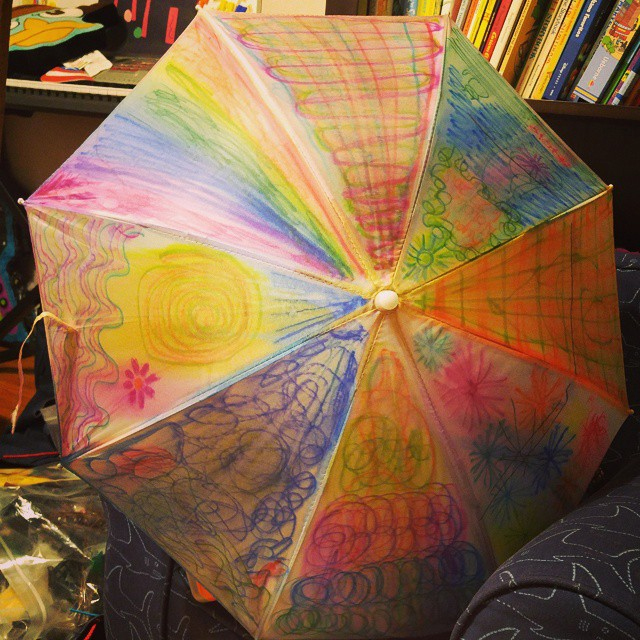 Super colorful and fun!
Practically Perfect in Every Way
Nothing is completely perfect in life. As wonderful as this party was…. there was… shall we say… a few moments of drama.
(Just keeping it real!)
I had to share the best…
Behold, the slippery cake stand.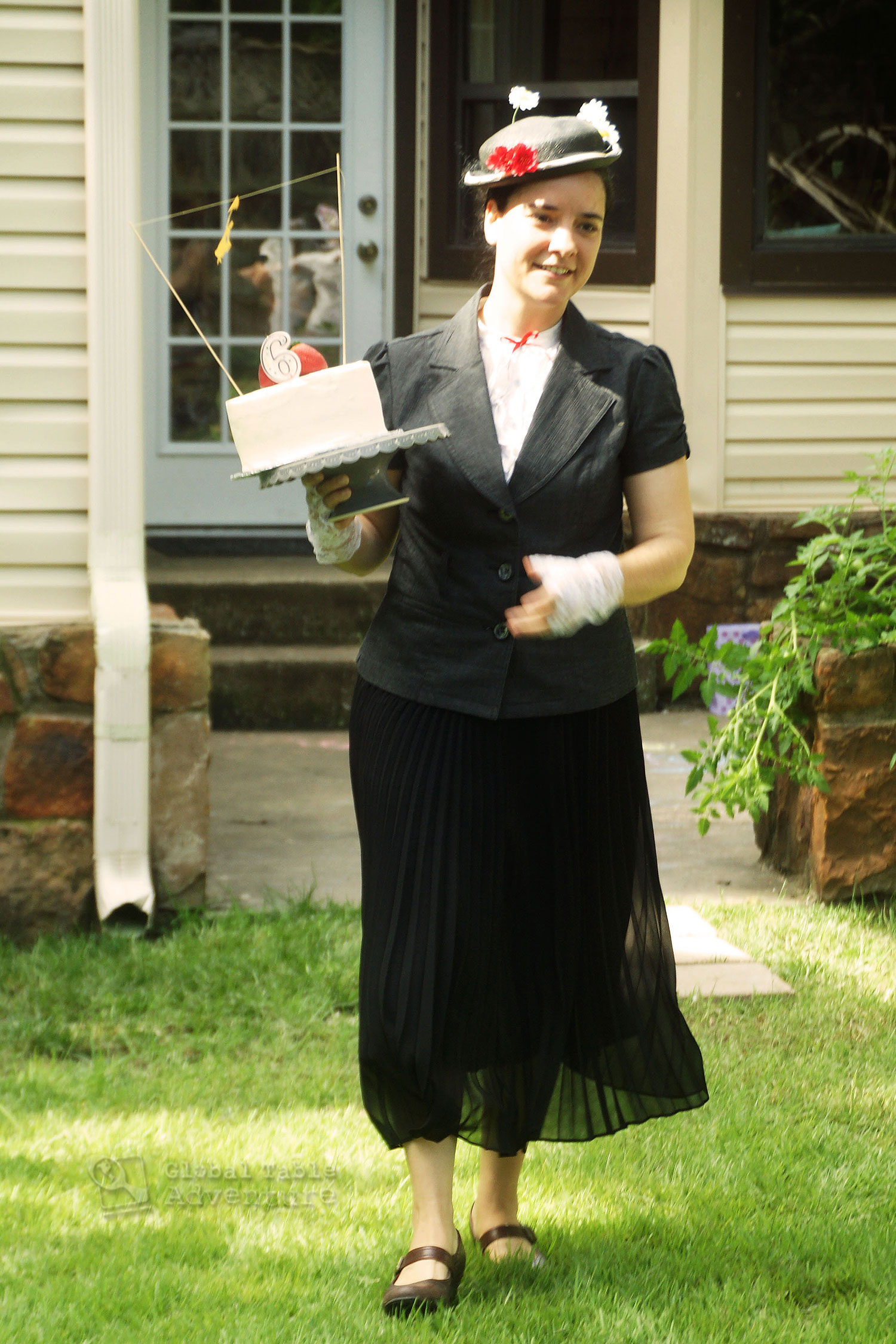 Oh no!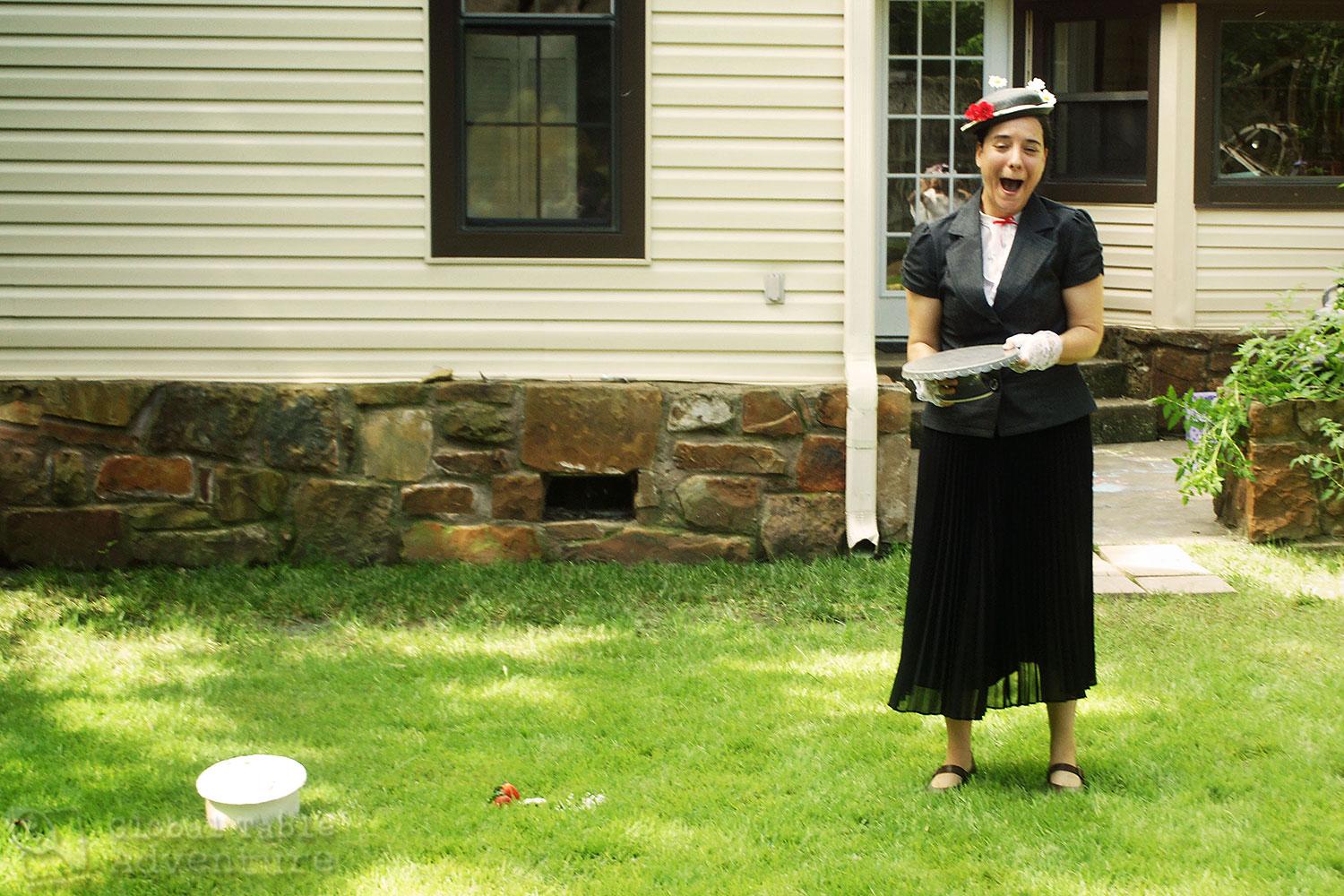 I love how, in an attempt to stop the fall, I flung the cake even farther away.
I also love my toothless gasp.
Thank goodness the cake was frozen.
Unbelievably, there was hardly any damage.
Five minutes in the kitchen with several kind-hearted mothers and the cake was doctored up – as good as new.
Let's try this again…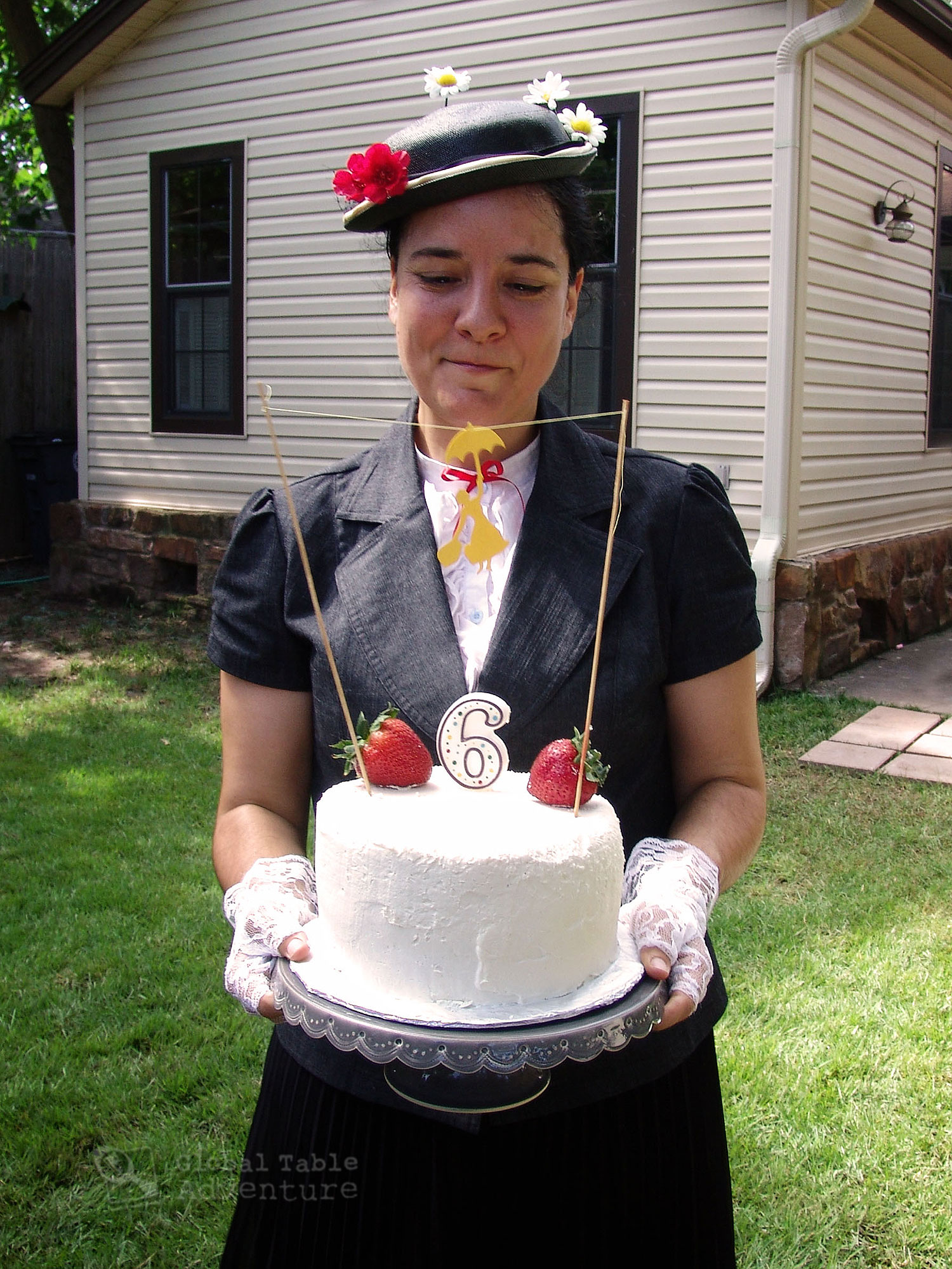 Happy Birthday Miss Ava.
Mama loves you!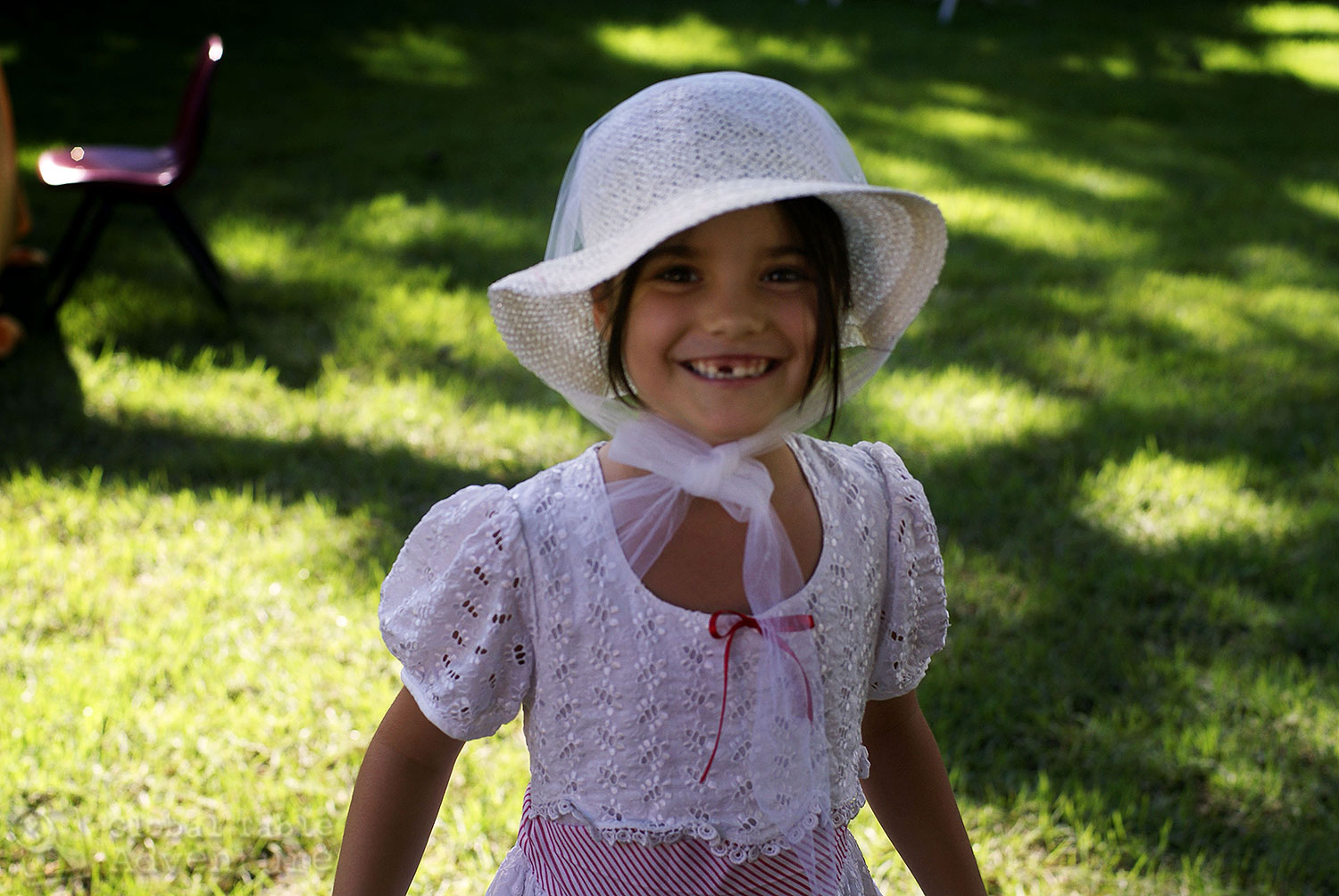 Suggested Materials:
Mary Poppins: 80th Anniversary Collection by P.L. Travers.
Mary Poppins 50th Anniversary Edition, with Julie Andrews & Dick Van Dyke.
Sing-Along Songs: Supercalifragilisticexpialidocious – I Love to Laugh.
Special Thanks:
Most of the photos in this post were taken by Ingrid Williams, a dear friend and photographer, as well as scattered contributions from friends Dana, Ryan, and Chrissie. They freed me up to float tables and drop cakes at leisure. Thank you all!