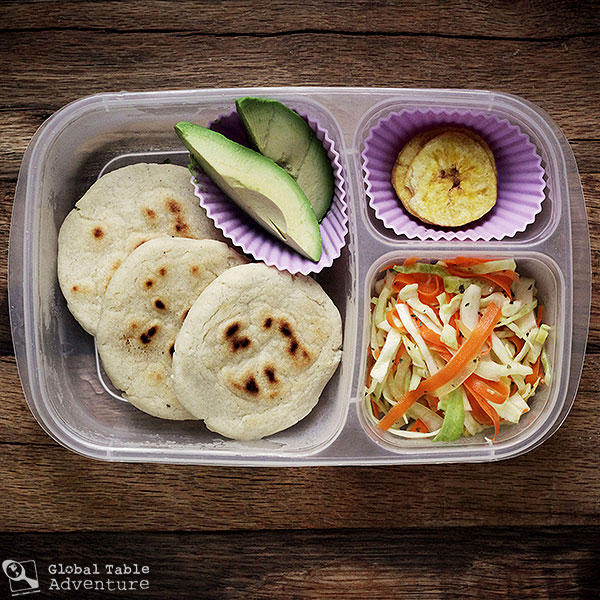 Central America can provide fresh, fun inspiration for the lunchbox (with a generous dash of indulgence). Since our family chose not to opt in for my daughter's school's weekly Pizza Day, I'm always looking for something special for Ava's Friday lunches. When I asked Ava how she enjoyed this particular Around the World lunch, Ava returned my question with wide eyes and an even wider grin. I have a feeling the cheesy pupusas from El Salvador did the trick.
Pupusas are made with masa harina and melted cheese or bean filling, then fried. We made them for dinner the night before (when Ava taught papa how to make them with a hilarious, if not entirely authentic "double stuffed" method). Not bad for five years old!
The leftovers were a quick reheat in the school microwave, though they're decent cold, too. To balance things out, I included a cabbage slaw called "curtido" seasoned with dried oregano, vinegar, and a touch of red pepper flakes. The fried plantain chips and sliced avocado were just for fun!
Tips
Try substituting the curtido for a chunky guacamole. The plantain chips would make great dippers!
Pupusas  are great served with tomato salsa.
For more heat, add extra red pepper flakes to the curtido.
Why show you Ava's lunch?
Ava's Around the World Lunches began when I shared a few of Ava's globally-inspired lunches on Instagram and Facebook. Turns out a lot of people are looking for lunch ideas – whether for school or work.
In this regular column, I share one of our Around the World lunches with you. I give you tips, like where to find ingredients or possible substitutions. If you have ideas for lunches you'd like to see or challenges you need help dealing with, let me know in the comments!