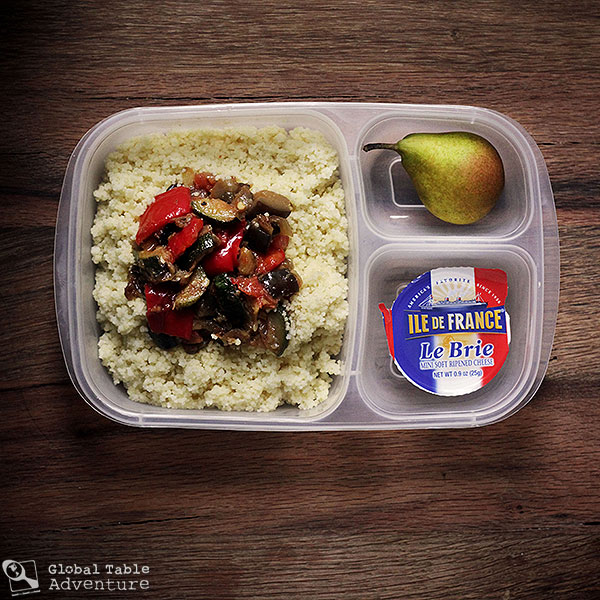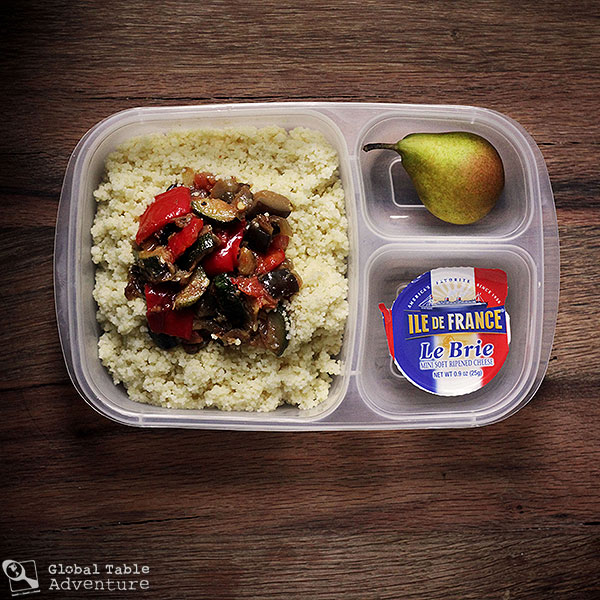 One of my favorite food memories from France was going out for couscous with my guardians. I was a wide-eyed teenager, happy to sit around a fragrant pot of stewed veggies and eat until my stomach ballooned. My favorite part was how the broth saturated the couscous, forming an unctuous gravy. The strong North African influence not only made its way into the restaurants  of Paris, but also into the home cooking – as I soon learned, couscous also makes a great base for ratatouille. Today I've combined my basic ratatouille recipe with plain couscous for Ava's Around the World Lunch. Since ratatouille is often served room temperature, no microwaves will be needed at lunchtime. Perfect!
To complete the meal? A miniature wheel of Brie and the cutest little pear you ever saw are shameless appeals to my daughter's preference for anything "cute" (Which worked perfectly – I hear they were the first things to disappear at lunchtime).
Tips:
While Brie is one of the more mild French cheeses, sensitive eaters may want to swap the brie for a wedge of "Laughing Cow" cheese – this French product is like cream cheese in texture and would be great served with a small croissant or crackers. They now have a US division, so they should be easy to find in most grocers.
Try swapping the couscous for rice – another common side with ratatouille.
If pears are out of season, try apricots. The French LOVE apricots.
Why show you Ava's lunch?
Ava's Around the World Lunches began when I shared a few of Ava's globally-inspired lunches on Instagram and Facebook. Turns out a lot of people are looking for lunch ideas – whether for school or work.
In this weekly column, I share one of our Around the World lunches with you. I give you tips, like where to find ingredients or possible substitutions. If you have ideas for lunches you'd like to see or challenges you need help dealing with, let me know in the comments!