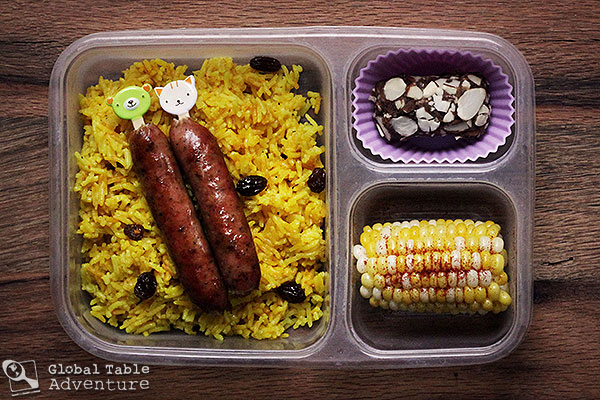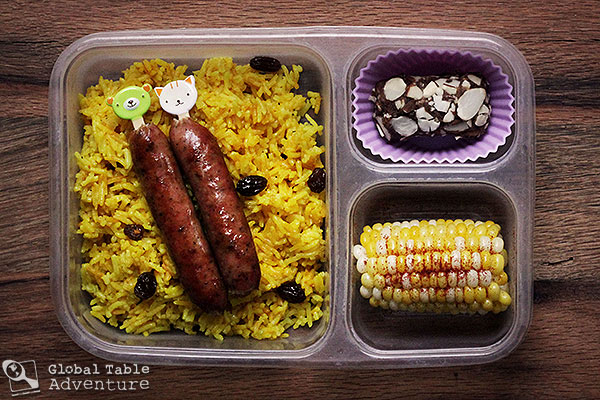 This week Around the World Lunch takes us to South Africa (thanks to your votes on our FB Page). The result is a hearty meal perfect for autumn, packed with nutrition. Watch a clip of Ava introducing this meal (and showing off her South African flag) on Instagram.
Get Creative. 
Who says creativity must be difficult? In a sea of bologna sandwiches, leftovers are a great way to mix things up and add interest to your child's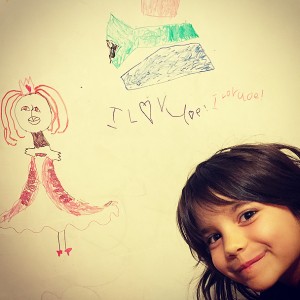 lunch! For dinner we made a batch of South African Yellow Rice (a.k.a. Geelrys), seasoned with turmeric, a touch of brown sugar, and raisins. While it's amazing hot, it's also decent cold the next day.
South Africa is famous for her enormous coiled sausages, called Boerewors made up of beef and lamb or pork. These aren't available here, so I improvised by browning a couple of small breakfast sausages. For cute-factor (and ease for small hands), try putting them on skewers.
Balance.
Nutrition is packed into the rest of this lunch. First up? Corn. Garnish a boiled ear of corn with a puff of smoky chile powder – a popular treatment found in South Africa. Corn is packed with fiber and B vitamins! The second item is by far the healthiest part of lunch – and it's dessert! Almond stuffed dates is a traditional South African sweet – easy to prepare and serve (plus dates are loaded with potassium, magnesium, fiber, vitamin B-6 and iron). To make the treat more appealing to my 5-year old, I rolled the dates in ground almonds (this makes it look more like cake or candy).
Tips: 
Dates rolled in pecans or almonds can often be found in the grocery store, usually near the produce or cheese.
If nuts are prohibited at your school, try serving a plain whole date.
Try swapping the corn for a green bean salad tossed with white onions, olives, lemon juice, and vegetable oil – another side enjoyed in South Africa.
If your child has access to a microwave at lunchtime, put the date in a little removable cup so that they can pull it out while heating up the rest of their lunch.
Why show you Ava's lunch?
Ava's Around the World Lunches began when I shared a few of Ava's globally-inspired lunches on Instagram and Facebook. Turns out a lot of people are looking for lunch ideas – whether for school or work.
In this weekly column, I share one of our Around the World lunches with you. I give you tips, like where to find ingredients or possible substitutions. If you have ideas for lunches you'd like to see or challenges you need help dealing with, let me know in the comments!