Last week someone asked me if I was going to cook with rocks because that's how they cook in Vanuatu. It was a fair question and one that, about two years ago, would have gotten me all sweaty and stressed out.
I would have asked myself if I was treating the people of Vanuatu fairly by not  digging a pit in my back yard, scavenging large rocks from local hiking trails, then cooking the meal beneath our Oklahoma red dirt.
But now, three years and seven months into this Adventure, my answer comes without any regret.
No.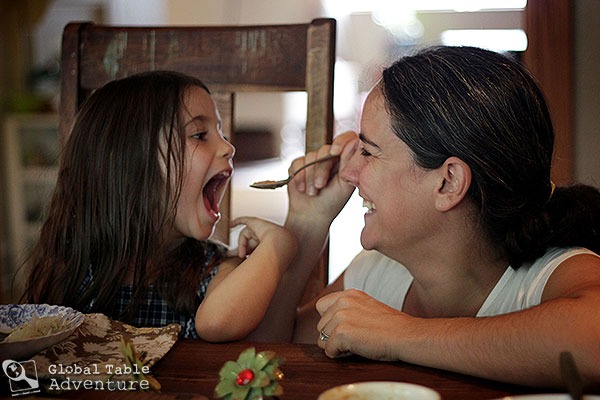 Over the last years, this blog has helped me figure out who I am and what I am capable of.
Right now, I have at my disposition a standard stove/oven combo.  When the kitchen gets too hot, I have an old gas grill in the back yard. Once in a while we use my chimnea to roast marshmallows.
In Vanuatu, you work with what you have.  You celebrate what you have. And that's no different here, in my little corner of middle America. I am here to cook the world in a way that makes sense for my family. Because, if I had to dig a pit to make my dinner, we'd probably not be cooking Vanuatu this week.
Would I like to do all that? You bet. But right now, I'm a mom, a wife, and an author working on her first book. It is an incredible honor and challenge.
Someone else recently asked me how I have time to cook the world.
To be honest, some days I'm not sure I do have the time.
But by putting one foot in front of the other, simplifying wherever possible, I've created a Global Table Adventure even the busiest family can undertake.
Including  yours.
Be sure to upload YOUR Global Table Adventure photos to Facebook, Twitter, Pinterest and Instagram.
Tell me about them and be sure to TAG the photos with #GlobalTable so I can see.
At the end of all this, I'd like to share some of your beautiful feasts here, on the blog.
I'd also like to know: what are your roadblocks to cooking the world? What stumbling blocks keeps you from trying new recipes?  Or are you cooking the world just fine? Let's help and encourage each other.  Add your comments below.
THIS WEEK's FOOD
Sweet Potato Simboro [Recipe]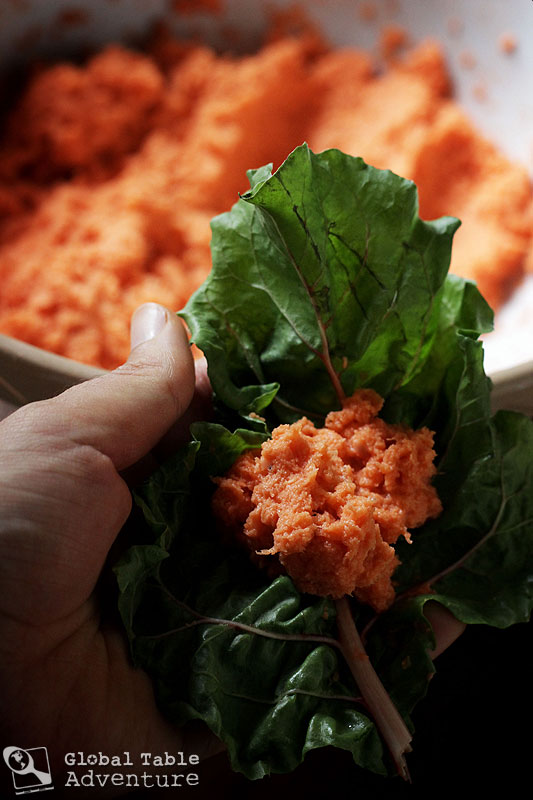 What I loved most about this dish:
The sweet potato is so nice when simmered in coconut milk. The bitter leaves add a nice contrast and welcome dimension. Ava wasn't sure, but, since sweet potatoes are her favorite root vegetable right now, she warmed up to the dish pretty well.
What I loved least about this dish:
Rolling the simboro proved to be rather difficult, but I learned from a reader's comments to immerse the leaves in hot water for a minute before rolling. They'll be much less likely to crack and break. I'm definitely trying this next time!
Green Papaya Salad [Recipe]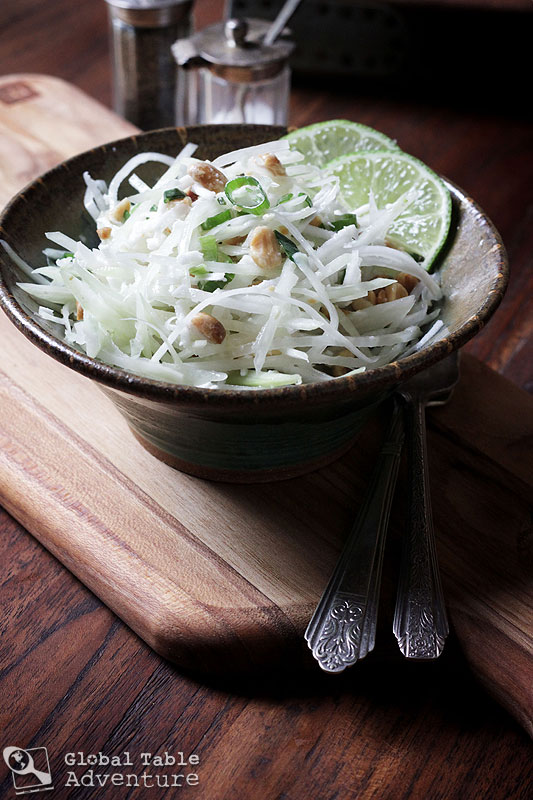 What I loved most about this dish:
By pulling together many popular ingredients from Vanuatu, we were able to taste the fresh flavors without actually getting on a plane. While this might not be found in the remote villages, something like this is definitely a coastal, city offering. Finding the pre-shredded papaya made my day, and ensures this one will go into the regular rotation!
What I loved least about this dish:
Not much! Just be sure to use plenty of salt and plenty of lime juice.