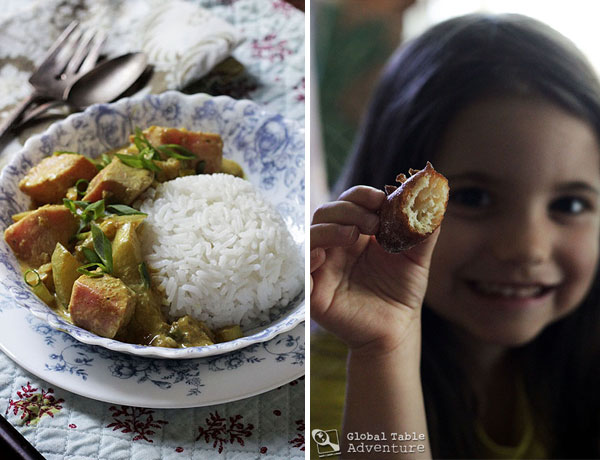 Ever wonder how an island nation forms? There's an old Tuvaluan legend  that claims the first inhabitants of Tuvalu were ladies named Pai and Vau. Pai and Vau held baskets of sand. The grains that fell out of those baskets are said to have formed the neighboring atolls (the tiny coral reef islands we learned about yesterday).
I love this image. It really goes to show how a little carelessness – something as small as a slip of a basket – can have far-reaching effects.
Of course, all this island-making leaves me wondering: what did Pai and Vau ate after making the islands? I'd like to imagine, something like this week's menu…
We're celebrating the food of Tuvalu with a big bite of local Tuna and doughnut-like banana fritters. This is comfort food, meant to be enjoyed with the salt of the sea on your lips, and a smile in your heart. Even more, we have it on authority that the dessert is fit for the prince of England and his bride. So, it stands the test of time, as well.
All recipes and the meal review will be shared throughout the week.
Tuvalu Tuna [Recipe]
This quirky tuna curry will transport you to Tuvalu quicker than any airplane. Enjoy bursts of cucumber and green onion, all seasoned with ginger, garlic, coconut milk, and soy sauce.
Coconut Banana Fritters [Recipe]
Find out why Prince Williams and the Duchess enjoyed these lovely island fritters during their stay in Tuvalu.