The more I need to laugh, the more I hole myself up in solitude. Does that make me an introvert?
This week I holed up… major. I watched my paella turn canary yellow while my husband and daughter played in the yard. The trees were budding. The birds were singing. But I stood in my windowless kitchen. I stared into the paella as it plumped up. I wondered if I could drink in the steam coming off the rice, and whether or not it would conjure up the most honest sort of happiness.
Can food do that?
Because, if it can, I want to eat it.
Surely Spanish food can.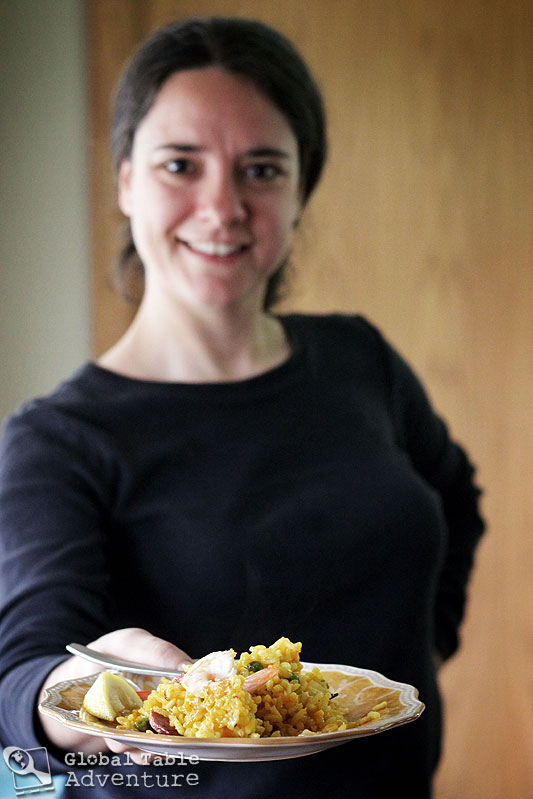 The truth is, I was so scared I'd mess up the paella, when my neighbors said they were too busy to join us, I decided not to invite anyone else over to try our Spanish Global Table. It just seemed easier to live a bit in the shadows.
You see, I've been working on my book to be published by National Geographic in 2014… writing some tough passages about the past. About my childhood. About what drove me to cook the world and bring spice, in a very real way, into my ordinary life. Stories as yet untold on this blog.
There can be no world peace without inner peace.
Delving into such intense subject matter meant that I really needed some laughs.
But the more serious things got, the less I knew how to laugh. Even when surrounded by this kind of joy…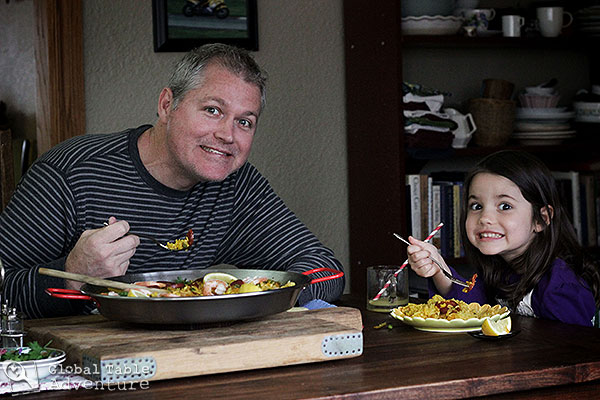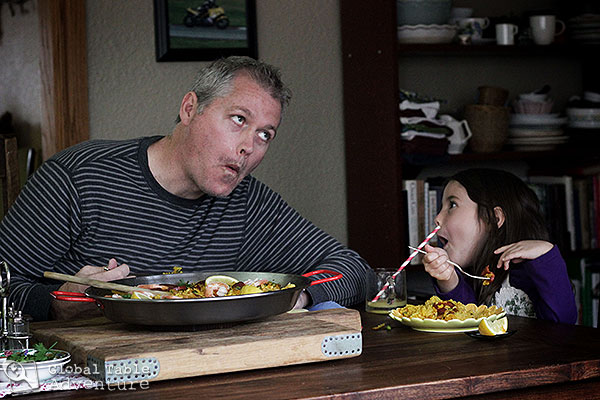 Does that ever happen to you?
The universe sure has a funny way of bringing people together. A few days after Spain was all cleaned up, Jesse and Laura from United Noshes popped over. They are cooking the world in NYC and happened to be on a road trip, driving through Tulsa. We sat and talked about the challenges of cooking the world. As you can imagine, the challenges in NYC are not quite the same as they are in Tulsa.
For one, my kitchen, although on the smaller side, is giant compared to NY kitchens.  That being said, they have a microwave and I don't.  Which means they can make popcorn 2x quicker that I can.
Anyway, It's amazing what  a night of Sangria, cheese, grapes, olives, and real laughter can do for the spirit. It's so great to connect with another couple on the Adventure… in real life.
Remember, I love hearing about your Global Table Adventures… I'm nosy (and so proud of you), so be sure and tag your food pictures on Instagram & Twitter with #myGTA or #GlobalTableAdventure.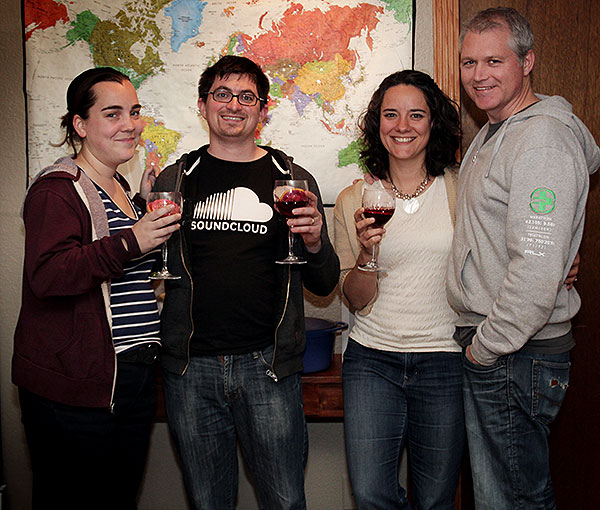 THE FOOD
Weeknight Paella [Recipe]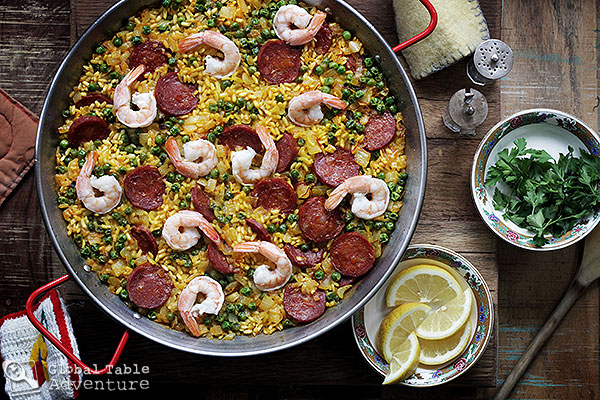 What I loved most about this dish:
Real life: I don't have a lot of time to cook fancy meals. That being said, I've often thought about making Paella for my family (that counts right?). I never did because it seemed so involved.
That's why I was so excited to develop this weeknight Paella for you… as much as I wanted to make a super complex recipe, I knew that real life means I often need something simple… and I have a hunch you might be in the same situation yourself. What really worked was the blast of flavor from the saffron and smoked paprika. We all loved this (and, hello, Keith ate three helpings!).
What I loved least about this dish:
Paella pans are really wide, which makes it a little trickier to cook the paella evenly. I made up for this by rotating the pan evenly over two burners… but I might try baking it at 500F for 20 minutes next time (a technique I read in Mark Bittman's book The Best Recipe in the World)… or perhaps on the grill.
Sangria [Recipe]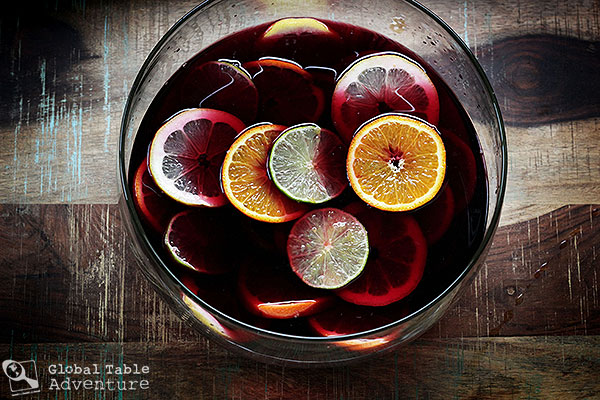 What I loved most about this dish:
I finally figured out how to make Sangria without the cloying sweetness of store bought mixes. There's nothing better than fresh fruit, triple sec, and merlot over ice. Best of all, this is an impressive party drink that requires minimal effort (and is even better if you mix it up the night before – yay!). Win, win, win, win… and more winning.
What I loved least about this dish:
Nothing.
Churros [Recipe]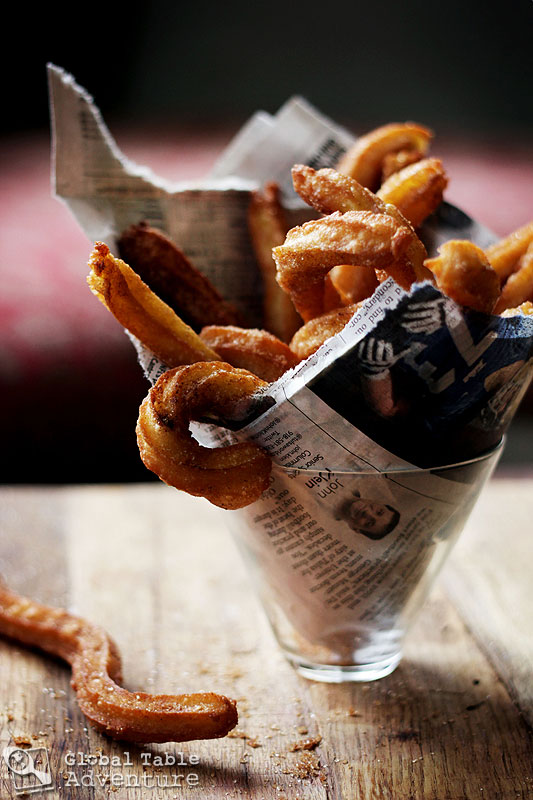 What I loved most about this dish:
Cinnamon sugar CRUNCH! Do I need to say more? In case you aren't convinced… let me say that the eggy dough makes for an especially delicious treat… and perhaps a little nutrition as well?? Ava ate four of these before I realized it. Keith did about the same. This was a definite winner.
What I loved least about this dish:
I had so much trouble getting straight lines out of the piping tip. They curled, they snaked, they twisted. I'll tell you a secret, though – I liked the "messed up" churros best. Finally, there is some debate as to whether or not cinnamon goes on Spanish churros, or just Mexican. I'd love to hear your experiences to help sort this out.