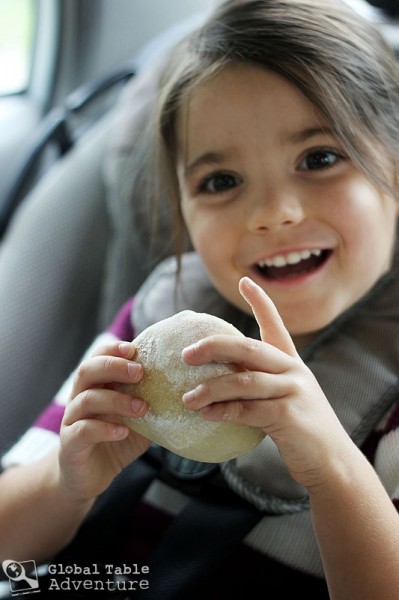 The older I get, the harder it is to find time to give. I am so wrapped up in my own life – my own business – that I forget that the easiest way to make the world smile is to give back.
There's a Portuguese proverb that reads:
What is bought is cheaper than a gift.
I had to reread the proverb several times to really grasp the meaning. I don't think it means that we all need to be on Pinterest, super-crafting gifts for everyone (although that's fun, too).
While the proverb implies that a gift  cannot be bought, it also leaves it open to what constitutes a gift. Perhaps it could even be the gift of spending time together. Or really listening to someone unload their troubles (without the need to solve anything). Or maybe a gift is cooking something together for someone else.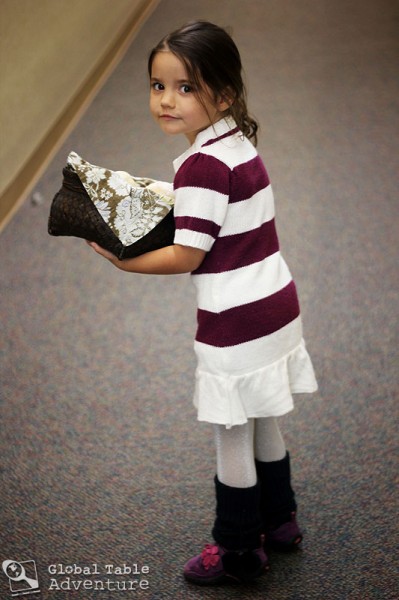 During this week's Portuguese Global Table, Ava and I stood elbow to elbow. We giggled as we patted the soft dough into small squares, topped them with smoky chorizo sausage, and rolled them up. Ava made an experiment with one ball of dough, placing the sausage on the outside. I showed her how working the dough with her fingertips would keep the palm of her hand from getting sticky. As we worked, we talked about the rolls.
I told her twelve rolls was an awful lot for three people of moderate appetite. And there was no way I was going to let the extras go stale.
The time had come to share. To give.
Ava gave me a little impish smile and suggested we share the rolls with her teachers. She spoke in a chirpy little voice, like a springtime sparrow.
And so we did.
Ava steadily paraded the basket of hot rolls down the long, gray hallway.  She had all the concentration of a small child caring precious cargo, like a full glass of water.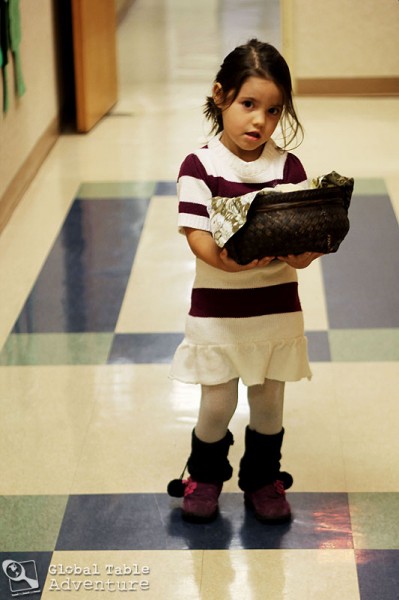 As she passed out the rolls she grew even more intent, never once cracking a smile. Giving is serious business to a three year-old, it would seem.
Once everyone started eating, however, the spell broke and the sillies set in. School had been out for a few minutes, so this impromptu snack was like her own personal party with her beloved teachers. All the attention was too good to be true.
So she had to joke around a little…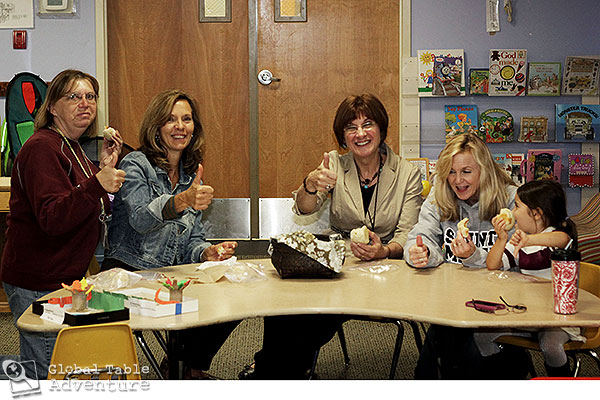 … but she did eat her roll all up and asked for more. And she talked about the day we shared the rolls with her teachers all week.
Bottom line? Children love giving. They love that they can make another person smile. Brighten another's day.
Teaching them to give by example is the best gift there is.
P.S. We didn't stop with her teachers.
A few hours later, we took off to the next spot … where we gave a roll to someone we hadn't seen for a week (watch the video at the bottom of the post to find out who).
Tuna & Chickpea Salad | Atum com Grão [Recipe]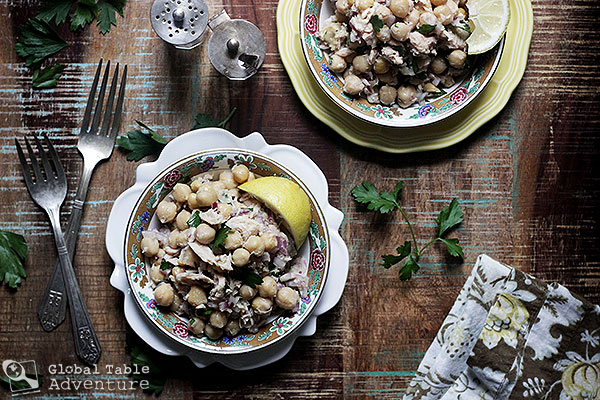 What I loved most about this dish:
This is an excellent salad – high in lean protein thanks to the chickpeas and tuna, as well as a slight crunch from red onions and lemony brightness. Ava and I gobbled it up and I see it being a regular feature for a quick lunch. I also enjoyed the fact that the salad kept well in the refrigerator, so it became an easy meal option for a few days in a row. This is also a great option for a potluck (or wedding, as we learned!)
What I loved least about this dish:
Keith, a.k.a. Mr Picky, was not a huge fan because he's not keen on tuna. That being said, the rest of the family was smitten and I'll be making it again and again. If you do have leftovers, keep in mind you might need an extra squeeze of lemon juice to brighten it back up the next day.
Kale, Potato & Chorizo Soup | Caldo Verde [Recipe]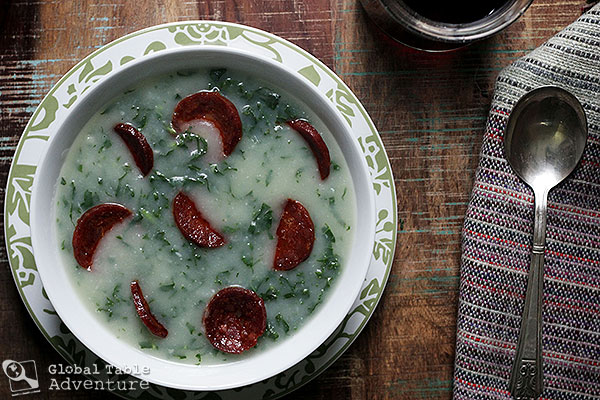 What I loved most about this dish:
There's nothing like potato soup in winter, especially one loaded with healthy strips of kale. I really liked this soup and would consider trying it with chunks of potato, instead of pureeing the mixture, just for variety.
What I loved least about this dish:
I was alone in my love for this soup (although Keith was happy as long as he had chorizo in every bite – he doesn't like kale). I could have used a bit less kale (but then the soup wouldn't be very verde, now would it?)
Chorizo Rolls | Pão com Chouriço [Recipe]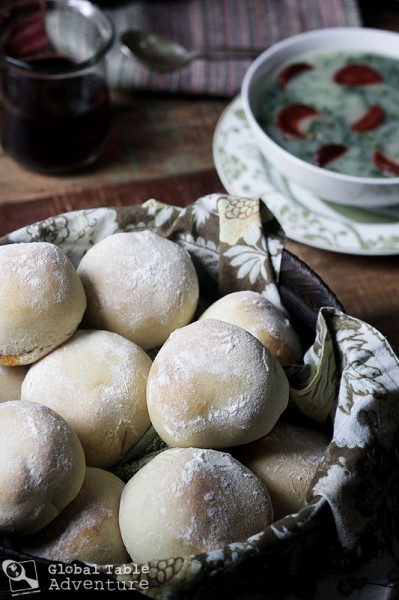 What I loved most about this dish:
Oh, yum. Warm rolls fresh from the oven are the best way to start or end the day. These are pillows of comfort with chorizo inside… great on the side of any winter soup. Plus, they are super fun to make with children (since the chorizo is nice and neat and doesn't make a mess.
What I loved least about this dish:
Keith said he really dislikes that "there's not more of them." So, of course we made them again. And again.
Ava's Corner
WEEKLY GIVEAWAY WINNER
Congratulations, Samantha! Your entry in our Stories forum about the Norwegian Wildberry Dream Cookies is delicious. I'm loving all the entries so far and looking forward to seeing more! (If you're curious, the forum is accessible by the black bar on the upper left of this web site… in the green area).
Keep sharing your Global stories, questions, and comments!