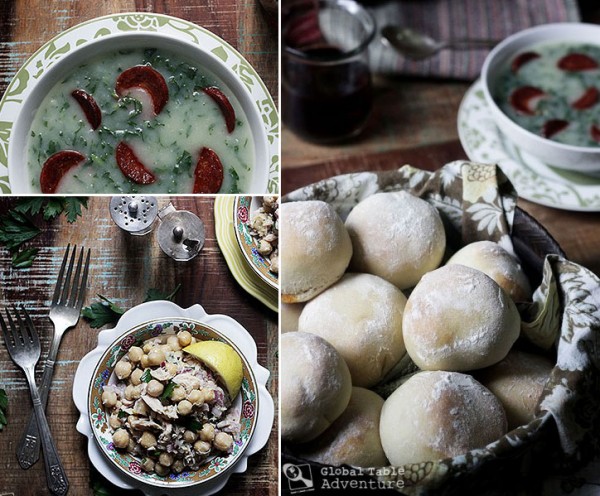 There's a Portuguese saying "A caridade começa em casa," or "Charity begins at home." And what better way, than with food?
This is the time of year to cook for friends, friends of friends, and not yet friends. This is the time of year to burst into a quiet room with the scent of freshly baked bread. When the gray skies hang low, you can be the entertainment in your home, office, and community. For starters, you can make a lot of people happy with Portuguese bread – especially when stuffed with chorizo sausage. You can also make people happy with nutritious, wintery salads, and soul-soothing soups.
It's even better if you have a three year-old share the goodies (not only is it cute, but it teaches her the importance of a giving spirit):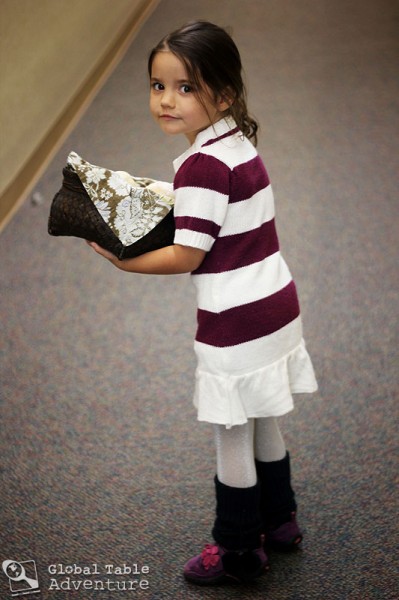 All recipes and the meal review will be posted throughout the week.
Tuna & Chickpea Salad | Atum com Grão [Recipe]
Think love in a salad… chickpeas, tuna, lemon juice, fresh cracked pepper and a happy drizzle of olive oil. It's good for you.
Kale, Potato & Chorizo Soup | Caldo Verde [Recipe]
Porgugal's homey soup, loaded up with everything you need: fried chorizo slices, potatoes, and veggies.
Chorizo Rolls | Pão com Chouriço [Recipe]
I've adapted Portugal's beloved chorizo bread into rolls, convenient for sitting soup-side on a chilly autumn afternoon.
THE GIVEAWAY:
How about something to while away the gray autumn days? Perhaps a travel magazine to help you with your daydreams and stovetop travels? What about my favorite? Award-winning AFAR Magazine… ? As they say it's "where travel can take you."
I'm so super excited! Today, in celebration of the launch of a new section of our web site called "stories" – a photo-based community forum – AFAR Magazine has graciously offered to gift one lucky winner a one-year subscription to their stunning magazine.
Each issue has an amazing international recipe and articles about where to go off the beaten path. 
*UPDATE: WEEKLY GIVEAWAY WINNER:  
Congratulations, Samantha! Your entry in our Stories forum about the Norwegian Wildberry Dream Cookies is delicious. I'm loving all the entries so far and looking forward to seeing more! (If you're curious, the forum is accessible by the black bar on the upper left of this web site… in the green area).
Keep sharing your Global stories, questions, and comments!
To Enter:
Take us with you someplace special by sharing your "story" (click the black bar on the way upper left side of this page to reveal the forum). As for what to share? How about a photo of a Global Table recipe you've tried, or a fun global meal you've had, or something amazing you saw or ate in your travels? Simply tell us about the photo and then comment here when you're done so I can track your entry.

P.S. Be sure to check out other people's stories and check back for comments on your own. Fun!
Bonus entries will be provided for those that tweet this giveaway with hashtag #globalgiveaway and/or share it on Pinterest and Facebook.
One winner will be chosen at random and announced in the Monday Meal Review on October 15 , 2012. Prize must be claimed by October 22, 2012. AFAR Magazine is sponsoring this giveaway. They wanted to share some global foodie love with you. Enjoy!