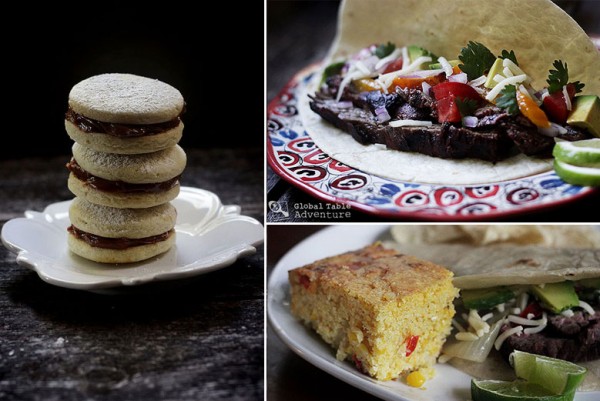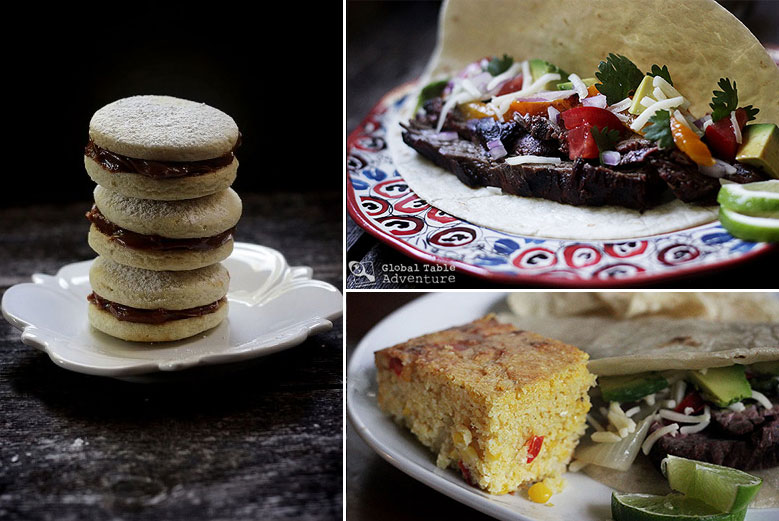 Let's talk enlightenment. When it comes to packing up the family, driving deep into the woods, and taking a little time to "get away from it all," there's still good reason to set a Global Table. In fact, when there's nothing but you, trees, and a few muffin tins worth of family members, it's the perfect time to try out something new. That's what we did this week, when we ate Paraguay … in Beaver's Bend State Park (way, way Southeast Oklahoma).
There aren't as many distractions when you're stuck in the woods. There is definitely no safety net… your snacks and zappable meals will be nowhere in sight.
Call it a captive audience, if you will.
Perfect for picky eaters.
What sounds good to you? All recipes and the meal review will be posted throughout the week.
Barbecued Meat | Carne Asada [Recipe]
Finger-licking grilled meat, seasoned with bright lime juice, garlic powder, oregano, salt, and pepper. Delicioso.
Paraguayan Cheesy Cornbread | Sopa Paraguaya [Recipe]
This cornbread is so filled with goodies, it is practically a meal in itself. In each bite you'll find peppers, onions, two kinds of cheese, and corn kernels. Hello.
Dulce de Leche Cookies | Alfajores [Recipe]
This delicate Alfajores is seasoned with a touch of lemon zest and layered with dulce de leche. The perfect accompaniment to cafe con leche.
THE GIVEAWAY:
In honor of our Paraguayan Cheesy Cornbread, I'm giving away a beautiful, hand made La Chamba ceramic baker from Williams Sonoma. While not exactly from Paraguay, it does remind me of some ceramics I saw while perusing Paraguayan goods (it's actually from Colombia).
The cool thing about it is you can use it over open flames or in the oven… isn't she a thing of beauty?
UPDATE: WEEKLY GIVEAWAY WINNER
*Winner from this week's Paraguayan Menu Giveaway was selected at random by random.org. There were so many fantastic ideas for globally-inspired baking dishes.  Congratulations to Tabitha Brennenstuhl, who said:
"That is a really neat piece! I'd like to make some tandoori chicken in the oven with that! I usually use cast iron, but would love to see how it taste in that!"
Yum. Please email me by 9/24/12  to claim your handmade baker, Tabitha!
To ENTER:
Tell me what you'd bake or simmer in this La Chamba. Would you try lasagna? Paraguayan cornbread? Boston baked beans?

Leave a comment and you'll be entered to win. It's really that simple.
Bonus entries will be provided for those that tweet this giveaway with hashtag #globalgiveaway and/or share it on Pinterest and Facebook.
P.S. If we get 100 entries I'll giveaway two, so tell a friend.
Leave your answer in the comments below. One winner will be chosen at random and announced in the Monday Meal Review on September 17, 2012. Prize must be claimed by September 24, 2012. There are no sponsors for this giveaway. I just wanted to share some global foodie love from me, to you. Enjoy!