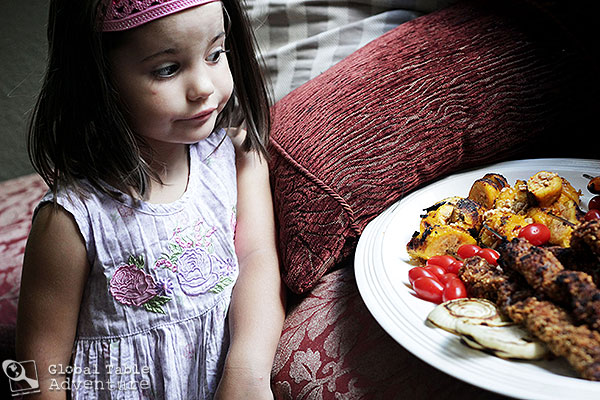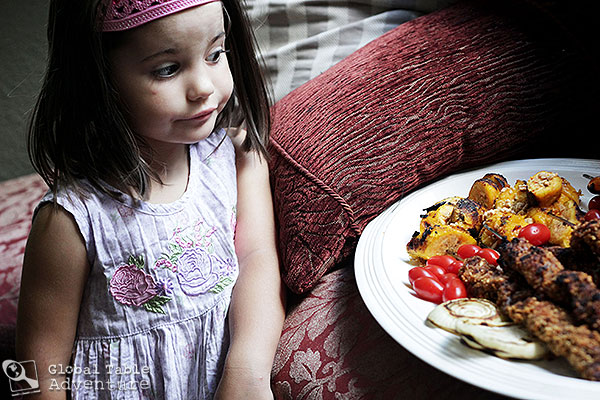 Today we're celebrating two things. Our Nigerian menu (we're almost done with the "N"'s can you believe it?) and our first weekly giveaway (scroll down to find out what it is). Yay!
First, as always, the beautiful food.
Our Nigerian menu is all about the grill – grilled plantains, savory peanut crusted kebabs, and a bubbly sparkly citrus drink, perfect to take the edge off summer.
Either that or you can impulsively jump in your child's inflatable pool with your clothes on. That's what I do.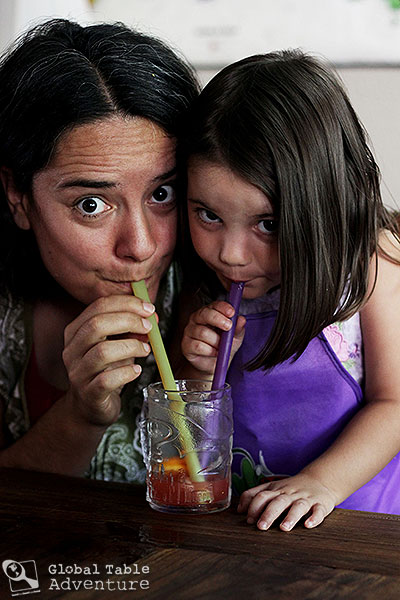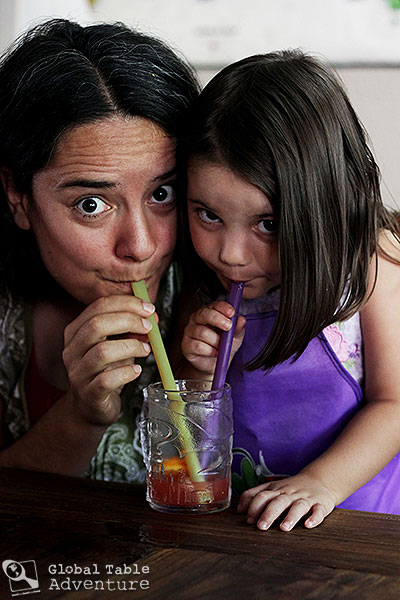 Grilled Plantain spears with crushed peanuts | Boli Bopa [Recipe]
A simple way to taste Nigeria – brush plantains with red palm oil, sprinkle on spices, and grill until tender. Serve with crushed peanuts.
West African Peanut Kebabs | Suya [Recipe]
Pure, wonderful bites of happiness. Beef (or whatever you'd like) grilled with spiced peanut crust (think fresh ginger, garlic, paprika, and cayenne… onion powder and more). You'll make this one again and again.
Nigerian Chapman Cocktail [Recipe]
Citrus, bubbles, and smiles. What more can a girl ask for? You'll get all this and more when you make this easy Nigerian cocktail. P.S. You can booze it up if you'd like.
We'll be serving up each of these recipes throughout the week, so stay tuned!
Now, for that giveaway I was talking about. This week we're giving away a cool globe drink dispenser I happened upon on Pinterest. I immediately knew that you'd love it. The globe is made of acrylic and will add fun flair to your next Global Table dinner party. Just imagine your friend's faces when you pour their Chapman from this beautiful globe.
To enter, simply leave a comment captioning the picture of Ava at the top of this post.
Caption Question: What is Ava thinking?
One winner will be chosen at random and announced in the Monday Meal Review. Contest closes Monday morning. There are no sponsors for this giveaway. I just wanted to share some love, from me to you.
UPDATE:
WEEKLY GIVEAWAY WINNER:

*Winner from this week's Nigerian Menu Giveaway was selected by random.org. Congratulations to Camilla (she captioned Ava's photo"Red, orange, yellow…it's only half a rainbow of food!" … Please email me (sasha@ globaltableadventure.com) to claim your globe drink dispenser.