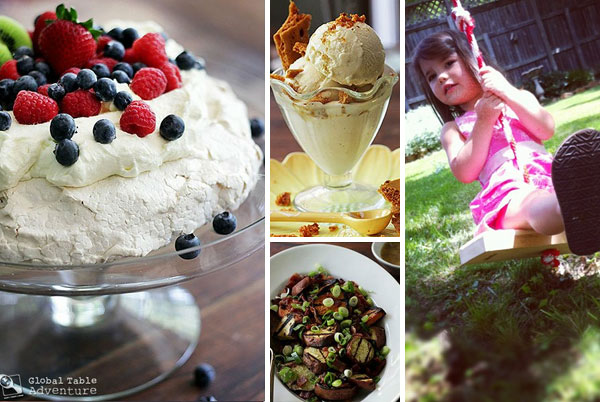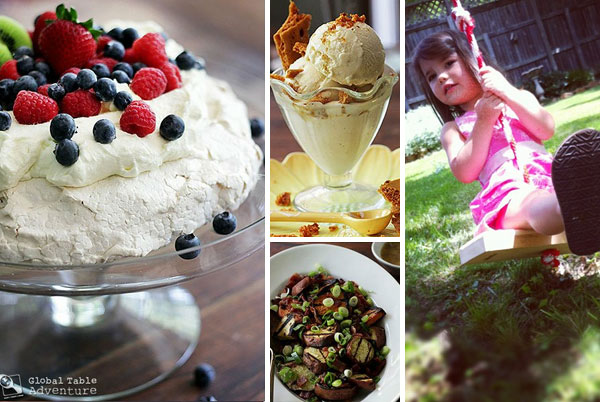 Here are three food tips I learned from New Zealand, inspired by our thoroughly delicious Global Table.
1. All desserts are 100% better whipped up and inflated, whether done with air or chemical leavening.
2. Everything tastes better grilled. While I didn't think sweet potatoes could rock my world much more, I was wrong. Grill 'em. Just grill 'em.
3.  Don't say you're going to eat a kiwi. A Kiwi is an endangered bird – the national chirper of New Zealand. Kiwi is also a nickname for the people of New Zealand. Say you're going to eat kiwifruit instead. Much, much better and 99% less likely to land you in jail.
Now for our menu… what sounds good to you?
Grilled Sweet Potato & Bacon Salad | Kumara [Recipe]
Thick, grilled slices of sweet potatoes tossed with green onion and bacon. Serve with a quick, zingy honey mustard dipper-dressing. On second thought, maybe this isn't a salad. Maybe it's just nummy potatoes with a few friends.
Pavlova with Summer Berries & Kiwifruit [Recipe]
A cloud of sweet whipped sugary goodness, with a shattering exterior and soft as marshmallow interior.  A gentle hill of whipped cream balances the sweetness (or tries to!), as does each bursting bite of juicy berries.
Hokey Pokey Ice Cream [Recipe]
Make vanilla ice cream shine with homemade hokey pokey candy. Our version is made with three simple ingredients: honey, sugar, and baking powder, while traditional uses golden syrup. Rather like a piece of honeycomb, the candy is foamy in appearance but crunchy in your mouth.
*All recipes and the meal review will be posted throughout the week.
P.S. Happy Fourth to my American friends!
P.P.S. Happy Birthday to my sweet Ava who turns three today!