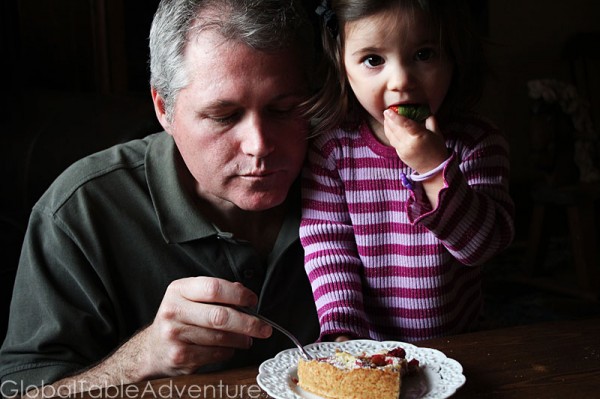 Winters in Estonia are decidedly predictable. The weather is cold and snowy, and it stays that way for a long while. Not so much here, in Tulsa, Oklahoma. This February we had 14 inches of snow followed – less than a week later – by 83F. Since Tulsa can't seem to decide whether to cling to winter or jump forward to spring, our Estonian Global Table celebrates three desserts – one wintery, one that hearkens spring, and one somewhere in the middle. Help me. My pants no longer fit.
Which dish would you try?
Smoked Herring Dip [Recipe]
Herring is Estonia's national fish. Enjoy smoked herring swimming in a sea of sour cream, lemon juice, crunchy red onion, and dill. Use rye crackers for dipping.
Strawberry Rhubarb Tart [Recipe]
Welcome spring with the sweet-tart combination of strawberry rhubarb. A splash of cream and egg yolks make this dessert especially luscious.
Gingerbread (for cookies & more) [Recipe]
Our Estonian inspired gingerbread will have bite if you use good, fresh spices. The pepper and ginger really bring this traditional winter cookie to life.
Gingerbread Ricotta Tart [Recipe]
A cheesecake of sorts, this Estonian treat  has a mild hit of sugar, cinnamon and cardamom. The gingerbread crust spells winter, while the fresh cheese filling feels like spring.