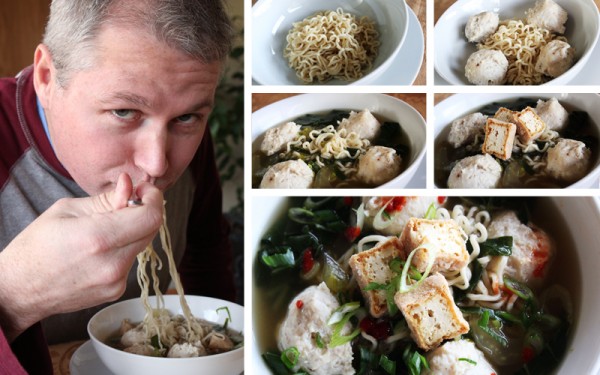 One. Two. Three. Four.
I counted out the meatballs, placing them around the ramen.
"That's too symmetrical." Mr Picky said.
I sized up my creation.
"Good, good. I like symmetry. It'll work. Just wait."
I swirled on a ladle of soup. The bowl looked fuller.
One. Two. Three.
Slices of fried tofu. My stomach rumbled. Ava bounced in her high chair, signing for food.
A sprinkle of green onions. Chili sauce. Art.
"Is that hot?" he asked.
"As hot as you can handle!" I replied.
"Seems a crime to eat it," he said, taking a bite.
Chicken Bakso (Chicken Meatballs) [Recipe]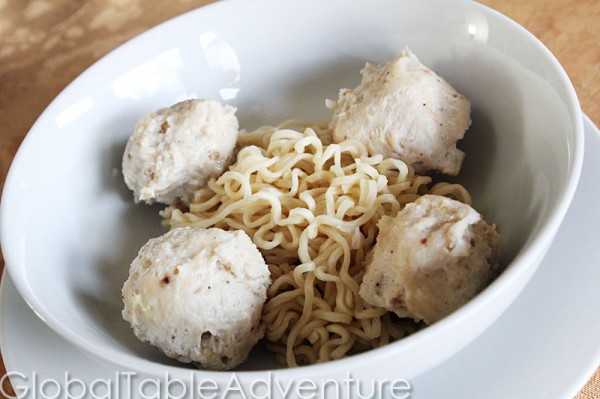 What I liked best about this dish:
One taste and I knew – I could eat these meatballs on an upset stomach. The flavor is relatively plain (like chicken, in chicken noodle soup), with just a hint of fried garlic and shallot to give a bit of a toasty, roasty flavor. While they would be great in any sort of soup, Mr. Picky already requested them in a meatball sub. Hold the marinara, please.
What I liked least about this dish:
Do you ever feel like you could be more, do more? Well, I felt that way with this recipe. I had big visions of adding spices and herbs to the meatball mixture. Unfortunately none of the recipes I looked at included any. It just wasn't authentic. In the end, this turned out the be a good thing: Asian meals emphasize clean flavors – each component pure and simple, but harmonizing together in an orchestra of flavor. The moral? Balance is the key to life, even when it comes to meatballs.
Deep-fried Tofu [Recipe]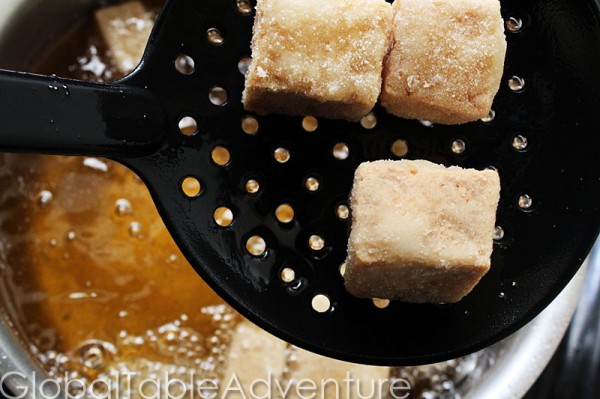 What I liked best about this dish:
Crispy, crunchy, easy! I could eat these nuggets of joy in salads, on soups – anywhere where a burst of texture is needed. And joy of all joys – the outside stayed crisp long after the dishes were washed and put away (we had leftovers). This means they have longevity and can be made an hour or two ahead.
What I liked least about this dish:
While most recipes say to fry the tofu until golden brown, the rice flour never gets very brown. Keep an eye on it and expect a lighter color – taste test to be sure you like the results.
Bakso Noodle Soup (Chicken Meatball Soup) [Recipe]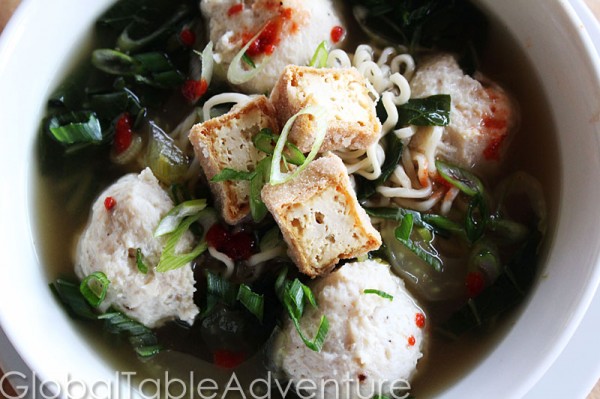 What I liked best about this dish:
Fun to assemble (be sure to check out the pictures on this recipe), this soup is all about clean flavors, balance, and harmony. Fresh vegetables, punctuated by the crunchy tofu and slippery ramen, were made utterly delightful by the spicy chili sauce and salty soy sauce.
What I liked least about this dish:
There are lots of steps to this dish, but most of the components can be made well before dinner-time. Make the meatballs the day before and refrigerate until needed. Cook the ramen, rinse under cool water to stop the cooking, and refrigerate until needed. Same with the soup and, to some extent, the fried tofu (just don't refrigerate it)
On another note, I found seasoning this soup a bit of a challenge. If you want more flavor, try using all broth, no water. Also, I think a splash of fish sauce would perk things up. And you absolutely need the chili and soy sauces.
Grilled Tuna Steaks with Butter & Garlic [Recipe]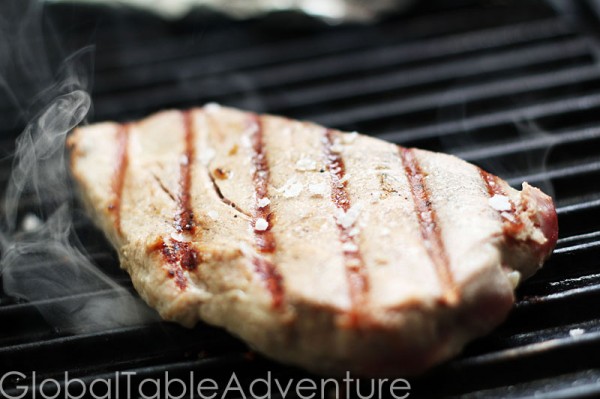 What I liked best about this dish:
Everything about this tuna put me over the moon. Coarse sea salt is love.
What I liked least about this dish:
While both methods tasted great, I felt like both sacrificed a little (the foil-wrapped lost major points for looks, and the grilled steak lost a bit of flavor to the grill). After some thought I came up with the ideal solution: make the tuna as pictured (with garlic butter brushed on top and grilled), then serve with a blob of garlic butter on top (like they do with steaks). As the garlic butter melts over the steaming hot fish, the flavor lost to the grill will be replenished and all will be well with the world.
Ava's Corner: