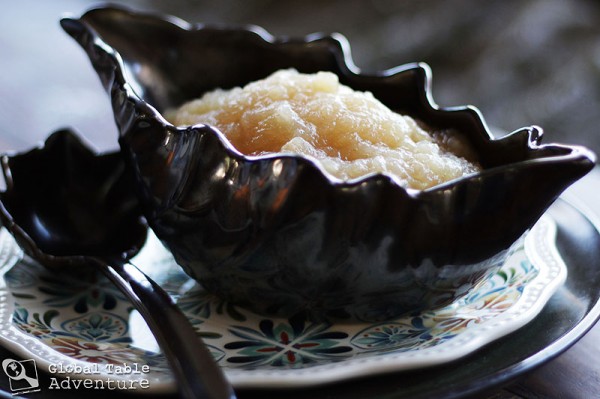 Sometimes I buy fruit and it just… sits there. Life takes over. I go for hikes, I play catch with my daughter, I eat the candy from my stocking, and… before I know it, I just forget to eat them. I do this a lot with apples because they last so long and are so forgiving. Eventually, the time comes when they lose a bit of shine and a few bruises pop up.
If this should happen to you, applesauce is the way to go.
I didn't realize how easy it would be to make until I did it this week. Trust me, you can do this. 
In countries like Liechtenstein applesauce is the go-to side dish for all sorts of meals, like Schnitzel [recipe] and Käsknöpfle (recipe will be up this weekend). The fresh flavor will totally make you forget that you left your apples just …. sitting there… for so … long.
Best part? No fancy equipment required. Just a plain ol' wooden spoon. That's love right there.
Here's the easy, peasy recipe:
Makes 2 cups
Ingredients:
2 lbs apples (I used 5 Pink Lady), peeled, cored & cut into large chunks
1/2 a lemon
1 cinnamon stick
1/2 cup apple juice
Sugar, as needed
Method: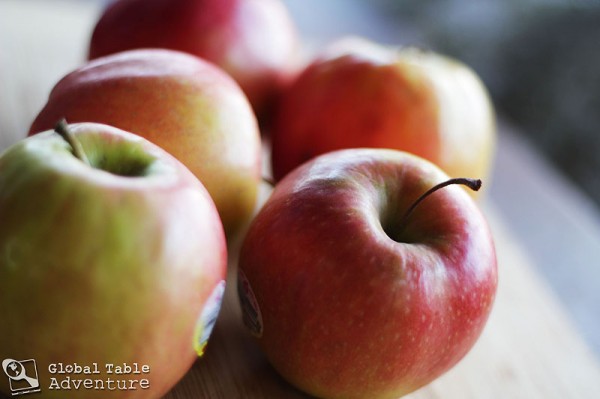 Say hello to the quickest way to Lichtenstein: apples. In less than 40 minutes they'll be apple sauce. Just peel 'em and core 'em. Then toss in a pot with a bit of apple juice (or water), half a lemon and a cinnamon stick (tuck the lemon and cinnamon down into the juices).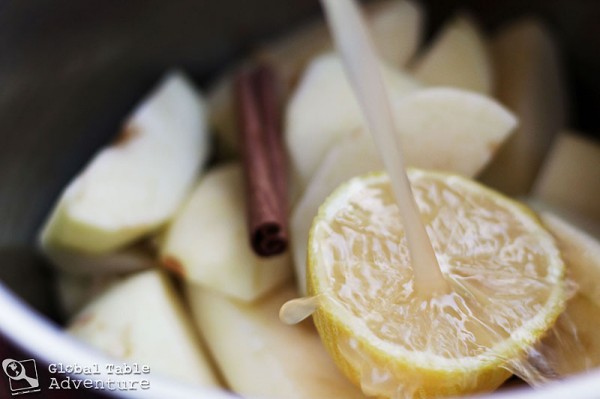 Cover and simmer until soft enough to mash with a wooden spoon. About 30-40 minutes (time varies by variety of apple).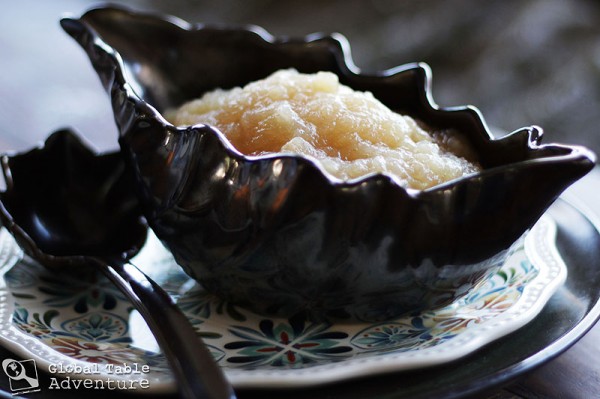 While you wait, hang out in a beautiful field, with a fantastic view…. perhaps while listening to the ringing bells.
When done cooking, remove cinnamon stick and lemon half. Mash around with your spoon and add sugar to taste.
That's it! Serve warm or chilled, but always with a smile.
No fancy equipment required. Just a plain ol' wooden spoon. That's love right there.
2

lbs

apples

, pink lady or other

1/2

lemon

1

cinnamon stick

1/2

cup

apple juice

sugar

, as needed
Place in a medium pot with the apple juice, lemon and cinnamon sticks.

Cover and simmer until soft enough to mash with a wooden spoon. About 30-40 minutes (time varies by variety of apple)