Serves 2
Wiener Schnitzel will fill you up after a long day hiking, skiing, or swimming. Enjoy this Austrian dish with potatoes or Nocken.
Ingredients:
2 pork cutlets
1/2 cup flour
1/2 tsp salt
1/2 tsp pepper
2 eggs
1/2 cup bread crumbs
1 tsp parsley
1 tsp paprika
olive oil
lemon slices
Method:
1. Place flour, salt and pepper in a dish. In another dish, place whisked eggs. In a third dish, place bread crumbs, parsley, and paprika.  Whisk.
2. Place cutlets between plastic wrap and pound with a mallet until about a 1/2″ to 1/4″ thick. Cut several small slits  around the edges to prevent curling.
TIP: Ask your butcher to pound the cutlets thin for you. Even if they don't get them as thin as you want, you'll  be ahead of the game.
3. Dredge cutlets, first in flour, then in egg, and finally in bread crumb mixture.
4. Cover and refrigerate cutlets for at least an hour.
5. Heat olive oil in a large skillet over medium high. Saute cutlets for about 4 minutes per side, or until golden and cooked through.
6. Place cutlets in a warm oven or serve immediately with lemon slices.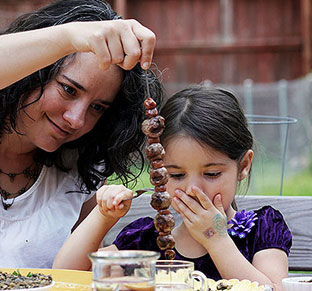 Hungry for more?
Be notified when National Geographic releases my memoir.
Simply fill in your details below.