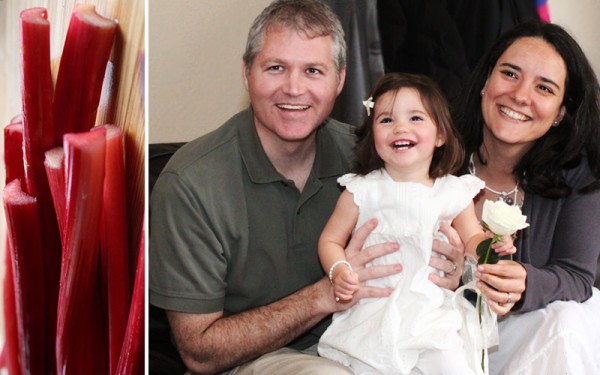 Who are you people?
Please check out About Me, About Mr. Picky, and About Miss Ava for a little info. There's also a page specifically devoted to the Adventure, which – in a fit of creative inspiration – I dubbed About the Adventure.
How you choose the menus for each country?
With a passion only the obsessed can claim. To give you a quick snapshot: planning a menu involves furiously emailing anyone I know from the area before disappearing into a pile of cookbooks with several cups of tea. Eventually I emerge, bladder full and beaten down by tough decisions. It is usually an hour past bedtime. I go to bed and proceed to have food dreams until the morning. A few days later I eat an incredible meal and a week later I do it again.
My final decisions are based on the following:
1) Is the menu authentic?
3) Can I find the ingredients in Tulsa?
2) Can I make the dishes fairly easily? Gone are the days when I could put my head down and cook  for 8 hours straight. I have the sweetest little, energetic, exuberant Ava to keep an eye on instead. Thus, you'll find that the majority of the recipes are family friendly and not overly complex.
I should mention that trying to cook these recipes while Ava naps is a comedy routine of epic proportions. Some days she wakes up after an hour and some days after three.  Needless to say, we don't always succeed at finishing before the "buzzer goes off."
Where do you get your recipes?
With a few noted exceptions, the recipes on this web site are my recipes. While I certainly have never heard of some of the dishes, I take the time and effort to create recipes only after reviewing multiple authentic recipes (please see my running bookshelf for more details  – it includes books I've found useful as well as ones I think you might find useful).
I work very hard to come up with recipe versions that I can be proud to call my own. For example, when I made the Caribbean Tres Leches Cake, I researched 4-5 recipes as my starting point. Based on those, I pulled together what I think is a sinfully addictive rendition of that fabulous cake – one that will work for my family.
What methods do you use when researching recipes?
1. Books
I love books. I love how they smell, how they feel in my hands, how much love was put into them. I am a fan of the public library. I am a book nerd. The World Cookbook for Students by Jeanne Jacob is, by a long shot, my main reference book – my starting point for each country. You can find all five volumes in the reference section of your local library.
2. People
Many of my readers have traveled extensively or live(d) abroad. They share incredible details with me about the countries that no book can replace. Even better, many locals write to share family recipes. I love it!
I have also built a network of incredible authors. Many have now become virtual pen pals, tirelessly answering questions about food – making our feasts more incredible than I ever thought possible. The authors I work most closely with include Karen Coates (Rambling Spoon), Laura Kelley (The Silk Road Gourmet), and Linda Bladholm. There are countless others, both named throughout the site and anonymous.
3. Videos
Travel videos can show me what no book can conjure up – the landscape and "vibe" of a country.
4. The internet
Watch out, though! Over the years I've learned that the internet is full of terrible recipes that don't work and good intentions cannot fix. Thus, I stick to reputable web sites like Lonely Planet and National Geographic, or online food columns from major publications.
Where are all the "weird" foods?
There are a couple of talented chefs and foodies focusing on "Bizarre Foods." Andrew Zimmern and Anthony Bourdain are the obvious examples. I watch them with awe and I suggest you do the same. As for me? I look for recipes that will fit into my pretty quotidian lifestyle, as well as recipes that use familiar ingredients in an unfamiliar way. What's my point? You won't see me eating fried tarantulas, although I might mention such delicacies from time to time (usually on Fun Friday).
Affiliate links:
Any links sent to Amazon are generally affiliate links. This means I make a small commission if you buy the item on Amazon.
If you have another question that isn't here, please send me a note.
Thank you for reading and participating in our Global Table Adventure.