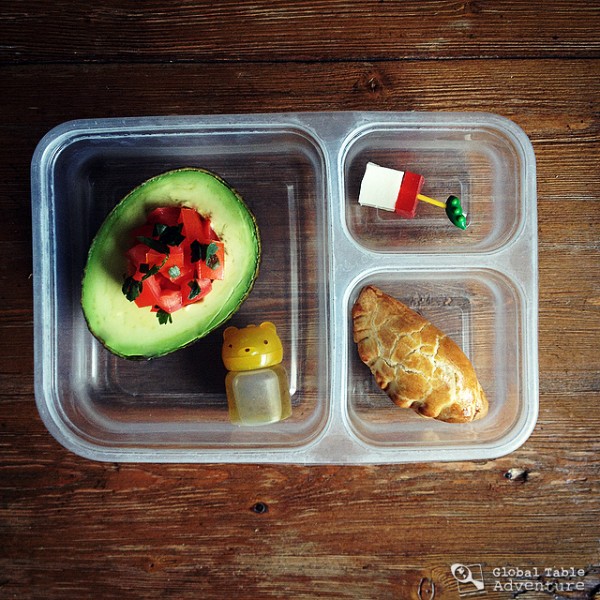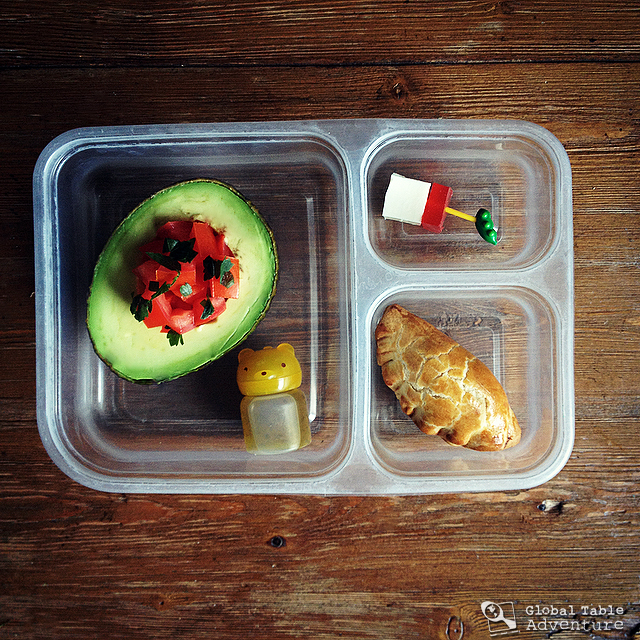 This week Ava's Around the World Lunch is inspired by the food of South America. I wanted something healthy and my daughter loves fun finger foods – so I put together an easy and nutritious Bolivian Avocado Salad, a sweet and salty Martin Fierro from Uruguay (made with quince paste and queso fresco cheese – both scored at the local Hispanic market), and homemade Apple Empanadas.
The apple empanadas were a direct inspiration from this week's Around the World with Apples challenge, where I've invited you to try something new with apples! And I've been making some variation of the avocado salad for her lunches as far back as I can remember… so good.
A Few Tips and Tricks:
For little ones try cutting the avocado into cubes and serving the salad loose. Real talk: After taking this picture that's exactly what I did for Ava – she's in kindergarten after all!
In a hurry? Make the empanadas quick by using pre-made pie crust with our filling recipe! 
If you can't find quince paste you can try guava paste. And if you can't find either of those where you live I'm sure someone could also make an extra strong jello situation work… but then we'd be veering off into the land of "creative interpretation."  
Why show you Ava's lunch?
The idea came about a few weeks ago when I shared a photo of Ava's French lunch on Instagram; those of you who follow me there and on Facebook immediately requested more details! Now – I'm not going to say that Ava eats a global lunch every day of the week (even I have my limits) but about once a week we make an Around the World Lunch happen.