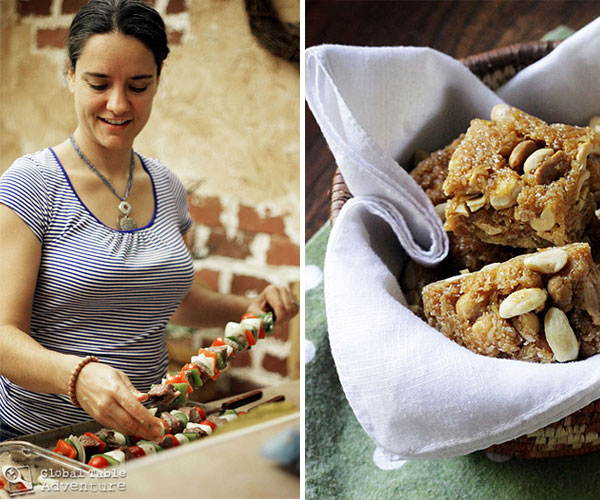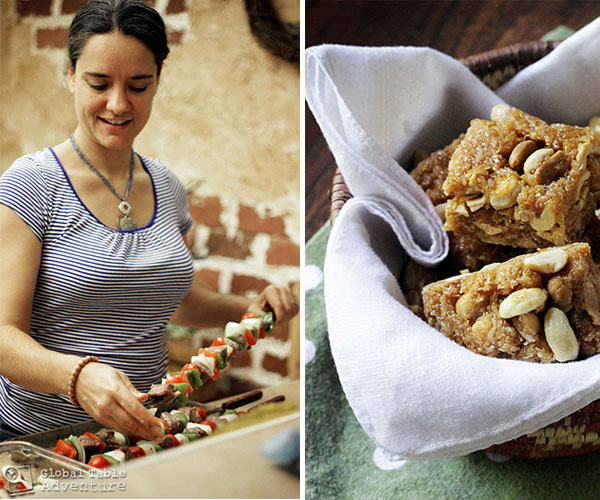 This week's menu celebrates Uganda's street food. With one recipe for the grill, and the other for your cookie jar, we're bridging the gap between summer and autumn.  Which is about right, since school starts next week in Oklahoma. How.is.that.even.possible??
What about you? Are you already gearing up for the school year, or are your feet still firmly planted in summer, like our furry friend at the bottom of this post?
All recipes and the meal review will be posted throughout the week.
Rosemary & Lemon Harissa Kebabs [Recipe]
Beef and vegetable kebabs marinated in a lemon, spicy harissa (as hot as you dare), rosemary, and peanut oil marinade. This recipe is packed with a zing that'll make you fall in love with your grill all over again! This taste of Uganda is adapted from Marcus Samuelsson's kitchen.
Peanut Brittle with Cardamom & Coconut | Kashata [Recipe]
Take everything you love about Peanut Brittle, and add a dreamy dusting of cardamom and a tropical heaping of shredded coconut. It's just different enough for a fun housewarming gift (or maybe one of those office/neighbor gifts during the holidays).
P.S. This is the first "U" country… I really am almost done cooking the world. Wow. I hope you're going to celebrate with me.