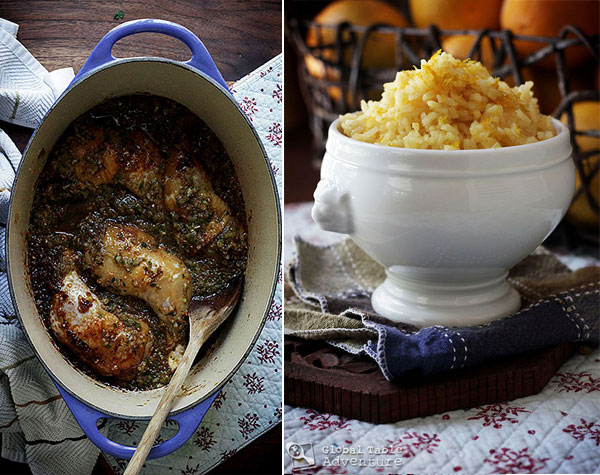 Keith and I just celebrated five years of marriage. There's an old saying from Trinidad and Tobago that sums up the depths to which I love this man: There's more in the mortar than the pestle. In other words, there's more to this man than meets the eye. He's not just a pair of jaw dropping hazel eyes. He's not just the funny one. He's sure. Stable. All things committed.
And I'm so lucky to have him.
What better way to celebrate my husband than two of his favorite things? Spicy food and orange juice. Sweet and hot.
Please and thank you.
These recipes will be posted throughout the week along with the meal review.
Orange Juice Rice [Recipe]
Take ordinary rice on a tropical spin; cook it up with orange juice! This pale orange, fruity dish is a must-have on the side of any spicy food.
Caribbean Stew Chicken [Recipe]
Stew chicken is a celebration of the Caribbean. There are so many seasonings in here – a true melting pot of flavor characteristic of the West Indies. Think ginger, garlic, thyme, onion, green onion, tomato, Worcestershire sauce, and more. Don't forget the habenero (to taste, of course!)
Happy 5th Anniversary, Keith!
I love you.