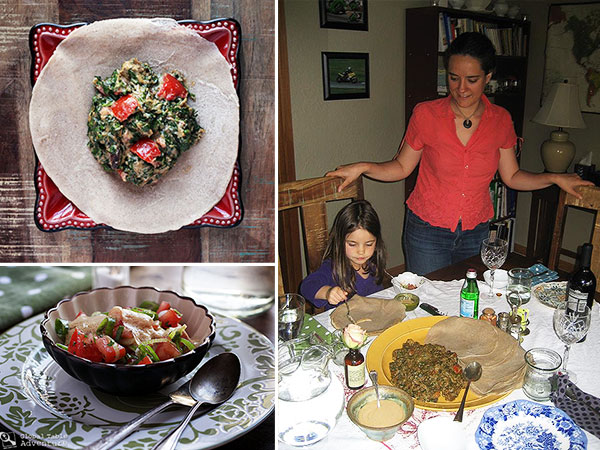 "A man without money goes fast through the market."
South Sudanese Proverb
This week we're digging into a menu that shows off South Sudan's love of peanuts, sorghum, and spinach. These three staples can be found in many forms throughout the tropical country, although we've used them in traditional recipes that will be accessible to most home cooks.
And while we're talking about spinach, can we talk about spring for a second? What on earth is happening? No, really. Tulsa is all kinds of crazy. I keep heading outside to plant my tomatoes and Mother Nature's like "Just kidding. It's still winter."*
At this rate, the farmer's market will be my only hope for awesome produce.
All recipes and the meal review will be posted throughout the week.
Sudanese Tomato Salad [Recipe]
Fresh tomatoes, green onion, and parsley, tossed with a spicy peanut lime dressing. Vegan.
Peanut Stew with Beef & Spinach | Combo [Recipe]
A hearty mixture of browned beef, spinach, and peanut sauce. This one will comfort even the bristliest of folk, on the crummiest of days.
Sorghum Crepes | Kisra [Recipe]
Wholesome Kisra makes for such a fun, vegan flatbread.. there's no complications as with injera.. yet the flavor is substantial in an earthy sort of way. Good luck eating just one.
Psst… This week I'd like to challenge you to try something new -and photograph it. Share your experience on our Facebook Page or on Instagram or even on Twitter (Tag it #myGTA)
*P.S. What's the weather where you are?
(Thanks to Brian Schwartz for taking the above photo of Ava and I)