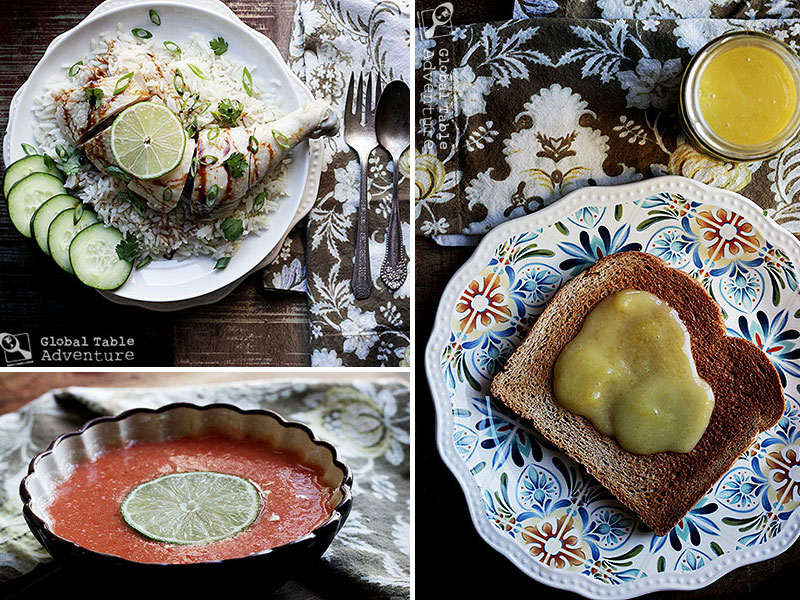 "Where there is a sea, there are pirates."
Proverb from Singapore
The funny thing about cooking food from a food lover's paradise, like Singapore, is that I expected the food to be complicated, full of obscure steps and hair-pulling finesse. Food pirates, so to speak. But there wasn't one in sight. Perhaps Singapore is a food lover's paradise in every sense, even for the cooks, because this menu is not only simple, but benefits from just a few odd or more involved steps (like dipping a hot chicken in ice water, and stirring the coconut kaya often, so it doesn't lump up). Easy, breezy, so we can get down to enjoying our dinner.
All recipes and the meal review will be posted throughout the week.
Chicken Rice [Recipe]
You can't go to Singapore without trying Chicken Rice, or so says Anthony Bourdain. This simple chicken dish is served with ginger, garlic, and shallot infused rice, then slurried all over with dark soy sauce, sesame oil, cilantro, green onion, and chili sauce.
Singapore Chili Sauce [Recipe]
There's nothing better than homemade chili sauce. While there are hundreds (thousands!) of versions of this Singaporean favorite, ours contains fresh lime juice, red chili peppers, ginger, garlic, sugar, salt, and a little chicken stock. The sauce is bright and cheery, but packs a mean punch just as a good chili sauce should.
Kaya [Recipe]
Think lemon curd, but made with coconut milk. In Singapore, Kaya is most often enjoyed spread on toast. Friends, now is the time for a loving DIY gift to your BFF, your sweetheart, or your mom. This three ingredient recipe is so easy, you'll hardly believe it. As for the lucky recipient? It'll be love at first bite. Which is always a good thing*
* Unless Vampires are involved.