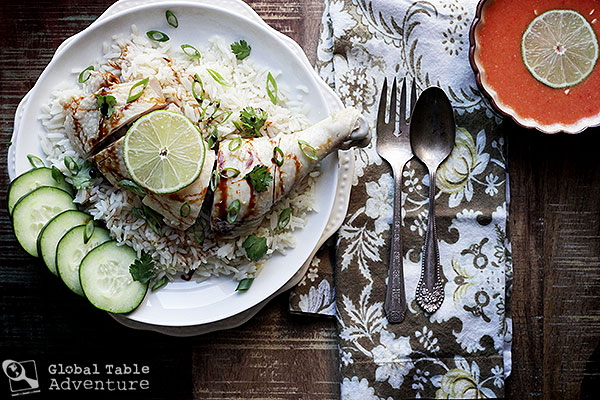 The minute Anthony Bourdain said he got boo'd in Singapore over Chicken Rice, I knew the recipe had edged out all other contenders for a place on our Singaporean Global Table.
It's true – when the world-renowned food star admitted that, after 7 visits, not only did he not have a favorite Chicken Rice joint, but that he'd never even taken a bite of this national favorite, the apparent transgression was enough to send the crowd in an uproar.
I can't even imagine.
Talk about food love. Unexpected and pure.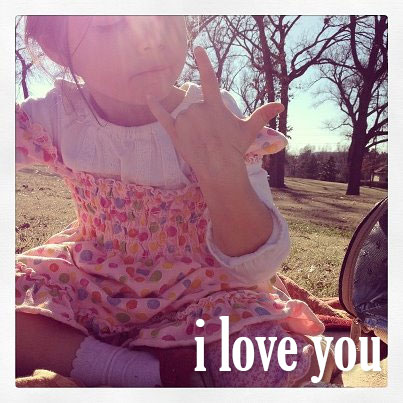 Food for Thought:
All this hoopla made me wonder what about my culture's food is this way – what dish must a visitor try to have truly experienced American culture?
Pizza? Chowder? I have to say, I was stumped.
I'd love to hear your thoughts, if anything comes to mind.
For, now, back to business… let's talk Chicken Rice. This is a deceptively simple dish – one that could be summed up as room temperature chicken over rice. But that summary would do the dish a great disservice.
There's a whole lot more going on.
The chicken is gently poached in a ginger, garlic, and green onion broth. The rice is a bit bolder, smacking of sauteed shallot, garlic, and ginger… and is plumped up with the very broth created by poaching the chicken. Some of the broth even gets used to make the chili sauce.
Nothing good wasted.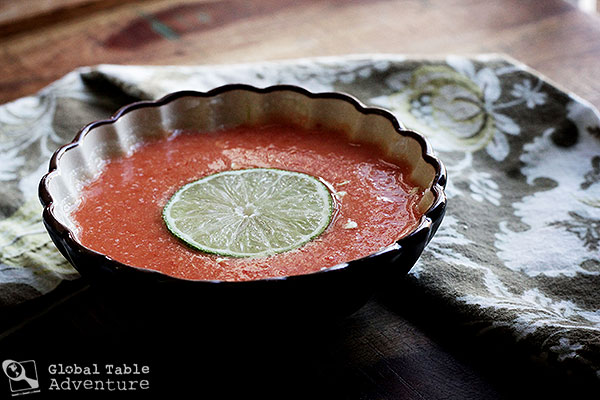 The real surprise of this dish comes with the ice bath. Plunking chicken in ice is an old Chinese method used to tighten and smooth the skin, making for a much more enjoyable mouthfeel that plain ol' boiled chicken skin.
Let's be honest, flabby chicken skin isn't appealing.
So thanks for the ice trick, China!
The finishing touch is an incredible arsenal of garnishes. Anything from sliced cucumbers or tomatoes, to rich sesame oil, dark soy sauce, and chili sauce. Locals love to argue about the best way to sauce your chicken rice – dip or drizzle.
I'll leave the logistics of that up to you.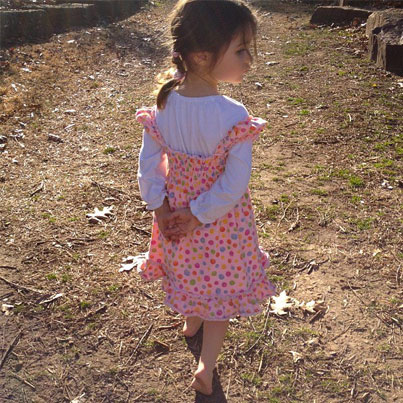 Inspired by Christine's Recipes, The World Cookbook for Students &, of course, Mr. Bourdain who has  a pretty neat tumblr.
Serves 4
Ingredients:
For the chicken:
4 whole chicken legs
4 cloves garlic, quartered
2 inches of ginger, sliced in coins
4 green onions, halved
salt
boiling water, to cover
Bowl of ice & water
For the rice:
2 cups white rice
1 quart chicken broth
1-2 small shallot, chopped finely
3 cloves garlic, crushed
1 tsp grated ginger
Accompaniments (as desired):
sliced cucumber
sliced tomato
green onion
cilantro
fried shallots
dark soy sauce
homemade chili sauce (recipe coming)
sesame oil
Method:
There are four stages in making Chicken Rice.
1. Find somewhere beautiful to cook.
Done.
2. Poach the Chicken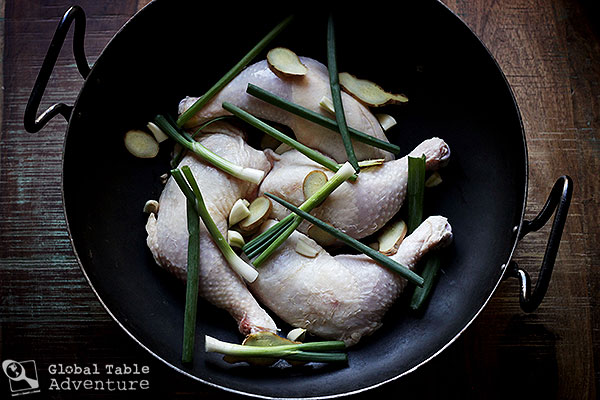 Add all chicken ingredients to a large pot. Cover with boiling water (1-2 quarts). Return to a gentle simmer (barely a bubble), cover, and cook until the chicken's juices run clear when pierced – about 30 minutes.
Beware: the entire house will fill with the simple, purifying fragrance of green onion, ginger, and garlic.
Delicious.
Then, remove the chicken and plunge it directly into an ice bath until chilled through. Set aside.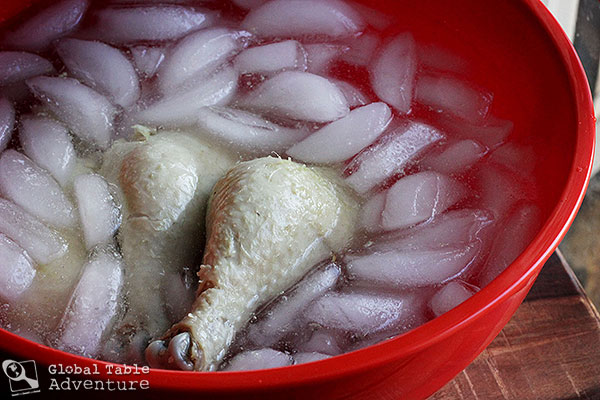 3. Make the Seasoned Rice
Saute the shallot in oil until softened. Toss in the crushed garlic and ginger, cooking a few moments until their fragrance bursts from the pot.
Finally, toss on the rice and cook a few minutes until heated through.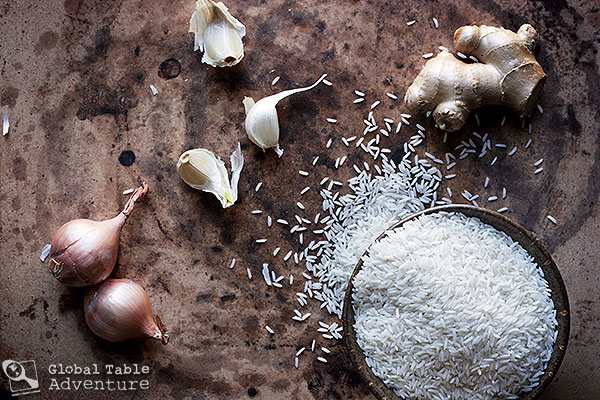 Ladle on some of the hot stock from poaching the chicken and a smattering of salt. Bring to a boil, cover, and reduce to a simmer. Cook about 16 minutes. Remove from heat, remove lid, and let steam off about five minutes before fluffing.
4. Assembly
If you have one, use a cleaver to cut the chicken legs into pieces. Gather your accompaniments.
On every plate, spoon a happy mountain of rice, one whole chicken leg, and …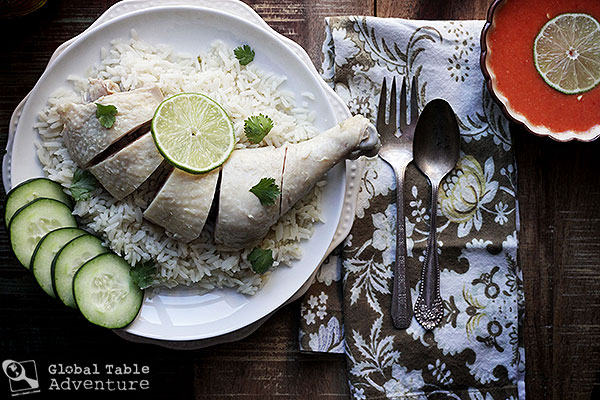 … any goodies you'd like.
Because, as any Singaporean will tell you, the toppings are most of the fun.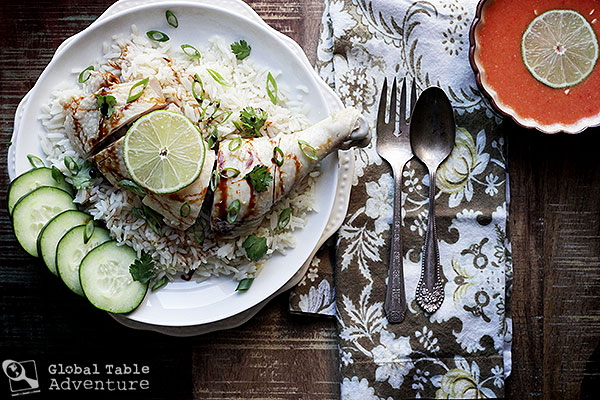 Enjoy with a side of beautiful, unbridled joy.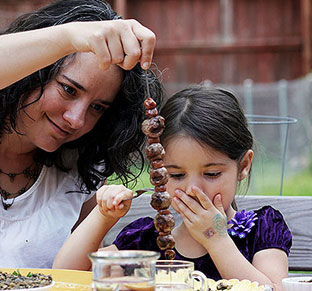 Hungry for more?
Be notified when National Geographic releases my memoir.
Simply fill in your details below.