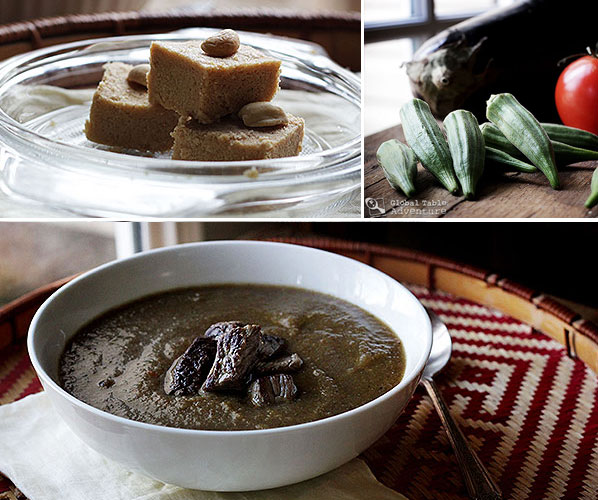 Next time you see someone doing or experiencing something especially grand (or perhaps even showing off a bit), say with wide eyes:
"The salt has climbed the hill."
It's the way people in Sierra Leone express amazement over something they weren't quite expecting.
Like how we had two days in the 70's in January. Totally unexpected. Or when I found out I'd secured a book deal with National Geographic. The salt and the pepper both climbed the hill on that one.
As for this menu? She's plain and simple, but full of rich, comforting flavors, perfect for hot or cold weather, so no need to watch the radar.
The recipes and meal review will be posted throughout the week.
Beef, Okra & Eggplant Stew [Recipe]
Bits of unctious beef in a thick, veggie-loaded sauce, bragging an entire eggplant, okra, tomatoes, and onion. Perfect ladled over a bowl of rice.
West African Peanut Bites | Kanya [Recipe]
Just three ingredients make up these peanut bites: peanuts, sugar, and rice flour. The perfect Valentine's Gift for the vegan, gluten-free people in your heart. (Bet you can't stop with just one)
Weekly Giveaway
Because it was 70 degrees yesterday, and because I wanted nothing more than go for a picnic… (and, trust me, I would have if it weren't for the tornado watch)… I'm giving away a shiny, new picnic backpack.
It's wonderful.
I know because this is the same picnic backpack I bought Keith for our anniversary last June. We've used it on hikes, at festivals, outdoor music concerts, lake days, and more. We love it.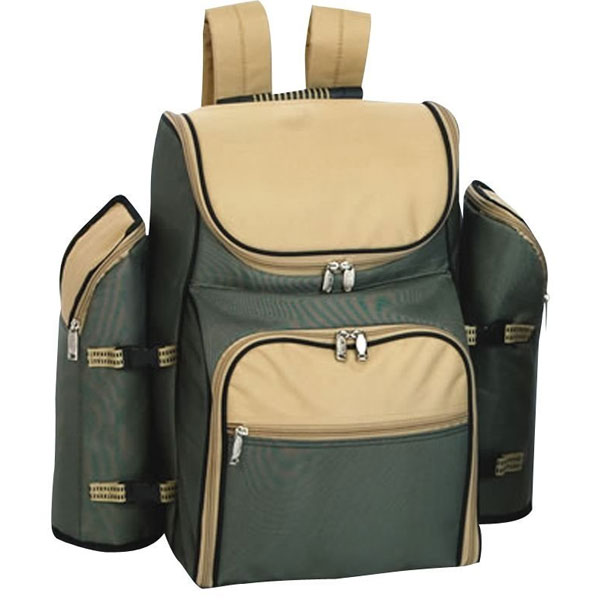 She stores wine or other cold beverages (with plenty of room for corked bottles), an entire tub of fresh strawberries (should you be a last minute picnic person, like ourselves, and place settings for 4 – perfect for a small family or when joining friends for a walk.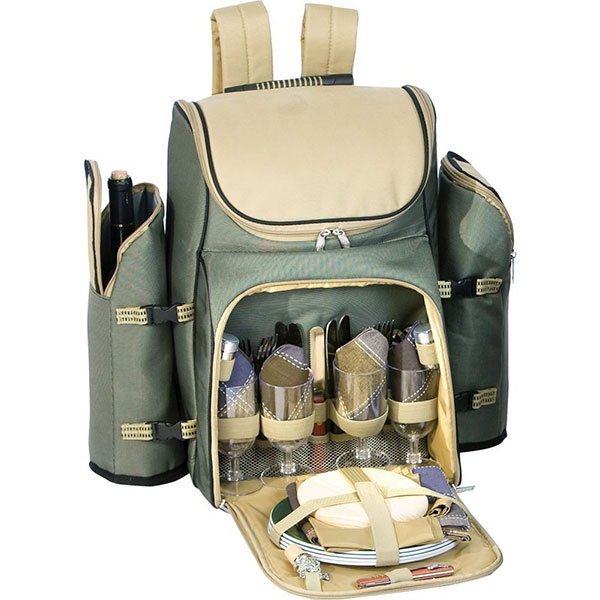 The bag keeps the food cold, organized, and easy to carry.  The silverware is surprisingly sturdy, and the cute, capped salt and pepper shakers send me over the moon.
You could even have the cream area monogrammed if you were so inclined.
I can't say enough good things about it and I want you to win.
[dropshadowbox align="center" effect="lifted-both" width="350px" height="" background_color="#f1f1f1″ border_width="1″ border_color="#dddddd" ]How to Enter:
1. Leave a comment in this post and tell me where in the world your dream picnic would be, what you would eat, and/or who you would eat with.
2. For extra entries, share the contest on Facebook, Pinterest, and Twitter (#GlobalGiveaway). [/dropshadowbox]
Winner will be chosen at random and announced on January 4, 2013. Prize must be claimed by February 11, 2013.
UPDATE: GIVEAWAY WINNER
Congratulations to Marina, who says:
I would picnic somewhere in Switzerland, in the mountains, on the wonderful green pastures, with sounds of cow bells ringing in the background. It's so peaceful, and perfect for a nice picnic with my fiance.

We would probably eat sandwiches, with some gourmet things thrown into them. And for drink, we would have the best ice tea ever, it's some swiss brand, herb mixture and seriously tastes like the nectar of gods.

Oh, and definitely some brownies would be in there 
Please contact me by February 11, 2013 to claim your prize!