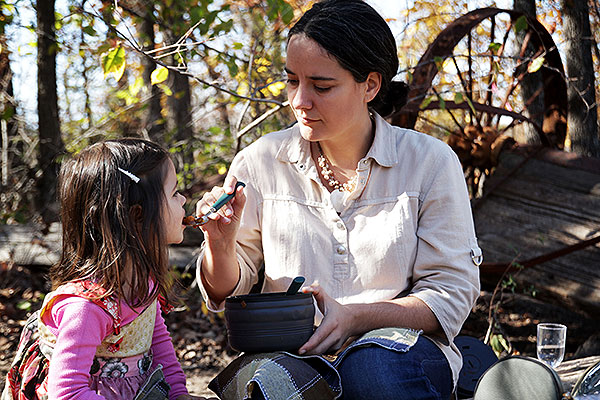 We officially have less than a year remaining in this Adventure. Unbelievable.
In the very beginning (February 2010), our Global Table Adventure was about eating a better, more varied diet, especially for our then seven-month old baby, Ava. Cooking the world was also about making life in Tulsa a little more tolerable, while daydreaming about other places.
I was escaping. Hard.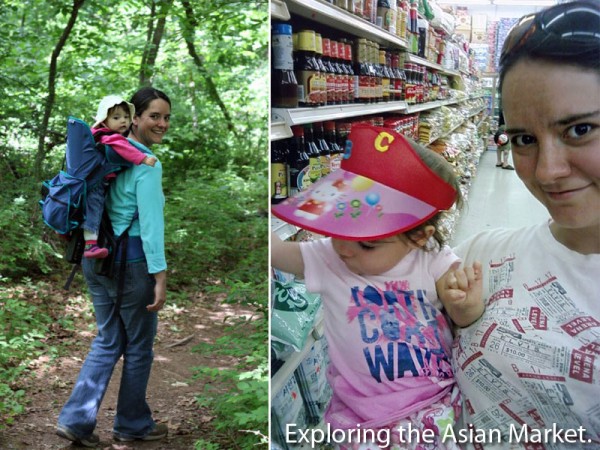 Now? Well the name is the same, but the Adventure has evolved in ways I could have never anticipated.
Izína sí lyó muntu.
This Rwandan saying means that "the name doesn't make the man." Or in this case, the "Adventure."
Case in point, Global Table Adventure is a nice name, but it doesn't reveal much about the long years we've lived with this challenge.
It doesn't say anything, for example, about how appreciating the rest of the world has really made us appreciate our home more.
Sometimes you have to look far to find the treasure on your own doorstep.
Nor does the name hint at the community we enjoy around us. We learned an especially great lesson from Mongolian nomads:  Just have to ask for help, even if your neighbors seem incredibly distant in body or spirit. Someone will always come through.
You'd be amazed at how loving people are, if you just give them a chance.
With each meal we've discovered international markets right here in our neighborhood, as well as people enthusiastic to share their native cultures with us.
Everyone is proud of their heritage. 
Of course, it doesn't even come close to showing how Mr Picky has opened his mind and mouth.  Or how people all around the world have taught me to let go of my need for control.
The best way I can explain just how much has happened in the last few years?
This.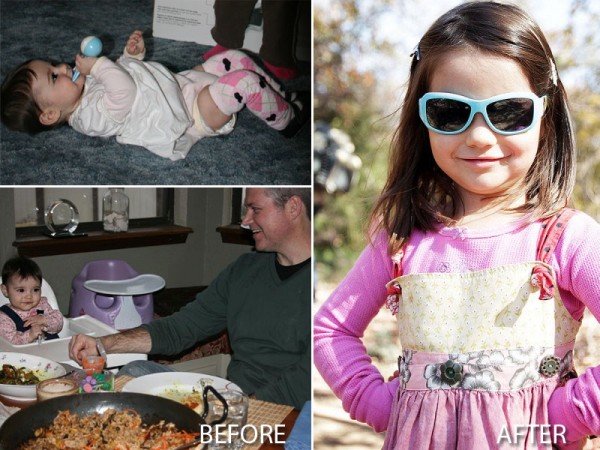 If you have children, you know how much can happen in three years.
It'll stop your heart if you think too hard about it.
This Global Table Adventure is the best gift I could have given my daughter. Myself. My husband. You.
I'm so glad you're a part of it.  Love, love, love to you.
Here's to the next 51 weeks (!!)…
P.S. Please continue to share stories of your Global Table Adventure either in the comments or on our stories photo forum.
Rwandan Agatogo with Collard Greens [Recipe]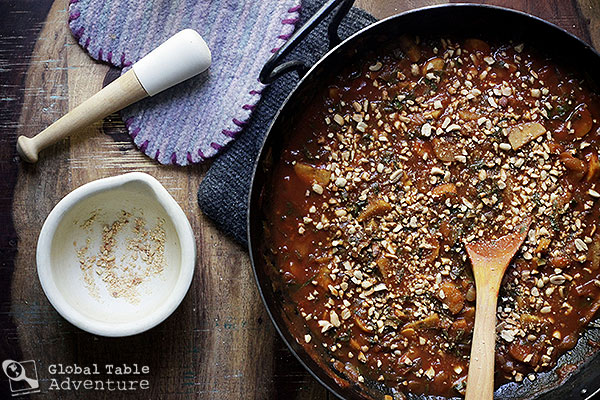 What I loved most about this dish:
I loved cooking plantains this way – super easy yet flavorful, especially if you use vegetable broth instead of water. Getting little bits of peanuts was my favorite part.
What I loved least about this dish:
While it tastes good, this doesn't keep very well for leftovers. The plantains begin to brown, so I'd suggest eating this one right up.
White Sweet Potato Fries [Recipe]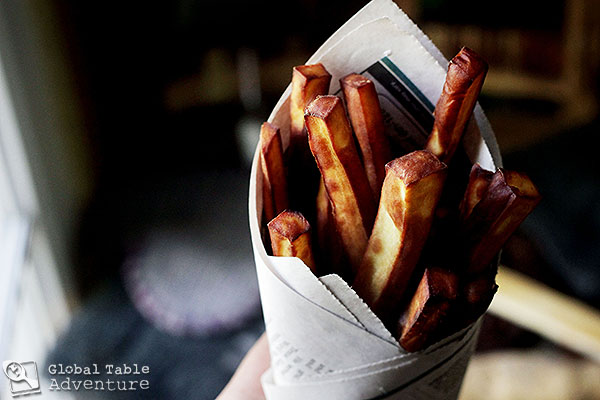 What I loved most about this dish:
I made this on an afternoon that Keith was busy in the office and Ava was at her school program. I ate and ate and ate these fries, doing major damage, until there were only a few stragglers remaining. It was completely indulgent, wrong on many levels, and some of the most fun I've had in the kitchen.
What I loved least about this dish:
I wish the sweet potatoes would crisp up more. Still, for a few brief seconds, straight from the oil, there was a slight crackle to the sides and the corners. I suppose that's what I get for not sharing the first time.
Rwandian Fruit Salad [Recipe]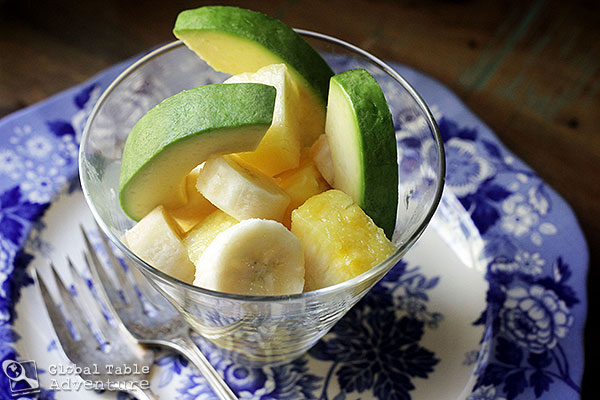 What I loved most about this dish:
I loved the fresh fruit with the buttery avocado. The contrast was especially nice against the bold, bright pineapple. I think it would be grand with mango, like the Spicy Mango and Avocado Salad we made for Antigua and Barbuda.
What I loved least about this dish:
November is not the ideal time to purchase tropical fruit in Tulsa. Bananas were about the only properly ripe fruit.
Watch Ava's Corner:
Giveaway Winner:
Congratulations, Kc192 who said if they had to eat the same soup for five years:
Oh wow… I love soup… My first thought was baked potato soup. Then i changed to creamy chicken and wild rice. Then I think I settled on tomato. Although chicken and corn chowder sounds sooooo good….
Please email me by November 19 to claim your prize!