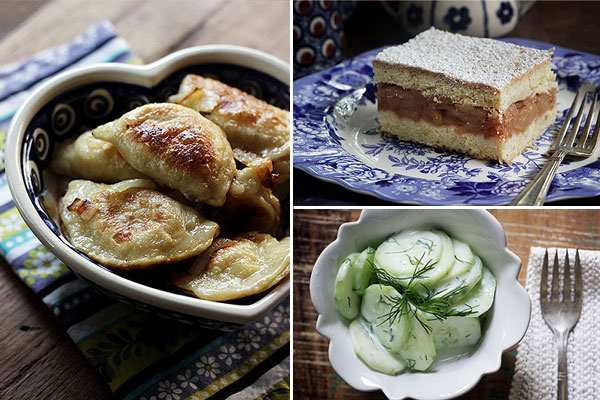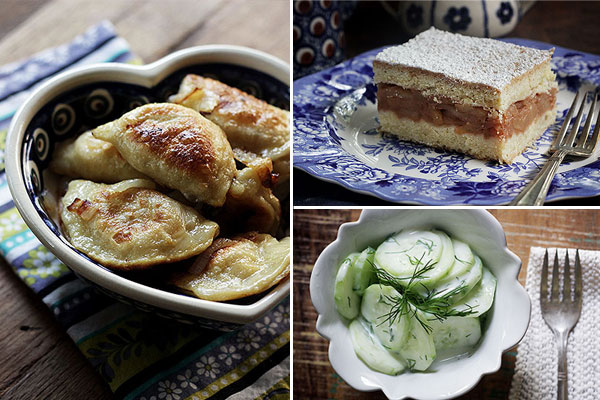 Have you ever heard the saying "All the goats jump onto leaning trees"? ("Na pochyłe drzewo wszystkie kozy skaczą.") It's Polish.
The saying means goats know to make due with what they are given – they leap to take advantage of the opportunity that presents itself. Real practical, those goats.
We should be more like them. Which brings me to our menu. This week, this beautiful week of October, we are given ruddy apples harvested fresh from the orchard, comforting potatoes with dirt still clinging to their rough skins, and the last cucumbers off the vine (it's Oklahoma, what can I say).
It's the perfect set up for a Polish feast. Will you join us?
All recipes and the meal review will be posted throughout the week.
White Cucumber Salad | Mizeria [Recipe]
Mizeria means misery in Polish, but this creamy (but slightly sweet and sour) salad is anything but. A refreshing combination of cucumbers, sour cream, dill and a hit of vinegar and sugar.
Cheese & Potato Pierogi [Recipe]
Comfort food to the rescue. These traditional pierogi are stuffed with caramelized onion, cheese and mashed potato.  Serve after browning in butter with even more sweet caramelized onion.
Polish Apple "Pie" | Szarlotka [Recipe]
Bring in the harvest with this apple dessert. The crust is something between pie crust and shortbread cookies… and is enhanced with their beloved sour cream. The filling is a cinnamon apple delight.
THE GIVEAWAY
**UPDATE: GIVEAWAY WINNER": Congratulations to the winner of our weekly giveaway – Megan, who said
The best soup I"ve ever eaten was a homemade Italian Escarole Soup. It was made mostly of vegetable broth, cannelloni beans, an entire head of escarole, and a little bit of orecchiette. The best part was the mix of tastes and textures, especially when you add your ideal portion of grated Romano cheese, Italian herbs, and even olives or hot sauces. The best soups are those that you can personalize! (Vietnamese pho or your recipe for Burmese Coconut Chicken noodle are others that come to mind!)
Yum. Please email me by 10/15/12  to claim your Saffron Road Gift Basket, Megan!
Get your fall cooking in gear with this Global Gourmet Gift Basket from Saffron Road.
This gift basket has a set of super cute wooden spoons, spring green measuring cups, a coordinating dish towel and a World Cuisine apron. Finally, you will be equipped with three premium quality broths to whip up your favorite fall recipes.
If you can't use the gift basket yourself, the holiday season is just around the corner. Gift hunting for your Great Aunty, twice removed? Done!
Love, love, love!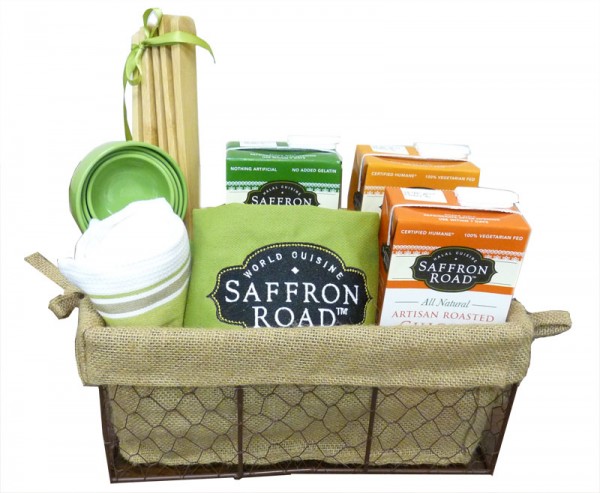 These are the all-natural (yay!), kettle cooked broths you'll find tucked inside:
And, in case you were wondering, Saffron Road offers All Natural, Halal certified products. In their words:
"We know that great food begins at the farm, so we source our ingredients from only the finest producers available. It's no coincidence that we buy from small sustainably run farms. All of our livestock are humanely raised with 100% vegetarian feed and are never given antibiotics. Our Halal tradition demands their proper care and welfare."
.. they can be found in your local Whole Foods. Plus… they are now at more than 3 dozen retail locations nationwide, including Stop and Shop, and Food Giant. Hello… that's great news!
TO ENTER:
Answer our Giveaway Question:
What's the best soup you ever had? What made it so good? Was it the taste … or the company … or even the setting? This can be a recipe from any country in the world.

There's no right answer, so have fun with this one…
That's it!
Bonus entries will be provided for those that tweet this giveaway with hashtag #globalgiveaway and/or share it on Pinterest and Facebook.
Leave your answer in the comments below. One winner will be chosen at random and announced in the Monday Meal Review on October 8 , 2012. Prize must be claimed by October 15, 2012. Saffron Road is sponsoring this giveaway. They wanted to share some global foodie love with you. Enjoy!