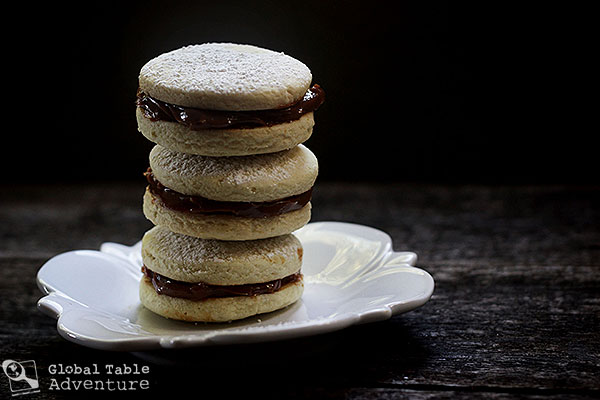 Sometimes we need a do over. A chance to get it right. And a little forgiveness.
Because in every mishap is a silver lining.
Especially when it comes to sweet, crumbly dulce de leche filled alfajores – the popular South American cookie. One bite instantly dissolves on the tongue into a cloud of tender lemon zest deliciousness. Divine.
But back to forgiveness.
Specifically, I need to forgive my sweet, bumbling husband for being so thoughtful as to fill up the cooler with ice for our 3 1/2 hour road trip, yet being so forgetful as to overlook returning the cookie dough to the cooler.
I need to let go of the grief that the cookie dough rode in the bed of our pickup truck, saran wrap in the wind, balanced precariously on top of my red suitcase, all the way to our family vacation in Beaver's Bend. And I need to accept that, because it was 100F and sunny, the cookie dough could never be cooked.
In situations like this, it's all about the silver lining.
You see, when I first made the cookie dough, Ava was at playschool and couldn't help me. I'd wanted to wait for her, but we were rushing hard against a deadline to get on the road to Beaver's Bend (hence the "we'll bake them when we get there" situation I'd planned).
The second time around Ava was able to be at my right hand, helping me mix, shape, and bake the cookies. For Ava, this meant she was mostly on her tippy toes. We had so much fun putting this cornstarch and butter based cookie together. The trick was to try not to eat it all before baking.
The dough is a dream for kids to work with… since it's mostly butter, there's no sticky hands to deal with. I simply gave her smidge of dough, and she went to work making silly shapes.  While she rolled and rerolled her dough half a million times, I was amazed to find that her cookies came out just as tender as mine (thanks to the light texture from the corn starch).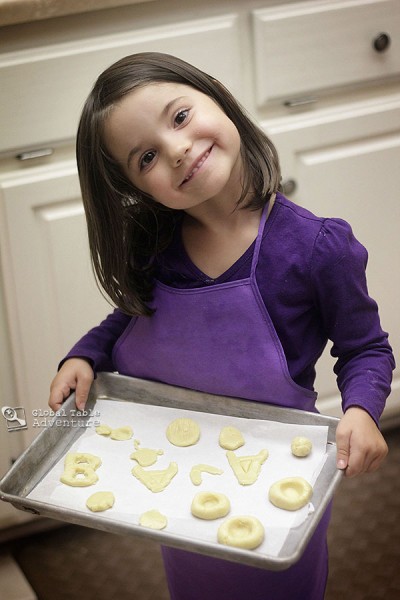 The real prize of this cookie is the dulce de leche filling. This mild caramelized milk spread is the perfect complement to the whisper of lemon inside the cookie.While we've made homemade dulce de leche several times for this blog, I took a shortcut and purchased La Lechera Dulce de Leche (I found it at the local supermarket next to the condensed milk). I was delighted to find that it is a beautiful spreadable consistency – a lot like creamy peanut butter.
Makes about 3 dozen, 2″ cookies (or 18 sandwiches)
Ingredients:
16 tablespoons unsalted butter (2 sticks), at room temperature
2/3 cup granulated sugar
1 large lemon, zested
2 cups cornstarch
1 1/2 cups all-purpose flour
2 tsp baking powder
1 tsp baking soda
1/4 tsp salt
4 large egg yolks
2 Tbsp brandy
2 tsp vanilla extract
1 can Dulce de Leche (or make it yourself)
powdered sugar
Method:
Let's make bites of Paraguayan sunshine.
To do this, cream together the butter, sugar and lemon zest in the bowl of a standing mixer.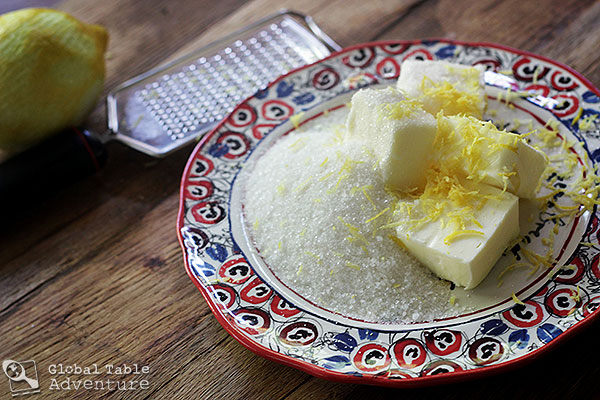 In another bowl, whisk together the dry ingredients (cornstarch, flour, baking powder, baking soda, and salt).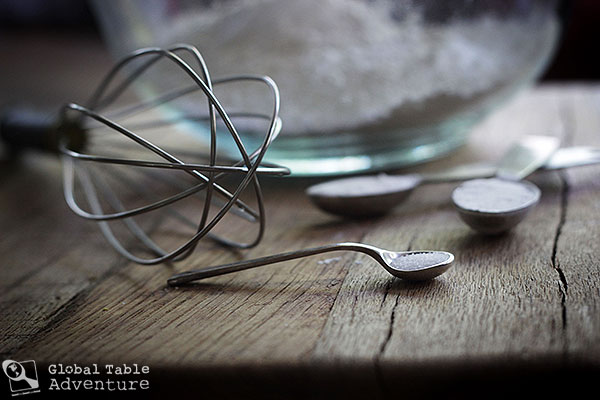 Next, add the wet ingredients to the butter mixture, scraping the sides to incorporate well
NOTE: This should be FOUR egg yolks in the photo – I originally made half a recipe. Sorry!)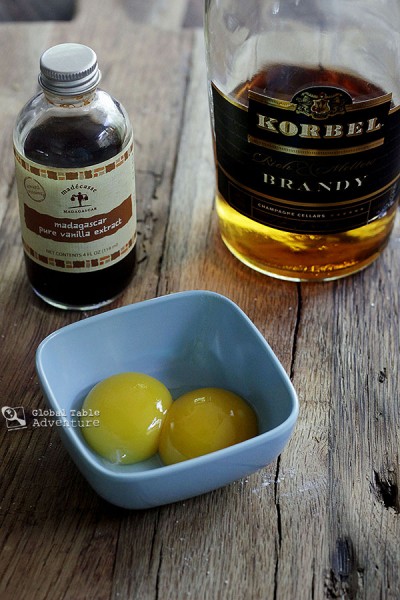 Beat in the cornstarch mixture to the butter mixture… little by little… until fully incorporated. A wet looking dough will form but it should not be sticky when you touch it. Shape into a disc and refrigerate about 30 minutes.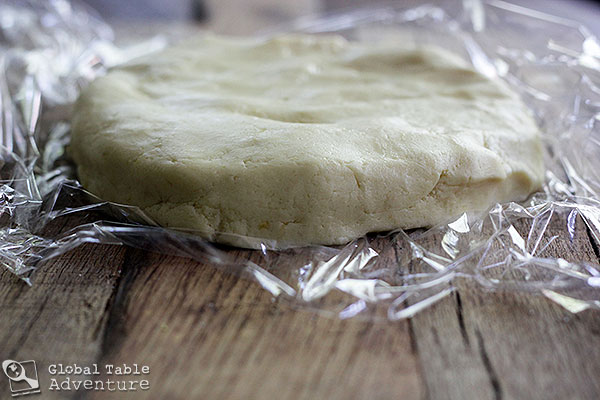 Meanwhile, take a stroll through Paraguay – either along the dusty country roads or under the glow of an electric city.
But don't get lost. You want to get back in time to clean the mixing bowl.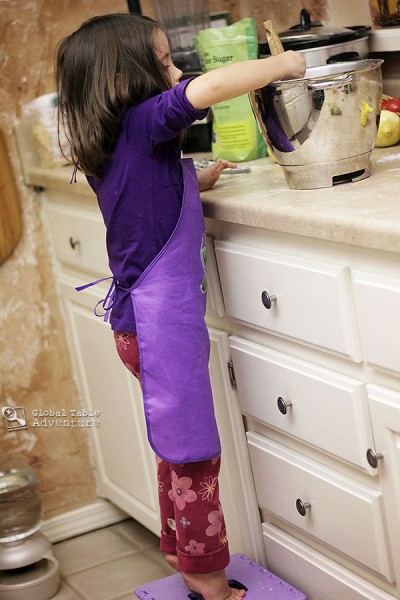 Ava can show you how.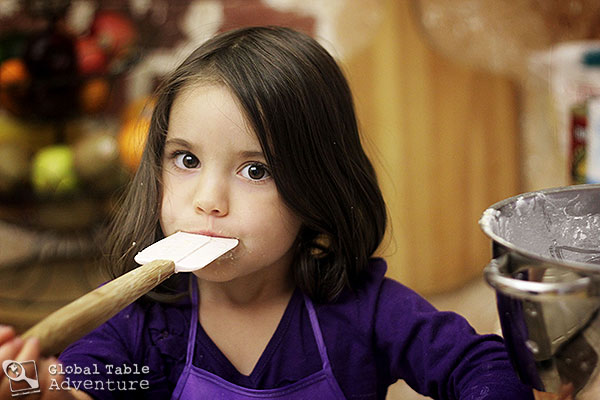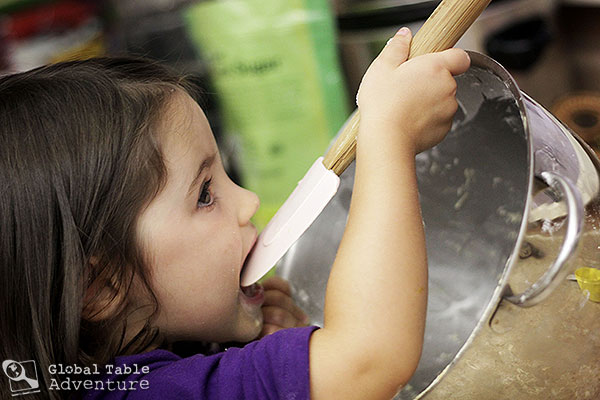 Next, preheat the oven to 350F. Roll out the dough and cut 2 inch circles a little thicker than 3/10 inch (a.k.a. a little over a 1/4″). I like to pop them in the freezer for 15 minutes to help them keep their shape. The fridge works, too.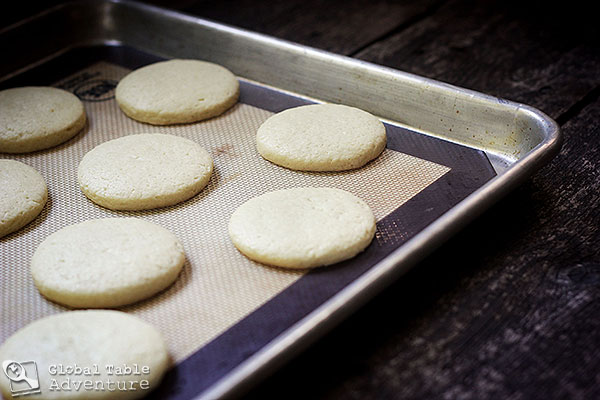 Bake 12-14 minutes, or until puffed. For nice, soft cookies you won't want them to brown. Remove them from oven and cool on a cookie rack. Dust with a snowfall of powdered sugar once completely cool.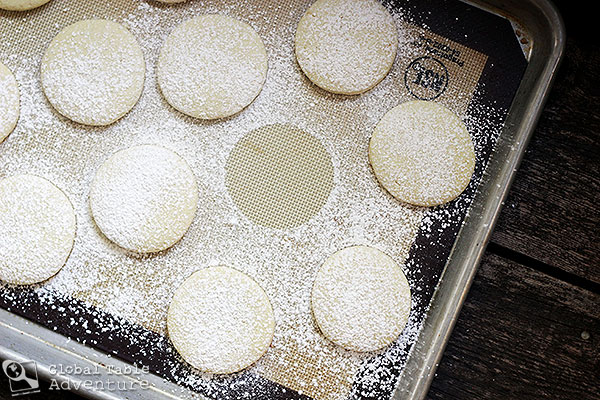 Spread with the dulce de leche and enjoy like they do in Paraguay – with cafe con leche…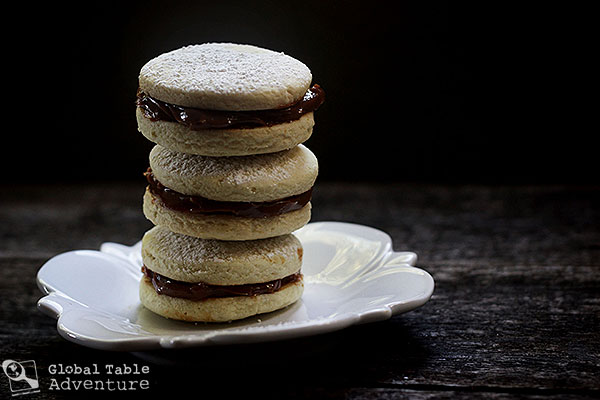 … and a smile.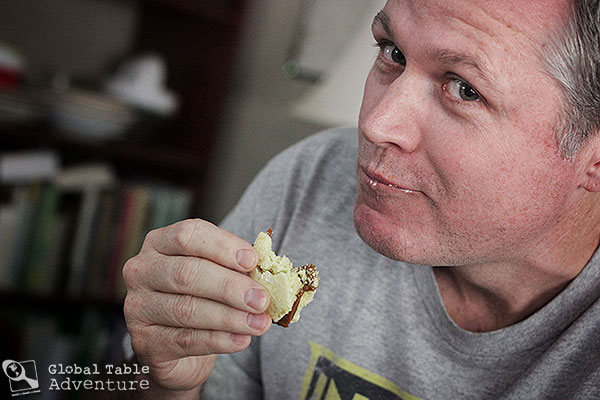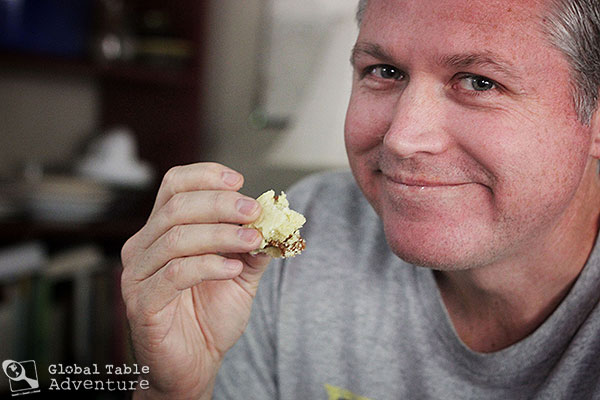 P.S. I have it on Paraguayan authority that, when assembling these cookies, one must use a soft touch. As you spread the dulce de leche and pop on the top, imagine you're trying to sneak out of a sleeping baby's room. That is the kind of soft touch I'm talking about. Otherwise, the cookies might crumble into a million pieces and float away. I messed up a couple of afajores before I got the hang of it, so you might want to start assembling the imperfect ones – just in case.
In the end it's worth it. (Plus you know what to do with the mistakes…)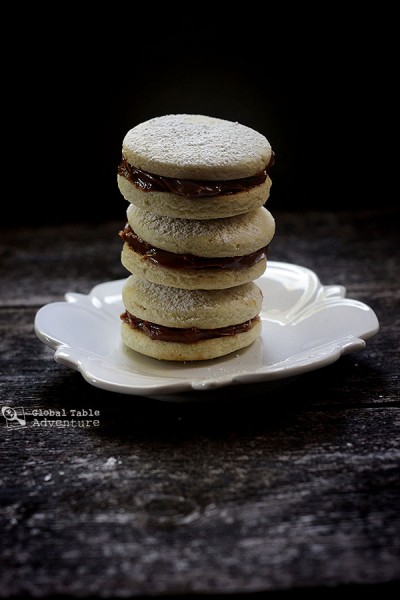 Enjoy with love from Paraguay to you.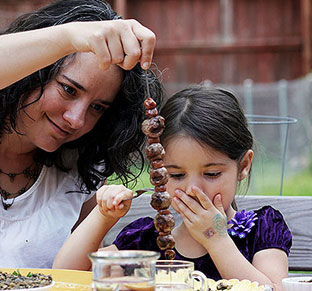 Hungry for more?
Be notified when National Geographic releases my memoir.
Simply fill in your details below.