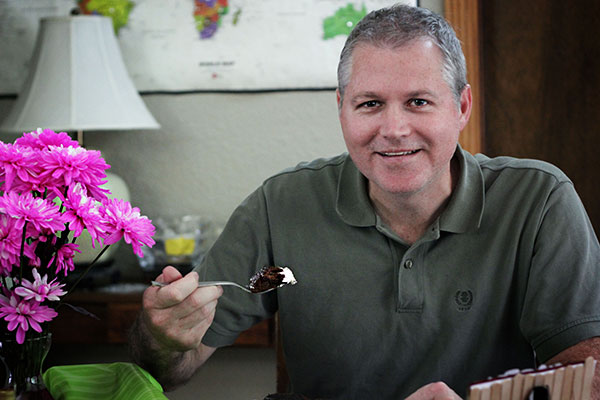 A canal cuts straight through Panama, dividing the skinny country and two great continents. Ships no longer have to pass around the southern-most tip of South America to circumnavigate the globe as they once did. They just slip right on through her middle. Each time a ship passes, 200 million liters of water slosh and gush through the opening.
Incredible, the effect of a "little divider" like the Panama canal.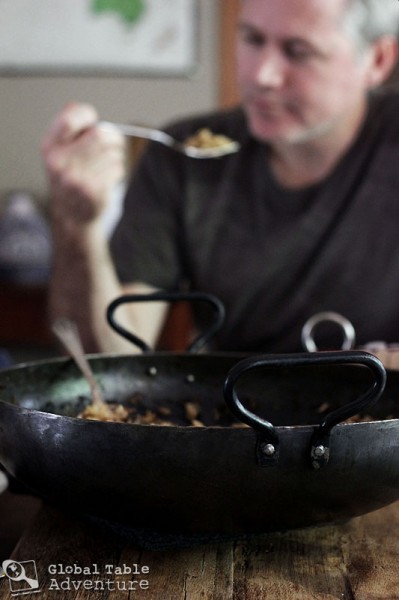 Keith's new job means he's traveling a lot. One week of every month he just … vanishes, while Ava and I muddle through our "normal." I spend the time he's gone a little divided, like the canal, trying not to let all my energy rush out with his ship… trying ever so hard not to miss him (I'm a Cancer, need I say more?).
It's always hard to be the one left behind – the one not on adventure. The one living the normal, everyday, here I am, still hanging out life.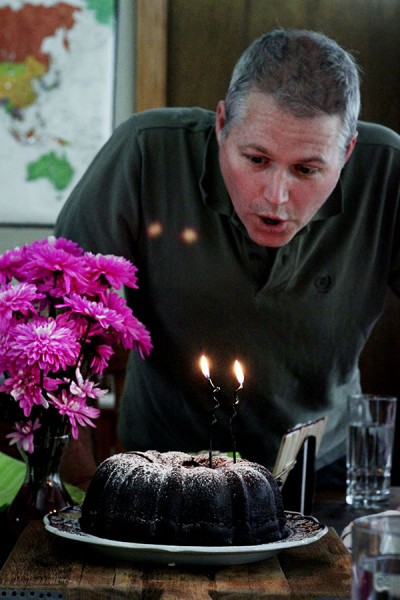 Yet, after spending a week so divided, there is nothing better than coming back together. For now, Keith is here, the pneumonia has left me, and I can see the sun winking through the clouds. I served this meal the moment Keith walked in the door from the airport, the dust of another city still on his shoes. We welcomed him with the buzz of a week's worth of anticipation, the warmth of baked chicken and rice, and the promise of mocha rum cake.
To quote a Panamanian proverb, "Half of an orange tastes just as sweet as a whole one."
I'm not exactly sure how Keith's travel thing is going to pan out, but we'll take the half we're dealt and savor it the best we can.
And, as Ava knows, it sure helps if chocolate cake is involved.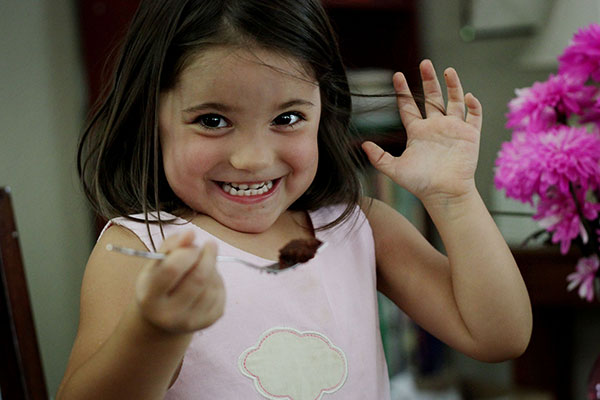 Public Service Announcement: children who do not eat much sugar might go bonkers upon eating Mocha Rum Cake.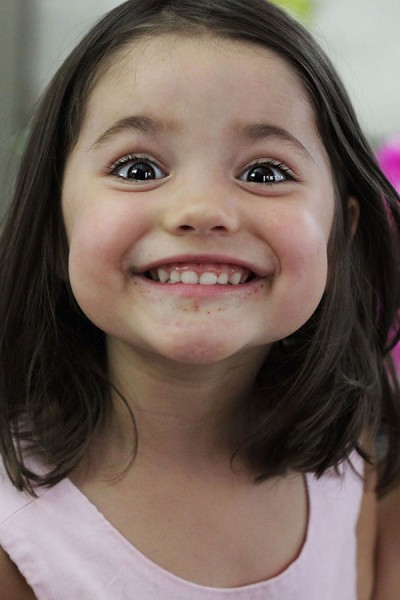 Plantain Chips with Sea Salt [Recipe]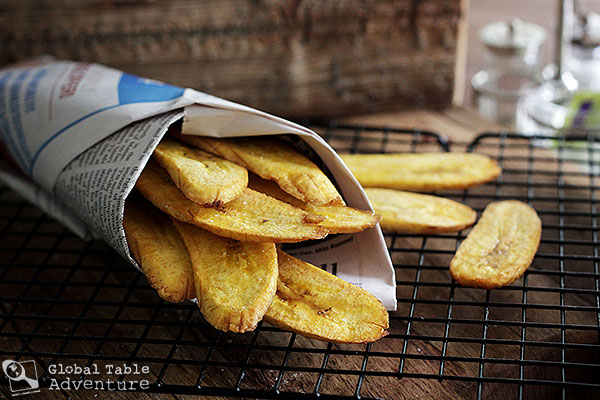 What I loved most about this dish:
These fried plantains were crispy on the outside and soft on the inside. The sea salt gave them the most wonderful finger-licking quality. I made some thinner crisps as well. Both varieties were gone in 15 minutes flat. I honestly never thought I'd see the day when Mr Picky would claim to like plantain, but I suppose if you dip it in oil and toss with sea salt, he'd like a piece of cardboard.
What I loved least about this dish:
Nothing. They are beautiful, taste great, and make for a fun side dish. Just be sure to get your oil hot enough and serve immediately.
Arroz con Pollo [Recipe]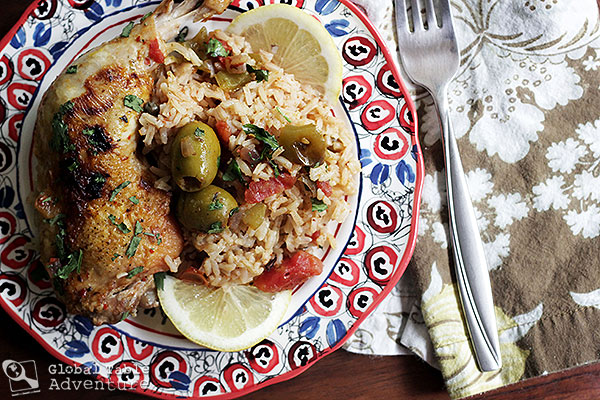 What I loved most about this dish:
I almost can't believe how much food this recipe makes. You will certainly be able to feed a hungry gaggle of people with it. My favorite  part were the salty olives and capers, while Keith remarked on the reddish tint (from the ground annato). This was Keith's birthday dinner and he loved it (with a few exceptions below). Grandma, Ava and I all enjoyed the squeeze of fresh lemon juice to brighten the flavors in the end.
What I loved least about this dish:
Keith picked around the olives and capers. Not suprisingly. Personally, I could have used a few more.
Midnight Mocha Rum Cake [Recipe]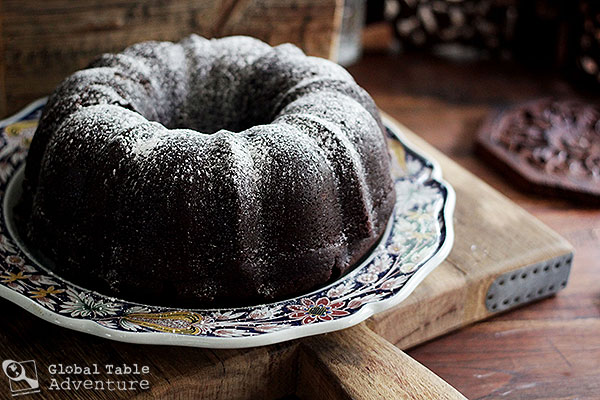 What I loved most about this dish:
Everything. This cake is so incredibly moist and the flavor goes deep, deep, deep. The dark rum is a glimmer, dancing in the darkness, while the coffee disappears into the shadows – a quietly brooding flavor enhancement. The richness is perfect with a scoop of whipped cream and a snowfall of powdered sugar. Keith rated it a 9.5/10 before I told him there was coffee in it. He rated it an 9 afterwards, which I told him wasn't fair.
What I loved least about this dish:
Nothing. I will make this again and again. Just remember this cake takes a long time to bake (almost 2 hours), so take the time to do something special for yourself. Also, don't dust it with powdered sugar until completely cooled or the sugar will melt into the cake.
Ava's Corner:
UPDATE: here's an outtake of the whole cake rating discussion with Mr Picky.
Giveaway Winner:
GIVEAWAY WINNER
*Winner from this week's Panamanian Menu Giveaway was selected at random by random.org. I am officially starving – there were so many great cakes mentioned (and several of them I'd never even heard of).  Congratulations to AnnaClarice, who said her favorite cake in the world was a tie:
"It's a tie for me. I absolutely love my chocolate sauerkraut cake but I'm also totally in love with my chocolate almond fudge cake (soaked with a little kahlua to make it extra special). I believe both are North American concoctions but extra yummy just the same."
Please email me to claim your shiny prize, AnnaClarice!