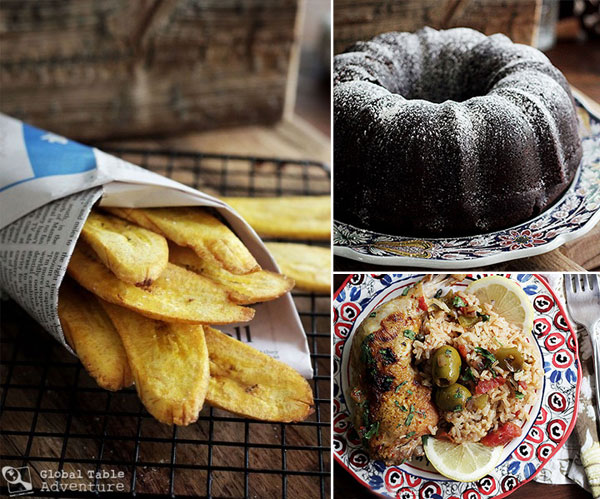 I'm happy. Not only did I get to dig into an amazing rum cake this week, I also get to give one of you beautiful readers a nice treat. (More on that in a moment.) For now, I need to focus on one very special man – my husband.
This week's Global Table was Mr. Picky's birthday luncheon. Happy Birthday, my love! The meal was hearty, delicious and, as always, a bit challenging for him.
I must apologize for the fact that his birthday plate included such offenders as cilantro, olives, capers, plantains, rum, and coffee. He really dislikes all of those things. I promise, it wasn't on purpose.
At least there was chocolate. And cake! (Not every country serves cake, ya know…)
Right?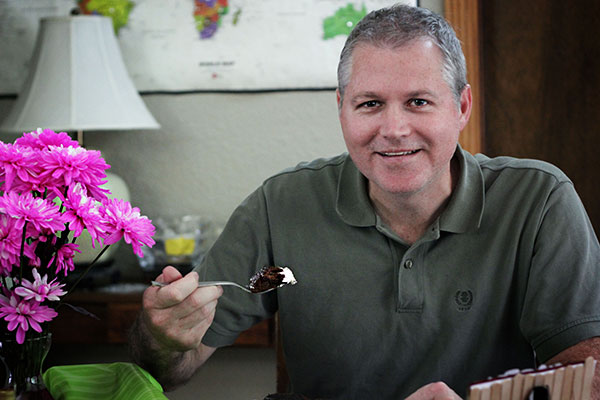 All recipes and the meal review will be posted throughout the week.
Plantain Chips with Sea Salt [Recipe]
Long slices of green plantain deep fried and sprinkled with sea salt and cracked black pepper. Finger lickin' and totally craveable. Make a believer out of your picky eater.
Arroz con Pollo [Recipe]
A hearty helping of annato-seasoned rice and browned chicken. The stars of the show are the green olives and capers, which make this variation on a popular Latin dish uniquely Panamanian.
 Midnight Mocha Rum Cake [Recipe]
Lock your lips onto this moist chocolate cake. The flavor deepens with a happy splash of rum and brooding coffee. If you wanted to sprinkle more rum on the cake, after baking it? You'd be totally Panama-tastic.
THE GIVEAWAY
Today, because I want you all to know the joy of getting your family giddy on Mocha Rum Cake and smiles, I am giving away one Beautiful Anniversary Bundt Pan from Williams Sonoma.
This bundt pan is way nicer than mine.
She has handles! Perfect for not dipping your oven mitts into cake batter.
(Something I know all too much about, unfortunately.)
She also is nonstick aluminum, making it super-duper easy to slip your cake out, onto the serving dish. Nothing worse than half of your cake stuck in the bundt.
(Something else I know all too much about.)
If there are 100 entries, I'll give away two, so tell a friend!
TO ENTER:
UPDATE: *Winner from this week's Panamanian Menu Giveaway was selected at random by random.org. I am officially starving – there were so many great cakes mentioned (and several of them I'd never even heard of).  Congratulations to AnnaClarice, who said her favorite cake in the world was a tie:
"It's a tie for me. I absolutely love my chocolate sauerkraut cake but I'm also totally in love with my chocolate almond fudge cake (soaked with a little kahlua to make it extra special). I believe both are North American concoctions but extra yummy just the same."
Please email me to claim your shiny prize, AnnaClarice!
Giveaway Question:
What is the best cake in the world? Don't like cake… how about the best dessert?

Tell me where in the world it's from and why you love it so much.
That's it!
Bonus entries will be provided for those that tweet this giveaway with hashtag #globalgiveaway and/or share it on Pinterest and Facebook.
Leave your answer in the comments below. One winner will be chosen at random and announced in the Monday Meal Review on September 3, 2012. Contest closes Monday morning. There are no sponsors for this giveaway. I just wanted to share some Panamanian love, from me to you. Enjoy!