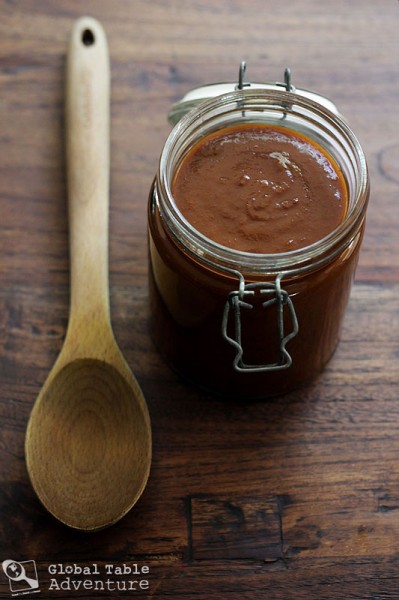 Way out in the Pacific ocean sits a bumpy, bumbling little island country called Palau. From what I hear, the fine people (20,000 strong) slather barbecue sauce on just about anything. Fish. Chicken. Even mussels. Some say it's the American influence on their cuisine, but I detect a nod to the rich gingery-garlic barbecue sauces of Asia as well.
I immediately knew that I had to make homemade barbecue sauce to experience our Palauan Global Table to the fullest.
And if I was going to take inspiration from anywhere for the sauce, it would have to be from one of my favorite food blogs, Joy the Baker. Joy recently made Bourbon Orange Coriander BBQ Sauce.
Hello, there' s bourbon in her sauce.
As I went along, however, I realized I needed to make a few changes …. of the whimsical, I-can't-leave-well-enough-alone variety.  For starters, I wanted to add peaches since I had a bunch to use up from the late summer's harvest (oh… an Oklahoma peach is a divine thing indeed). Once there were peaches in the sauce, I knew there had to be ginger. And once there was ginger and peaches, I knew I couldn't stop without adding honey and a ruddy scoop of chili powder.
So that's exactly what I did.
But I owe it all to Joy and her fingerlickin' Bourbon sauce for getting me started.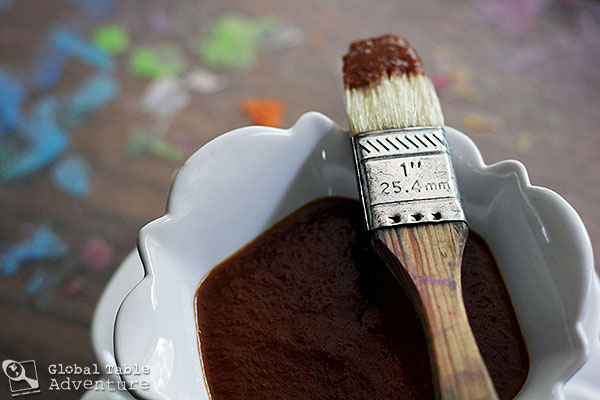 One other thing – since there's no public drinking allowed in Palau, I decided (with much regret) to omit the Bourbon.
But I won't tell if you splash a little in.
After all – just because I'm a sit-in-the-front-row-follow-the-rules-don't-pass-me-notes-while-the-teacher-is-talking kind of gal, doesn't mean that's the right choice for you.
At the end of the day, this recipe is about as much like Joy's recipe as my hair cut ends up looking like the pretty one I point at in the magazine. But goodness knows, no matter who cuts my hair, I always leave the salon … just… me.
So.
Come on with me.
Let's head to this in-between, island-breezy place. Here, with a quick pass of a brush, barbecue sauce slides on and soothes – a little sweet heat to savor while enjoying the ocean breeze.
It just might be the blip your endless day needs.
NOTE: Depending on the sweetness of your peaches, you may not need the honey at all. Also, for a little less Oklahoma and a little more Pacific, try papaya, mangoes, or pineapple bits in your bbq sauce. Lots of options, depending on the season you're making your sauce.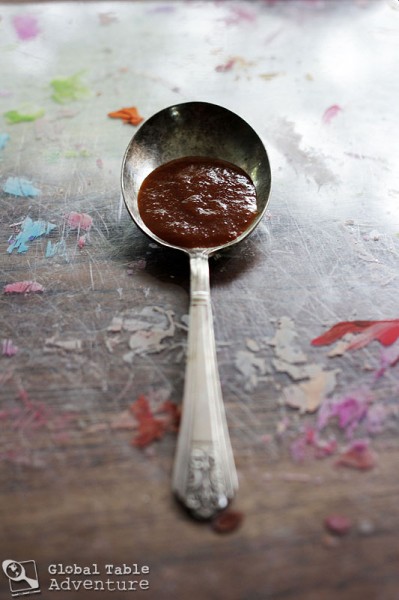 Makes 2 1/2 cups
Ingredients:
3 tablespoons olive oil
1 onion, diced
3 large cloves garlic, crushed
1 Tbsp peeled, grated fresh ginger
2 peaches, peeled and chopped
1/2 cup orange juice
1/2 cup cider vinegar
1 cup ketchup
1/3 cup honey
1/4 cup molasses
2 tablespoons Worcestershire sauce
1 tsp chili powder
fresh ground black pepper, to taste
Method:
Pull up a chair by the sea and cook with a couple of friends.
They don't have to be real.
They could be rocks. That's cool.
Gather your ingredients. A full palette of condiments makes for a curiously wonderful sauce.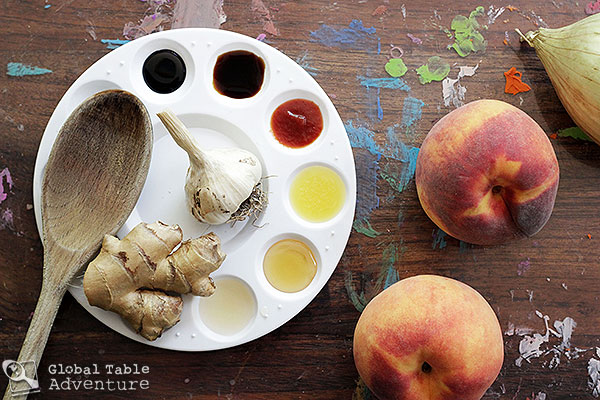 The key to spectacular barbecue sauce is in the spice – I chose a deep, ruddy chili powder. Joy used fresh cracked pepper.
Different, but equally biting.
Equally divine.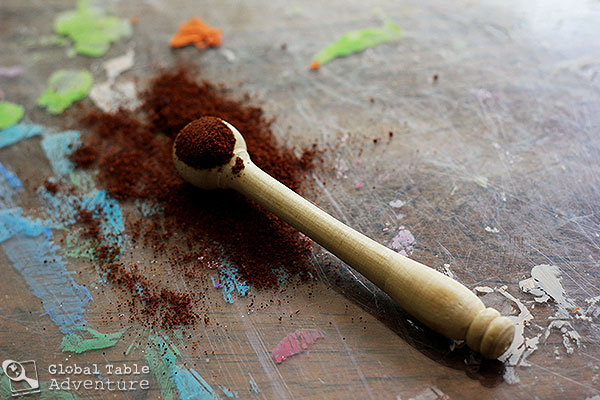 To get things rolling, saute the onions until they get a little bit golden and all kinds of soft. Then add the garlic and ginger. Cook a few more moments until fragrant. Finally, slip in the rest of the ingredients and gently simmer (uncovered) for 30-45 minutes.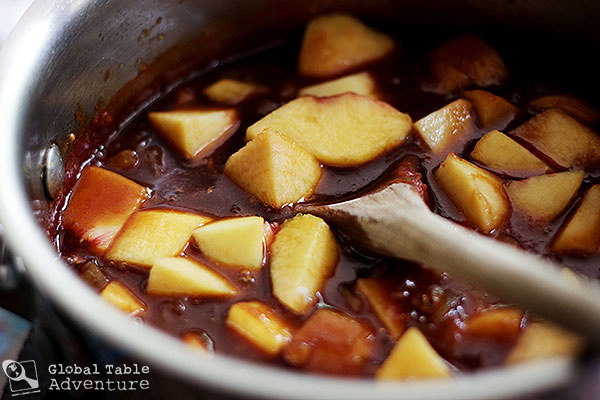 The nice thing about this sauce is you don't have to worry about the size and shape of things – when all is said and done, this bubbling vat of sweet heat will be pureed smooth with an immersion blender or regular blender.
While you wait for it to cook, sit at the edge of a pretty little beach, at the foot of several billion pretty little waves.
When you return, the sauce will be a little thicker, smoky from the chili powder, peachy-sweet and a little tingly from the ginger.
And the color of love in August.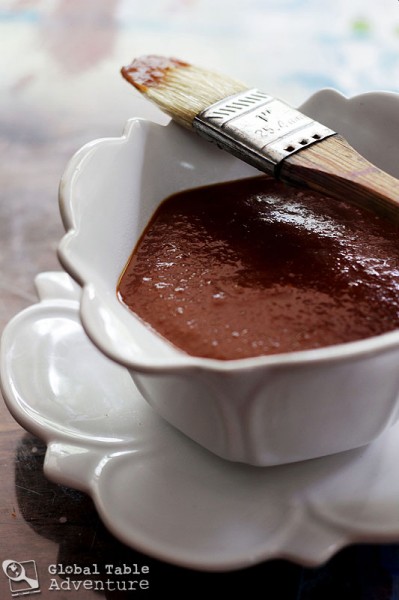 Puree and serve with a smile on some Palauan Grilled Mussels (come back tomorrow for that recipe) …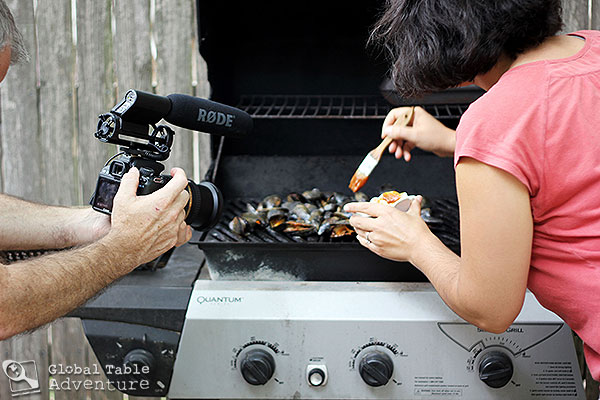 Have a happy day, friends.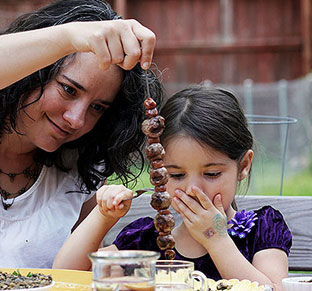 Hungry for more?
Be notified when National Geographic releases my memoir.
Simply fill in your details below.