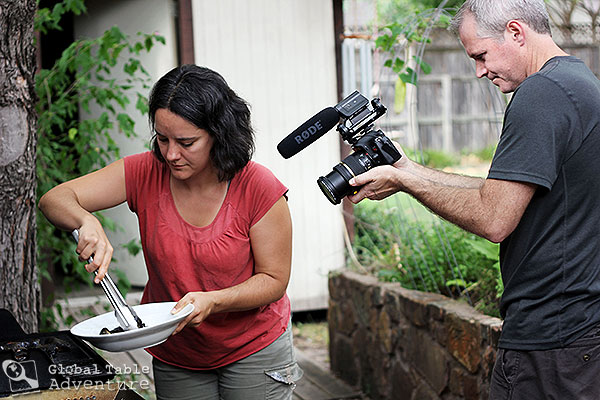 Keith left me last week. He didn't leave-leave me, but he went away for an extended business trip that meant he'd be at a motel in Vermont for his birthday. If that isn't wretched enough, in an unfortunate twist of fate, I came down with an incredible self-induced illness caused by accidentally inhaling an aleve pill into my lungs.
Ka-plunk.
(That's the sound it made as it plopped into the soft tissue normally dedicated to taking oxygen to my bloodstream).
To give you an idea of how inhaling an aleve pill affected my body: I lost 6 pounds in 2 days and within four days developed aspiration pneumonia. This is the kind of miserable illness that makes you wonder if you're going to make it to see another day, let alone make it long enough for your sweetheart to come home a week later.
I don't know about you, but when my snuggle buddy is nowhere in sight and my three year old still needs lots of active play, despite me being nauseous, sweaty, and full of pneumonia – well, I pretty much fall into a hundred billion pieces.
Thankfully, something really wonderful happened.
I asked for help. And I got it.
This is a big, big deal for me.
Many of you will remember my ordeal with Keith's heart, going to the E.R., and being too afraid to ask for help.
When you don't ask for help, you can pretty much guarantee what will happen.
Nothing.
No one came. No one helped. And I went on a downward spiral of self pity that took more than a year to shake. Thankfully I've since learned from Mongolia how to ask for help, which brings us to today's happy story.
One friend stumbled upon my illness in an attempt to return my ice cream maker (she'd borrowed it to make Frankincense Ice Cream) and took it upon herself to watch over me. Another friend graciously swept Ava away to play with her grandson while I wept and slept, tossing and turning in too-hot-too-cold blanket scenario for more than 14 hours. Another friend invited Ava to play and eat dinner (the best part? I didn't have to the dishes… there's nothing I dread more than doing dishes, except for doing dishes when I'm sick). Grandma Martin even drove up and helped me with the quickly growing pile of laundry, dinner, cleaning, playing with Ava… you name it.
Our friends and family really came through, and because of them an interminable week went by much smoother than expected.
Right before Keith left and the apocolypse rained down on me, we ate our Palauan Global Table. Going into the meal, I was really afraid of the mussels. I had bad memories from childhood of eating less-than-fresh specimens. I expected to get sick. I expected them to taste weird. In a happy twist of fate, they turned out to be sweet, mild, and lovely.
What I didn't expect to get me sick?
That silly, little pill.. the very thing I thought was going to help me with a little run-of-the-mill headache.
Once I was sick, I couldn't help but feel like Keith and I might as well have been an ocean apart… I might as well have been sitting in Palau.
Except I didn't have the awesome view.
There's a lesson in here somewhere, but if you don't mind, I'm going to hug Keith for the next 1,923 hours straight.
Now that he's finally home, I'm not letting go.
But do let me know if you figure it out.
Because I'd like to know all that misery had a purpose.
THE FOOD
Grilled Mussels Dabbed with Barbecue Sauce [Recipe]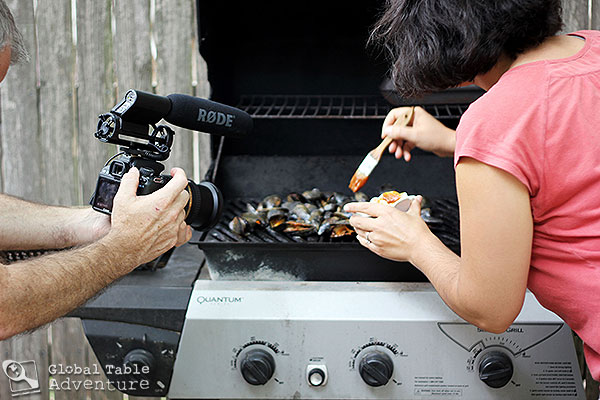 What I loved most about this dish:
Much to my surprise, grilled mussels are sweet, soft, and a bit smoky. The barbecue sauce was just the sour, spicy note that they needed to take them over the edge into "craveable" goods. I was thrilled to see how easy it was to toss them on the grill and, unlike preparing fish for sushi (which can be a guessing game), mussels tell loud and clear if they're good or not.
What I loved least about this dish:
Other than telling Keith he had to try 3 (and giggling while he popped them into his mouth as fast as possible), Ava refused to try them. Also, it was a little tricky getting the sauce in the shells.
Tandoori marinade for fish or chicken [Recipe]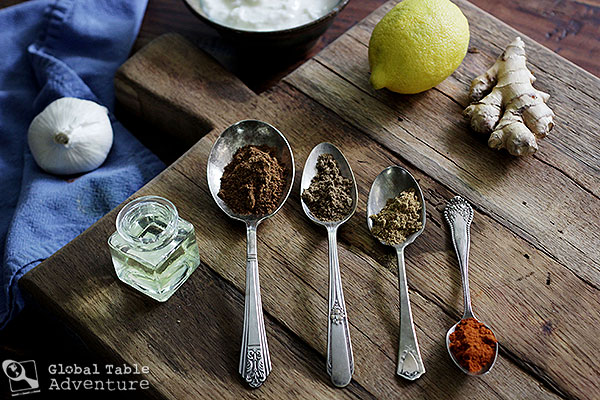 What I loved most about this marinade:
Tandoori is the kind of food that fills your house with "wonderful." The flavor was bright (thanks to the lemon juice, ginger and garlic) and complex (thanks to the spoonfuls of lovely spices). This marinade can make any main course taste lovely, from fish to chicken. Ava and Mr Picky both really enjoyed this on the salmon and I'm looking forward to putting it on chicken.
What I loved least about this marinade:
Not much. Just be careful not to marinate fish in it too long or the yogurt will break down the delicate fibers and the fish will fall apart.
Ginger Peach Barbecue Sauce [Recipe]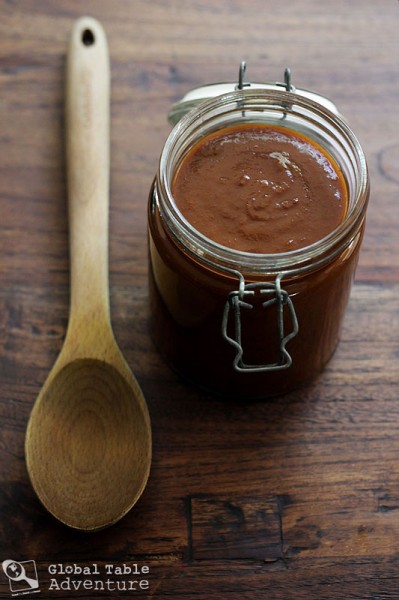 What I loved most about this dish:
I started with a great recipe (from Joy the Baker) and had fun playing with it until I had something that worked with my local ingredients. Ginger and peach with a bit of chili powder – write that down. Everyone agreed that it was a great combination that would make a great gift or housewarming gift. Both Ava and Mr Picky loved it (as long as it was nowhere near the mussels).
What I loved least about this dish:
Nothing. If you want it spicier, feel free to scoop on some more chili powder or cayenne.
AVA's CORNER:
WEEKLY GIVEAWAY:
This week's giveaway, for a $150 Shopping Spree to Whole Foods (sponsored by Saffron Road) will continue until November 11, 2012. You can still enter, so keep the party hopping!