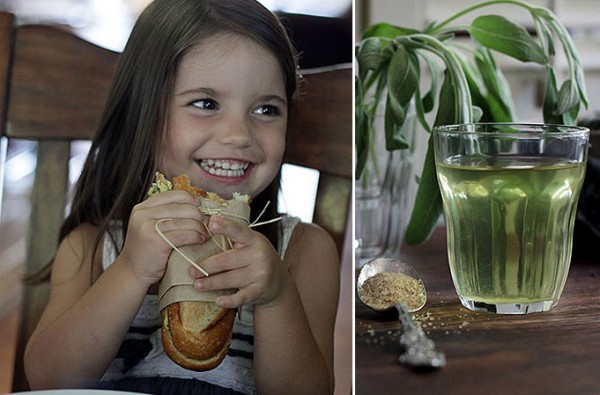 Our menu for Niger is all about familiar ingredients. This menu is full of that which is already under our noses, no matter where we live. The fun part is seeing the ingredients arranged in new ways. This time I chose street food, a comforting evening sipper, and a fun way to use up extra couscous.
What sounds good to you?
Toasted Baguette sandwich with Spinach Scrambled Eggs [Recipe]
Inspired by the street stalls of Niger, where baguette sandwiches wrapped in newspaper are commonplace, and Malahiya, a popular leafy green used in Niger.  In each bite you'll find spinach, paprika, green onion and toasty baguette. A simple way to bring a touch of Niger to your internationally inspired brunch.

North African Sage n' Green Tea [Recipe]
Green tea steeped with fresh sage leaves and as much sugar as you can stand. Yes, they sip it sweet in Niger. Serve with a smile at your next tea party.
Cardamom Caakiri [Recipe]
Our Caakiri is made with prepared couscous, evaporated milk, yogurt, and sour cream. Dust with cardamom and as much sugar as you'd like. This is Niger's tangy answer to rice pudding, although the unsweetened version makes for a great breakfast treat.
*All recipes and the meal review will be posted throughout the week.
UPDATE:  A proverb I'd originally shared has been removed from this post thanks to a reader who helped me trace it to renowned Nigerian author, Chinua Achebe – not Niger: "Why should we live by the River Niger and then wash our hands with spittle." As always, this is a reminder that I'm just a mom, doing this adventure to learn and better my family's understanding of the world. Mistakes occasionally do happen and I always appreciate the help whenever an error is noticed.