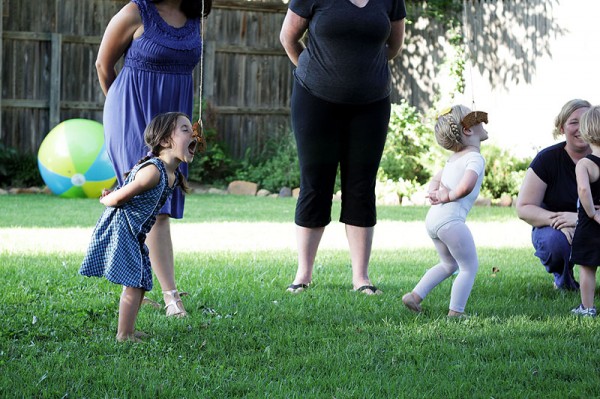 THE SCENE
The cakes blow in the breeze. Three girls squirm under the clothesline, each watching their slice sway in front of their nose on a long piece of twine.  Every once in a while an overeager child reaches out her hand and grabs for a slice, her eyes fixed on her parents guiltily. Whenever she is caught, giggles gaggle through the air.
When the time for the koekhappen comes, we place our hands behind our backs and count off. One. Two. Three. Each child cranes her neck and tries to bite the cake. No one succeeds on the first try – the slices bob and weave like bumper cars. Eventually even the youngest gets a bite; the children's cheeks glow and eyes sparkle with the success of it all.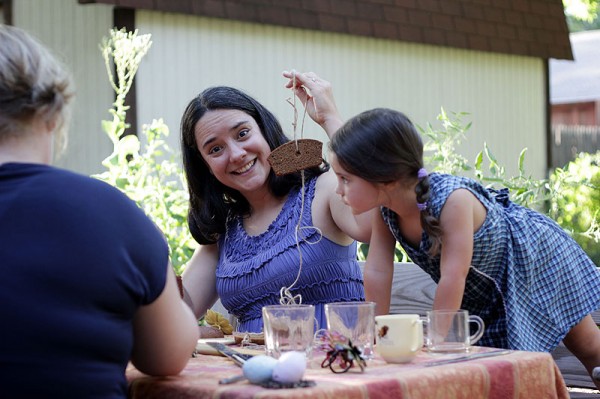 For me, the best part of this evening is sharing the fellowship of threading the cake on the line together, the anticipation and watching the joy build in everyone's eyes, and laughing as we struggle to eat a simple piece of cake.
So many times we make food a solitary, serious activity full of etiquette. This time it is all about the joy of eating with no hands. Of stringing ourselves together in good fun. Of just …. stuffing our faces full of cake.
In the Netherlands, this festive party marks the celebration of the Queen's birthday. It's also used as an activity for anyone's birthday all over the Netherlands. Ava's birthday is July 4, so this koekhappen is in honor of her turning three years old.
Who needs to be a princess, when you can be a queen for a day?
THE FOOD
Dutch Potato Salad | Huzarensalade [Recipe]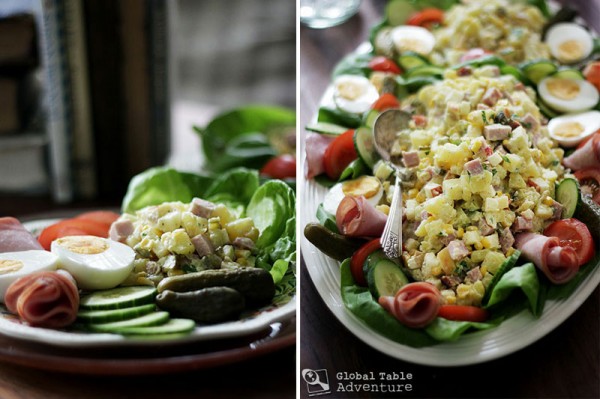 What I loved most about this dish:
Oh mayo… I really didn't expect to like this potato salad as I'm not a mayo fan. I thought for sure Mr Picky would also be hostile towards it considering his pathological aversion to mayo-based potato salads.  However, this is delicious. As for him? I was really impressed that he chose to eat this with a fairly open mind.
I think it helped quite a bit that the salad is lightly dressed. That, and the fact that this is all I served for dinner. He had no choice but to eat it. As for the rest of our guests, everyone loved picking and choosing their veggies and meats from around the platter. The toddlers in particular loved these finger foods.
What I loved least about this dish:
While they loved the tidbits around the edge of the platter, the potato salad itself was a hard sell for the toddlers. While they did all try it, they mostly filled up on the hard boiled eggs, tomato slices, cucumbers, and ham. Once one child tried the potatoes, the others fell in line. Apparently there's a positive use for peer pressure after all.
Dutch Spice Cake on a Rope | Ontbijtkoek [Recipe]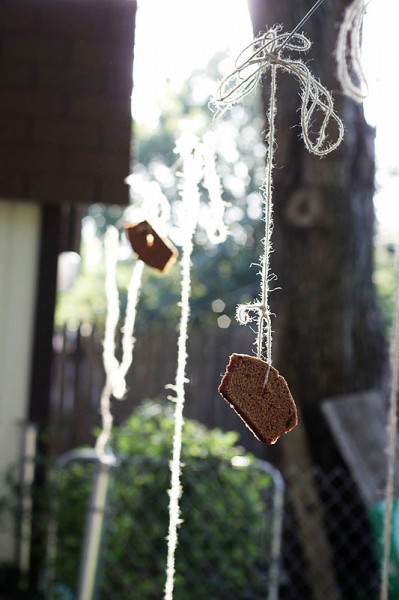 What I loved most about this dish:
This was such incredible fun. As one person nibbles on their cake, it makes the line shake and creates a bigger challenge for everyone else. The kids got a huge kick out of eating their cake on strings and watching the adults try, as well. As a bonus, this cake is so super quick to make – you don't even have to break an egg.
I can see this not only at birthday parties, but any sort of outdoor event where you need a fun game. Maybe a retirement party or a graduation party.
What I loved least about this dish:
Absolutely nothing! We'll be doing this again, maybe for a future birthday party.
Sprinkles n' Bread | Hagelslag [Recipe]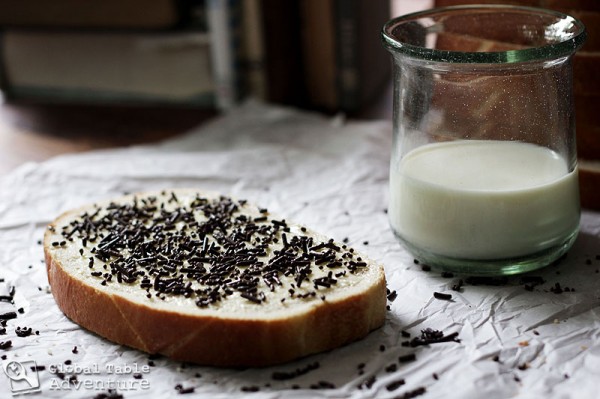 What I loved most about this dish:
Topping bread with butter and chocolate sprinkles is a super fun Dutch treat. What surprised me was that it didn't taste strange or overly decadent. It was just… delightful. Not surprisingly, everyone loved it, with Mr Picky taking care to add triple the sprinkles to his buttered bread. Since trying this for the blog, I've gone back for more several times. I love hagelslag in the afternoon with a cup of tea. It reminds me of a doughnut without the tummy ache.
What I loved least about this dish:
I just wish I could have found the real Dutch sprinkles here in Tulsa, but no one carries them. Thankfully, any good quality sprinkles taste great. For those who wish to try the real thing, a quick search for hagelslag will get you what you need – there's all sorts from white chocolate, to dark, and from anise flavor, to berry. Put a variety in a basket with bread and good quality European butter, and you'll have a nice hostess gift in the making.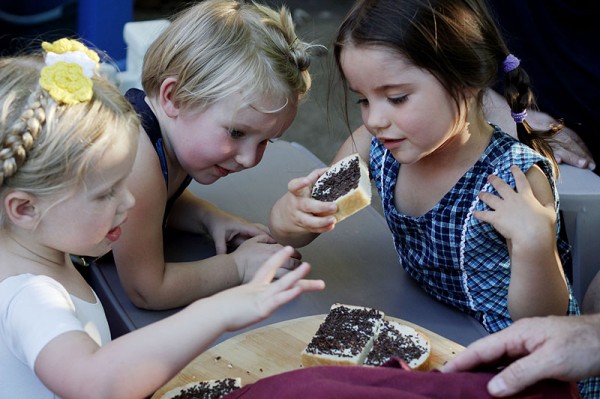 Ava's Corner