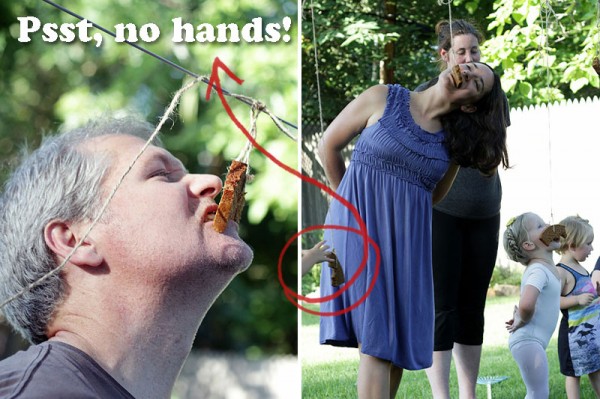 This week's menu  is a compromise between Dutch taste and the inferno I'm currently living in. That's right – it's here: 105F degrees in the shade. This is the weather that requires me to be doing one of two things: swimming or hiding out in the air conditioning. I'm a little surprised 105F has joined us in June, but that's what's happening. And we're all sweaty.
While I couldn't serve ice on ice (although I was tempted), I found a summery-festive collection of dishes to try. They're simple and sweet, so you can spend more time laughing with friends.
What sounds good to you?*
Dutch Potato Salad | Huzarensalade [Recipe]
This is not your grandmother's potato salad. Unless, of course, she's Dutch. In all seriousness, this salad is an entire meal. She's not only loaded up with sweet corn, salty gherkins,  tart apples, smoky ham, and fresh parsley – she's also surrounded with an assortment of salad items like cucumber, carrot, tomato, lettuce, and hard-boiled egg.
Dutch Spice Cake on a Rope | Ontbijtkoek  [Recipe]
A much beloved treat, traditionally eaten in honor of the Queen's birthday, but also very popular at children's birthday parties in the Netherlands. The actual event of eating the cake on strings is called Koekhappen. As you can see from the picture, eating Ontbijtkoek this way is quite the Adventure.
Dutch Sprinkles n' Bread | Hagelslag  [Recipe]
Greet the smiling sun like a Dutch person – with a huge bite of buttered bread and hagelslag (a.k.a. sprinkles). It's a little like eating a doughnut, without the bellyache.
*All recipes and the meal review will be posted throughout the week.