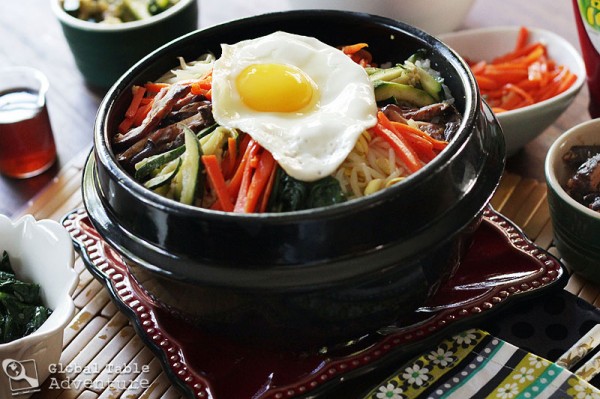 Today is my late brother's birthday – he would have been 34 and into who knows what kind of trouble. No joke. I like to think that, if he were here, he'd take a break from his ornery ways and we'd eat this sizzling Korean specialty together. As it cooked in front of us – at the table – we'd celebrate him with big bursts of goofy laughter.
Bibimbap is perfect for celebrating superstars – like him. Like you.
Sure, there are days when we don't feel like superstars. When everything seems heavy and ordinary. But that's when we can look around with fresh eyes – when we can find the sparkle on a mud puddle or see the sensual curves of a gnarly pumpkin. Or when we can make a beautiful meal out of plain, ol' leftovers (the original purpose of bibimbap).
Our endless capacity for optimism and creativity is what makes us superstars. All of us. We just need to tap into it.
When was the last time someone told you that you're a superstar?
A bright light in an otherwise cloudy night?
You are. It's true. Live it. Live the celebration.
And I'm here to tell you that Bibimbap is the ultimate way to celebrate you. Whether it's your birthday or a cloudy totally unexciting day, it is time. Life's too short not to pepper it with happy food. And since Bibimbap is traditionally a way to use up leftover Korean side dishes – it just might inspire you to celebrate all the good you already have. Just mix it all up into a bowl of hot rice and go to happy town!
My favorite kind of bibimbap is served in a sizzling hot stone bowl which literally fries the food at the table, as you mix it (this variation is called dolsot bibimbap). I found my bowls at our local Korean market. Since the bowl is put directly on the stovetop, the bowl you use must be heatproof or it could shatter.
NOTE: I recommend cooking all the veggies the day before so you have less to do the day of the dinner. You can play around with what veggies you use, but be sure to use lots of color and contrast to make the dish even more beautiful.
Serves 4-6
Ingredients:
2 cups Jasmine rice, cooked
1 egg per person (fried or raw)
Korean saute sauce, as needed
Korean Hot Pepper Paste for bibimbap, available at Korean markets.
Vegetables:
THINGS TO BLANCHE:
2 carrots, cut into matchsticks
2 cups bean sprouts
THINGS TO SAUTE:
1 dozen dried shittake mushrooms, rehydrated in hot water for about an hour
1 bunch spinach
1 zucchini
rice vinegar, as needed
Method:
Cut all the veggies into matchsticks, strips, and other bite-sized bits.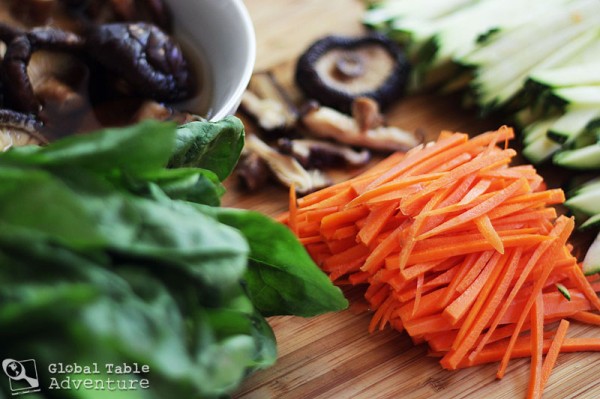 Bring a medium pot of water to boil and add the sprouts. Cook until softened, about 3-5 minutes. Scoop out and add Korean Saute Sauce to taste and set aside.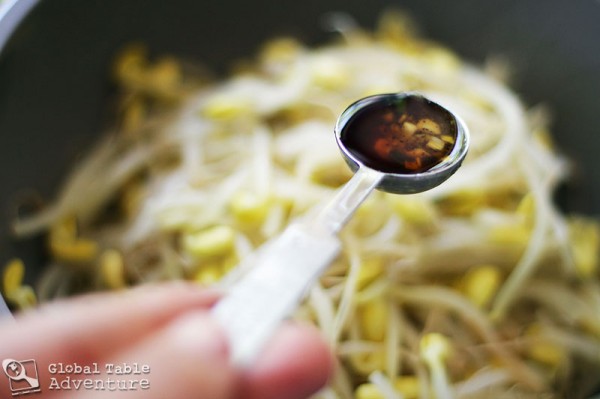 In the same pot of hot water, simmer the carrots until tender, just 1-3 minutes. Drain and pour Korean Saute Sauce over the top. Stir and set aside.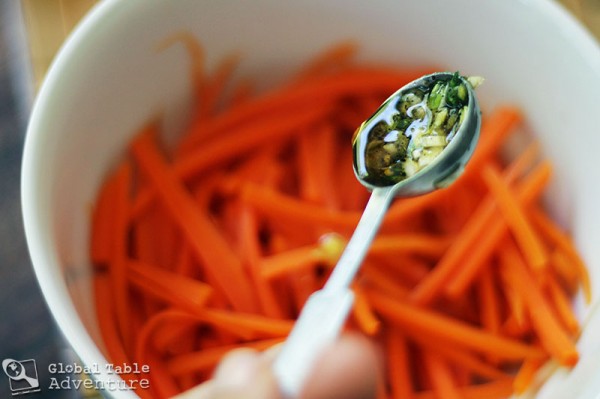 Now heat up a Tablespoon of Korean Saute Sauce in a large skillet.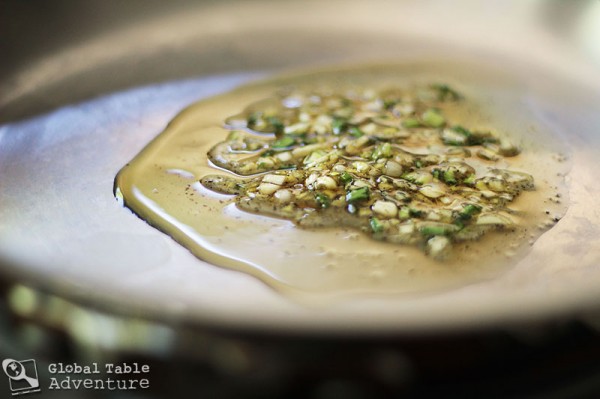 Add the sliced mushrooms and saute until browned. Add a splash of rice vinegar to deglaze the pan. Remove mushrooms and set aside.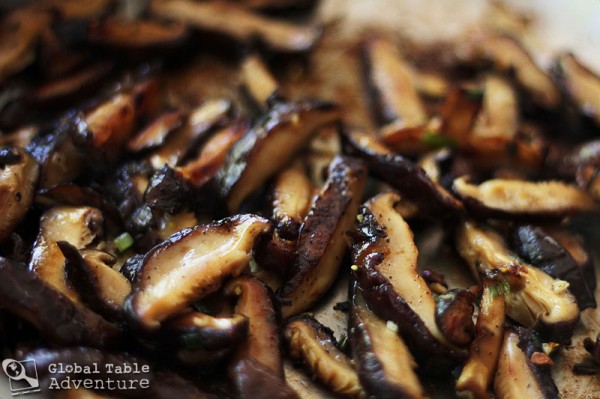 Cook the zucchini and spinach the same way
If you haven't already, cook the rice according to package instructions. Now you have all the basic components. Cool thing: it can all be served room temperature – your hot bowl will warm them back up!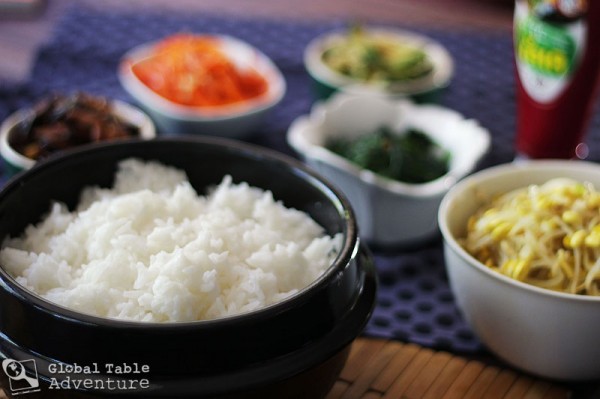 At Dinner Time:
Set the table with a trivet or extra thick potholder on each place setting. When it is time to eat, heat up your flame proof bowls over high heat. (If it is your first time using the bowls, boil water in them for ten minutes first – this will protect them from shattering). When the dry bowl is screaming hot, add sesame oil to taste. Bring to table and place in front of diner. Don't burn them.
They can add veggies, hot pepper paste, and egg to taste….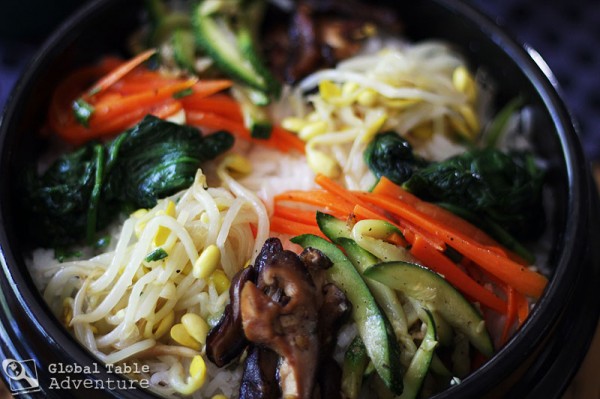 As for the eggs – you can add a fried egg or a raw egg (if you add a raw egg, add it first, in the oil – the hot bowl will cook it really fast).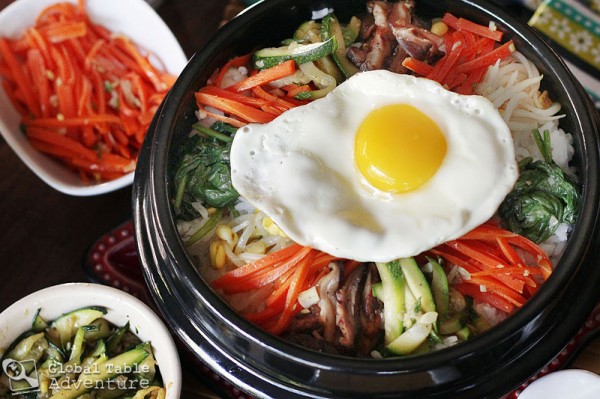 Give the whole thing a messy mix (you're supposed to – yay!) and chow down.
Serve with superstar friends and a smile.
httpv://www.youtube.com/watch?v=rf1Ksp9s3jo&feature=player_embedded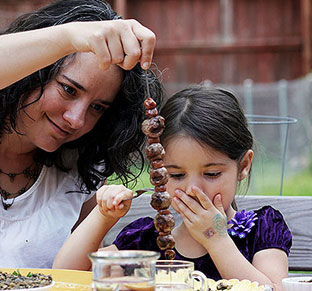 Hungry for more?
Be notified when National Geographic releases my memoir.
Simply fill in your details below.