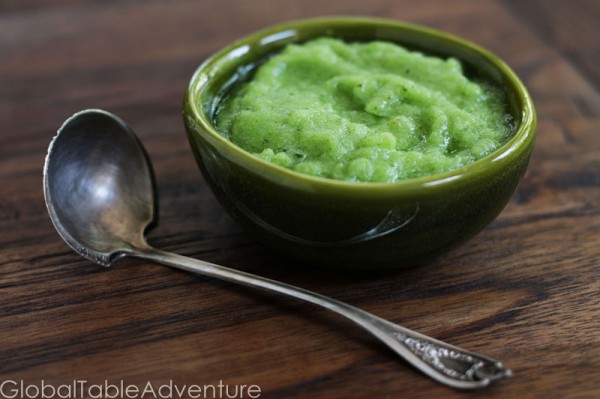 Makes about 1 1/2 cups
Ouch and yum. This seasoning blend should feel like molten lava as it slides down your throat; Guyanese use up to six habaneros in a recipe like this one. However, if you don't have Caribbean friends coming over for dinner – or the time to replace your throat – feel free to make a mild version. For example, mine (certainly laughable to Caribbeans), uses only a 1/4 of a habanero.
In my defense I have a two year-old. Call me crazy, but I don't have the heart to feed her a paste made with six scorching habaneros, even if she does like a little spice from time to time. Plus, I'm pretty wimpy, myself.
So whether you like it hot, or not, just be sure to whip up a batch – you can use it on almost anything, from curries, to stews to grill marinades. Totally flexible and totally tasty – this is the Caribbean's take on the French mirepoix or the Dominican sazon (a.k.a. sofrito). Makes a really nice base for Curried Caribbean Chicken Kabobs.
Inspired by Cynthia Nelson's article all about Green Seasoning.
Ingrdients
4 celery stalks
3 green onions
1 small onion
5 sprigs thyme, destemmed (about 1 heaping, loose tablespoon)
1/4 all the way up to 6 scotch bonnet peppers
5 cloves garlic
1/4 cup water (more if needed)
additional herbs, according to preference (optional)
Method:
Raid the produce department. Buy it all up. See those onions? Those are from the farmer's market. They are so fresh they haven't had time to form a skin yet. Amazing. Also, as I learned, when they are that fresh they don't make your eyes water. Now that's something to smile about.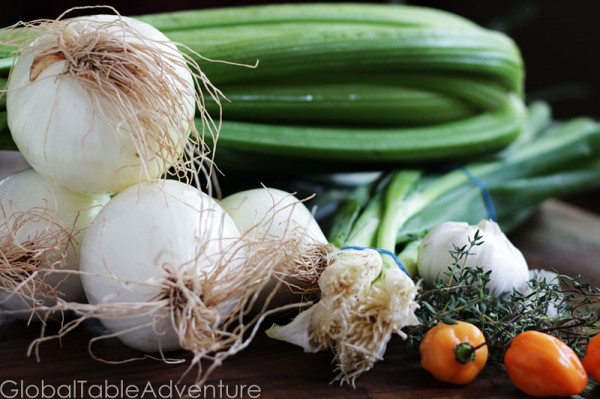 Chop up one white onion, a few green onions, and a stalk of celery. Make the pieces small enough so that your blender (or food processor) can handle them.  Remove the woody stems from the thyme.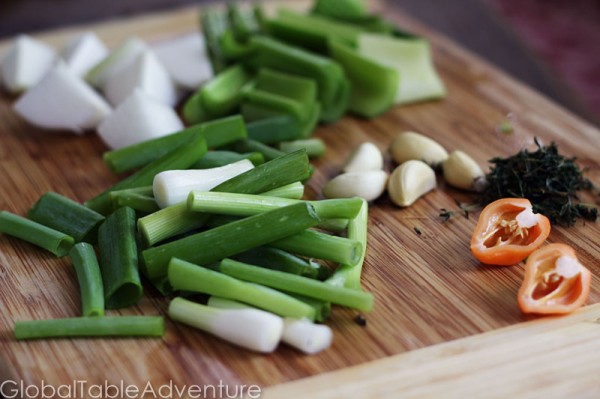 Toss everything in the blender with a bit of water. Don't forget the habaneros – toss in as many as you can handle. Remember, you can always add more, but you can't take it out.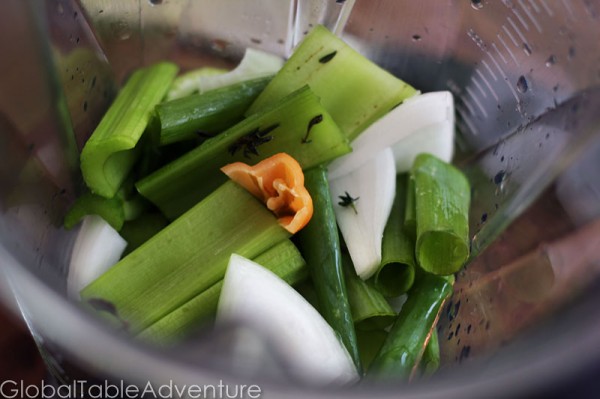 Pulse in the blender with as much water as you need to get it chopped up. I made mine smooth, but a bit chunky would be great too.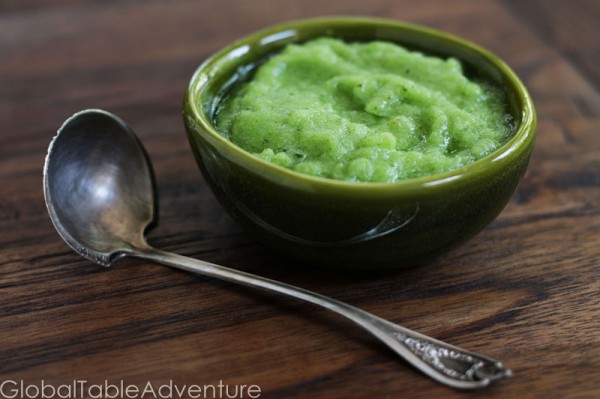 Use as a base for curry or stews or kabobs. Keep extra Green Seasoning in the refrigerator for about a week.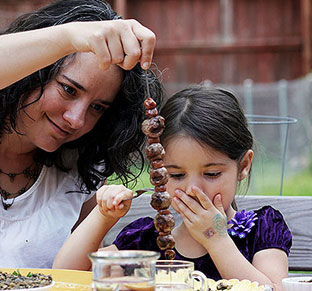 Hungry for more?
Be notified when National Geographic releases my memoir.
Simply fill in your details below.